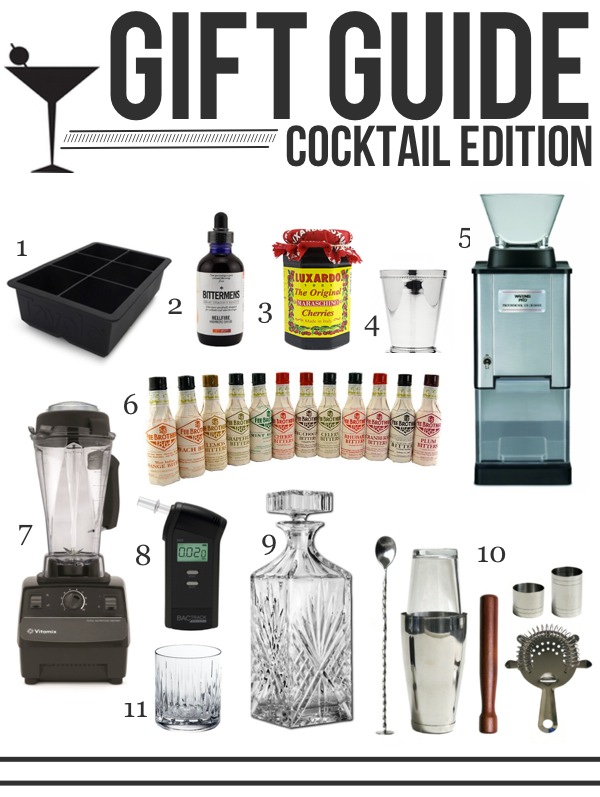 So, I am sure you're probably inundated with Gift Guides these days. It's getting a little stressful, isn't it? I think we just need a drink (or two!)…SERIOUSLY. I put together some our favorite things for you to impress your cocktail loving friend/family member and maybe while you're at it, pick something up for yourself?  You deserve it. All of these items are from Amazon, so if you decide to order something now, you should be in good shape for the holidays. Thank heavens for Prime Shipping! CHEERS, friends!
1. Tovolo KING Cube Ice Trays– Because cocktails need good ice and who doesn't love a big perfect square? Theses cubes are great when you're having something on the rocks because you're fancy!
2. Bittermens Hellfire Habanero Shrub Cocktail Bitters– Popular with the men because sometimes they want to be extra macho with a spicy drink! Casey is currently working on a chili tincture at our house, but this shrub will get us by until it's done.
3. Luxardo Gourmet Maraschino Cherries We're running dangerously low in our jar. These are HANDS DOWN the best cherries EVER. I love putting them in Manhattans & bourbon based drinks. I also love eating them on their own. If you've ever come over to my house, chances are I've shoved one of them in your face to try. I'm weird like that.
4. Beaded Silver Plated Mint Julep Cup– Mint Juleps need to be served in proper cups (the internet chimes in!). So how about these cups? When you're not using them, they can function as a pretty vase that can hold a gigantic peony. And for the Moscow Mule lover, get some Copper Mugs! I just ordered two of them for us.
5. Waring Pro IC70Ice Crusher – I first saw this ice crusher in Bon Appetit last year and bought it for Casey as a gift. He's OBSESSED with mint juleps and it would take him FOREVER to bash up and crush ice and OMG the sound WAS ANNOYING. With this machine,  you just throw some ice in and you have instant crushed ice. It would pain me to see how long it took him to make a julep and now it's a breeze.
6. Fee Brothers Bar Cocktail Bitters Complete Set – I bought this bitters set at the beginning of the summer and we've been having fun using all the different bitters. Rhubarb! Grapefruit! Celery! Cinnamon! Chocolate! So many fun flavors mixed in with traditional ones.
7. Vitamix- For the margarita enthusiast! One of the reasons I was excited to have our Vitamix was for MARGARITA/Daiquiri season! Our old neighbors used to whip up batches of margaritas in seconds. When you see how frothy a margarita is in one…you'll immediately add it to your wish list.
8. BACtrack Select S80 Breathalyzer – OK so it might be weird that I put a breathalyzer on this list.  But! Hear me out. Casey bought this last year and it's been the best investment EVER. Not only does it turn into a party trick where you and your friends/family compare your alcohol levels, it gives you the assurance that you're cool to drive. If you're not, you wait it out and sober up! If we are ever in a position where we have to go out for drinks, we ALWAYS take this with us! It's literally a life saver and it helps us make responsible decisions.
9. Godinger Dublin Whiskey Decanter  In the past few years I've learned that my husband has a thing for crystal decanters. There's something so classic about them. Every time we watch an older movie he's always commenting on how beautiful a character's barware is. I think when we're watching Mad Men, he's constantly staring at their bar setups.  I really like this specific decater cuz it's not overly feminine and I dig that square top. I may just surprise him with one this year….
10. Boston Cocktail Shaker Gift Set – ESSENTIALS! If you have a friend who is just starting to setup their bar, they will need all of these things.
11. Reed & Barton Crystal Set of Double Old Fashions- Because Scotch & Whiskey need to be put on a pedestal. These crystal glasses are the only way to do that!
*this post contains affiliate links. *