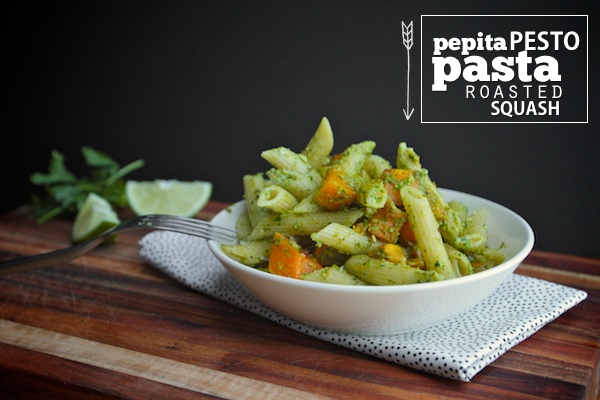 SQUASH! Are you binging on squash like I am? In the span of one week I made this here pasta and this fab salad. SQUASH!
I almost cut my hand off while cubing up a butternut squash but that's a different post all together.
That post will be titled MY NAME IS TRACY AND I AM A KLUTZ IN THE KITCHEN.
I digress…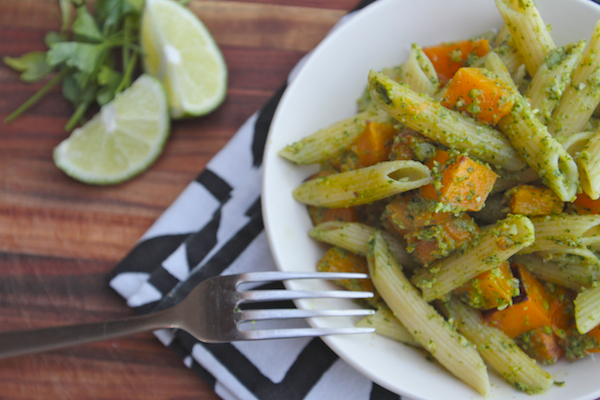 Let's talk about this pasta. If you're a pesto fan and want to shake things up, GET ON THIS PESTO immediately.
Take your traditional pesto and SHAKE IT UP with cilantro, jalapenos, pepitas & parsley. It kinda reminds me of guacamole.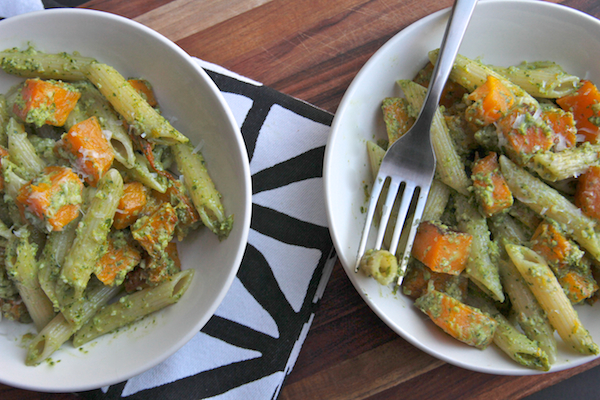 Throw in the sweetness of roasted butternut squash in a large bowl of cooked penne pasta then finish with a squeeze of lime for tang & a huge dose of grated Parmesan for creaminess and you're in business.
The flavor business…which is the best business to be in.
And we're off!
Ingredient gathering.
The hardest part… I'm surprised I still have fingers.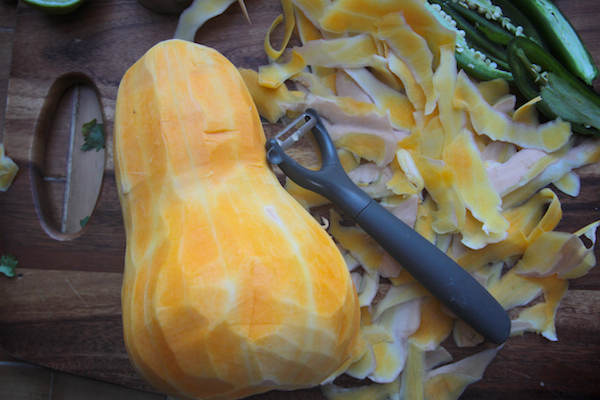 Chop up the whole squash.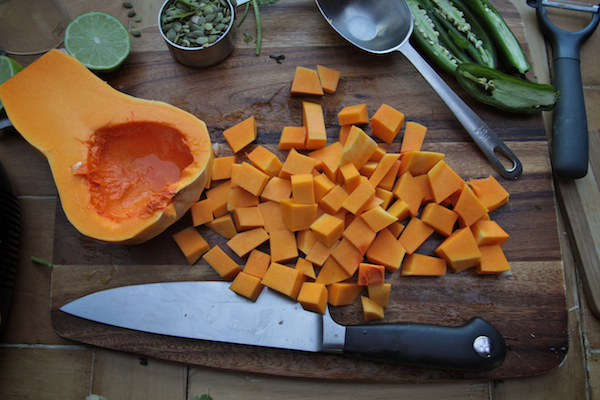 Put the cubes on a roasting sheet, grate fresh nutmeg on top and drizzle with olive oil. Season with salt & pepper.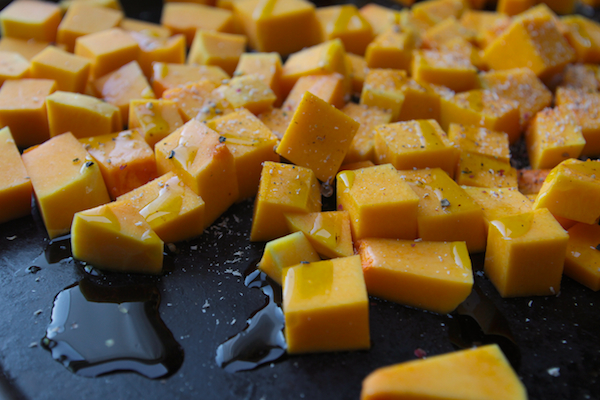 PESTO TIME!  Parsley & cilantro get whirred in a food processor with olive oil.
Add in the pepitas, jalapenos, garlic, lime juice, and Parmesan cheese.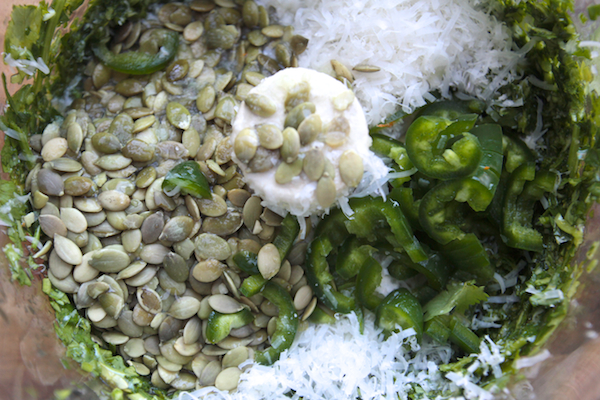 PEPITA PESTO! I bet it would be great in tacos.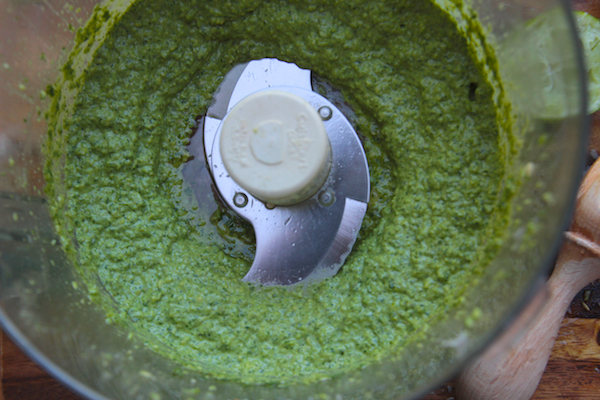 Roasted squash!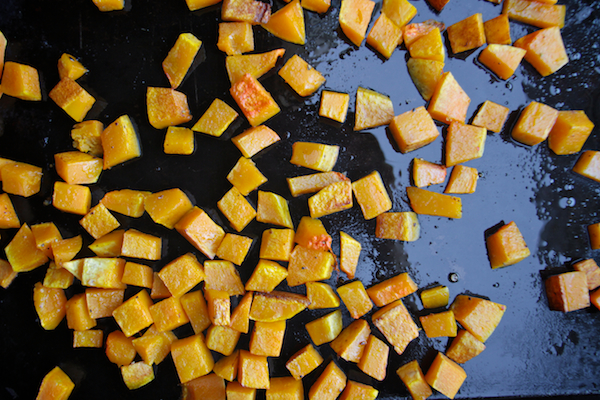 Add the squash to the cooked penne. Reserve some of the pasta water.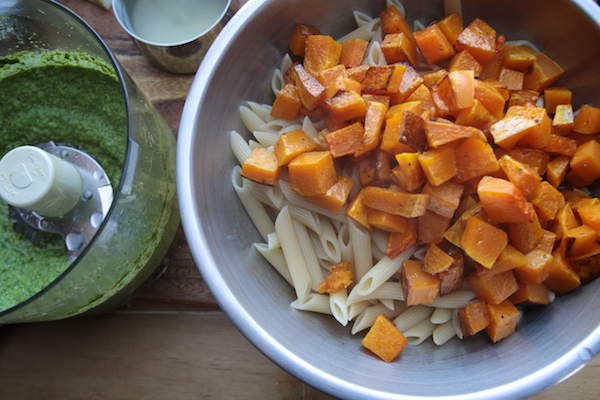 Stir in the pesto and add some of the pasta water to thin out the sauce.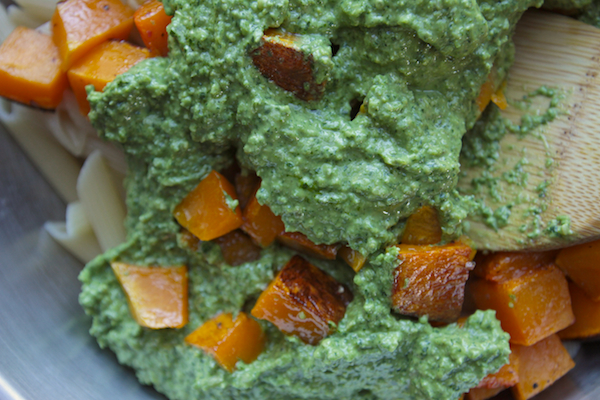 Daaaaang.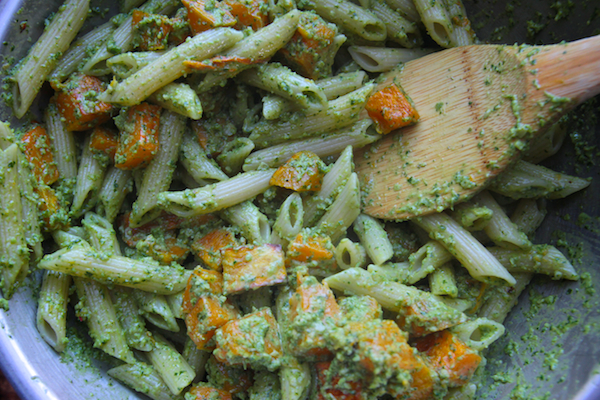 I don't want to tell you how much I ate before I took this picture.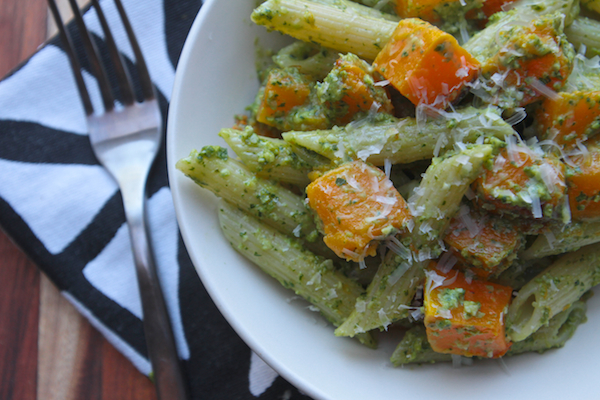 I'll give you a secret. It was a lot.

Pepita Pesto Pasta w/ Roasted Squash

serves 4
recipe slightly adapted from Rachael Ray Magazine

1 pound penne pasta
1  1/2 lbs. butternut squash, seeded and cut into bite-size pieces
1/3 cup extra virgin olive oil, plus more for drizzling
nutmeg, for grating
salt & pepper
1/2 cup parsley
1/2 cup cilantro
1/2 cup grated Parmesan cheese
1/3 cup toasted pepitas
2 jalapeño chile peppers, seeded
2 cloves garlic, crushed or pasted
Juice of 1 lime

Preheat oven to 450ºF. Bring a large pot of water to a boil, salt it, add the pasta and cook until al dente. Drain, reserving 1 cup of the pasta-cooking water.

While the pasta is working, on a baking sheet, drizzle the squash with olive oil and season with salt, pepper and grated nutmeg. Roast until tender and charred at the edges, about 18 minutes.

Meanwhile, using a food processor, pulse 1/3 cup olive oil, herbs, cheese, pepitas, chiles, garlic and lime juice. Season with salt and pepper.

Add the pesto, reserved pasta-cooking water and squash to the drained pasta. Toss gently and squeeze a little lime juice on top & serve.