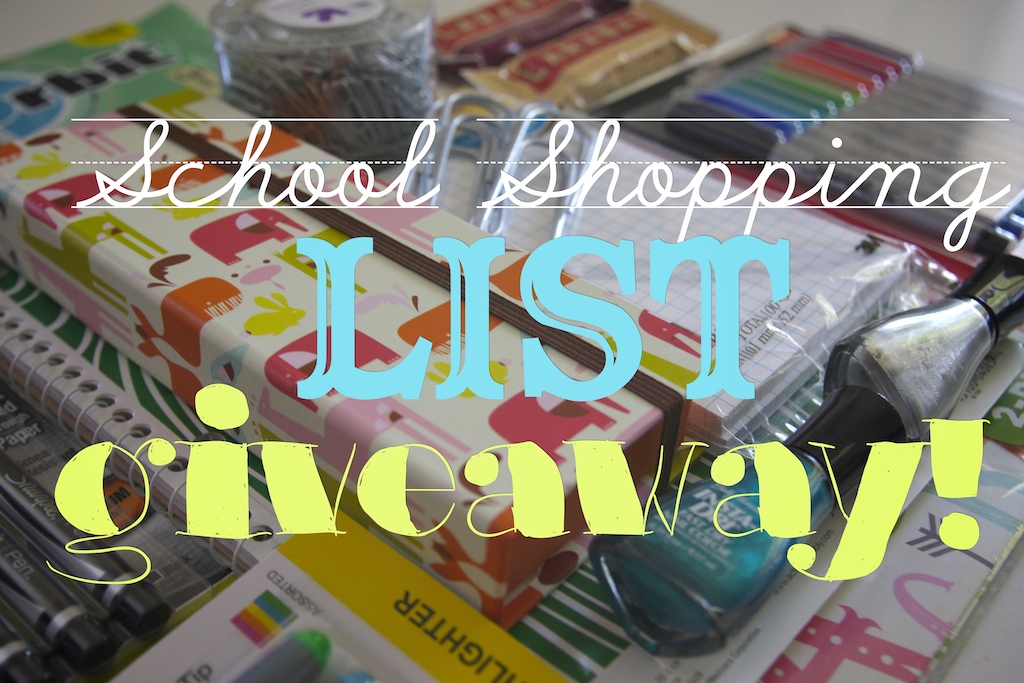 Fun Fact: I LOVE BACK TO SCHOOL SHOPPING; it's my favorite time of year!  I'm one of those people who needs an objective when I shop; so when there's a list involved I feel completely satisified picking out and checking off items. You can imagine how much I loved organizing stuff for summer camp as a kid.
In the past few weeks I've had my eye on some cool things at my local Target. I saw a few kids with lists and baskets full of supplies and couldn't help but feel JEALOUS. Although I don't miss going to school, I do miss having cool new shoes and a backpack full of the latest school supplies. This year I decided to make my own school shopping list and buy supplies for one lucky reader! If you're not in school, who cares?? I'm totally acting like I am. I've got a brand new pencil case in my purse filled with fresh Sharpies and I'm not ashamed. There might be a highlighter in there or two cuz you never know when you might need one!
Here's what I picked out for YOU!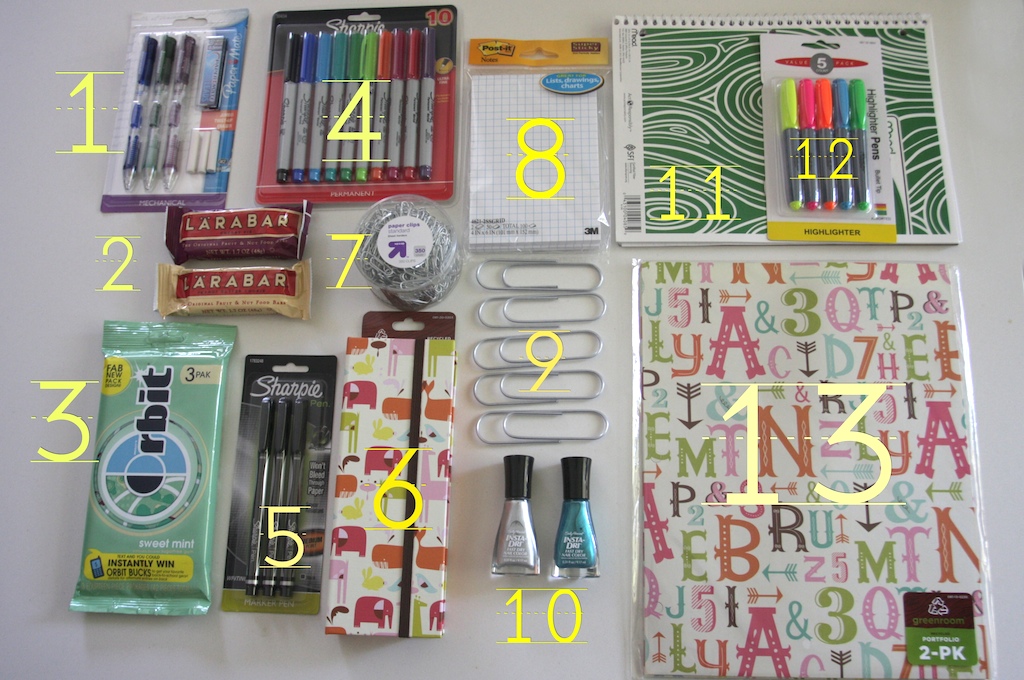 1. MECHANICAL PENCILS—my favorite! I like a thick lead mechanical pencil. I hope you do too!
2. LARABARS—you need energy with all of your studying! Flavors: Cherry Pie & Peanut Butter Cookie.
3. GUM—Sweet Mint! Who doesn't need gum? Just don't let your teachers catch you chewing it!
4. SHARPIE- COLOR PACK—seeing a pack of colored sharpies makes me happy. 'Nuff said.
5. SHARPIE- MEDIUM POINT—essential for list making. These ones don't bleed through paper! I'm mildly obsessed with them and I think they make my handwriting better.
6. CUTE PEN CASE—what are you gonna put your new pens in? duh!
7. PAPER CLIPS—these ones are coated. They look cool.
8. GRAPH PAPER POST-ITS—the greatest invention since sliced bread. Seriously. Life changer. Sometimes they are hard to find!

9. GIGANTIC PAPERCLIPS —great for huge paper stacks. You won't realize how much you need these until you don't have them.

10. NAIL POLISH— Silver Sweep & Blue Streak Sally Hansen's Insta-Dri. The wand is thick & it dries super fast. You could easily paint your nails in the AM if you have to.

11. NOTEBOOK—where you write down ideas, love letters & shopping lists…
12. HIGHLIGHTERS—because the world looks better highlighted. Neon is IN.

13. FOLDERS—so you can put all your important papers in one place!

A winner will be picked at random a week from today–September 2nd!  Good luck!