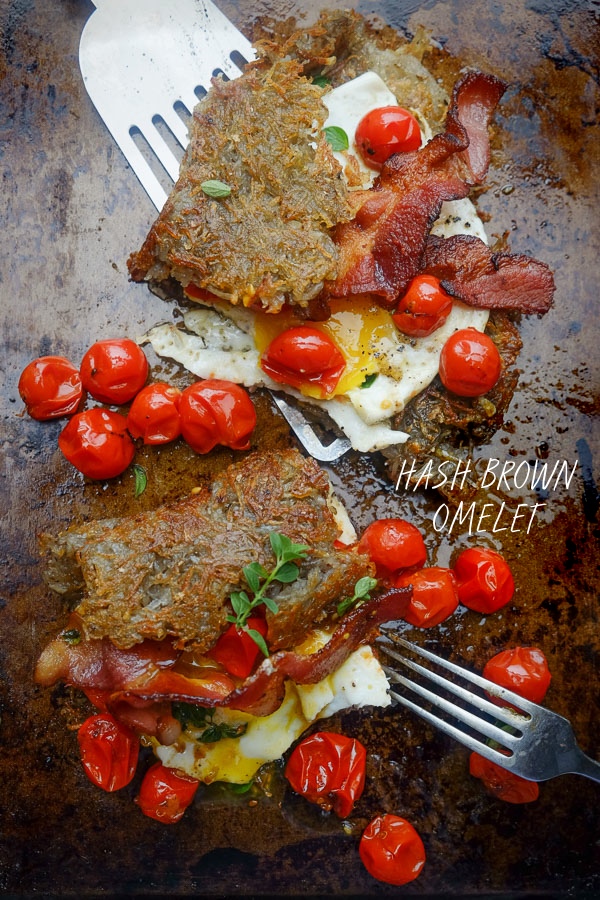 I am currently on day 21 of Whole30. ONE MORE WEEK TO GOOOOOOOOOOOOO. Seriously though, it hasn't been that bad because YOU CAN HAVE POTATOES ON WHOLE30 (now! apparently!).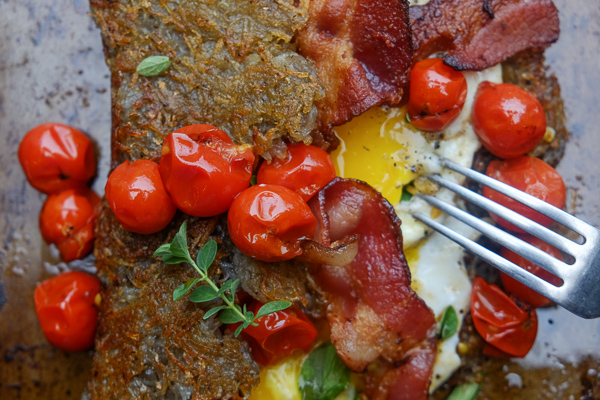 I've been trying to keep things interesting around here food wise. I don't want to burn myself out on anything, so I'm playing around with preparations. Eggs and potatoes for breakfast in all different ways. This technique of making an omelet out of a hash brown was pretty fun!  It's a little softer than my hash brown waffle situation. If you don't have a waffle maker, this Hash Brown Omelet is your best bet!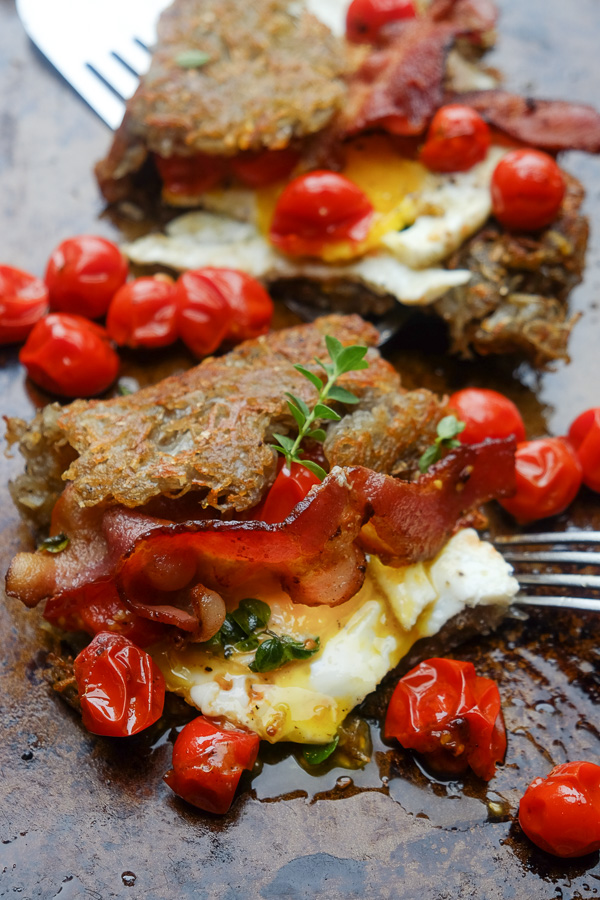 Inside that crispy/soft omelet, you have two eggs nestled in snuggly with strips of crispy bacon and blistered tomatoes with oregano. Whole30 doesn't looks so bad, does it now? Still though…. I was dreaming of cinnamon rolls all weekend.
Let's gather our ingredients.
This is a perfect last minute dinner.
If you're not on whole30, use vegetable oil in place of the ghee.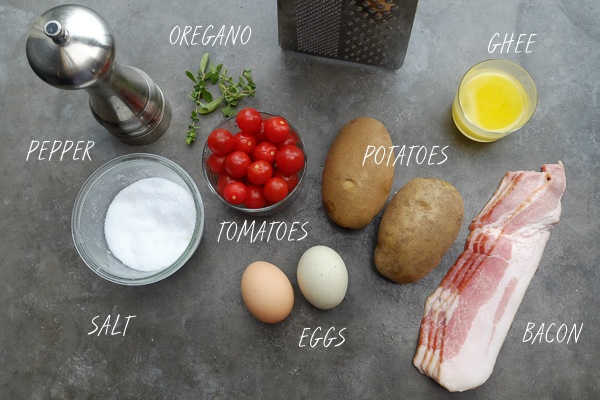 Shredded potatoes.
Bacon fry.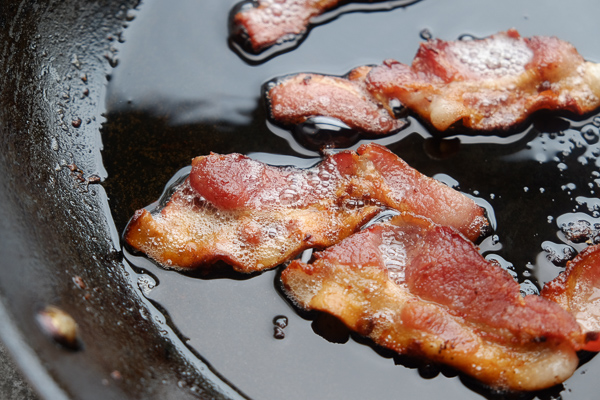 Tomatoes cooked with oregano in leftover bacon grease.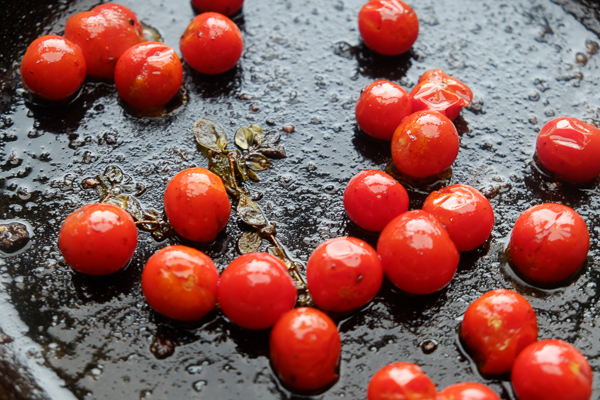 Potatoes + ghee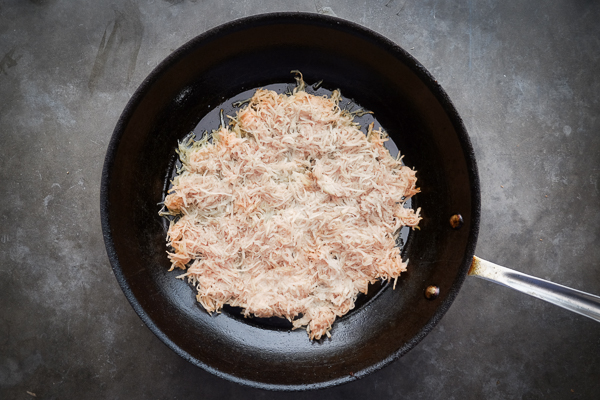 FLIP.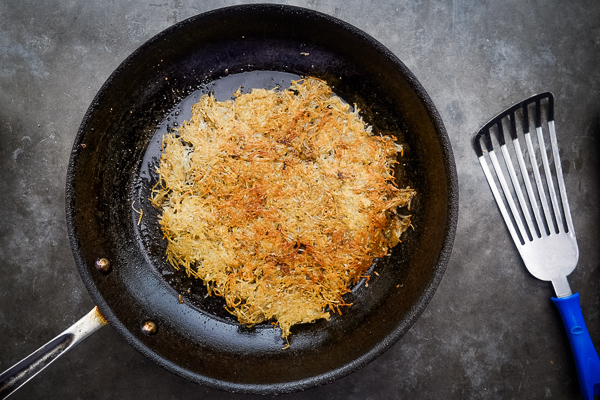 Fry the eggs. Add the bacon & tomatoes to warm back up.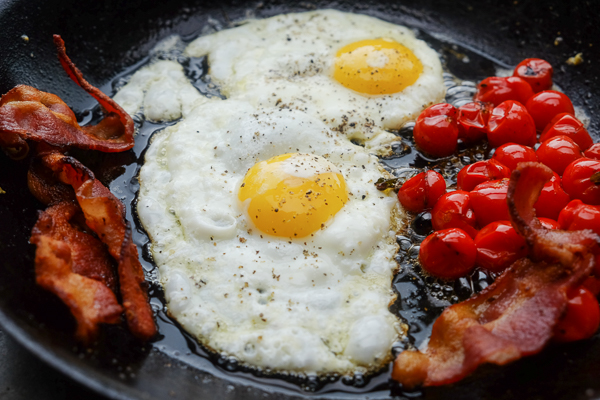 Put that omelet on a plate or baking sheet!
ALL THE THINGS on top.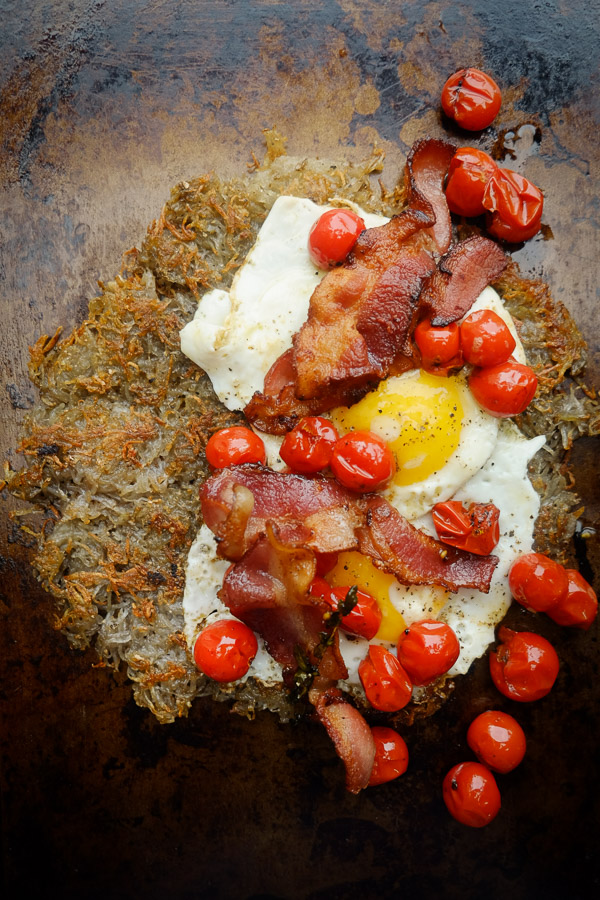 Fold in half.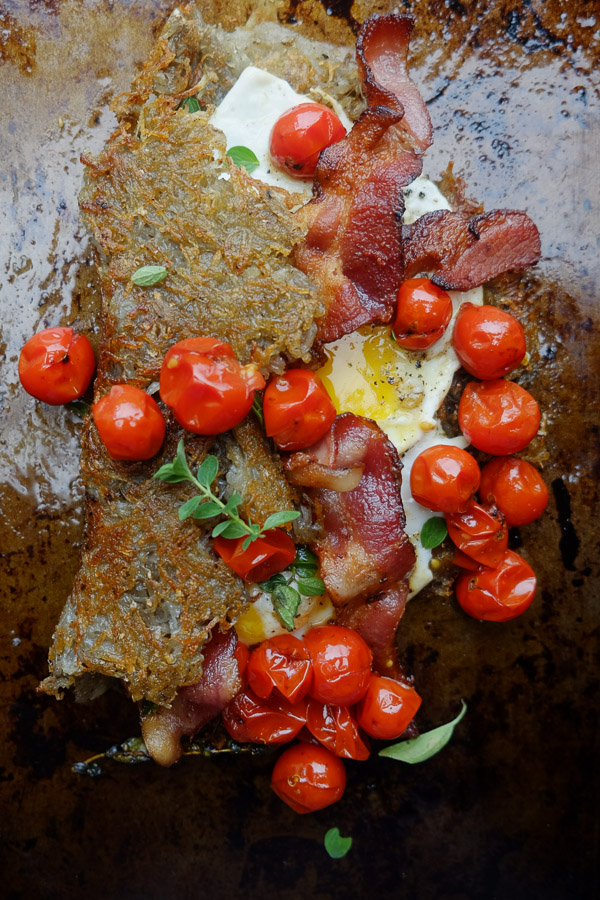 Serves two. Or one really hungover human being.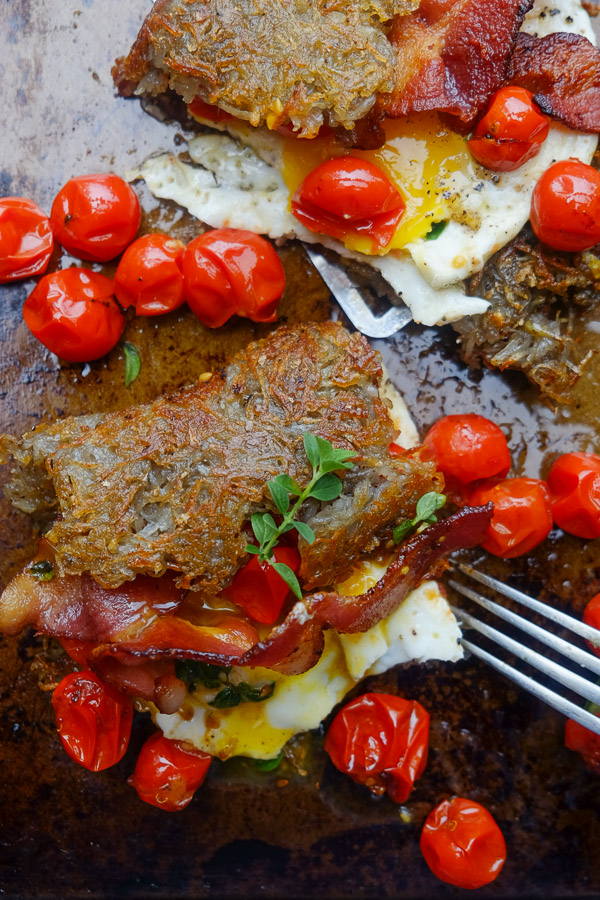 Dibs on the crispiest one.
Hash Brown Omelet

serves 1-2

recipe adapted from Classic Recipes for Modern People

4 strips bacon
2 cups cherry tomatoes
3 sprigs fresh oregano
2 large russet potatoes
2 Tbsp vegetable oil, plus more if needed (I used ghee)
2 large eggs
Kosher salt and freshly ground pepper
Hot sauce for serving

In a nonstick frying pan, cook the bacon over medium heat until crispy, 3—4 minutes on each side. Transfer bacon to a plate.  Drain bacon fat from pan, leaving a little to cook tomatoes.  Add tomatoes and oregano to the pan and cook until tomatoes start to blister, about 4-5 minutes. Set them aside with bacon.

Using the medium holes on a box grater, grate the potatoes into a bowl. Squeeze to remove excess liquid. Do not rinse. In a nonstick frying pan, heat the vegetable oil (or ghee) over medium heat. Press the grated potatoes tightly into the pan to form a circle; you don't want any gaps. Cook without disturbing for 3 minutes. Gently swirl the pan. If the entire disk of hash browns moves together without any sticking, you're in great shape.

Invert a plate over the pan, carefully invert the pan and plate together, lift off the pan, and then slide the omelet back into the pan. Cook the other side until deep golden brown, 2—3 minutes. Remove from the heat and keep warm.

Wipe out the pan used to cook the bacon and set it over medium heat. Carefully crack the eggs into the pan and cook until the whites are just set, about 3 minutes for sunny-side up. Sprinkle with salt and a grind of pepper.

Put the bacon, tomatoes and eggs on one-half of the hash brown omelet and gently fold the other half over to close. Using a spatula, slide the omelet out of the pan onto a plate. Serve right away with hot sauce.