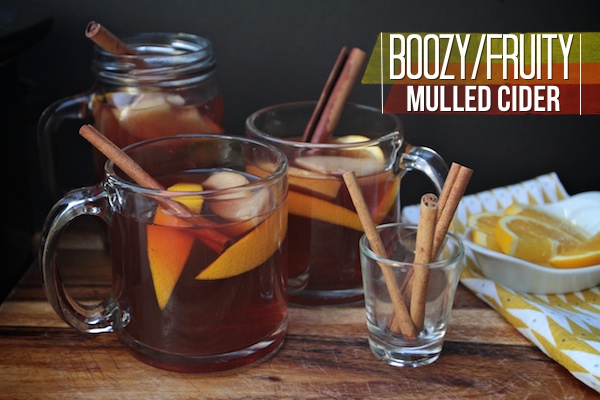 I've wanted a Crock Pot for a looooooooong time. Most of the magazines I subscribe to include slow cooker recipes and I always felt slighted because I never had one. In the back of my head I kept thinking about the space a Crock Pot takes up and how often I'd use it and I could never fully make the plunge to purchase one.  Would I only be able to braise meat in it? Would it be a dust collector in my garage? Hmmm.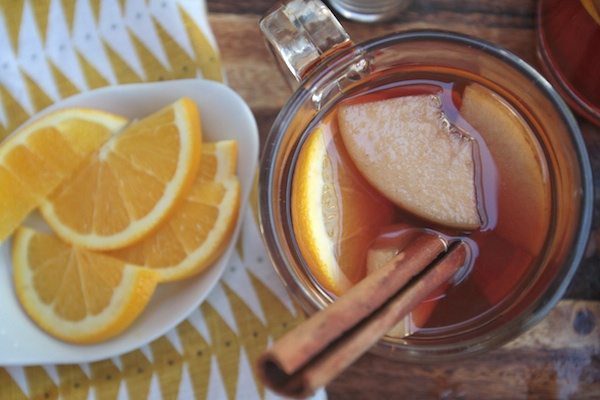 But then I started entertaining and I realized that maybe I do need one.  Everyone who has one says they love theirs and use it often and apparently it helps you save a lot of time while entertaining. So yeah! Sign me up.
The kind people of Crock Pot offered me one of my very own and of course I said yes. They launched a new brand of customizable Crock-Pots and I jumped right on their super classy black Damask design. They have a cool feature where you can add some of your own photos to the design and while I wanted to fully customize mine…the pictures I'd put on my Crock-Pot probably would be filled with inside jokes that I couldn't fully explain to the internet.  Catch my drift?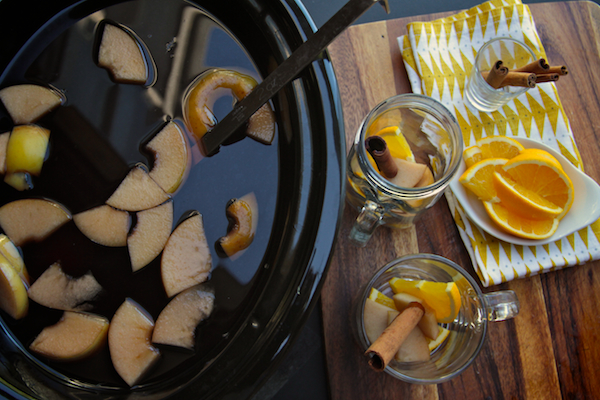 I came up with this Boozy Fruity Mulled Cider as something to offer my guests this Christmas. It's kind of like a mix between spicy mulled cider, sangria and a bourbon punch. It's sweet and tangy and tastes like Christmas time. It's guaranteed to warm you up on a cold winter day.  What I like about this drink  is that I can plug it in, set it on a table and direct people to another place other than my kitchen. You know how everyone loves to hang out in the kitchen….while we're all trying to work!
And we're off!
Gather your ingredients together. It's super simple! We're building a fantastic flavor profile.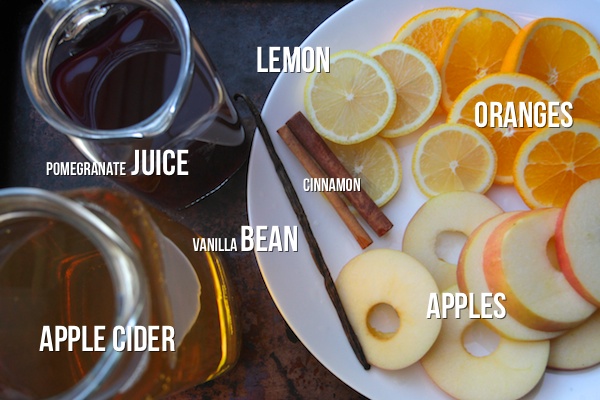 Get our your Crock Pot! Here's mine!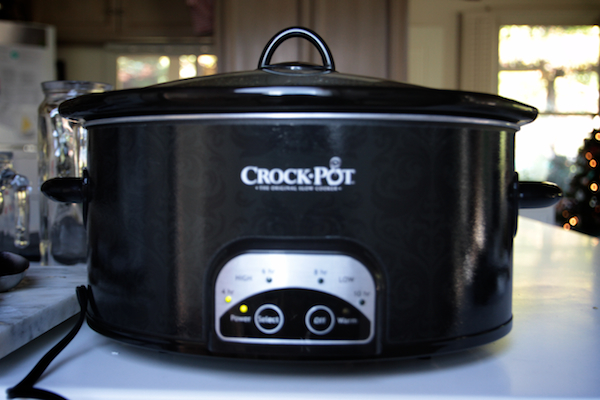 Put the orange, lemon, cinnamon, & vanilla at the bottom of the pot. Pour in your apple juice.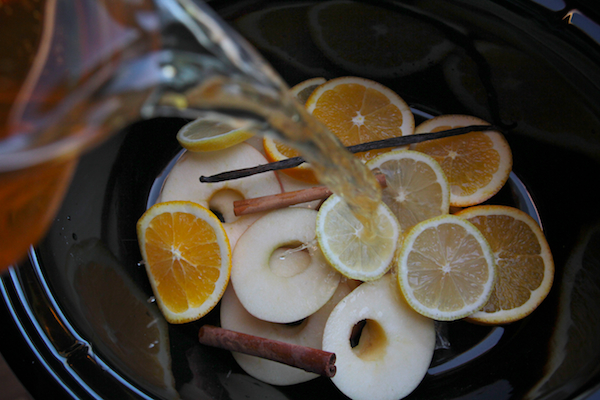 In goes the pomegranate juice.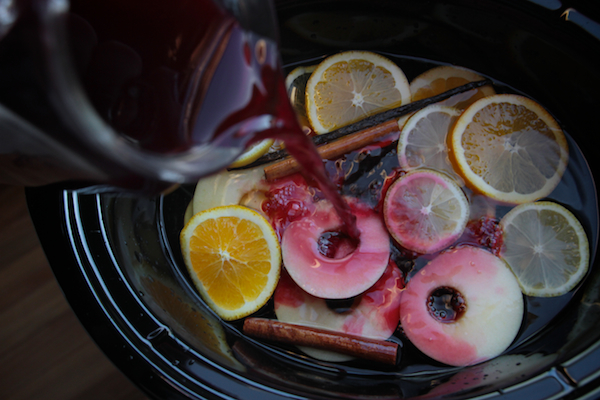 Top with water.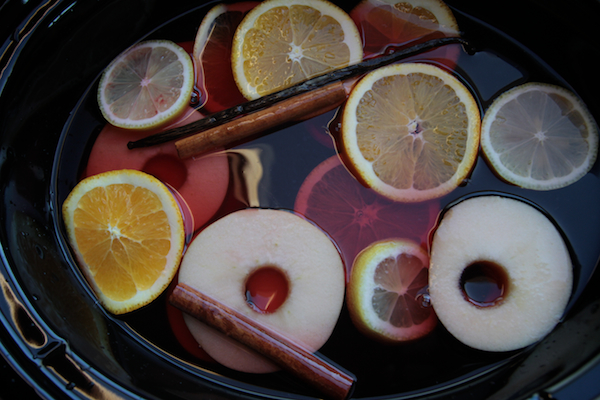 Stir in brown sugar.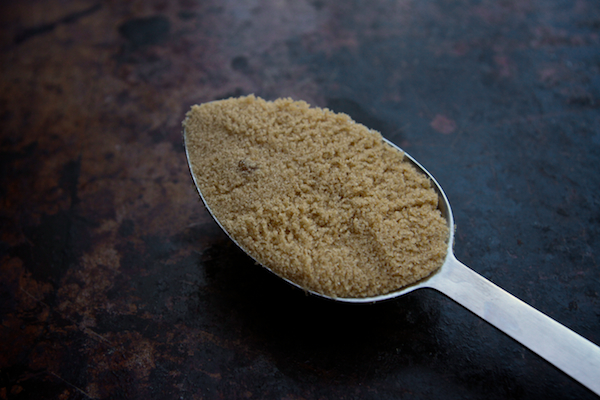 Now turn the Crock Pot onto High for 3 hours. Cover with the lid.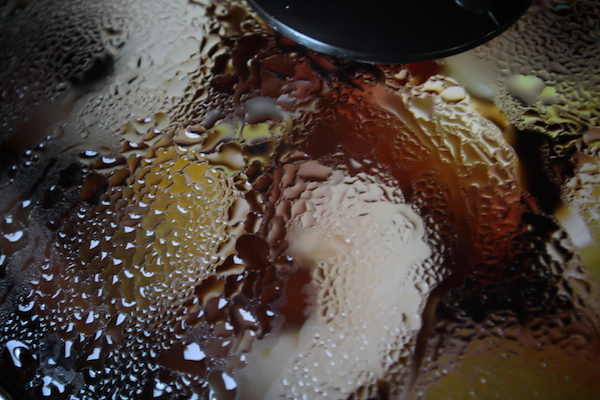 After 3 hours, take out the fruit. Chop up the apples and discard the oranges.  Return apples to Crock Pot.
Cut a few new  slices of fresh orange for garnish.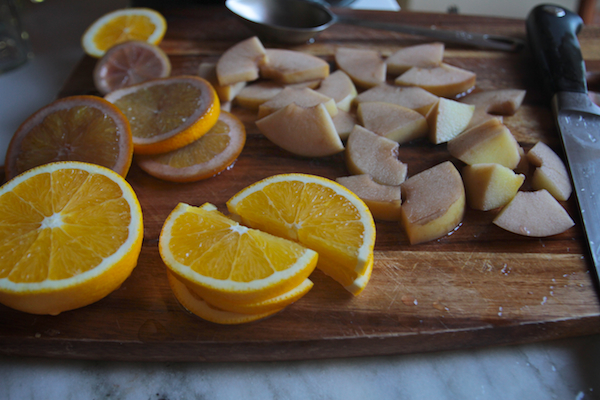 And now the fun begins….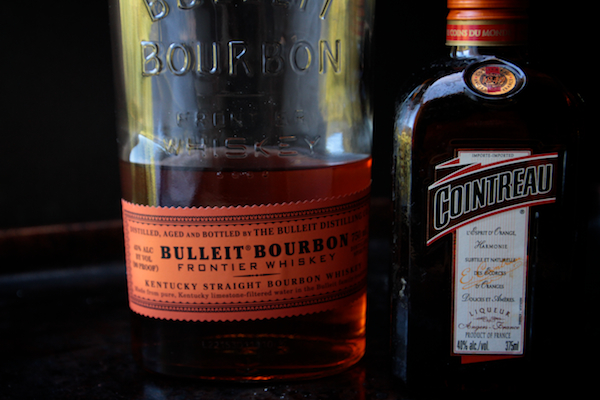 Pour the Bourbon & Cointreau into the mulled cider mixture.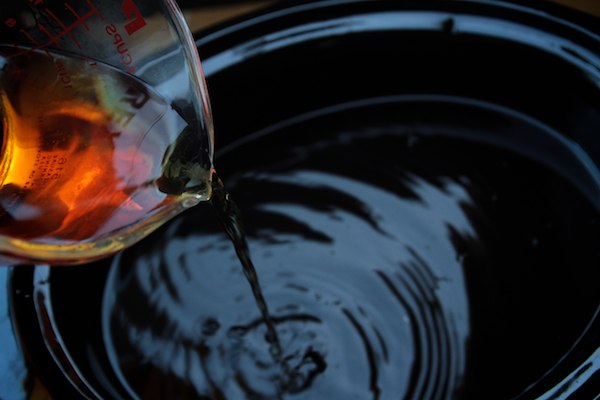 Now you're ready to fill up your glasses!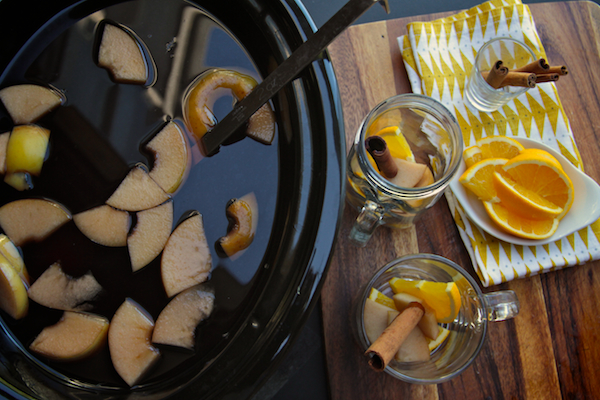 For garnish, place a few apple slices at the bottom, tuck a few orange slices in there as well as a cinnamon stick.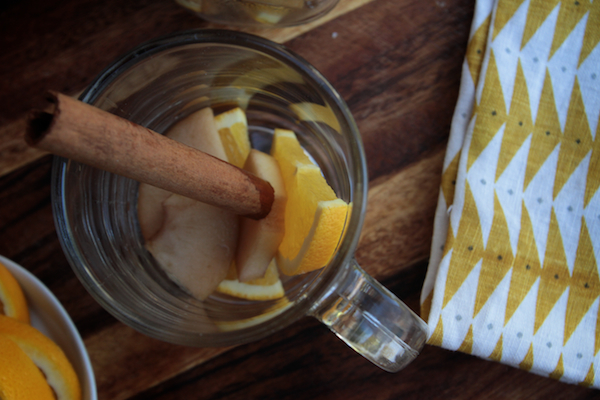 Now you're ready to party!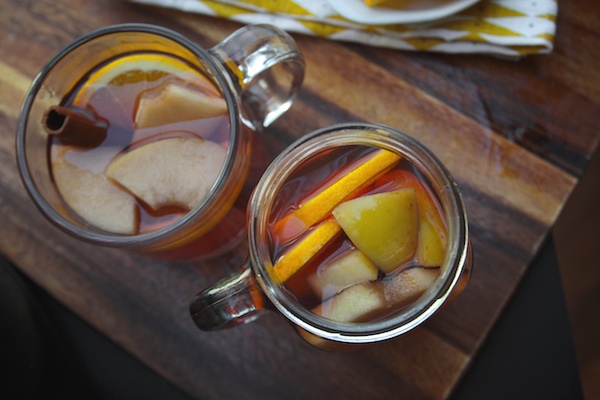 And the best part is that you can set it off to the side of the party, so you can continue working in the kitchen….IN PEACE!!
Do you have any good Crock-Pot recipes? Help this newbie!!!

Boozy Fruity Mulled Cider

makes 12 servings

1 apple, cored & thinly  sliced
2 oranges, thinly sliced
1 lemon, thinly sliced
2 cinnamon sticks
1 vanilla bean
8 cups apple cider
1 cup pomegranate juice
2 cups water
1/8 cup brown sugar
1 cup bourbon
1 shot Cointreau
extra cinnamon sticks for garnish

Place apple, slices of one orange, lemon, cider, pomegranate juice, water, brown sugar, cinnamon sticks, and vanilla bean in the Crock Pot and heat on High for 3 hours, covered. Remove apple, orange & lemon slices. Chop apple into smaller pieces, discard orange & lemon slices and return apples to the mulled cider.

Stir in bourbon and Cointreau and mix well. To serve, place a two fresh orange slices into each mug along with a fresh cinnamon stick.  Ladle hot mulled cider into each cup making sure to include a few apple slices.