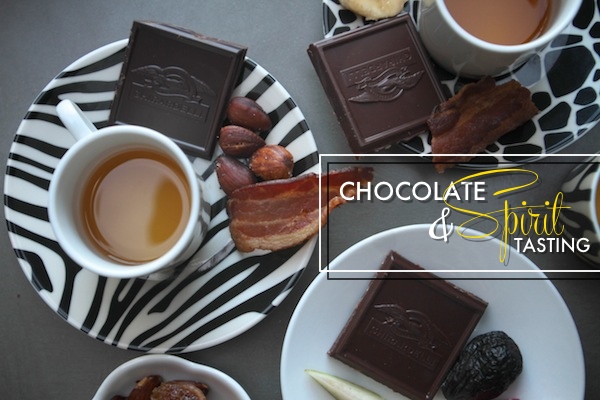 While entertaining, I like to give my guests as many options as possible. It's always fun to see what people gravitate towards. Everyone enjoys different things!  I also like to see how many plates & dishes I can use on one table, but that's an entirely different topic we'll talk about (never).
Ghirardelli  sent me a bunch of their new Intense Dark™ Chocolate to taste, and I decided to throw a little Chocolate & Spirit Party with them. I mean…what's a girl to do with a six bars of chocolate?!  I thought it would be fun to encourage my guests to create fun flavor profiles with all of the food/spirit options I provided.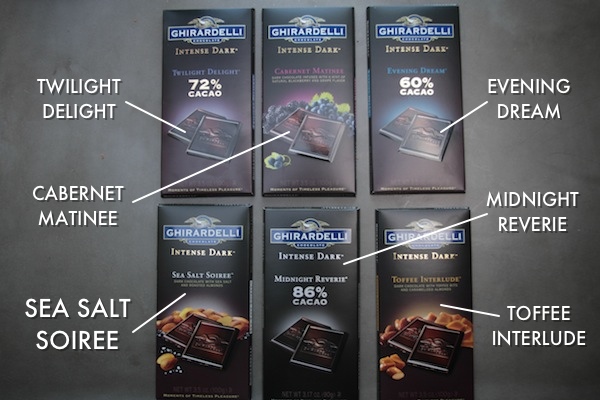 Let's talk about CHOCOLATE! Ghirardelli  has a line of Intense Dark™ Chocolate.  There are so many different flavors to choose from!  In order to customize my party, I made labels out of card stock for each of the chocolates. The names are super intriguing and fun to write out.
Midnight Reverie
Cabernet Matinee
Twilight Delight
Toffee Interlude (my second favorite!)
Evening Dream
Sea Salt Soiree (my favorite!)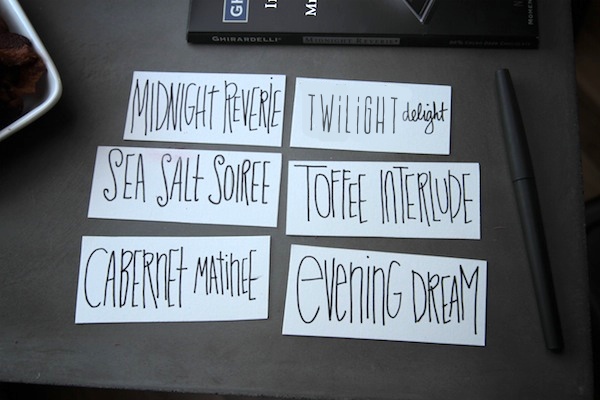 On the table where I set up the party, I formed little mounds of chocolate next to their corresponding handwritten label. I might have hoarded a few pieces of the Sea Salt Soiree in a kitchen cabinet…Shhh… don't tell.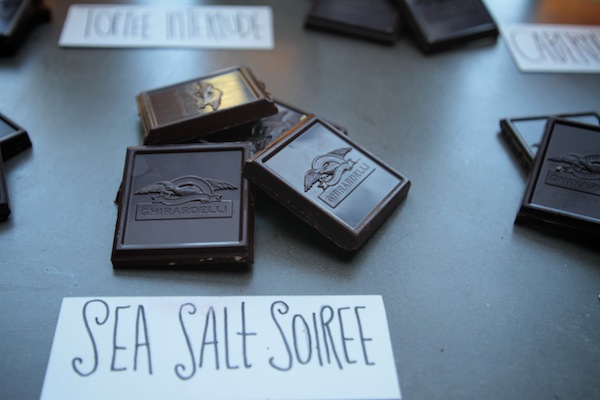 OPTIONS! OPTIONS! Let's talk about food options to pair with the chocolate.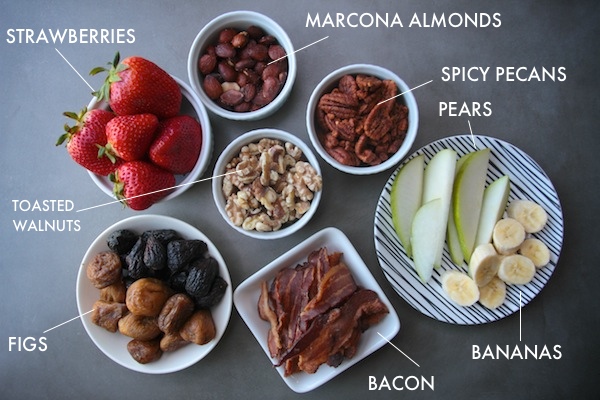 PEARS
STRAWBERRIES
DRIED FIGS
TOASTED WALNUTS
BACON
BANANAS
SPICY/SWEET PECANS
SALTED MARCONA ALMONDS
Most of these items were picked up from Trader Joe's…which means you can have a tasting party in no time.
And now let's talk about SPIRITS!  I busted into our Liquor Cabinet for this one: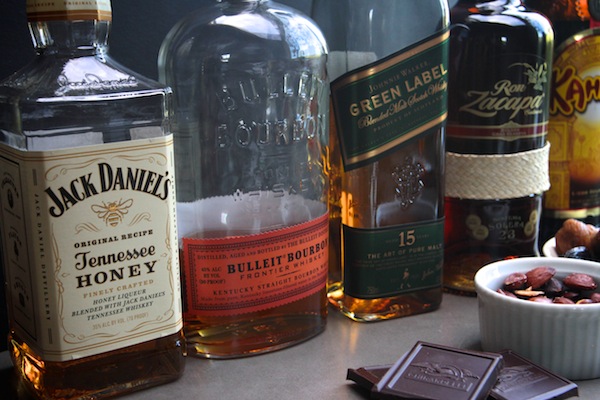 Did you know that it's actually really hard to pair chocolate with wine? You can read more about it
here.
Since hard liquor is kind of my thing, I like to pair spirits with chocolate.
For those who aren't into alcohol— tea, coffee, and hot chocolate are also good options. It's ALWAYS important to serve water at a chocolate tasting party. It helps cleanse the palate. Chocolate makes me thirsty. Am I alone here?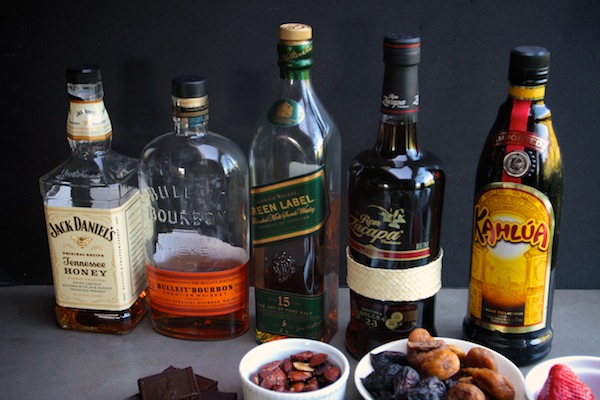 Jack Daniel's  Tennessee Honey Liqueur
Bulleit Bourbon
Johnnie Walker Green Label Malt Whisky (which has been discontinued!)
Ron Zacapa 23 Rum
Kahlua (for those who want to mix coffee with their chocolate)
And now we have the spread!
CHOOSE YOUR OWN ADVENTURE!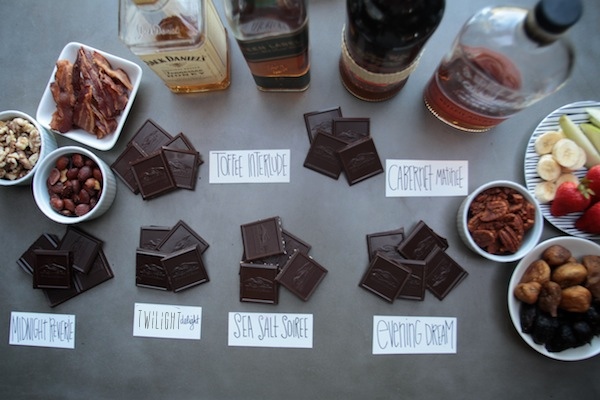 I used some of my espresso cups for this party. I thought it would be fun way to contain the spirits.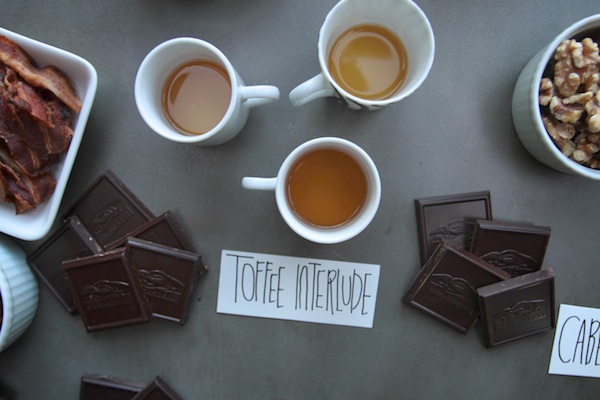 And then I encouraged people to use the saucers for their chocolate pairings.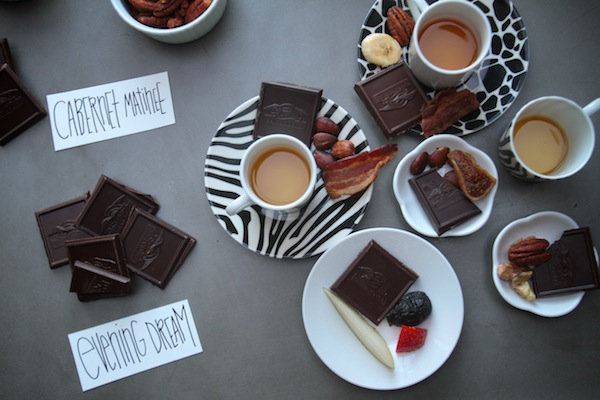 You can see a little pairing of pear, fig & strawberry to bring out the fruitiness of the Cabernet Matinee.
It's like grape infused chocolate!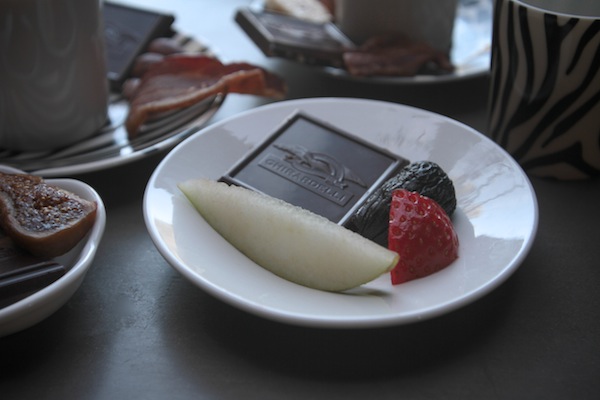 Bacon? Banana? Nuts? Bourbon?! You know I'm down with those combinations.
My mind races with thoughts of a nutty chocolate & banana rum birthday cake….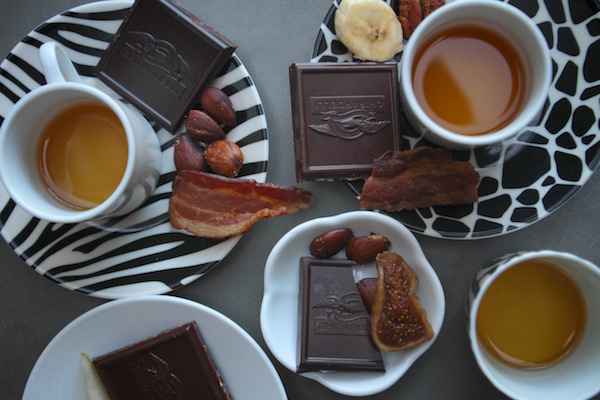 Having all of the options in front of guests provides excellent conversation maximizes guest participation.  Just keep your eye on those competitive folks…We've learned that there are certain people we could never play boardgames with. Monopoly is the worst. It gets too heated!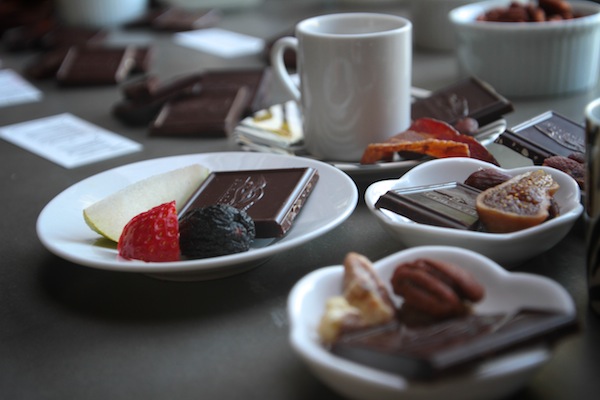 This post is sponsored  by Ghirardelli Intense Dark™ Chocolate. Create your escape here.