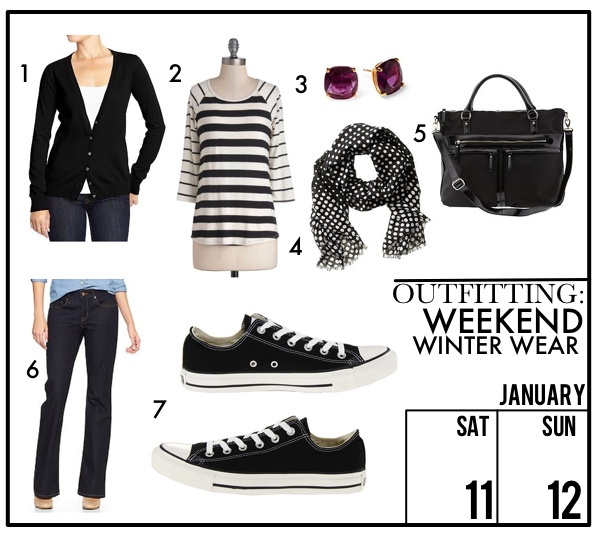 ONE/TWO/THREE /FOUR/FIVE /SIX/SEVEN
My weekends are for errands at the earliest hour possible and hanging out with friends/family. My goal when dressing on the weekends is to be casual yet semi-polished. Today I'm sharing  my weekend winter uniform with you! Here in the Bay Area, I may or may not be wearing a coat…It's been in the 60s this week!
First things first. Long & Lean jeans from Gap because they work really well on me (I get petite because I have short legs). This cardigan from Old Navy is AMAZING. I bought it in green & purple because I love the fit. It's nice and long! Converse because HELLO, I can move around in them and they're classic. A striped shirt because I'm Tracy Shutterbean. A scarf that's black & white with polka dots because I like mixing patterns these days and I feel like mixing black & white with black & white works. My most favorite bag (ever?) because I can fit a lot inside (also with leopard lining!) and my new favorite earrings that add a nice pop of color to my black & white palette. If you see me at the grocery store I'm probably wearing this with my glasses on so you can't tell I'm not wearing makeup. Please don't look at the back of my head. My hair will probably be unkempt.
*this post contains affiliate links*