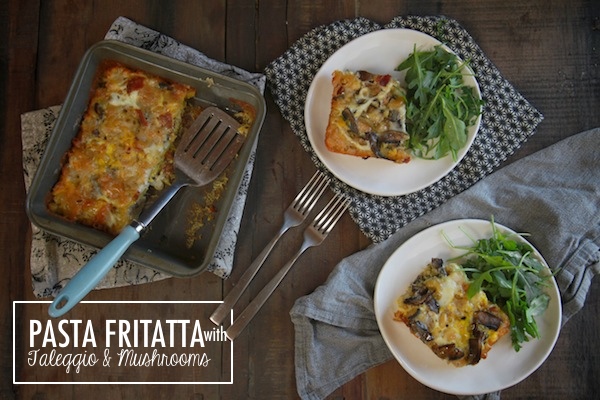 When we were first dating, I made Casey a mushroom dish that gave him food poisoning. He got it, I didn't—and we BOTH ATE IT. How does that work?  I have no idea what happened, but since then he has been very apprehensive about me making dishes that involve mushrooms. I can't say I blame him.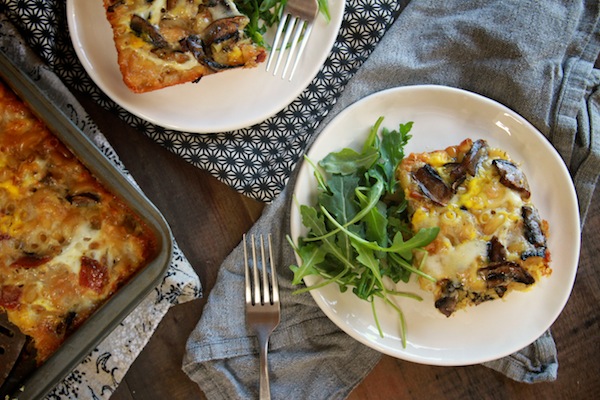 I absolutely ADORE mushrooms and during colder months I can't get enough! It's been fourteen years (whoa!) since the mushroom incident and fortunately, Casey has learned to love mushrooms. I think white truffle oil paved the way. I can put it on anything and he will devour it. Go figure.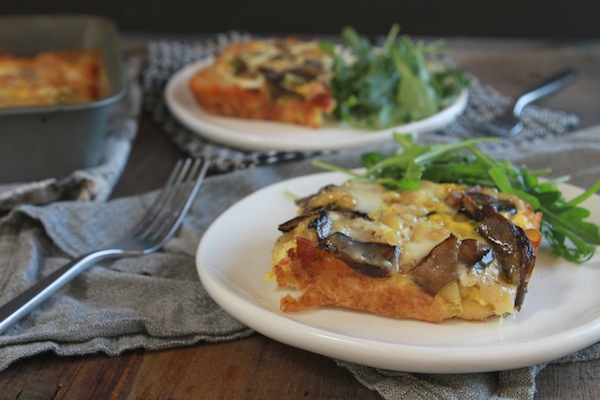 This pasta fritatta recipe comes from  Melt: The Art of Macaroni & Cheese. It's a cookbook for mac & CHEESE lovers. If you're looking for ways to impress guests with cheese knowledge while serving them up a unique take on macaroni & cheese, this is the book for you!  How could you go wrong with Taleggio, mushrooms, pasta & truffle oil?? I added a bit of arugula to the site to cut the richness…and  to trick myself into thinking I'm being healthy. It kinda worked!
And we're off!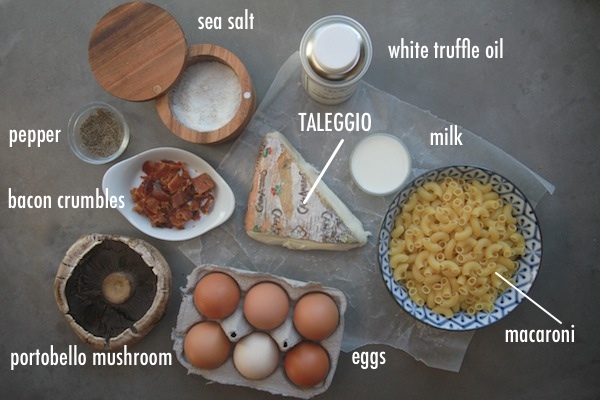 We're gonna dry sauté mushrooms! That means no oil! Just a pan & mushrooms.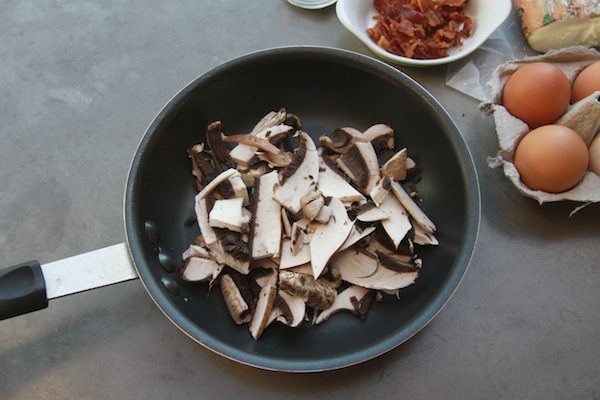 Mix the milk with the eggs. Add salt & pepper.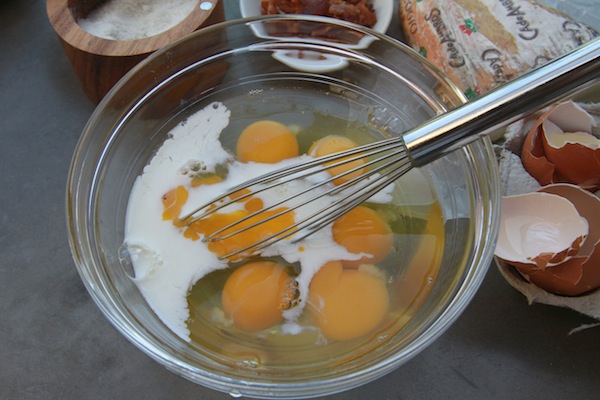 Crumble the Taleggio and mix it with the macaroni, mushrooms & bacon.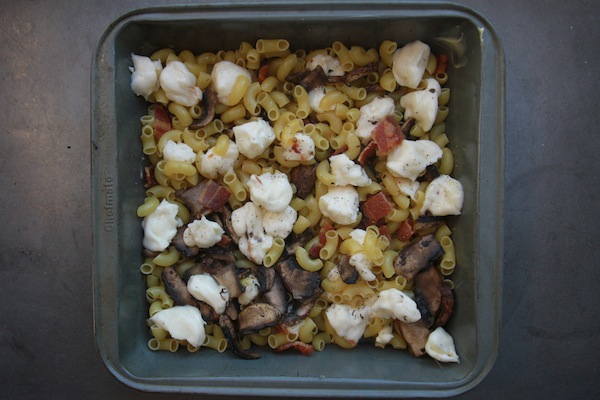 Pour the egg mixture on top! Push the macaroni down so the eggy mixture covers the pasta.
BAKE!!! It's total alchemy.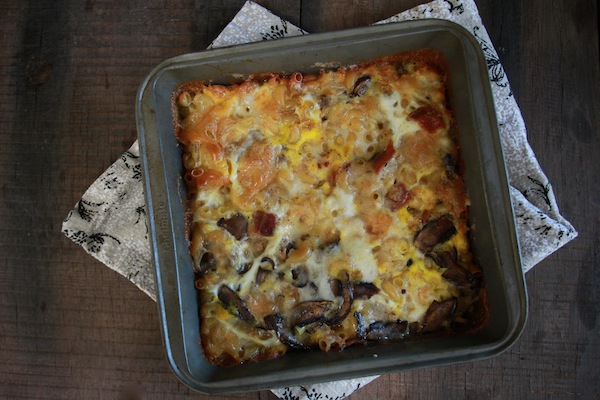 Now we bust out the white truffle oil. You could totally use black truffle too.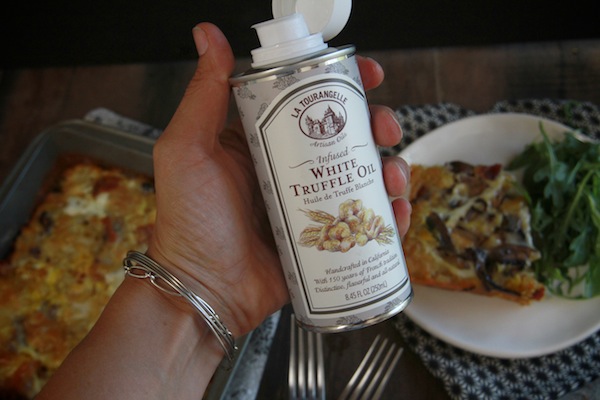 Drizzle on top.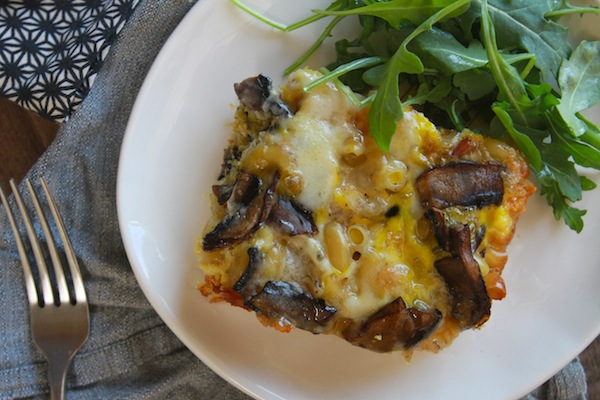 Serve it up!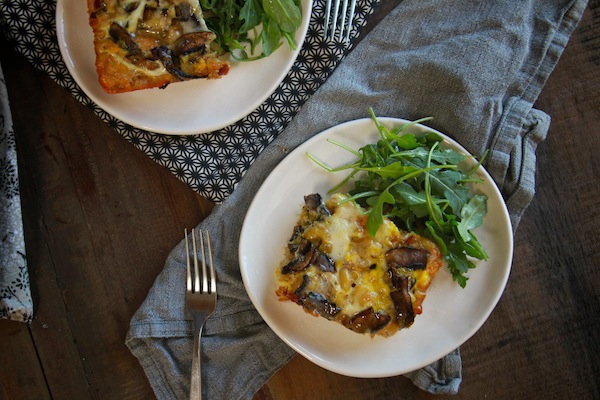 Mushroom lovers UNITE!
Think pasta meets frittata meets breakfast.
Pasta Frittata with Taleggio, Mushrooms & Truffle Oil

recipe adapted from Melt: The Art of Macaroni & Cheese

serves 2 as an entree & 4 as a side dish

6 large eggs

1/4  cup whole milk
1/2  teaspoon sea salt
1/4  teaspoon freshly ground pepper
1 small portabello mushroom, stem removed, cut in half & thinly sliced
1  1/2  cups elbow macaroni
8 oz. Talleggio, rind removed, chopped into 1/2 inch cubes
3 strips cooked bacon, crumbled
1 teaspoon white truffle oil, or more to taste

Whisk together the eggs and milk. Season with salt & pepper and set aside. Preheat oven to 350F.

Place a saute pan over high heat. Once hot, add the mushrooms and reduce heat to medium. (This is a dry sauté without oil). The mushrooms will slowly release their liquids and cook through. Keep stirring and tossing. The mushrooms may squeak a bit as they cook, and you may feel they're about to burn. Don't worry they will soon reabsorb their water and shrink in size. Once the mushrooms are softened, toss with a pinch of salt and remove from heat. Set aside.

Lightly grease an 8 x 8 baking dish with butter. Toss the pasta, Taleggio, salami and mushrooms together in the baking dish. Pour the eggs and milk over the top. Make sure all the pasta is covered by the egg, pushing the errant noodles under with your fingers. Bake for 25-30 minutes, or until browned on top. Allow to cool for 5 minutes. Drizzle the top lightly with truffle oil and serve immediately.

***NOTES***

The original recipe called for cooking the elbow macaroni before baking. For some reason I didn't see that part!  I adjusted the recipe to compensate and it turned out great without cooking the macaroni. The pasta was al dente and cooked through during the baking process. Happy accident!  If you want to follow the original recipe, use 1 tablespoon of milk instead of the 1/4 cup.