A new year, a new list of FAVORITE THINGS! Every year I like to compile all of the things that made my life better/more enjoyable this year and share it with you! If you're looking for some direction or inspiration while shopping this year, check out my Favorite Things Holiday Gift Guide 2019 edition! We have a mix of home stuff, tools, beauty, magic & FUN! Let's get to it.
Favorite Things Gift Guide of 2019
1. Nespresso Frother– We had one of these in the apartment we rented in Italy and I fell in love with it. It's the best way to make the most delicious foamy/fluffy hot chocolate for Cooper. I use it mostly to make Turmeric Lattes in the afternoon. It can make something as simples as oat milk feel like a real indulgence.
2. Fitbit Versa– I upgraded my Fitbit this year! I really wanted a watch that could read my heart rate and I LOVE THIS THING. I read a lot of comparison reviews of this and the apple watch and I'm glad I bought this one. It's a reasonable price and I used it ALL THE TIME to set timers. It also tracks my sleep, steps (obviously!), pops up my text messages, displays the weather and has a few fun apps to play with.
3. Moleskine Weekly Calendar- This is the calendar I've been using this year and it's working well for me! I adapted what I learned during my past three bullet journals and played with the structure of this one! If you're looking for a weekly calendar that gives you a full page to write notes/make lists, I think you'll also enjoy using this one too.
4. Spurtles– These wooden spoon/spatulas designed by my hero, Lucinda Scala Quinn are one of my FAVORITE tools in my kitchen. I use the small one almost every time I cook. It's a perfect size!
5. Wintersmiths Ice Maker – My husband is a huge ice nerd and he loves this. I love watching how he and Cooper nerd out while making these perfectly clear ice balls. I also like when he makes a surplus of that beautiful ice and leaves it in the fridge for my drinks. This thing has been a game-changer for him/us!
6. Hummingbird feeder – In 2019, I turned into a crazy hummingbird lover. I feed two hummingbirds every day. We watch them eat at my dining room table because this thing suctions onto the window! It's truly magical.
7. Milwaukee Battery Powered Hedge Trimmer– this was on my wishlist forever because we have so many plants to trim on our property and I cannot do it all with my clippers. I WENT CRAZY on our yard a few months ago and it was cathartic. My only regret is not getting one sooner!
8. Milwaukee Battery Powered Leaf Blower – I am obsessed with this thing. I actually looking forward to leaves dropping so I can have leaf blowing therapy. It is so incredibly calming and EXTREMELY SATISFYING to blow leaves into piles. I highly recommend.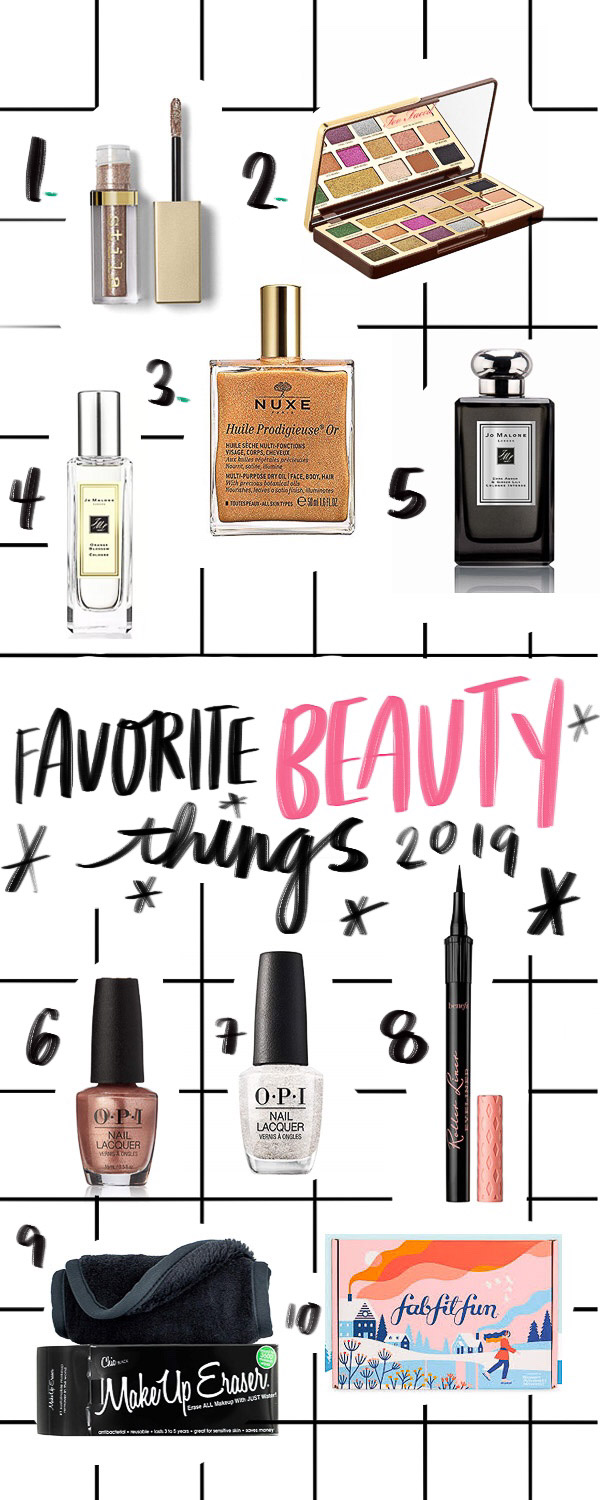 FAVORITE BEAUTY THINGS:
1.Stila Shimmer Liquid Eyeshadow– I watched a video of Maggie Rogers putting some of this on for her show and I WAS LIKE SIGN ME UP. It is a sparkle bomb for your lids. Life is better when you have sparkly eyes.
2. Too- Faced Chocolate Gold Eye Palette- I've been loving this palette. It has some good base colors and really fun/vibrant shimmery colors. If you like sparkly eyeshadow as much as I do, this one does not disappoint. It also kinda smells like chocolate…
3.Nuxe Shimmer Dry Oil– I love the way this smells/feels/leaves a subtle shimmer on my skin. It doesn't make your skin feel oily. It makes it feel light and hydrated.
4. Joe Malone Orange Blossom Cologne Spray– this fragrance makes me happy. It's like a RESET button. I love the smell of orange blossoms. Pairs well with the amber & ginger cologne.
5. Joe Malone Amber & Ginger Lily Cologne– my favorite fragrance to use a base for mixing. I wear it alone too. Great for this time of year.
6. OPI nail polish- Worth a Pretty Penne– this is the pinkest my nail polish choice gets. I love how this one catches the light! My Mom would have liked this one so it makes me think of her when I wear it.
7.OPI nail polish – Happy Anniversary – this is my favorite "neutral" nail polish. It doesn't show scuffs as easily as dark nail polish so I leave it on longer. Also, SPARKLES.
8.Benefit Liquid Eyeliner– I switched eyeliner this year and I LOVE LOVE LOVE this one. It glides on so easily and it stays on longer than the one I normally use.
9. Makeup Eraser– This thing is GREAT. It takes off my eye makeup in one swoop with WATER. It's MAGIC.
10. Fab Fit Fun Subscription- I treated myself to a subscription to Fab Fit Fun last year and I love it. It's always a nice surprise to receive a beauty box in the mail and try new things. If there's something I'm not going to keep, I'll save things to give to my niece or for friends to try. Here's $10 off your order!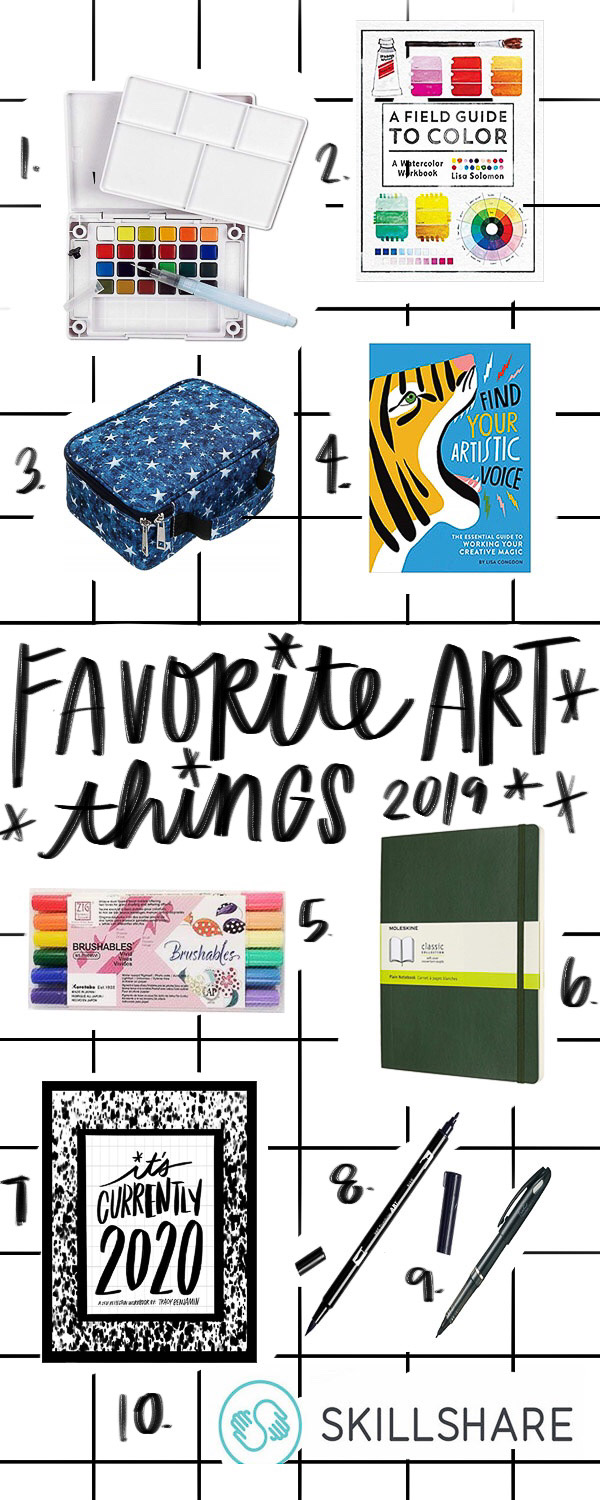 FAVORITE ART THINGS
1. Travel Watercolor Set– Cooper and I have our own and I bought one for one of his friends to use when they come over or we are traveling. I recommend getting a water brush pen to travel with. It makes painting (on the go!) so easy and fun.
2. A Field Guide to Color– My friend Lisa Solomon created this fantastic watercolor workbook that you can PAINT in. It's so meditative and I cannot wait to work in it more over our winter break.
3. Pen case– this is my new pen case and it makes me SO HAPPY. People are so impressed by it when I bring it out when I'm out. It's my PRECIOUS.
4. Find Your Artistic Voice – My friend Lisa Congdon has been inspiring me for YEAAAARS. Her work and voice are SO encouraging. If you want to work your creative magic too, pick up this one!
5 .Zig Brushables Vivid Pen Pack– It's like having 10 pens total! I love how brilliant and vivid these brush pens are. The orange made me shed a few happy tears. SO GOOD.
6. Moleskine sketchbook– a plain sketchbook is a beautiful thing. You're giving the gift of POTENTIAL!
7. Currently Workbook for 2020– get yours soon! We are going to start working on it together in 2020. Buy one for someone you want to journal with!
8. Tombow Brush Pen
– my favorite pen of all time! I use it in my food journal (also a great gift!) & my currently workbook!
9. Pentel Tradio pen– it's my favorite pen to write in my calendar with.
10. Skillshare class subscription! – gift the gift of a subscription. If you're new here and you like my handwriting, I worked on it by taking skillshare classes. It's the gift that keeps on giving for lifelong learners like me! Click here for 2 months free.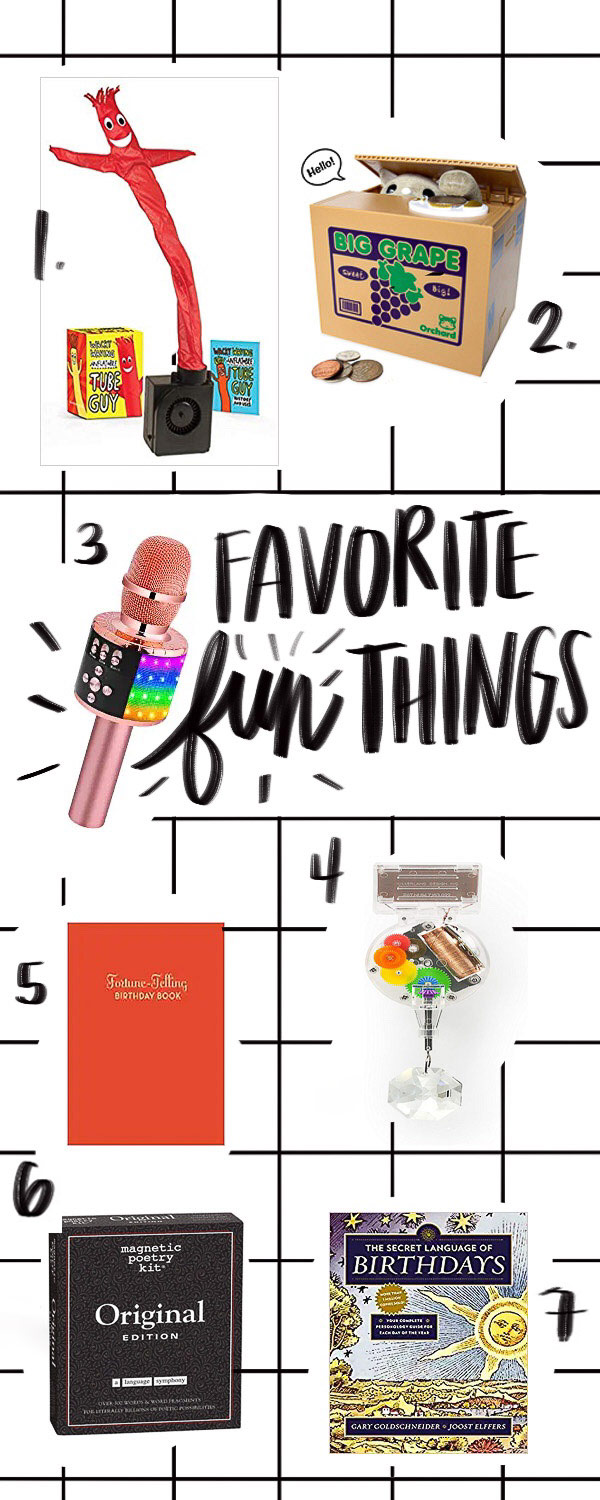 FAVORITE FUN THINGS/STOCKING STUFFERS
1. Wacky Waving Inflatable Tube Guy – Cooper and I have a fun time playing with ours!
2. Cat Piggy Bank -encourages us to save money because we see the cat paw take it away.
3.Bluetooth Karaoke Microphone – best way to add FUN to any situation.
4. Solar Power Rainbow Maker -because every house deserves a rainbow show.
5. Fortune Telling Birthday Book – I love learning about people's birthdays!
6 Magnetic Poetry – brought these back into our lives so we can make poems on the fridge.
7. The Secret Language of Birthdays Book – this sits on our coffee table and when I meet a new person, I read about them when I know their birthday.
I find this stuff so fascinating!
If you're looking for some self-care/treat-yo'self right items, check out my Favorite Things List for 2018. That was the year I worked on HEALING!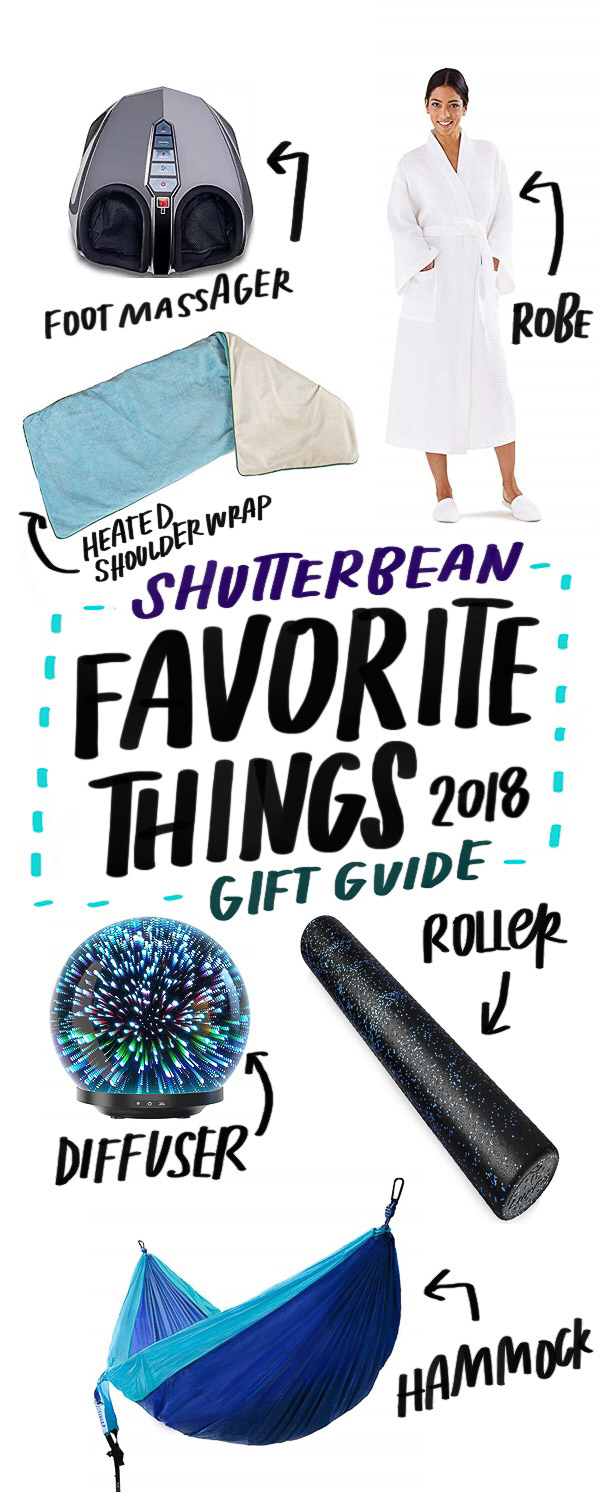 Happy shopping! I hope you find some magic and MAKE MAGIC for others in the process.
xo
Tracy