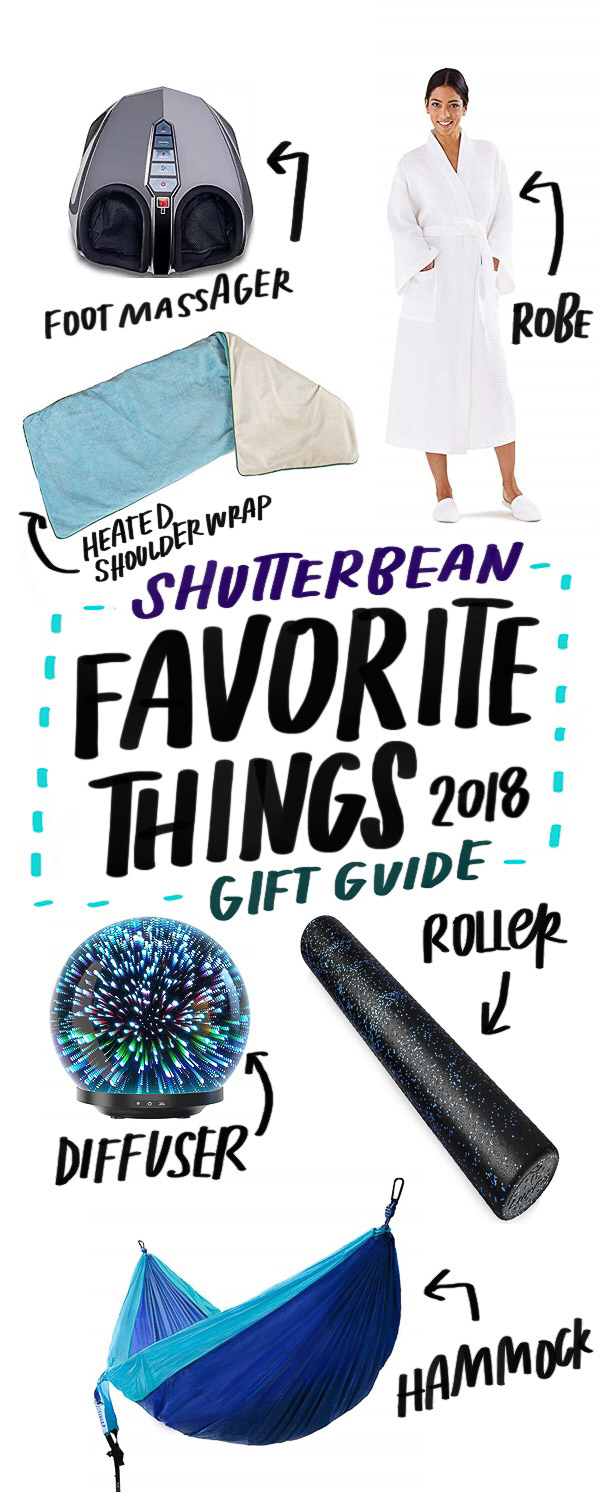 I put together a list of my Favorite Things Holiday Gift Guide (Oprah style!) and realized that every single thing is part of my self-care toolkit.   I think after this year of grief, I've figured out that the most important thing for survival during tough times is taking good care of myself. Whether it's, work, family, grief or the holidays, LIFE will take a lot out of you. I hope my favorite things help inspire you to either work on your own self-care routine or give the gift of self-care. Sometimes people need friendly reminders that they are worth the time and effort.  Newsflash: everyone is worth the effort.
Foot massager– Circulation is important! If you have cold feet or your feet are in pain and need massaging, I recommend getting a foot massager. Each session lasts about 15 minutes, which is also a good marker of time! Sometimes when I'm writing, I'll say "two sessions on the foot massager and then I can take a break."  You can adjust the pressure and the rolling and it warms your feet up in the process. No having to negotiate foot massages from another person!  The only problem I run into is that when I pull it out, everyone in my family begs to use it. It's something worth fighting over. You'll see.
Bath Robe– I had a terry cloth robe for like 7 years and replaced it with this one. I was a little worried about buying a robe off of Amazon without feeling it first (I am really sensitive/picky with fabric). This one is perfect!  When we were in Italy as a family many many years ago, my Mom was obsessed with waffle weave towels and now I think of her when I use it (daily). Waffle weave for the win! It's the robe I use when I get out of the shower and it's very absorbent. You'll instantly feel like you're in a spa environment while using one.
Heated  Shoulder/Neck wrap– We were having a family dinner last year and my Dad was complaining that his neck hurt. I popped this wrap in the microwave for about 4 minutes and wrapped it around his neck and he LOVED it.  Then I bought him one for his birthday. He uses it with his heated eye mask
. It's quite a sight!  If you're having a rough day and you feel the weight on your shoulders, heat this up and get into bed. The aromatherapy aspect of it is very nice. It's especially nice during the colder months. I will sometimes end up falling asleep after I use mine in bed!
Foam Roller – This roller is so useful that it goes on family trips, though it stays in my bedroom most of the time. If you ever have any back problems or have aching legs, you'll be happy you have one of these. I am not sure how you would wrap it if you give one as a gift, but my brother gifted one to my Dad last year and he's been a huge fan ever since.
Diffuser– Once you start your journey with essential oils, you'll find yourself adding diffusers to different rooms in your house. This is the one I have next to my bed. I like it because the light it gives off is SOOOO cool. It makes the experience even more enjoyable.
Hammock-    I got one of these nylon hammocks as a gift many years ago and it wasn't until this past year that I put it up. Hammock time is my favorite time. If you've been turned off by the weave in hammocks (it hurts after awhile! and leaves marks!), then you will like this one. You feel absolutely weightless and snug in your own private cocoon.
And some of my favorite tech/kitchen tools this year have been: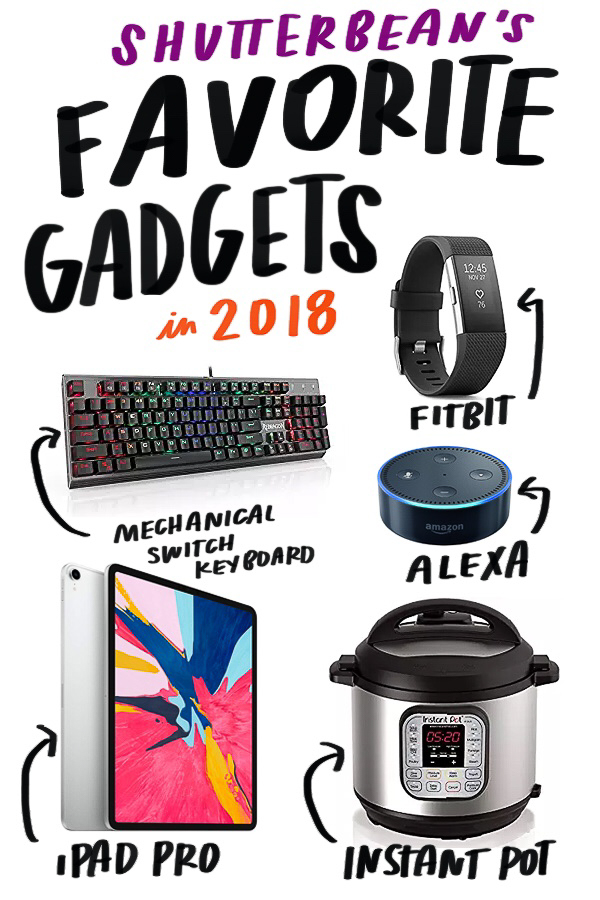 Fitbit Charge – Been wearing this thing for almost a year now. It keeps my activity level up! I also like checking my heart monitor and sleep cycles.  I live for the days when fireworks go off on the watch, telling me that I've hit my 10k step goal for the day. Knowledge is power, yo!
Alexa – One of the most used gadgets in our house!  I use it mostly for music and setting timers. You've probably noticed how often I do that when you watch my Instagram stories of cleaning up my house. It also comes in handy when you need to do measurement conversions in the kitchen or you want to check the weather forecast. For a good while, we were playing family Jeopardy with it at the dinner table. We have a few of them throughout our house!
Mechanical Switch Keyboard–  This year I switched from Mac to PC.  Part of that transition included getting a monitor and keyboard for my desk so I could edit photos on a bigger screen. One of the biggest game changers was my light up mechanical keyboard. That means it makes a nice sounds when I type. It makes typing more fun and I LOVE the feel of the keys under my fingers. PLUS!! It lights up and you can change the colors. How fun is that?!
iPad Pro   I've been loving mine! I mostly use it for hand-lettering (I use Procreate) with an Apple pencil
. It's a game changer. At least for me, it is. This is the case I have. It's a good theft deterrent because people will think it's just a composition notebook!
Instant Pot–  A great gift for someone who loves to play around in the kitchen.  It can cause quite a ripple effect in the kitchen when you get to use a brand new machine. Mine is mostly used for applesauce, hard-boiled eggs, bone broth, and braised meat. I've also made braised red cabbage in it. It's been a fun tool to have in my meal prep arsenal.
Got any favorite things you'd like to share from 2018?  Let's hear some!