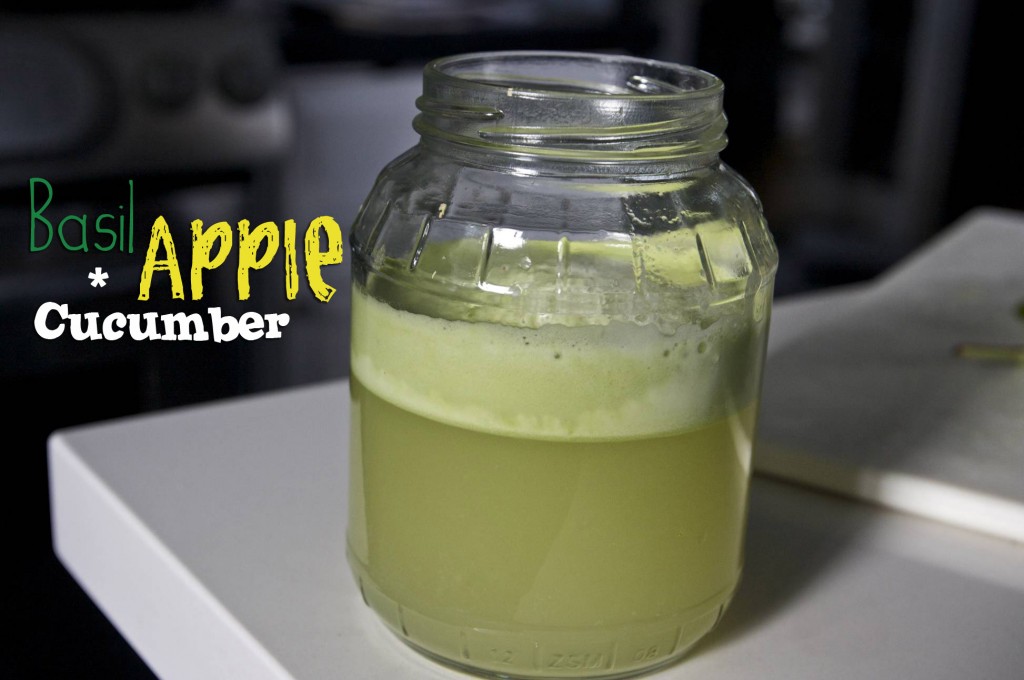 My brother and I made this juice last week.
It's a great juice if you are on a cleanse!  Your taste buds will be awakened and your tummy will be satisfied.  The basil in the juice adds a nice depth to the sweetness of the apple and cucumber.  It makes it more of a grown-up drink in my opinion.
I have to warn you though, we put A LOT of lime in.  A WHOLE lime was too much for me.
The cucumbers were deee-lish.  I need to make more juice with cucumber!
Both the apple & cucumber provide a TON of juice.  I love that.  It's so gratifying.
Another froth shot…cuz I love those!
Dump some ice in there, put the lid on the jar and now you can drink your juice on the go!
Basil, Apple Cucumber and Lime Juice
1 huge handful basil
2 apples (I used a lady apple & a green one)
1 cucumber
1 lime
I suggest juicing the basil leaves WITH some apple and cucumber in increments.  You will be able to get more out of the leaves if you don't put them in all at once. If you want your juice super tangy, juice the lime in the juicer.  If you want a little splash of it, squeeze some directly into your glass.  It's all up to you!  Take a sip and imagine yourself in flip flops watching your neighbor kids run through the sprinklers.  It's kinda fun.