For Mother's Day I got a composter! I've been wanting to put all of our organic waste to good use, and now I can!
Here's all the plants I've been growing from seed…and their development!


And we have the strawberries I bought….a few of them are doing OK.
A few of them are NOT. We had a really hot day that burned some leaves off…frying the plants!
The Italian parsley and chives are thriving! I've used some chives in a batch of eggs already.
The sweet basil is going strong.
Coop and I are hanging out in the backyard more. He likes to put the sidewalk chalk in the planters.
And every now and then a Lego or two ends up in there! Good times!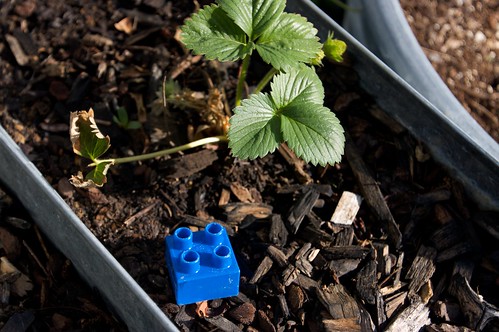 The garden is coming along. I'm definitely learning as I go….Overall it's been quite fun! Here's what it looked like a few weeks ago!
Can't wait to get some tomatoes up in here!