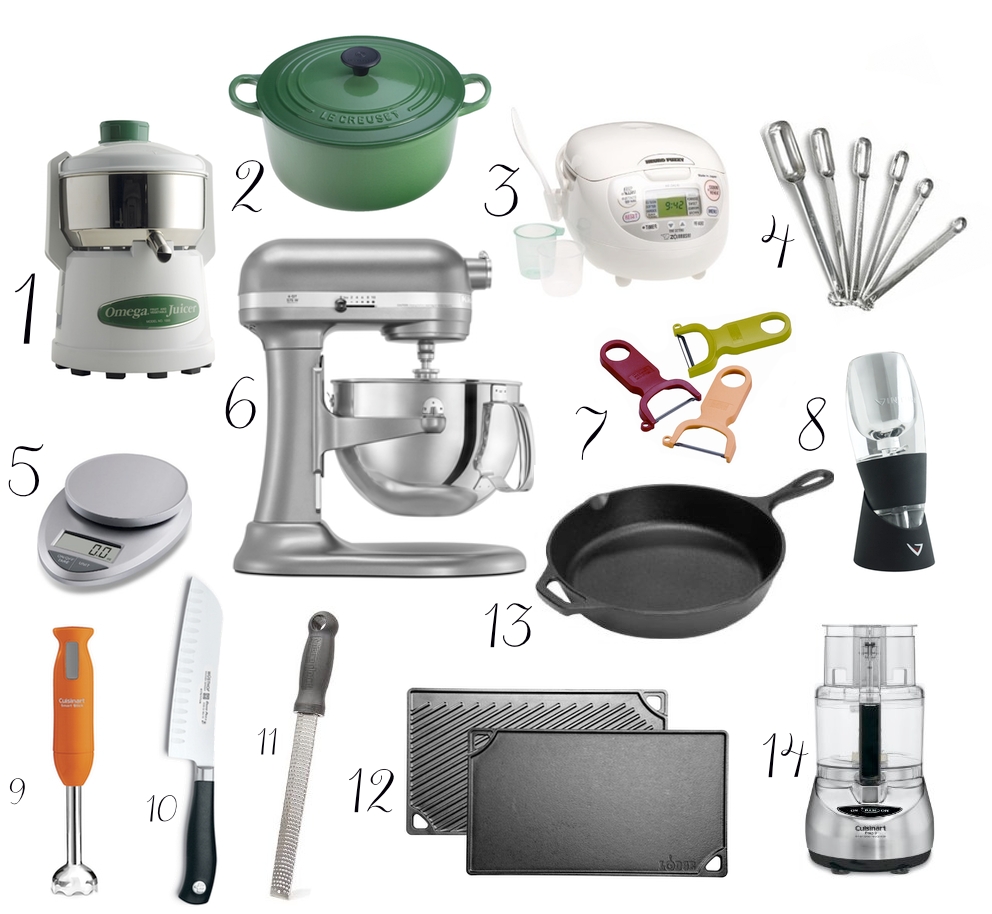 One of the most popular emails I get is "I'm working on a wedding registry, can you tell me what essentials I should put on it?" So here you go!  The SHUTTERBEAN kitchen could not operate without these items:
1. Omega 1000 Juicer You know how much I love to JUICE! A few years ago I bought this juicer and was worried I would never use it. I proved myself wrong. Worth every penny. Here's how I use it.
2. Le Creuset Enameled Round French Oven I use this baby to my make soups & roasts. I don't have a slow cooker (yet!) so this is how I do it. It always cleans up nicely (at least on the inside!). It's on the heavy side, but I love it. If it was a car, it would totally be a Volvo cuz it's sturdy, solid & tough. You can see it in action here.
3. Zojirushi Rice Cooker & Warmer I got this as a wedding gift over 6 years ago and I've been making rice in it ever since. This rice cooker is no fuss AND I've made steel cut oats in it a bunch of times. It's got a steamer too and I love that. Cleans up like a dream. When I'm making something complicated to go with rice, it makes me feel better that there isn't extra stress in the kitchen. Couldn't be easier.
4. Rectangular Measuring Spoons I've had these spoons since I was in college. When I bought them I had absolutely NO foresight as to how awesome they would be. I bought them cuz I like rectangles.  Because of their shape, you can easily slip them into a spice jar to measure out your spices. When I'm at other people's houses using their round measuring spoons, I wonder how the heck they do it!
5. Digital Kitchen Scale We use it on a daily basis to measure out our ground espresso beans before we pull a shot. This one is pretty low-profile so you don't have to worry about it taking up too much room. I tuck ours next to the microwave for safe keeping. It's a nice thing to have because every now and then you'll run into a recipe that requires a scale.
6. Kitchen Aid Mixer I have this baby in black. I call it Sir Mixalot. I love it. It's a show-stopper isn't it? I make cookies, dough & frosting in it.
7. Peelers My preference is to use a peeler shaped like this one. It just feels RIGHT in my hand. It ALWAYS has. When I use a regular potato peeler, I don't peel as fast.  Regular potato peelers make me feel like my hands are on backwards. These peelers don't. They're perfect for butternut squash, mango & apple peeling.
8. Vinturi Wine Aerator Casey swears by this. I hear him use it ALL THE TIME. It makes a funny sound but does the job of aerating wine!
9.  Immersion Blender I don't know how I would EVER make soup without this. I'm such a klutz in the kitchen that putting soup into a blender or a food processor is totally not in the cards for me. Trust me!  It's also a breeze to make smoothies, salad dressing, applesauce, and even mayo (if you're into that kinda thing). Oh! I've also used it to make fast whipped cream before.
10. Wusthof Grand Prix II 7 Inch Hollow Ground Santoku Knife My go-to knife. It feels so nice in my hand and it's pretty dang versatile. Sharp as heck too! I've always had a thing for the look of the Grand Prix line. It's looks like jewelry I would wear…but it's a knife. Weird, right? In most of my recipes you'll see that knife or my 9 inch Chef's knife. I love them.
11. Microplane Zester I'm a fan of citrus zest. It's in a ton of my recipes so I use this zester A LOT. I also use it to grate Parmesan cheese, nutmeg, & garlic. This zester is one of the most important tools you can have. I swear!
12. Double Sided/Reversible Grill Pan Where I make pancakes and grill things indoors like bruschetta & garlic naan. I love that one side is flat and the other side is a grill pan. It pretty much lives on top of my stove. Since it's cast iron, it's been seasoned so I never really have to lube it up before use.
13. Cast Iron Skillet I make eggs & bacon in this bad boy. It's totally inexpensive and you're look much more legit when you have a cast iron skillet. Never use soap to wash it! And remember it takes a little time to season it, but it's worth the effort. Here's how to clean it.
14. Cuisinart Food Processor I make pie dough, cookies, energy bars and nut butters with my food processor. I also find it sooo incredibly satisfying to stick cheese or zucchini in the food processor and have it grate it for me.  Call me lazy, but it's absolutely thrilling.