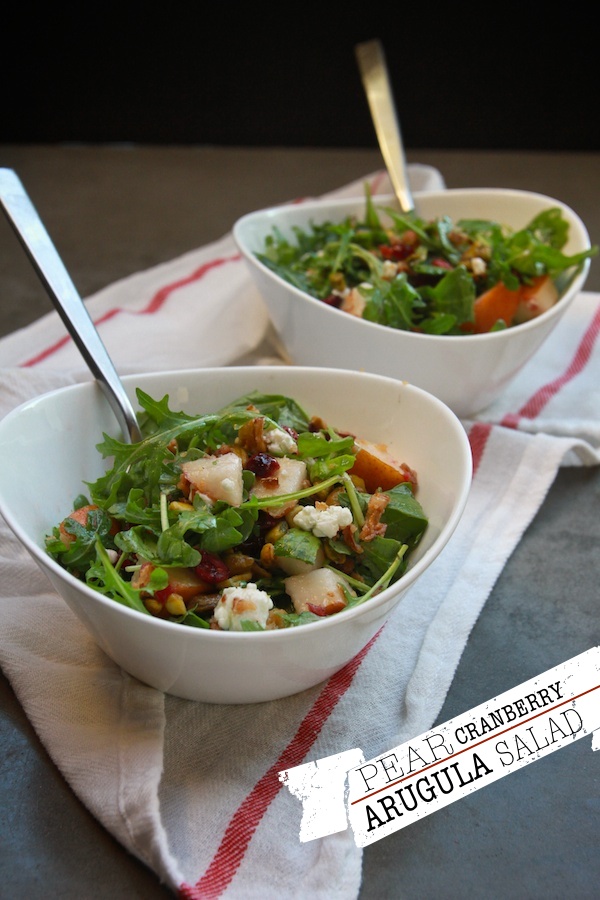 New post! Pear Cranberry Arugula Salad
Today there's a bunch of food bloggers throwing a virtual Baby Shower for Bev of Bev Cooks. Will I tell you what kind of candy bar is melted into a diaper in this virtual shower situation? No. But! I will contribute an amazing winter salad to the party! A baby shower just wouldn't be right without salad, don't you agree? Bev is pregnant with TWINS and she's one of the funniest bloggers out there. I absolutely adore her writing and her food combinations make me weap sometimes. HELLO Bacon Wrapped Stuffing Bites and get out with your Spicy Breakfast Taquitos, Bev! Anyways, congratulations to you, Bev! I have no doubt you'll be the best mom! Also, my mom's name is Bev so I can speak from experience as a child with a mom named Bev that moms named Bev are awesome. (Hi Mom!)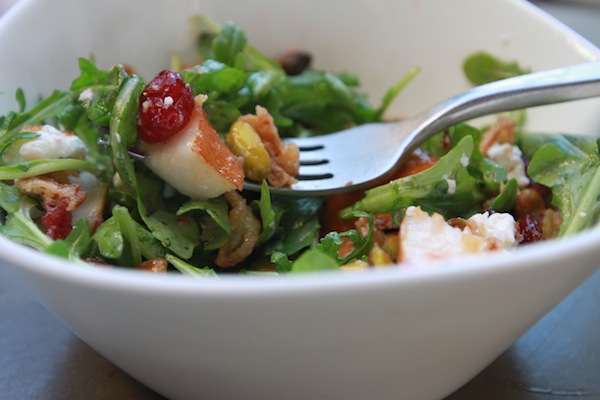 OK. SALAD. I'm currently engaged in a love affair with this salad. I made it RIGHT after Thanksgiving when we still had a few leftovers and MAN! It was just what the doctor ordered when I wanted to be healthier but still wanted a little indulgence. It's also a good way to stretch out that last bit of cranberry sauce and if you have any fried onions leftover from your green bean casseroles. THOSE ONIONS BELONG IN SALADS, folks.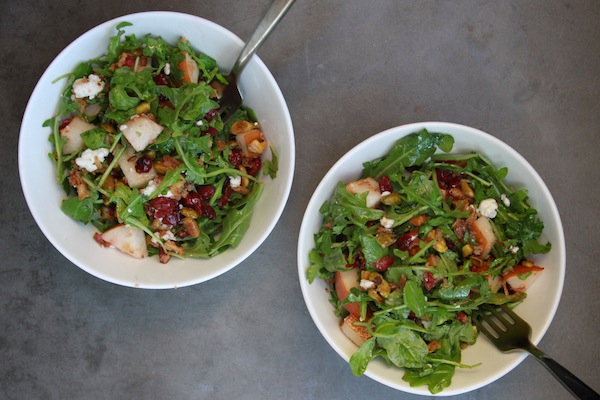 If you don't have any cranberry sauce left, you could use a scoop of jam. Fig, raspberry, strawberry and even marmalade would be good substitutes. It helps emulsify the dressing and gives it a little sweetness. It's like dijon, but the exact opposite. This salad is heavy on the toppings (the best salads are!) so feel free to add more arugula to stretch it out. I think you'll see why it's currently in my salad rotation. Those onions, man. They're everything.
And we're off! Let's start with the dressing first.
In a jar add your dressing ingredients! I added agave cuz my homemade cranberry sauce was TANGY!
You may not need extra sweetness. Taste as you go!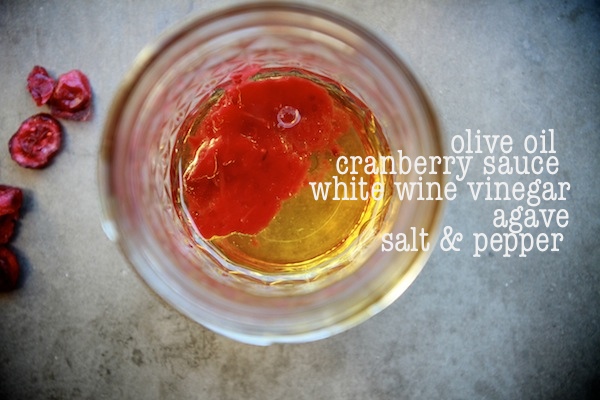 Shake that dressing up! You have to put a lid on it…make sure to do that.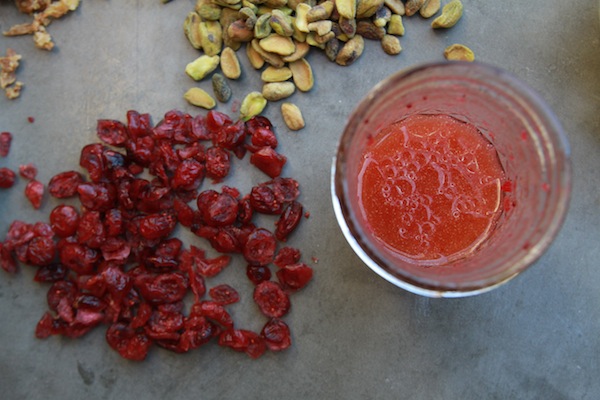 Salad ingredients! When you chop up the pears, toss them in a bowl with a little bit of lemon juice. We do this in order to prevent them from browning. It's the only way to go!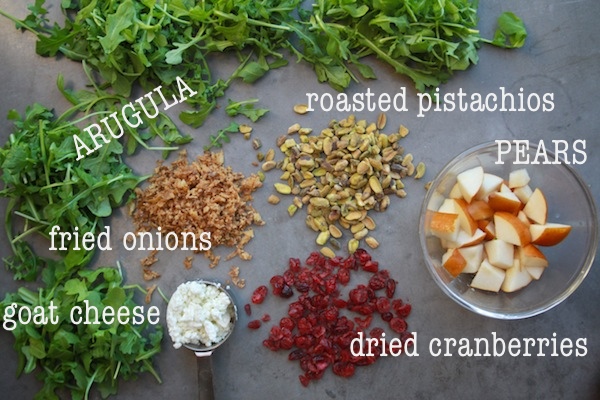 Put all the ingredients in a large bowl. Single out the goat cheese. We add that last.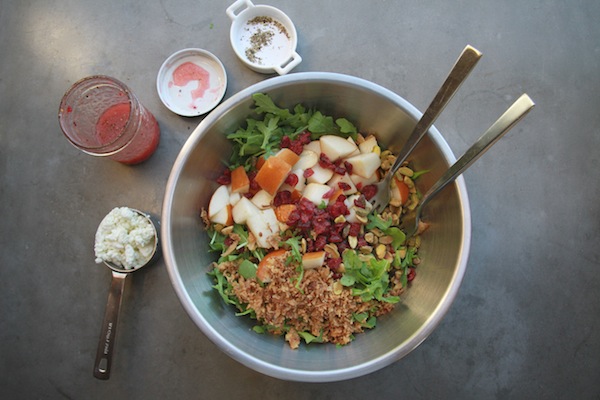 Dress the salad. Toss the salad.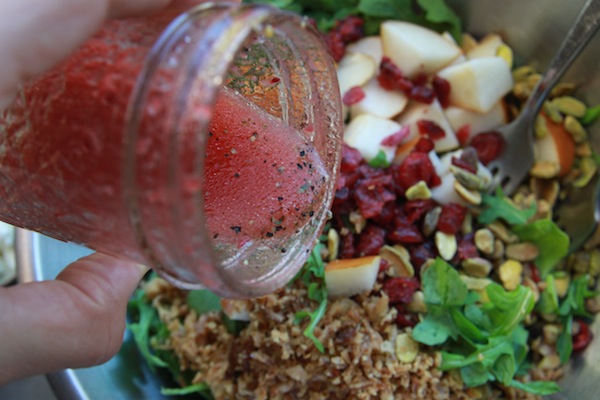 And then we add the goat cheese and gently toss.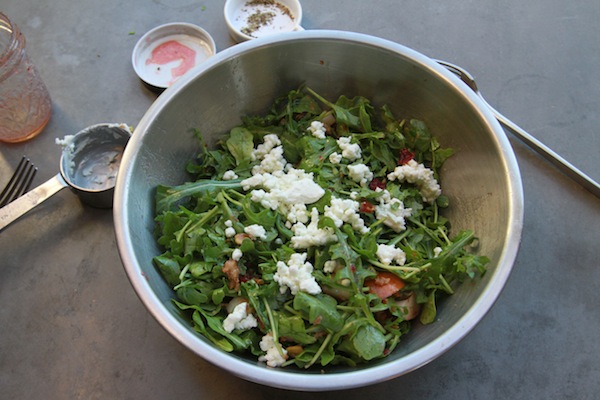 So many good flavors.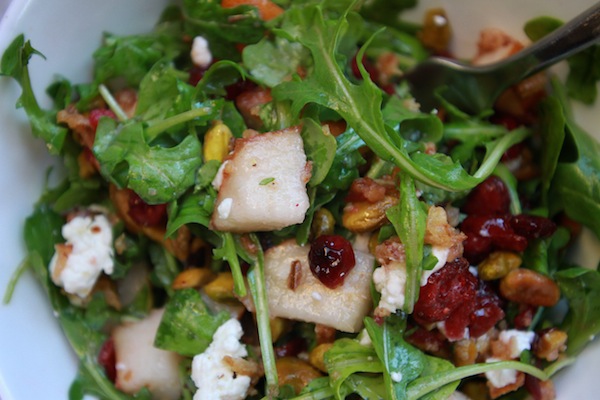 A very hearty salad.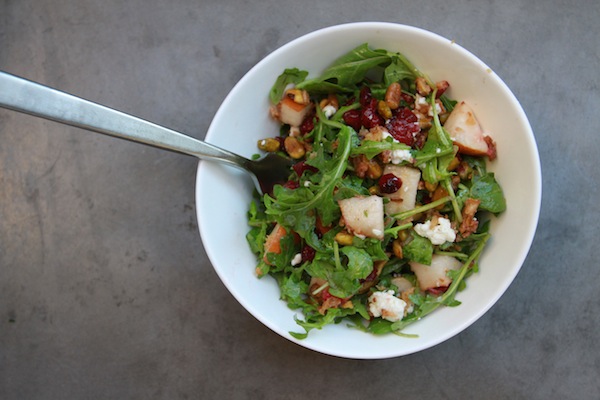 Serves 2 people as main salads and 4 as a side salad.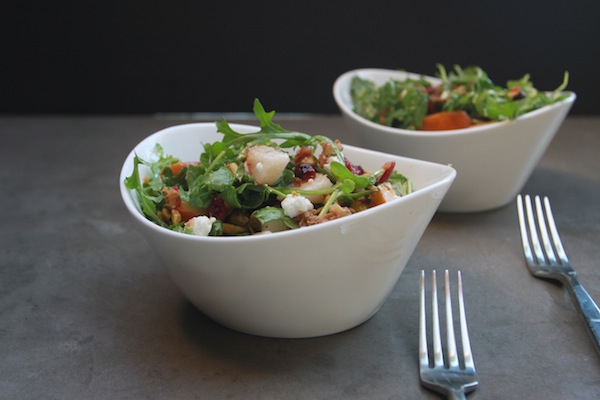 But in all honesty, I ate the entire thing. OOPS/NOT OOPS.
OK SO HERE'S the lineup!!! HAPPY BABY SHOWER, BEV!! You have a stellar menu, FOR REAL.
Appetizers
Bacon Cotija Guacamole from Gaby Dalkin
Gruyère Gougères from Shaina Olmanson
Lemon Risotto Tarts from Kelly Salemi
Goat Cheese Crostini with Pesto and Roasted Red Peppers from Liz Della Croce
Spinach and Feta Quinoa Bites from Aggie Goodman
Roasted Red Grape, Brie and Rosemary Flatbread from Laurie McNamara
The Fastest Appetizer Ever from Brooke McLay
Apple Pear Tart – Two Ways from Sarah Glyer
Drinks
Chocolate Chai Frappe from Brandy O'Neill
Cherry Chocolate Kiss Smoothie from Amy Flanigan
Cranberry Sorbet Bellini – Non-Alcoholic and Alcoholic from Megan Keno
Peppermint Mocha Affogato from Christina Lane
toasted marshmallow cream hot chocolate from Jessica Merchant
Pomegranate Lemonade Punch from Heather Christo
Salads
Kale Salad with Pomegranate, Orange and Pine Nuts from Rachel Gurk
Brussels Sprout Salad + maple roasted cranberry dressing from Katie Unger
Gluten-Free Pasta Salad from Lisa Thiele
Hearty Roasted Winter Vegetable Salad with Honey Ginger Dressing from Heather Disarro
Winter Citrus Salad from Catherine McCord
Entrees
Creamy Roasted Red Pepper and Chicken Sausage Pasta from Heidi Larsen
Eggplant Parmesan Lasagna from Joanne Ozug
cheesy chicken enchilada 'double' stacks from Lauren Grier
Jalapeno Popper Chicken Soup from Kevin Lynch
Thai Spiced Chicken with Coconut Cream Swiss Chard from Brandi Evans
Sausage and Red Pepper Quiche from Tasty Kitchen
Roasted Red Pepper Pasta with Goat Cheese from Julie Deily
Desserts
Soft and Chewy Oatmeal Coconut Chocolate Chip Cookies from Averie Sunshine
Glazed Dulce de Leche Pound Cake from Meagan Micozzi
Mississippi Mud Pie Brownie Ice Cream from Megan DeKok
Buttermint Frosted Sugar Cookie Cups from Shelly Jaronsky
4-Ingredient Peanut Butter Chocolate Cookies from Ali Ebright
Sweet Potato Creme Brulee from Brian Samuels
Whole Wheat Double Chocolate Mint Cookies from Aimée Wimbush-Bourque
Mini Chocolate Stout Cheesecake with Salted Beer Caramel Sauce from Jackie Dodd
Red Velvet Hi Hat Cookies from Kristan Roland
Double Chocolate Panini from Kathy Strahs
Pear Cranberry Arugula Salad

serves 3-4

for the dressing:

4 tablespoons extra virgin olive oil
2 tablespoons white wine vinegar
1 heaping tablespoon cranberry sauce
1 teaspoon agave syrup (or more to taste)
kosher salt & pepper

for the salad:

1 Bosc pear, chopped
1 teaspoon lemon juice
8 cups arugula
1/3 cup fried onions
1/3 cup roasted pistachios
1/3 cup dried cranberries
1/3 cup goat cheese, crumbled
kosher salt & freshly ground pepper

To make dressing:

Combine ingredients in a jar. Season with salt & pepper. Close jar with lid and shake until dressing is emulsified. Set aside.

To make salad:

In a small bowl, toss pears with lemon juice. Evenly stir and set aside. In a large bowl, toss arugula, fried onions, pistachios, dried cranberries and pears with dressing. Add crumbled goat cheese to the top and gently toss until well combined. Season with salt & pepper and serve immediately.