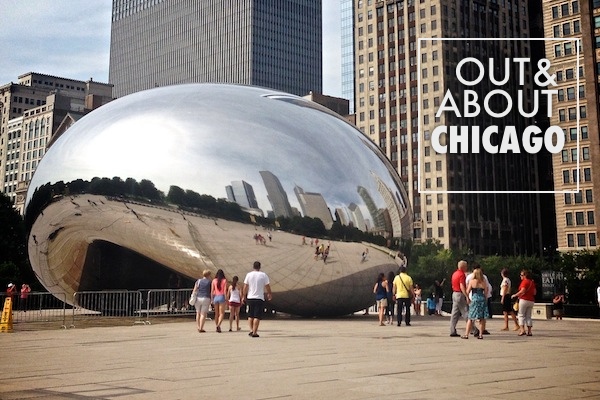 Chicago trip!!! It was GREAT. It was SHORT. I want to go back. I wish I could have spent more than a full day there, but when I think about it, I got to see a lot in such a little amount of time. I was going to post these in My Everyday Life series last week but then I realized that there's too many of them. So here we go! Out & About: Chicago Edition!
First things first. Travel! I was going to Chicago because my friend Amy scored tickets to Oprah's Lifeclass with Brene Brown. One of the best things about flying Virgin Airlines out of SFO is that there's a Pinkberry at the terminal. I got Cap'n Crunch and these really good chocolate covered malt balls with vanilla. YUM. Also…I LOVE VIRGIN AIRLINES. I wish they flew everywhere!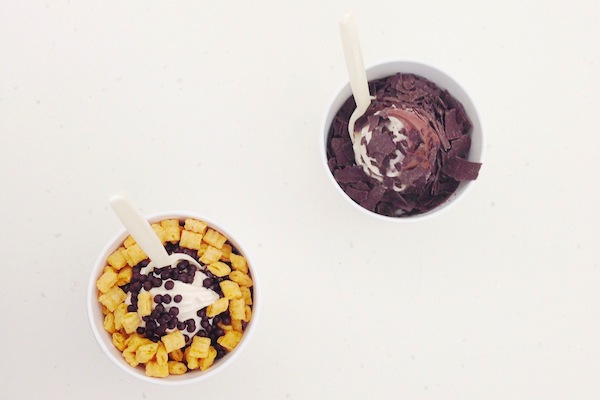 En route… I used to be a person who loved aisles seats (I want to be in charge of when I get out of my seat) but lately I've been requesting windows…and it makes me happy when I get to look at clouds. Also, I can lean against the side of the plane and that's cool. No one is bumping elbows with me while they walk down the aisle. Score.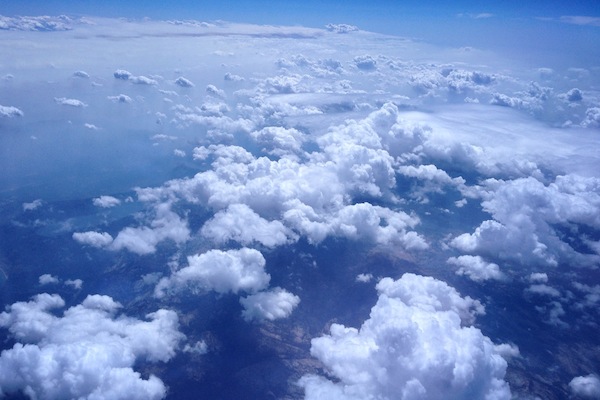 Landed! First thought: HOLY COW IT'S MUGGY HERE. In the Bay Area we have much different air.
It's dry. It's almost always chilly.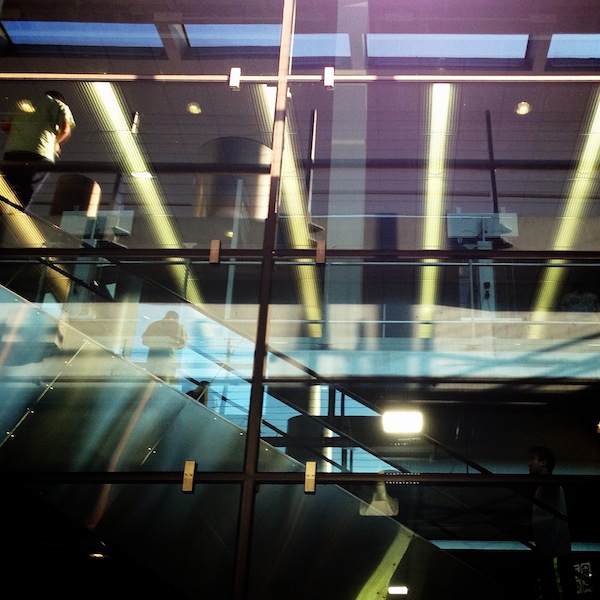 We stayed at Amy's fiance's sister's apartment in the Lincoln Park area. It was SUPER charming.
And just as we arrived, we watched the sunset. Now! Let's get some deep dish pizza!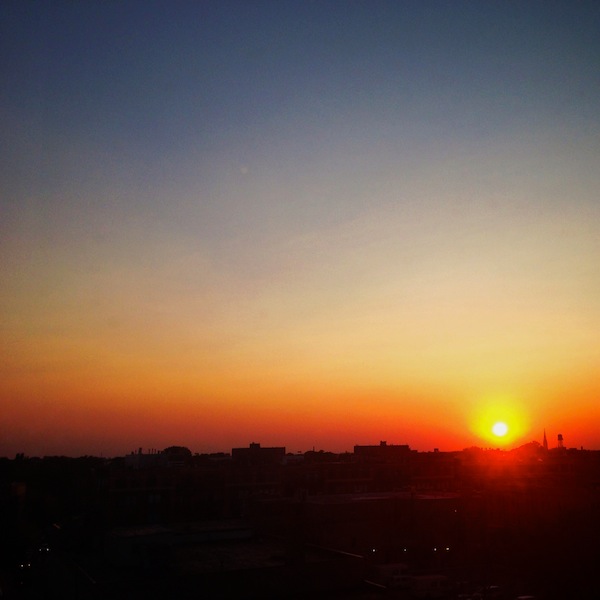 Walking to dinner. Chicago reminds me of so many movies I've seen.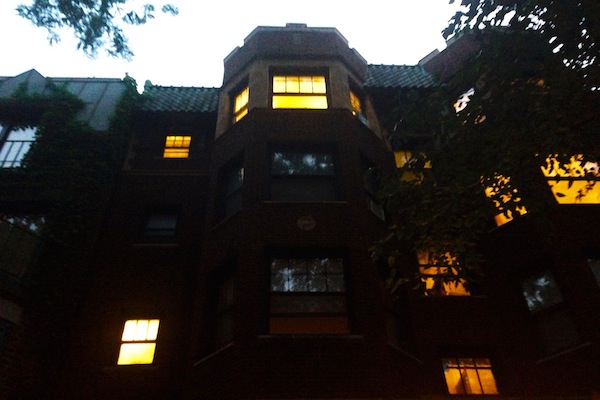 Totally picturesque.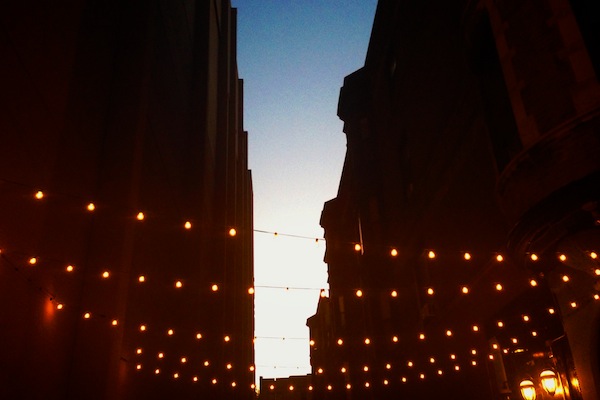 I did a little search online for deep dish pizza and there was one place that was highly rated within walking distance. We went to Giordano's for my first Chicago pizza experience. This is also where we watched the VMAs. OOF. No comment!
It was good! I didn't realize how CHEESY it would be, but I did have THREE slices…so I guess I'm a fan.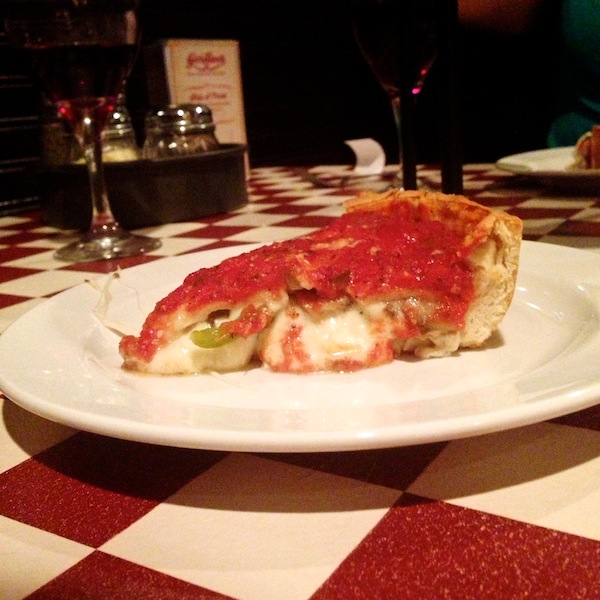 This is on the way back from dinner. I love looking up into people's windows.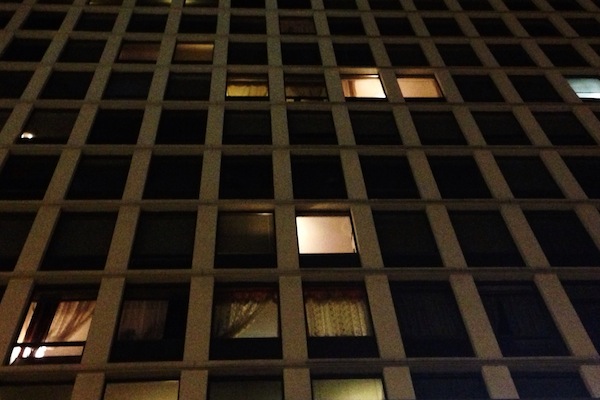 A cute striped couple. Also. JORTS! (jean shorts)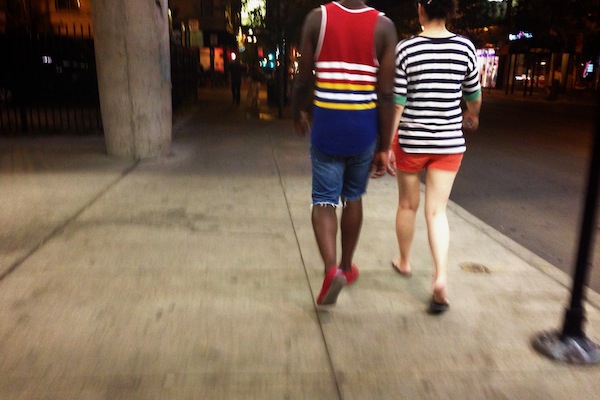 A little window shopping.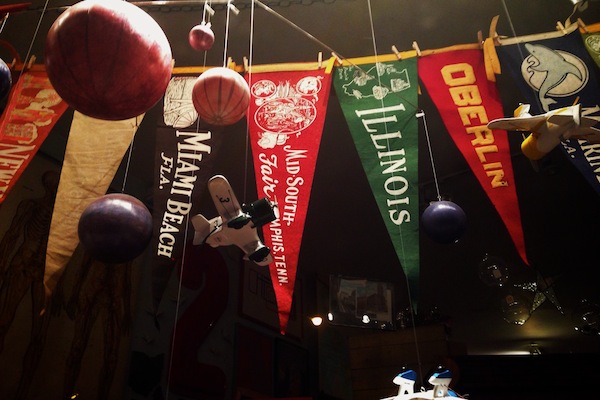 The heat makes things blurry….or maybe it's the wine.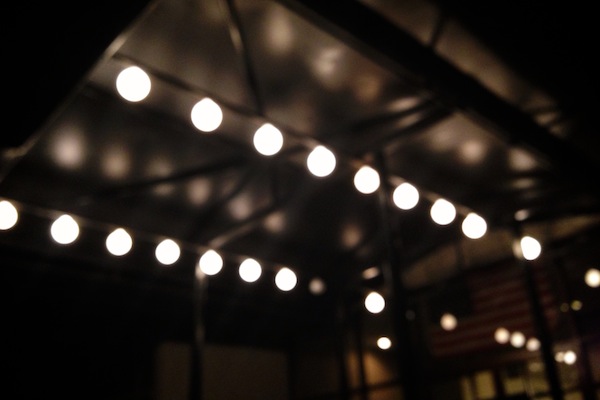 Waking up to GO TO OPRAHHHHHHHHHHHHHH!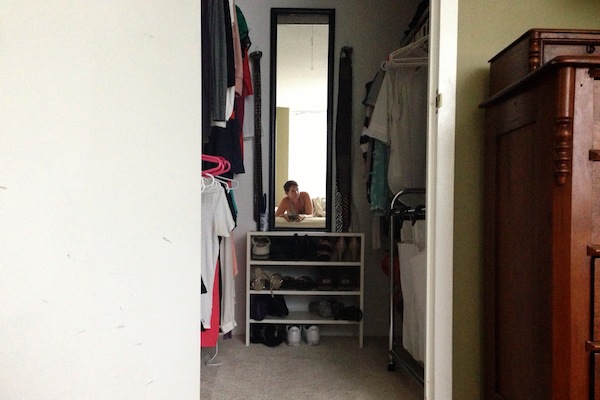 A quick cab ride…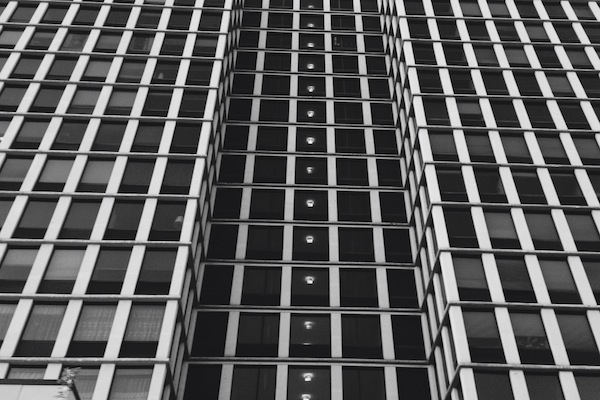 We were headed to Millennium Park. Tracy Shutterbean needed to see THE BEAN.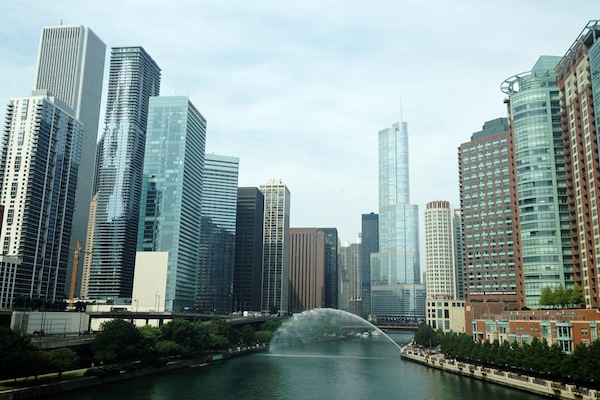 This is us underneath it. We're right in the middle.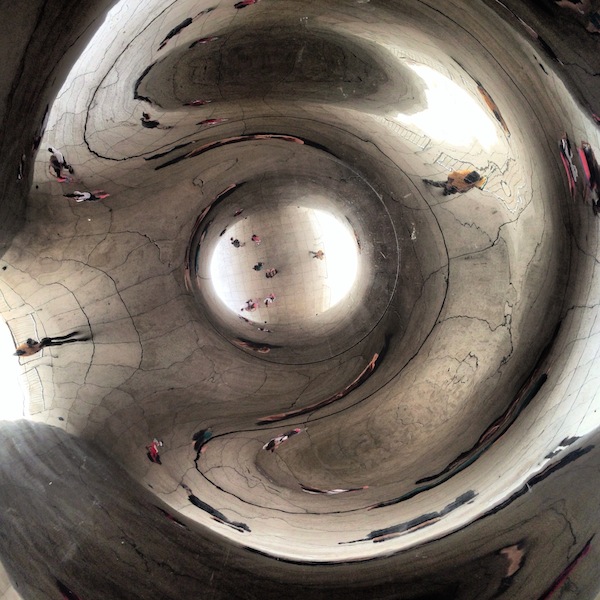 Amy got a picture of me outside it.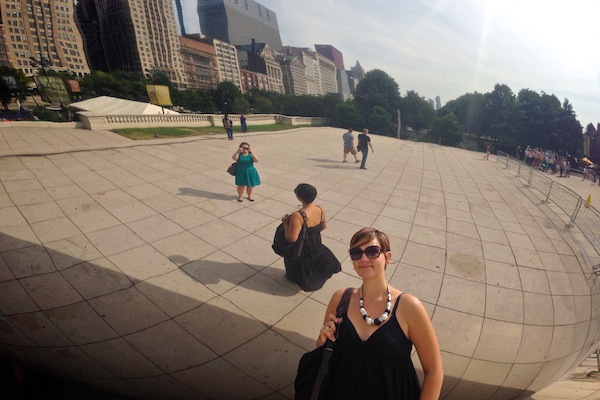 And there it is!!
We had a few hours to kill before the taping of Oprah's Lifeclass with Dr. Brene Brown so we walked to brunch!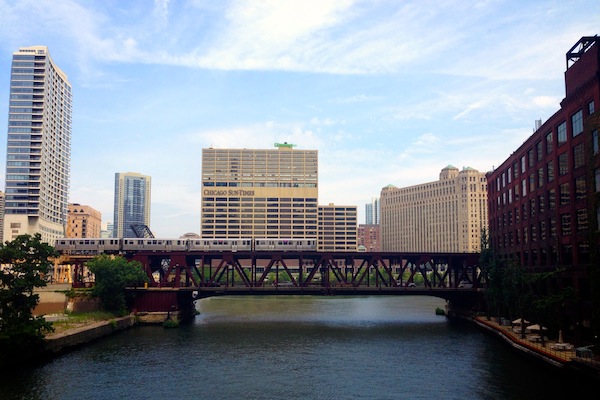 Hello from us. We were repeating to ourselves OMG we're gonna see Oprah SOON.
We both had our Fitbits  with us so it was cool to see us racking up steps together. I noticed that you have more steps if you have shorter legs….suspicious.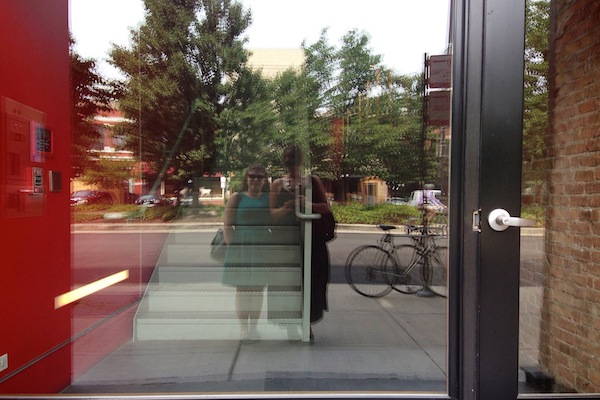 We ventured to Little Goat Diner for brunch. It came HIGHLY recommended from some of my readers.
THANK YOU, readers! I LOVE YOU.
We ordered the Partahas Burrito & Bull's Eye French Toast.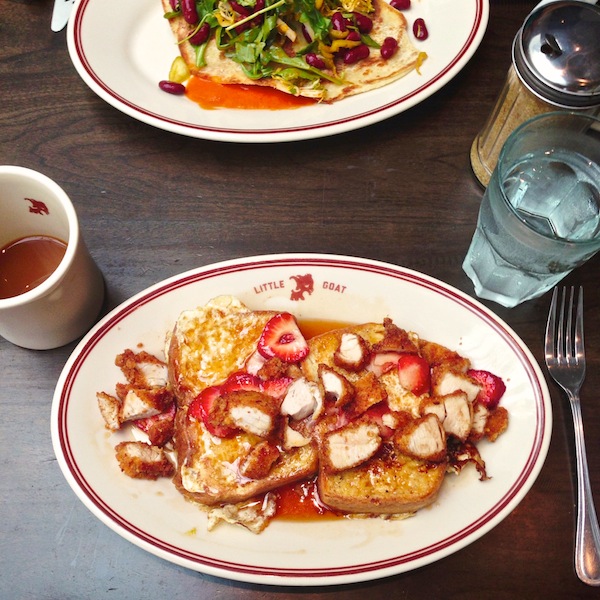 Let's talk about this french toast.
It's an onion brioche with an egg in the middle and fried chicken & strawberries on top… RIDICULOUS.
Yes. Life cycle of an egg. JUST DON'T THINK ABOUT IT!!!!!!!!!!!!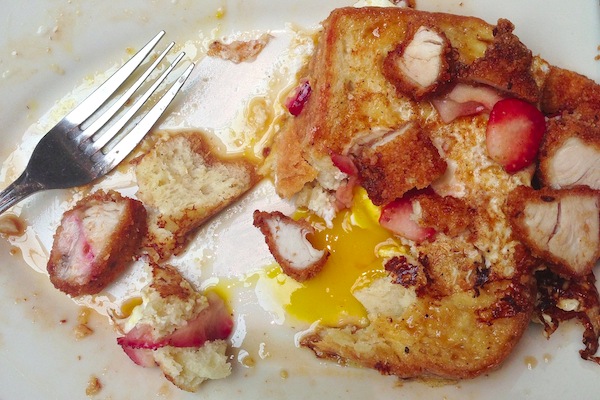 We still had a few hours to kill…so more sight seeing. I really liked this piece.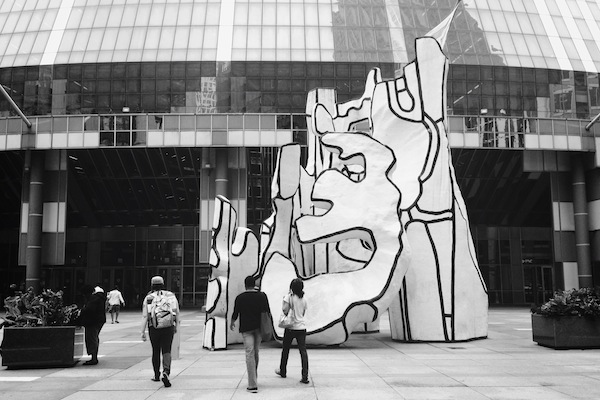 I forget what it's like to be in between buildings.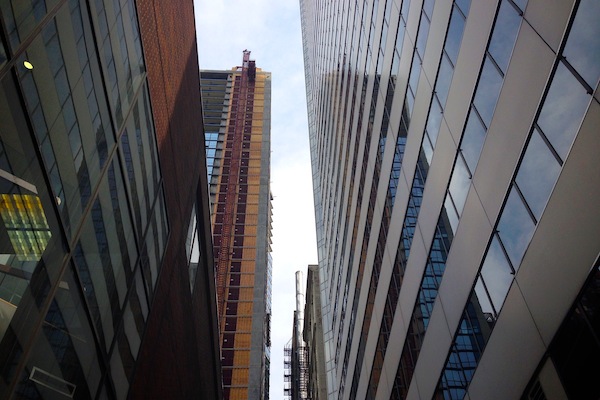 Chicago is full of these funny symbols on the street. Our symbols back in California look different.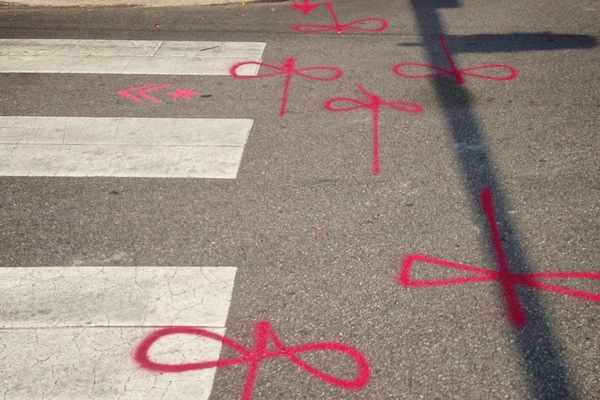 And then there were a few drinks…We had to kill the nerves. I also realized that I left my compact/powder at the apartment so we went on a mad search for a drugstore. I found out when it was TOOO late that there was a Target a few blocks away. So yes, my shiny face will be on TV cackling & clapping for Oprah.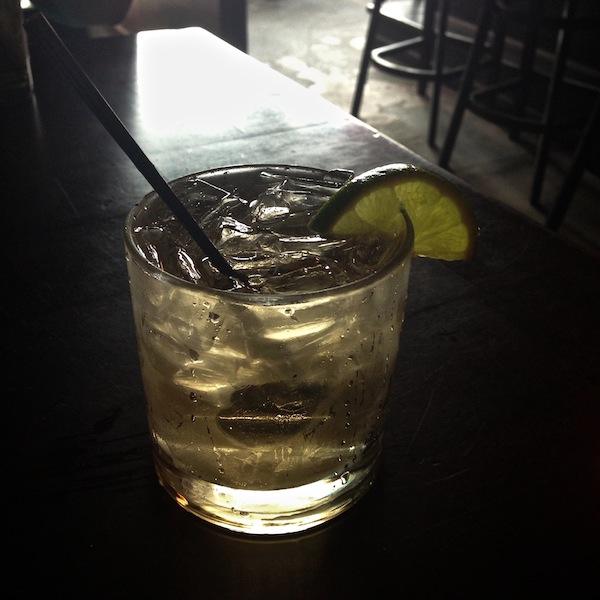 We waited outside for a little bit at HARPO STUDIOS.  It was even more exciting than I had anticipated!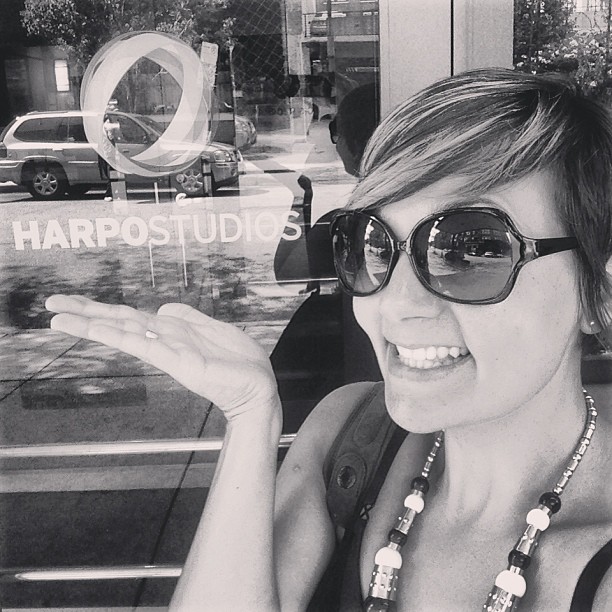 AND THEN WE WERE INSIDE!! Everyone we encountered at OWN was super nice & friendly.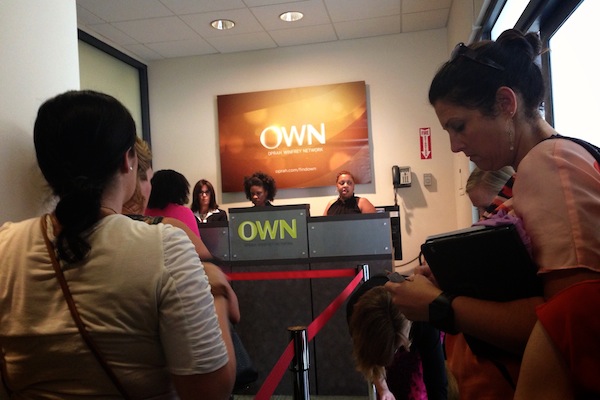 I'll tell you about the show soon, but HELLO. Oprah & Brene had the most amazing shoes.
Oprah's in pink & Brene is wearing those hot leopard boots.
Of course I stared at their shoes…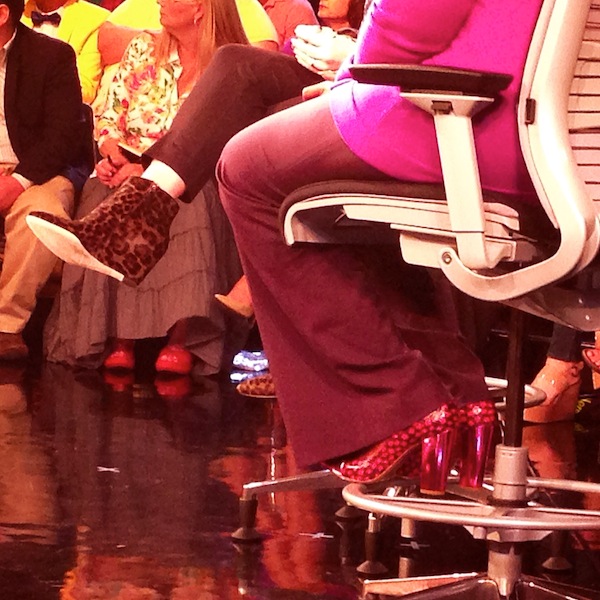 The show was life changing and then it ended abruptly! We had more time than we anticipated so we had to figure out dinner right away. We ventured out and had a really crappy dinner at some random Mexican Food place and then got up early the next morning for a flight.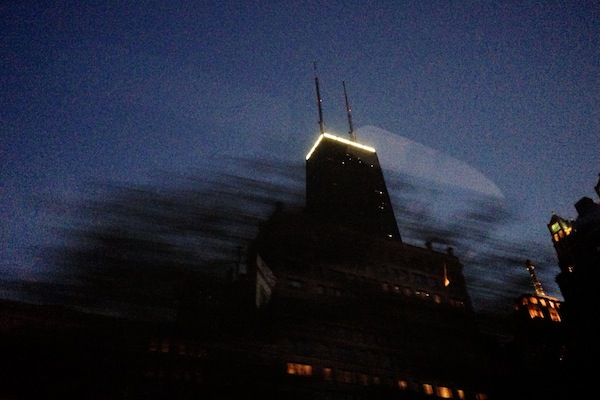 The experience was quick/EPIC.
Thank you, Chicago! Can't wait to visit you again!