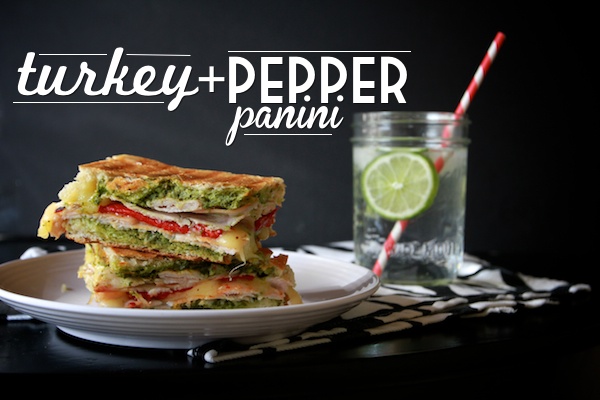 In November I bought myself a panini press. At first I thought it was just an impulse buy (it was) and when I came home and plugged it in, I swear to you I spent like a month straight grilling everything. We don't even use the toaster now because we grill our bread for toast.
One of the things I like most about the panini press is that has the power to elevate sandwich making. You can get really creative with your ingredients/flavor combinations. I imagine if we were to rent a house on vacation, I'd pack my panini press with me. That's how attached I am. Just ask my husband.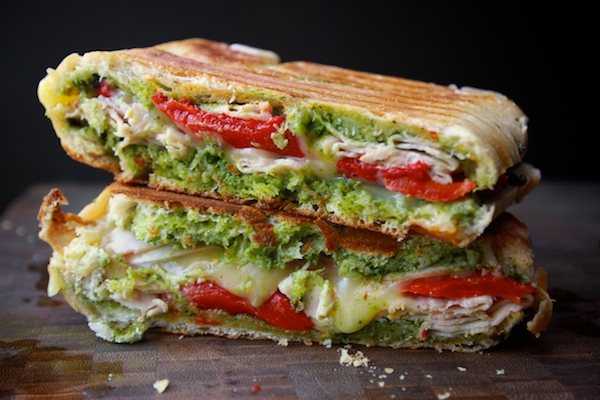 After Thanksgiving, I grilled turkey with horseradish cheddar, leftover cranberry sauce & turkey. I think I cried over the deliciousness. Cinnamon toast? DREAMY. Quesadillas with sexy grilled marks? No problem. Want a crispy piece of warm coffee cake? OMG it worked!
It's the grill marks that get me EVERY. SINGLE. TIME.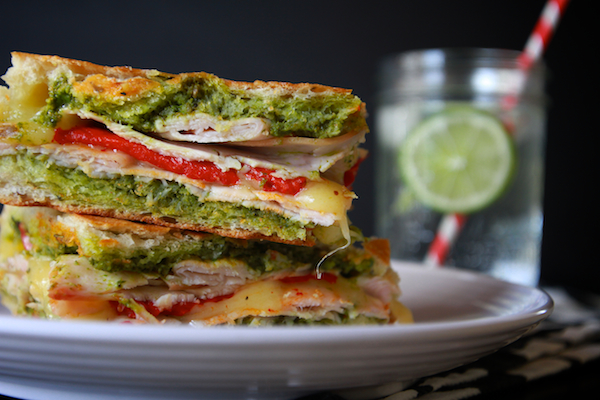 This here turkey/pepper/pesto panini is one of my favorite combinations right now. I used pepperjack cheese to add spice & homemade pesto for flavor. The peppers & turkey are my protein & vegetable additions. You see that crust? It's SO CRUNCHY and the insides are so ooey gooey. I just can't deal. I'm ridiculously obsessed with a  panini press… Don't try and stop me.
And we're off! Gather your ingredients. Trim the ends off the foccacia. Eat the end pieces if you must.
I bet artichoke hearts would be good in this too. Think about it!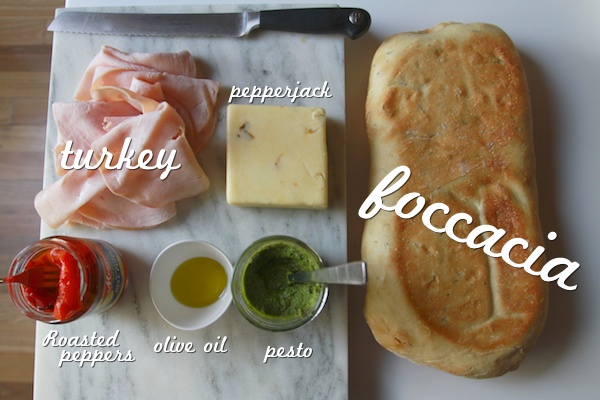 Slice up the cheese.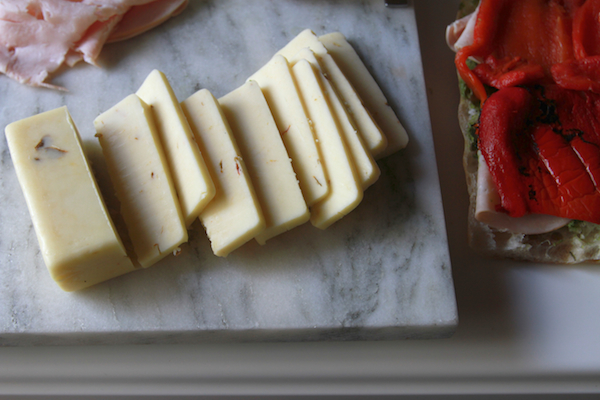 Spread pesto evenly on both sides of the foccacia.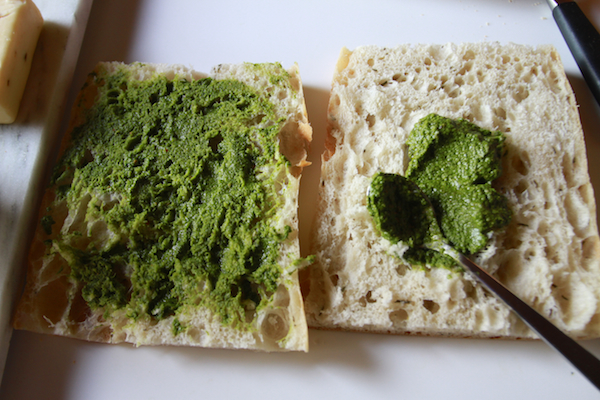 We're gonna start layering! READY? Turkey layer. Put down 4 slices.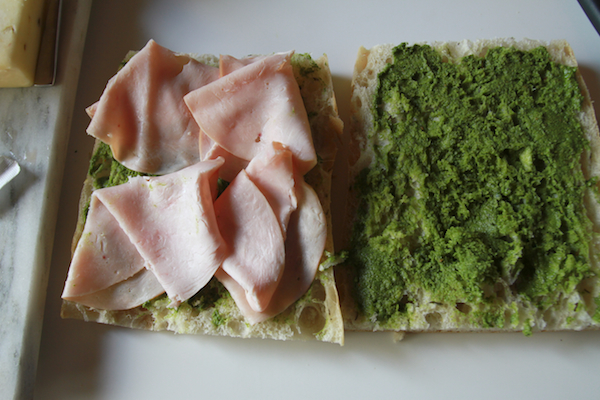 The pepper layer is second! Drain your peppers. Layer them down.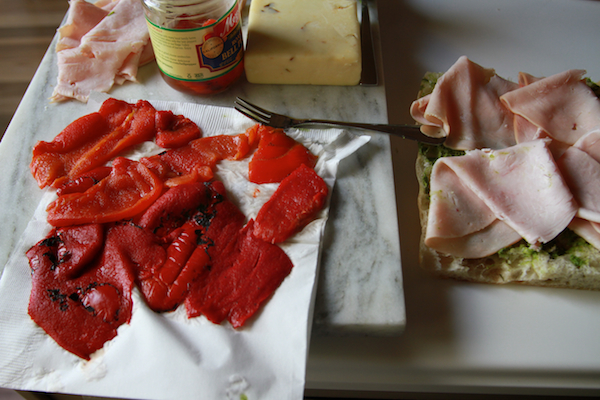 Then we add the cheese!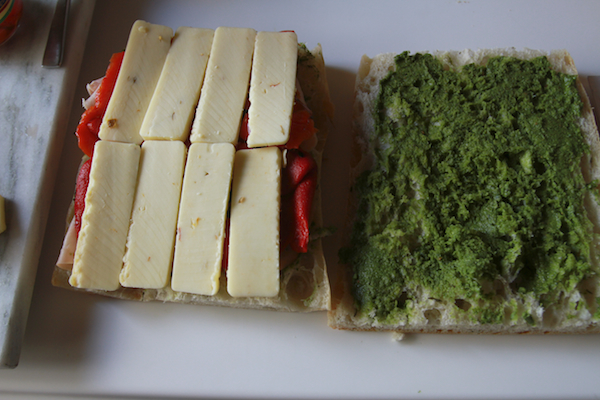 Then you top with another layer of turkey, sprinkle with salt & pepper and you close the lid on that sandwich.
DONE! Now we heat up our panini press. We brush both sides with a little bit of olive oil.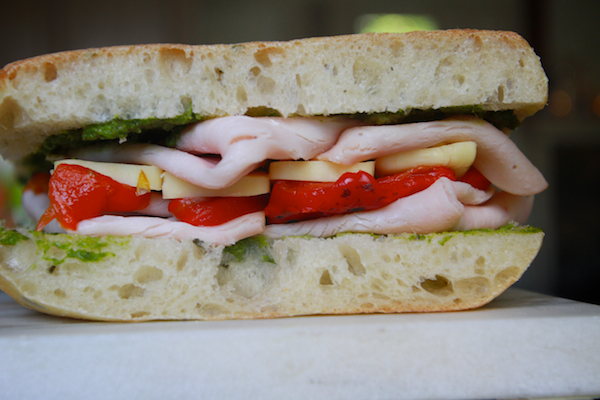 Put the sandwich in the press and it becomes a panini.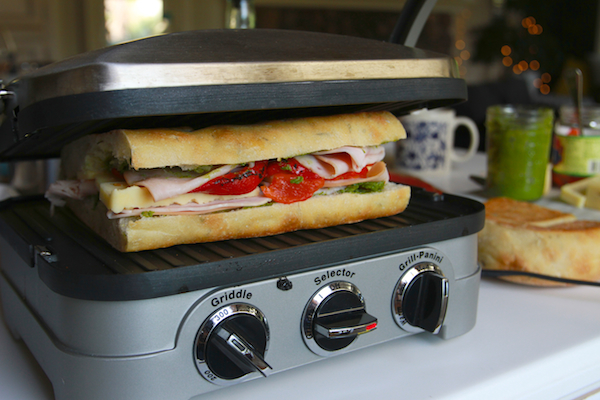 It takes about 10-15 minutes to cook on HIGH. You want to hear the cheese sizzling.
That's the sign that it's just about ready to come out.
I learned from Rick M. formerly of Rick's Wine Cellar that you take it off when the sandwich speaks to you.
Cheese speaks the magical panini language.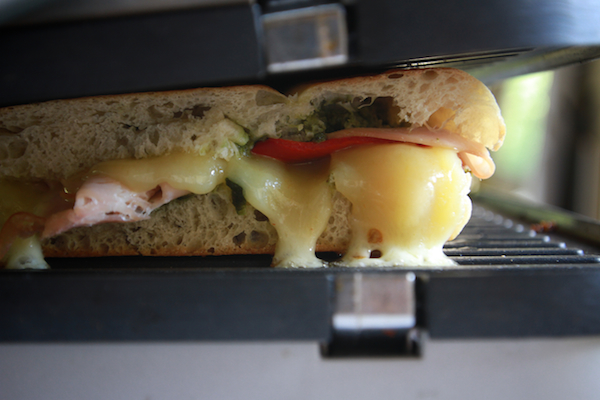 And here we have our GIGANTIC panini hot off the press. Cut it in half.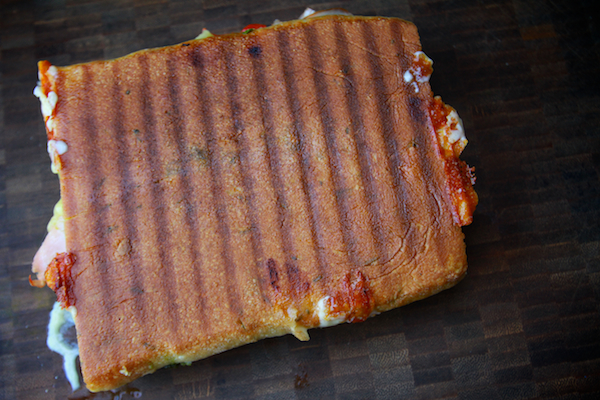 This could serve 2 people….or 3…or 4….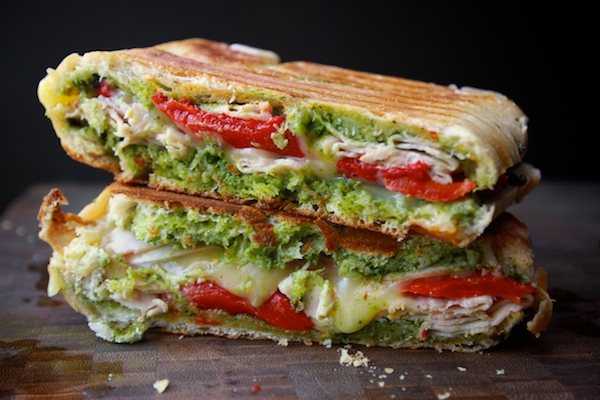 Just keep cutting little sections and see how much you can eat.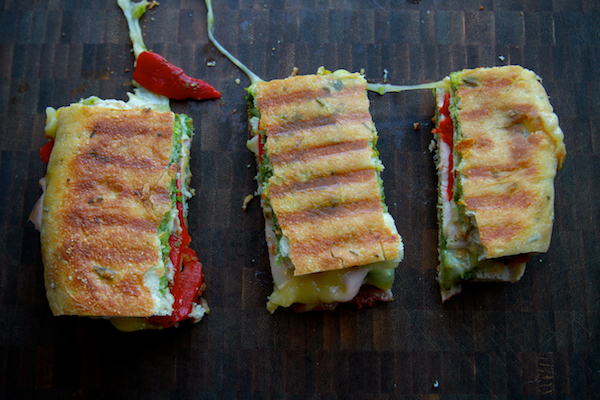 Let's take one last look at that crispy crust.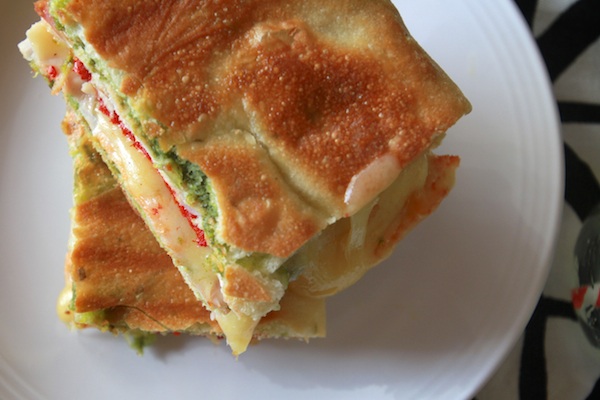 Panini for breakfast lunch and dinner? OK.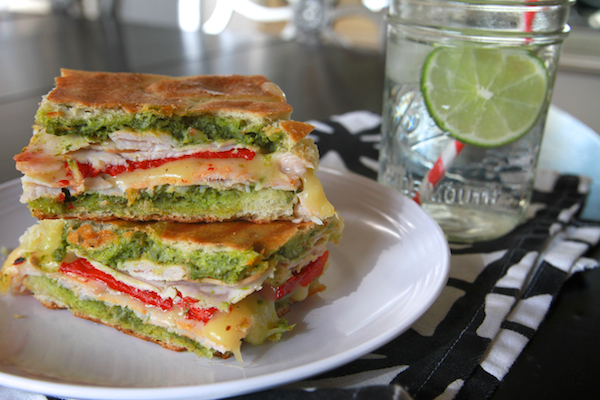 Once you get a panini press, there's no looking back. Promise.
Turkey + Pepper Panini

serves 3-4

1  8×12 inch slab herbed foccacia, edges trimmed
5-6 tablespoons fresh pesto
8 slices roasted turkey breast
1 8oz. jar roasted red peppers, drained
4 oz. pepperjack cheese (about 3-4 slices)
1 tablespoon olive oil
salt & fresh ground pepper

Heat panini press to HIGH. Trim off the ends of foccacia and cut in half to create a sandwich. Spread half of pesto on each side. Top one side with 4 slices of turkey followed by a layer of thinly sliced red peppers, pepperjack cheese and a final layer of 4 slices of turkey. Sprinkle with salt & pepper. Top the sandwich with the other piece of bread and brush both sides of sandwich with olive oil. Place sandwich in panini press and grill for 10-15 minutes until the cheese melts & starts sizzling. Cut into 4-6 pieces and serve.