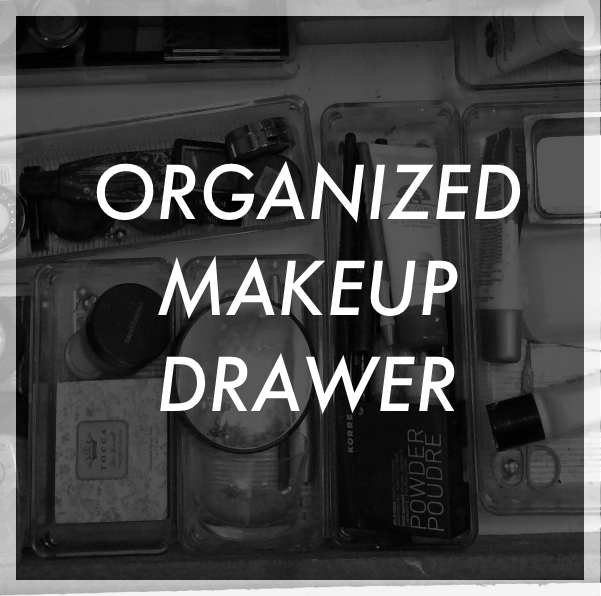 I can always tell how chaotic my life is when I open up my makeup drawer.  Same goes for my purse… my car…and the inside of my fridge.  Oof. I was checking out my old High Straightenance on Homefries and couldn't believe that it's been almost 2 years since I cleaned out/reorganized my makeup drawer. YIKES. Time to remedy that!
Let's start with the BEFORE.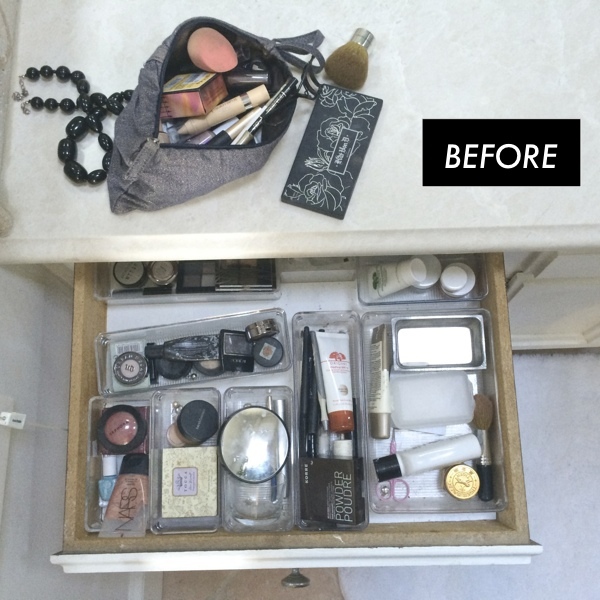 You know what motivated me to get organized? This makeup bag on the counter. Normally, my makeup lives in this drawer but I traveled last month and threw all the essentials in a makeup bag and never put my makeup away. I probably didn't put it away because I had no room for anything. Things got chaotic up in there and I was getting annoyed with the makeup bag on the counter. Let's remedy that!
I took everything out and took inventory. My goal was to put back only the products I use on a regular basis. No turquoise eye shadow will take up precious real estate because I think I might use it for Halloween one day. Nope. Essentials only. Also anything that's past its prime? GONE.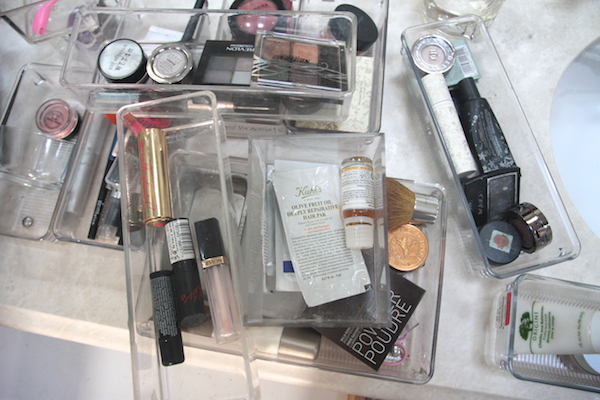 This part of the process isn't pretty… but it's actually my favorite part. I love getting rid of stuff because IT'S LIBERATING!!!!!!!!
And the mess is my motivation to keep plowing through.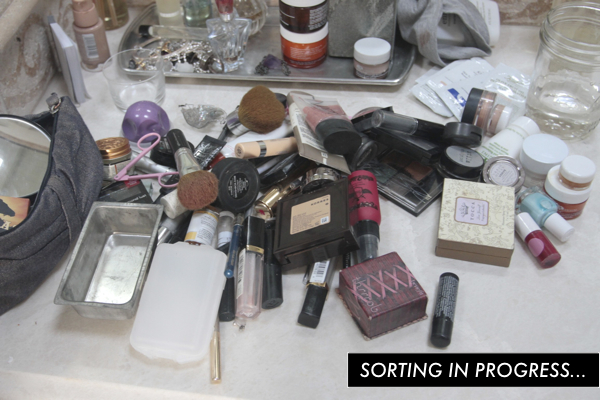 I took all the acrylic containers out (you can get them at The Container Store or Bed Bath & Beyond) and washed them.
It's amazing how dirty they can get…I washed them with soapy water and scrubbed them really well.
I also saw that I had a few stickers still on some of the containers.
THAT'S TOTALLY A PET PEEVE OF MINE!! You best believe I got rid of them.
Some people can live with price tags on things. I am not one of those people.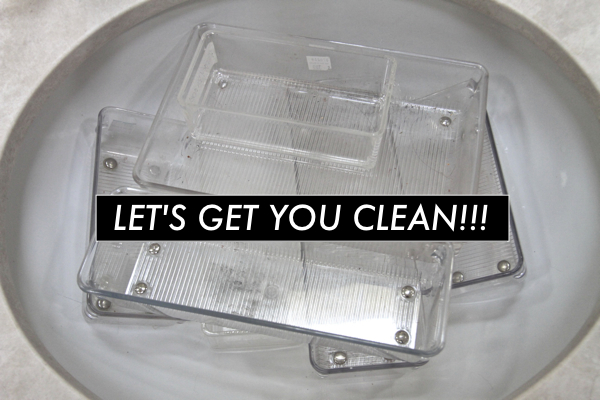 I shuffled the containers around and made room for more! WHAT WHAT?! It's like Tetris (which is the only video game I play btw- go figure).
I really love it when one little shift like this can change the landscape. More room! More compartments. Why didn't I do this sooner?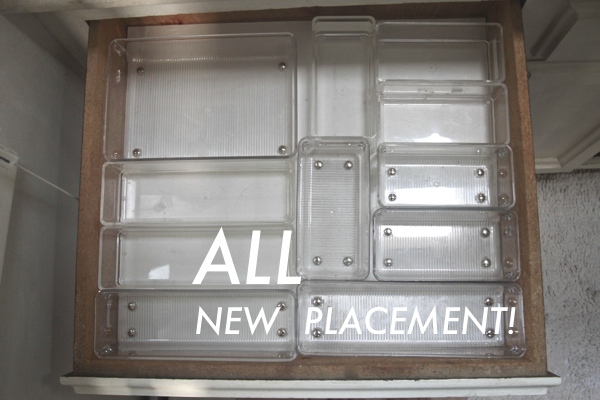 I started putting everything back. This is the part where I went back and forth to figure out what section would be used for what.
When you have designated spots for all of your items, you know exactly where to look when you need something. It also becomes muscle memory and you don't even have to think about where things go. You just know!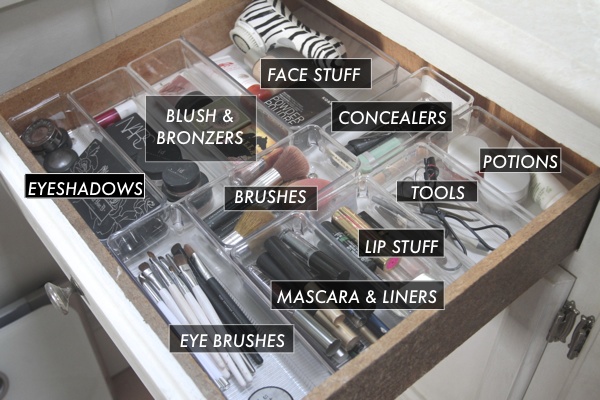 AHHHH. Organized. Now I guess it's time for me to clean out all my brushes and such. I'm due!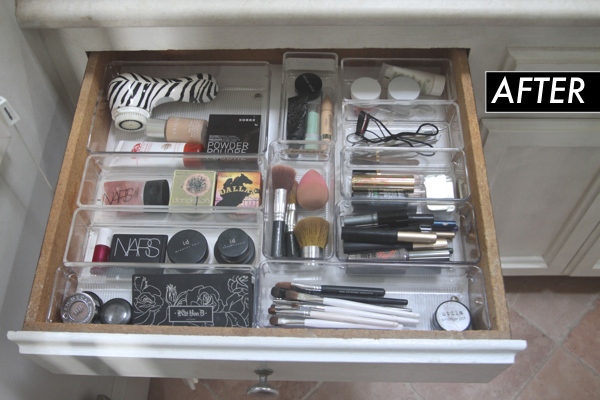 AHHHH.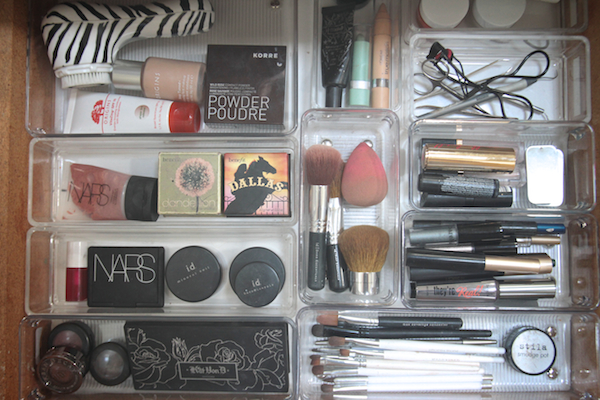 This project took me about 25 minutes. Not too shabby! I hope this inspires you to tackle some of the organizing projects you've been meaning to get to.  A little bit of time can make a big impact to your everyday life!
Want more organizing mojo?  You can check out this video where I helped Joy organize her bathroom and bookshelf!