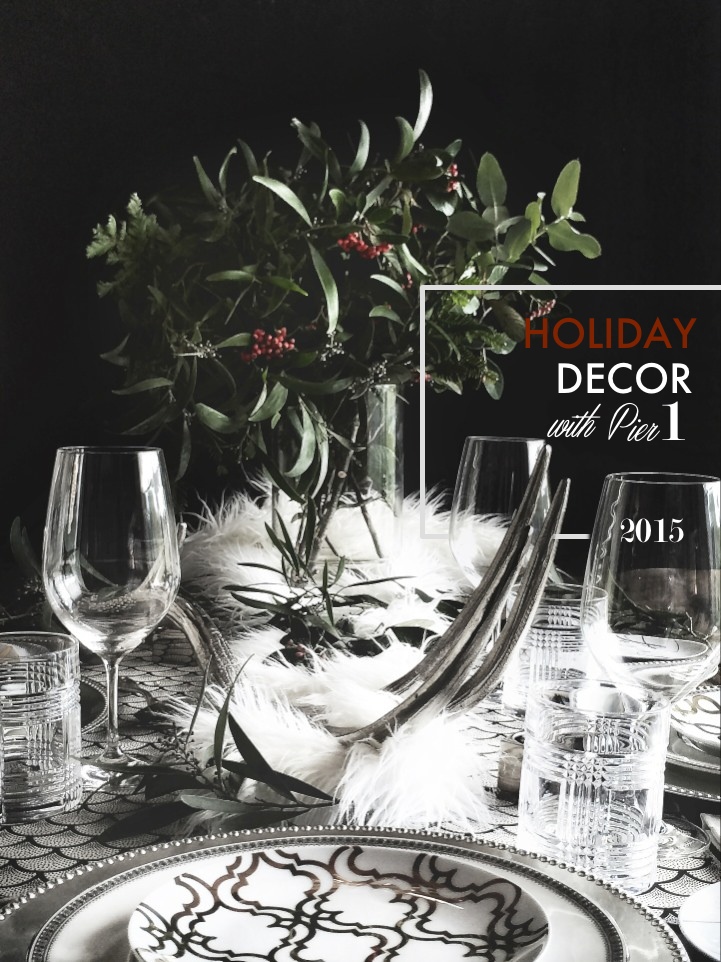 I'm going through a transition right now. I'm starting to (big gulp) like GOLD. I KNOW I KNOW, I don't know what happened. If I told 20 year old Tracy who was a super stubborn SILVER ONLY lover, she would never believe me. She would also never believe that I am into fancy china and feel OK about capers now.  It's funny how your tastes change, huh?
I was approached by Pier 1 to put together something Christmas related for my blog and so I thought it would be a good opportunity to test the waters on a Golden holiday. You know how much I loooooove to decorate a table & a mantle!   Here's the thing though about this gold situation— I like a lighter gold– like a more champagne-like gold. The kind that you're not sure if it's silver or gold… Oh and I'm also starting to really like old brass. So, that's what we're working with.  Out of all of the Christmas Themes that Pier 1 has going on this year, I felt like their Champagne Shimmer Collection would work well with what I had in mind.
We start with the mantle! Here are some of the things I picked out: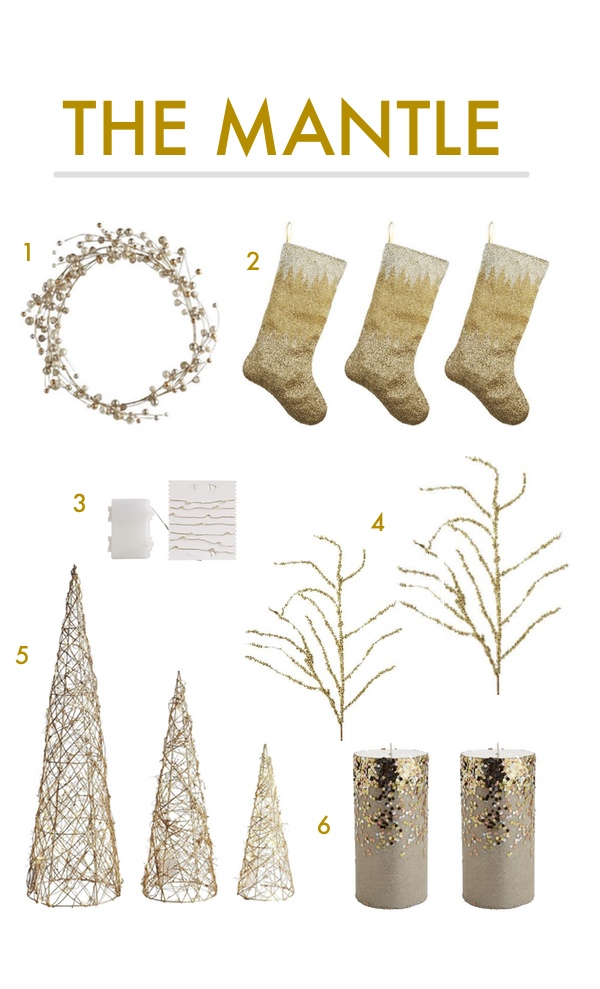 Our fireplace area is now black. I'm not sure if I ever shared that here.  We painted over the stone last year and it's made a great  impact in this room.  I recently put my mom's original rug back into the space so I now have a little red to work with. I thought that gold would help warm up the space a little bit for the Winter. Our fireplace frame is currently silver (it might change one day) so we're mixing silver with gold + brass here.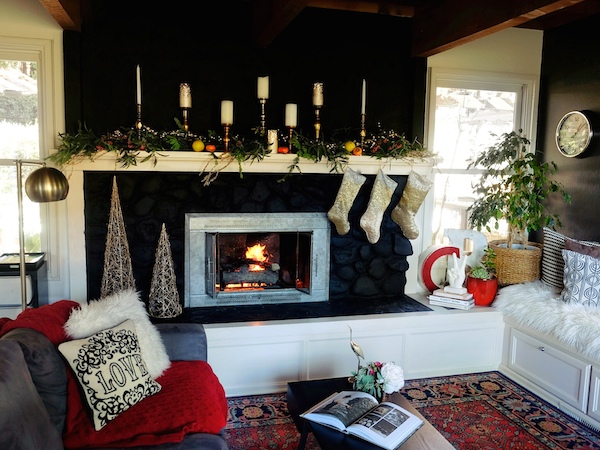 My talented friend Lisa is an amazing stylist and I enlisted her help with this project.  It was so much fun working with someone else on a home project!  We cut down some eucalyptus, redwood and berries from trees on my hill and she made the most amazing arrangement for the mantle.
I lucked out and got all of these vintage brass candle holders for an excellent price while thrifting. Aren't they pretty? I'm obsessed with how they shine with the black background.
We worked the berry garland and the berry branch twigs  into the mantle arrangement.
I love how they make everything twinkle.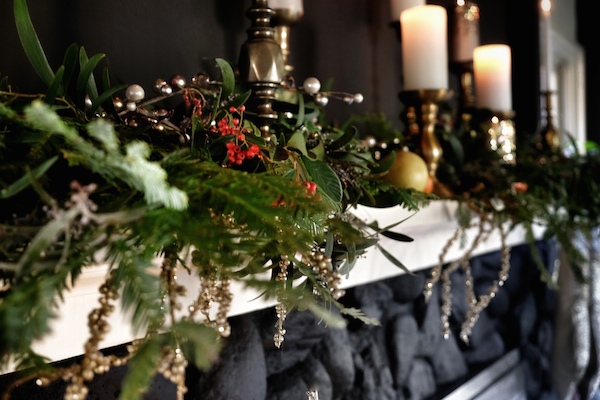 We also added the glimmer lights and a few pears and persimmons to add additional color.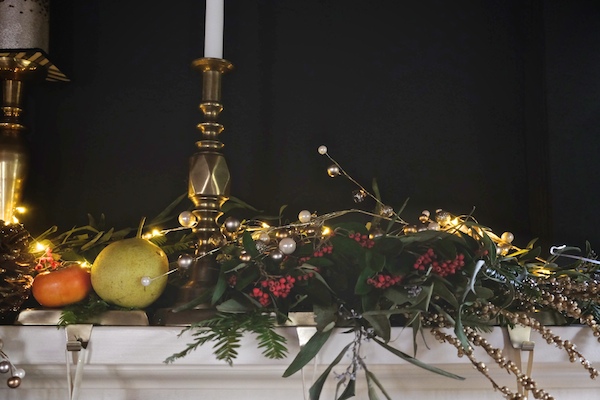 It feels very grown up and I love it!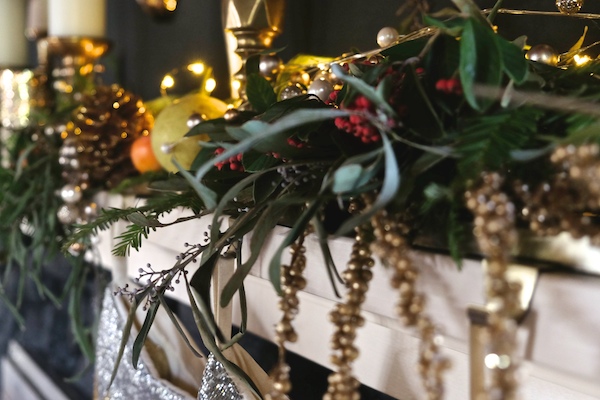 The gold sparkled pillars add even more sparkle.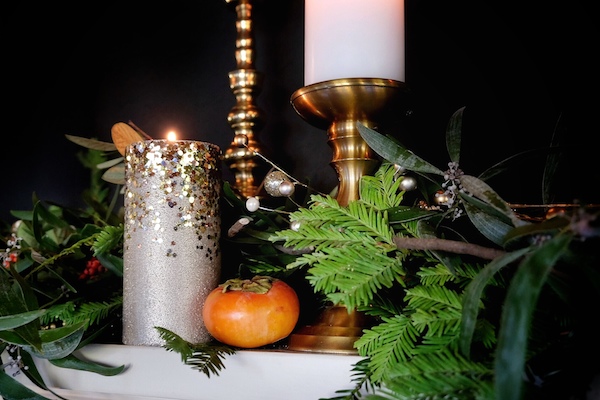 Our old stockings were bright blue and green because that color scheme worked really well in our old house. I picked out these beaded ombre stockings because they go from silver, to gold, to rose gold. Each one is unique so it won't be hard to tell which one belongs to each one of us.  It also helps with the transition of the silvery fireplace insert.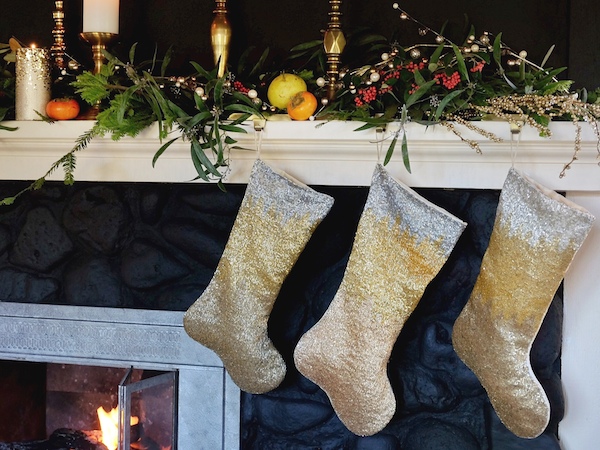 The LED sparkle trees add another light source and fill space with their height. They're battery operated so they're super easy to turn on and off when you need to.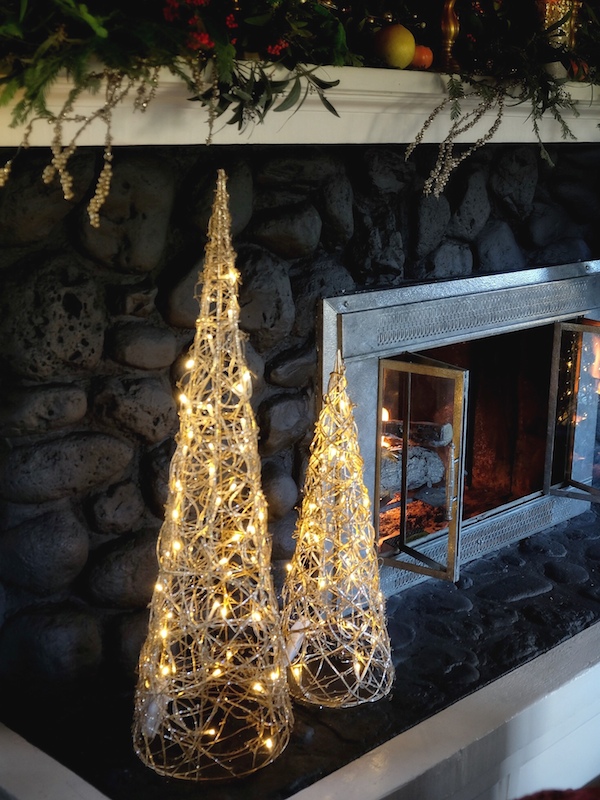 So that's our family room decorated for Christmas. It's so cozy now! Everything shines so beautifully at night.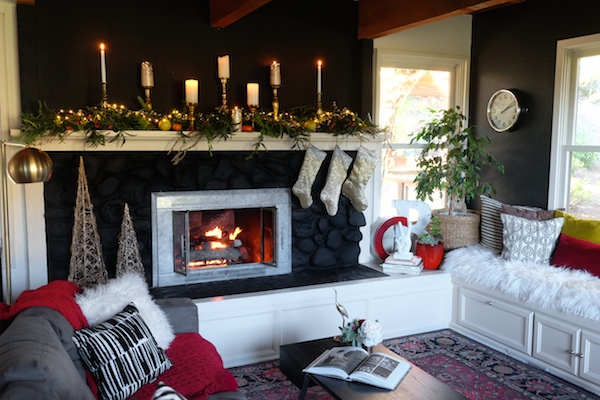 Let's talk about the table!
Most of what I've collected over the years for my dishware is silver + white. I wanted to bring the gold in very subtly, so I selected a few plates that give a little golden shine to the table. I'm going for a cozy/sensual/snowy vibe.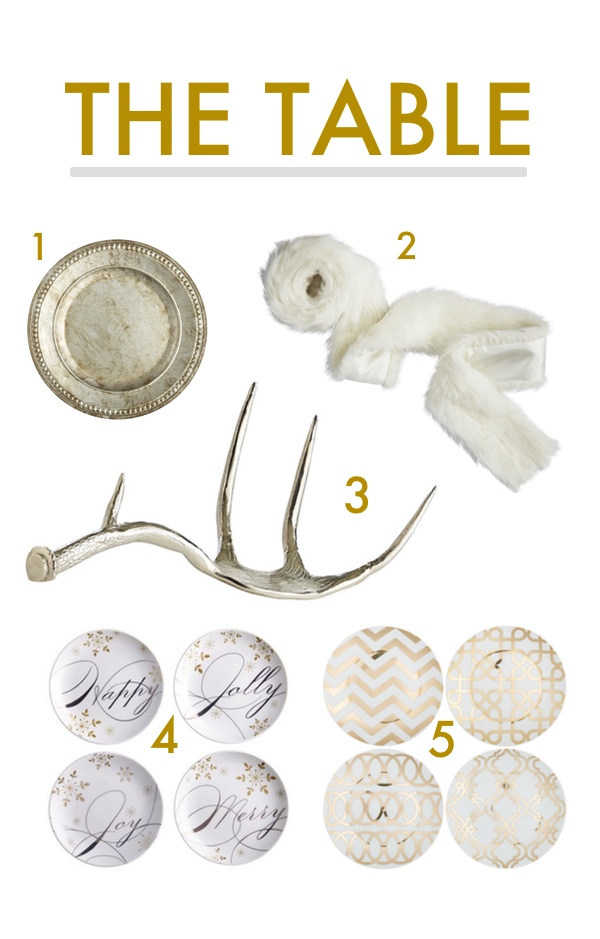 I used a piece of faux fur fabric I had for the runner. I found one on the Pier 1 website if you are looking for one!  I wanted to add a little texture to the table. I love how it makes it look wintery!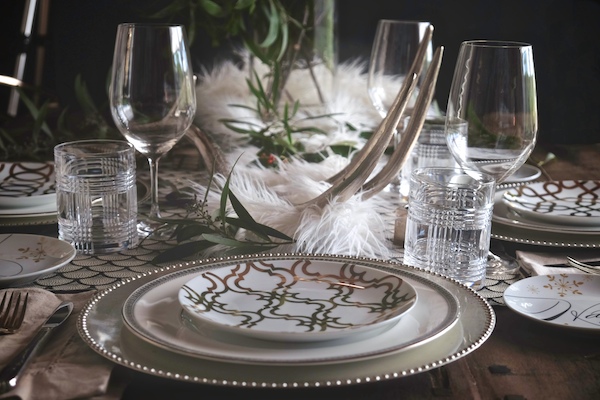 Lisa made another beautiful arrangement from the branches we cut. They're so dramatic with the black walls behind the table.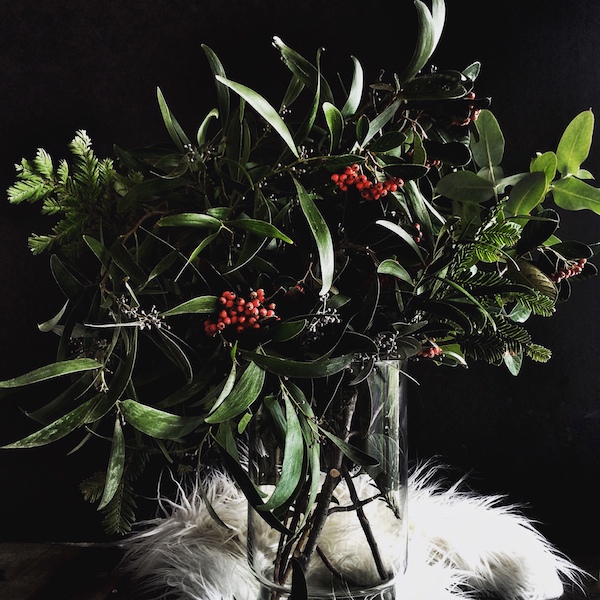 I love how the antlers look on the table. They add DRAMA!
And as you can see below, the gilded plates shine!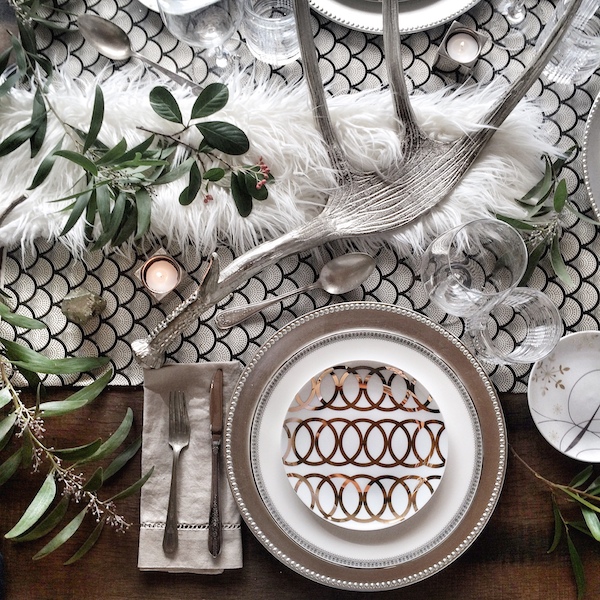 We used silver chargers to make things extra fancy.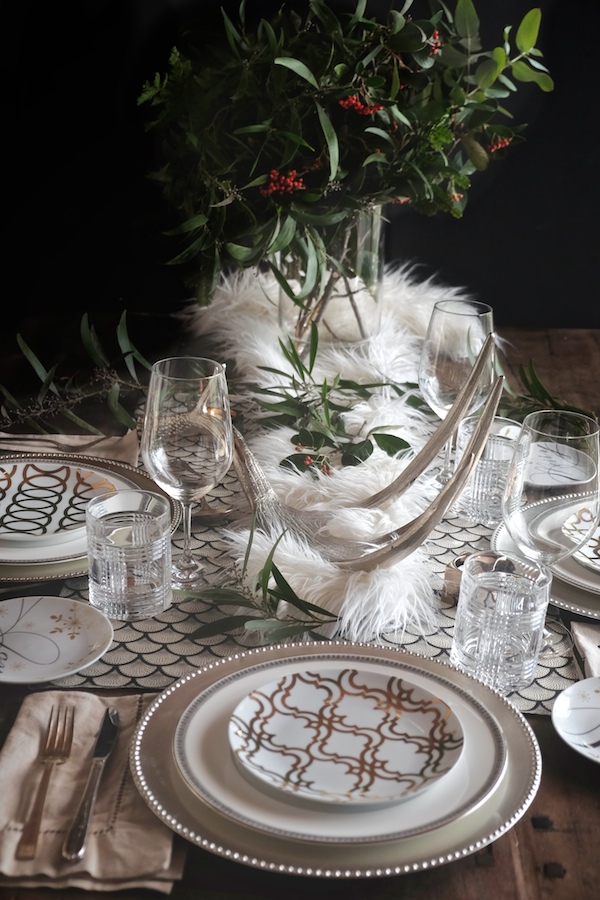 I'm loving the Holiday Wishes Appetizer Plates. They say Merry, Happy, Holly & Joy.
My favorite one is Joy.
I also like having something written on my table, so these plates make me SO HAPPY.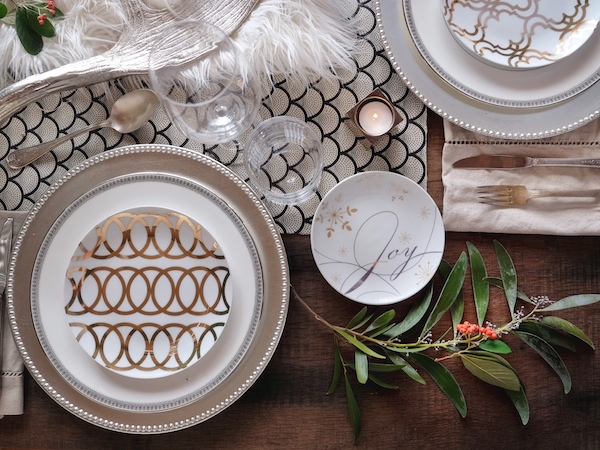 I can't wait to fill my table up with friends and family!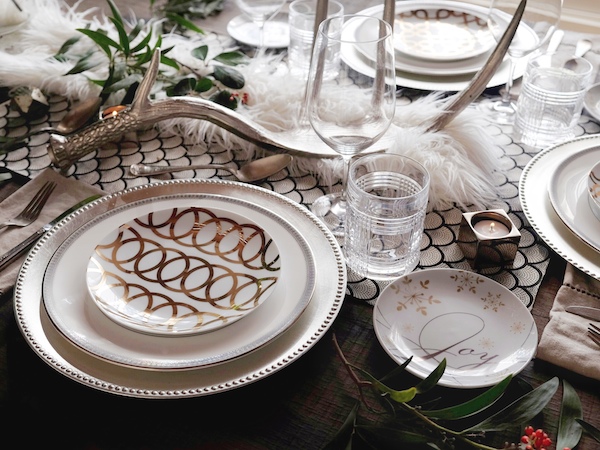 We're ready for you!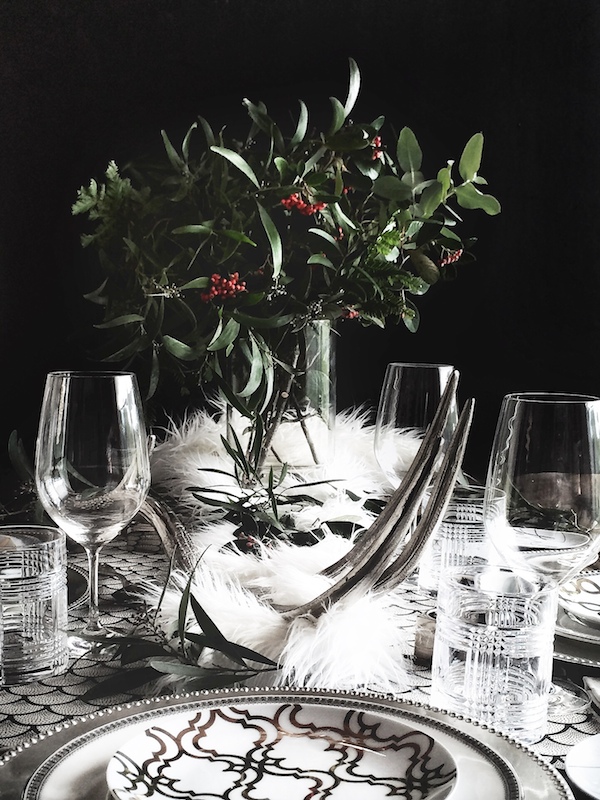 There you have it- My Holiday Decor with Pier 1!
Now I just have to finish our Christmas cards and shopping… I'm gonna need another coffee or five…
Thank you Pier 1 for sponsoring this post. While this was a sponsored opportunity from Pier 1 all content and opinions expressed here are my own.  Thanks also to my friend, Lisa Tornello who helped me put this all together!