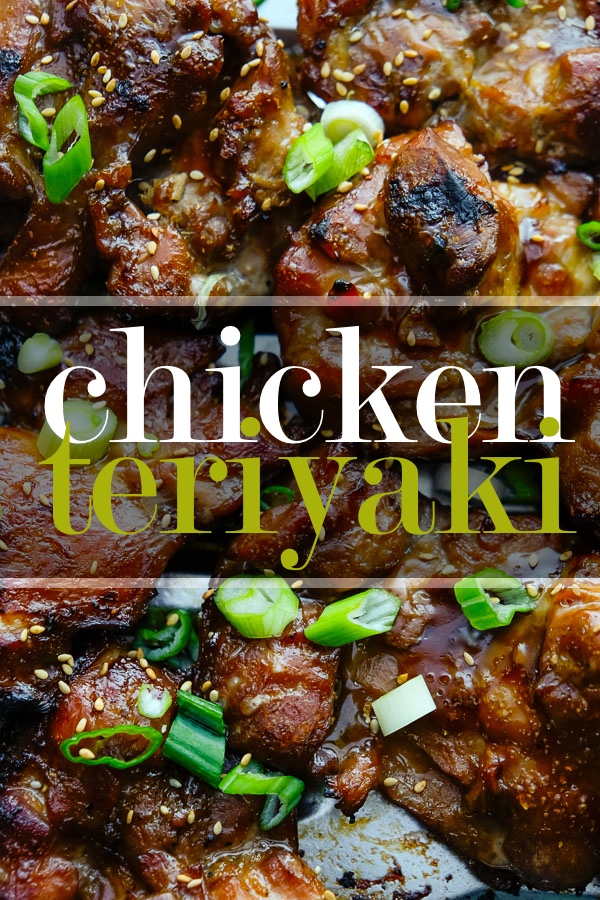 Teriyaki is a word that my brain never wants to spell right. My brain also has a hard time spelling Marilyn. There's something about the y and the i that throws my brain off. Brains are weird.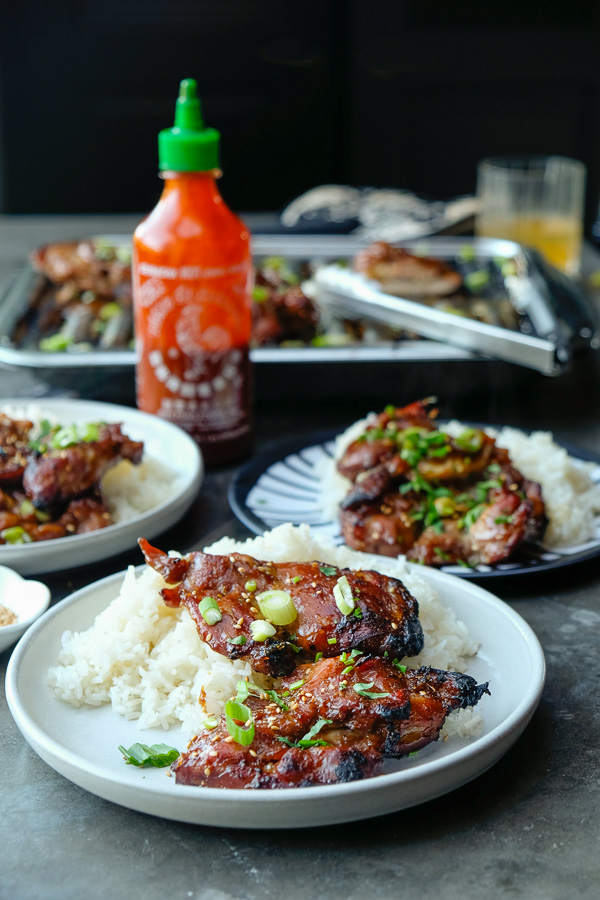 Now that I have spelled teriyaki correctly (thanks, spellcheck!) I can tell you more about my new favorite Chicken Teriyaki recipe. Cooper loved it. Casey didn't complain. It didn't really take that much time and I was able to turn leftovers into fried rice so I feel like we might have something new to add to our meal rotation.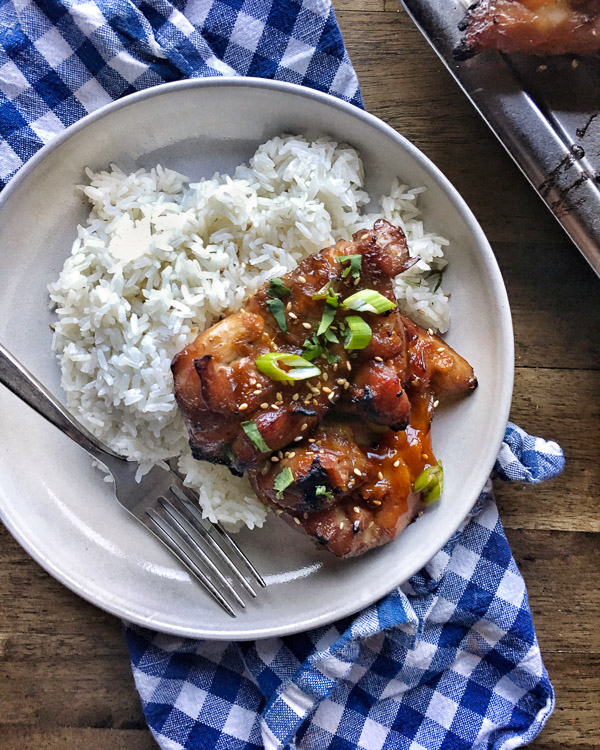 This tastes like the kind of teriyaki chicken you'd get in a Japanese restaurant. The glaze is pretty tasty and the overnight marinade really makes the chicken flavorful. You might have some extra sauce with this recipe, but that's great because it's amazing on the leftovers! I'm curious how it would taste on salmon….
Let's do some ingredient gathering: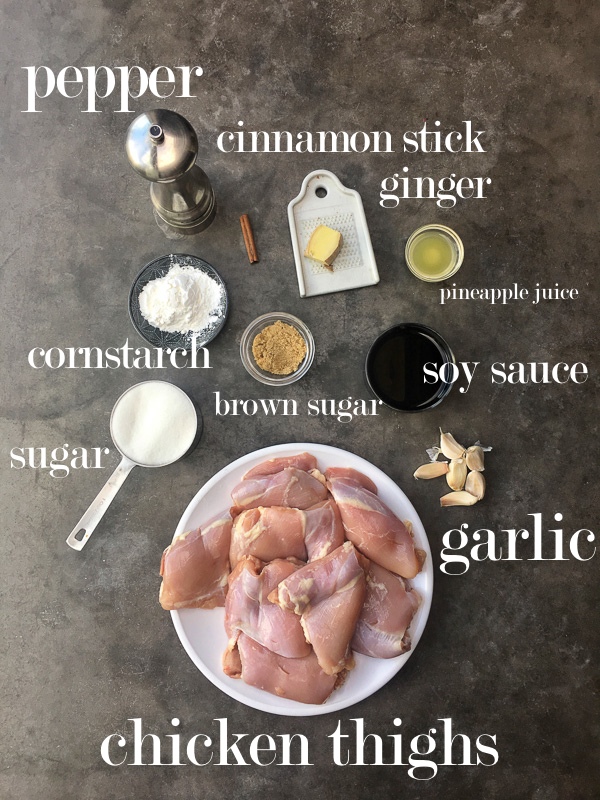 Garlic press + ginger grater tiiiiiiiiiiime.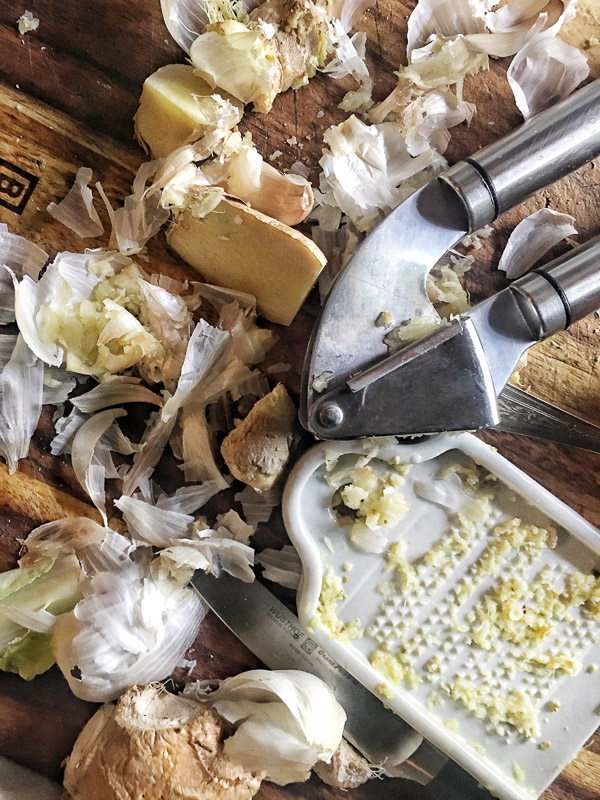 First, we make the marinade. The chicken will sit in it for overnight, so do this the day before. Alternately, you can marinate it the same day. It will still be flavorful. Just do it in the morning for dinner time later.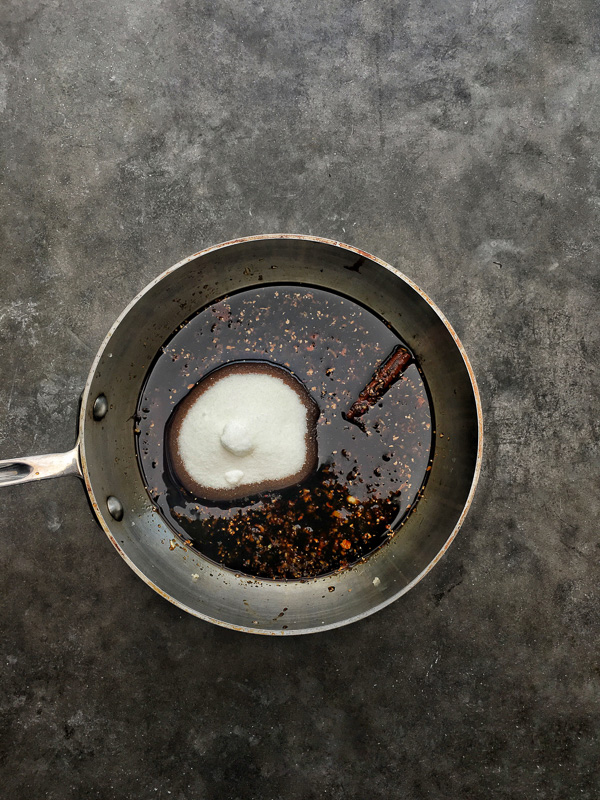 Sugar dissolves. Say goodbye to the cinnamon stick.
Yeah! Cinnamon stick!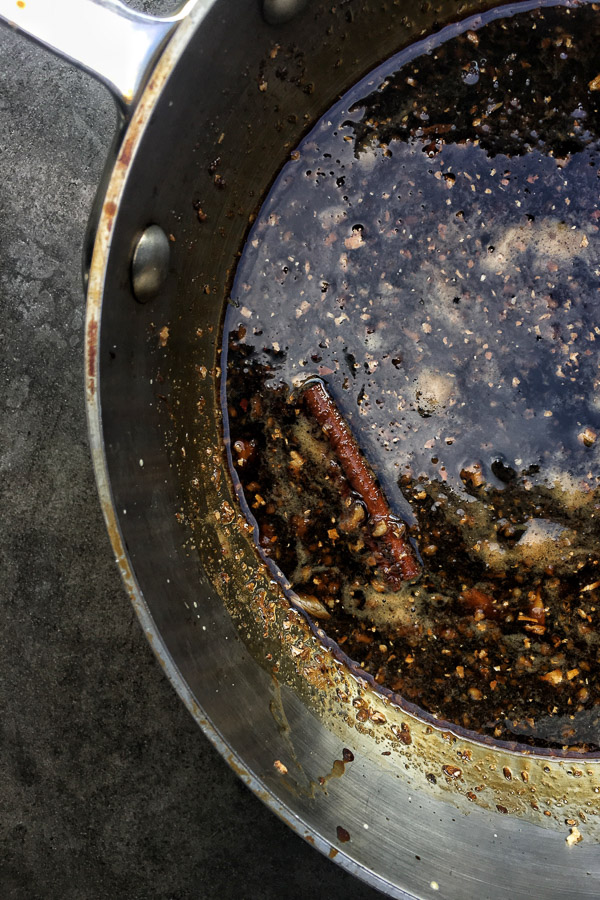 Hello, chicken thighs! Let's marinate you!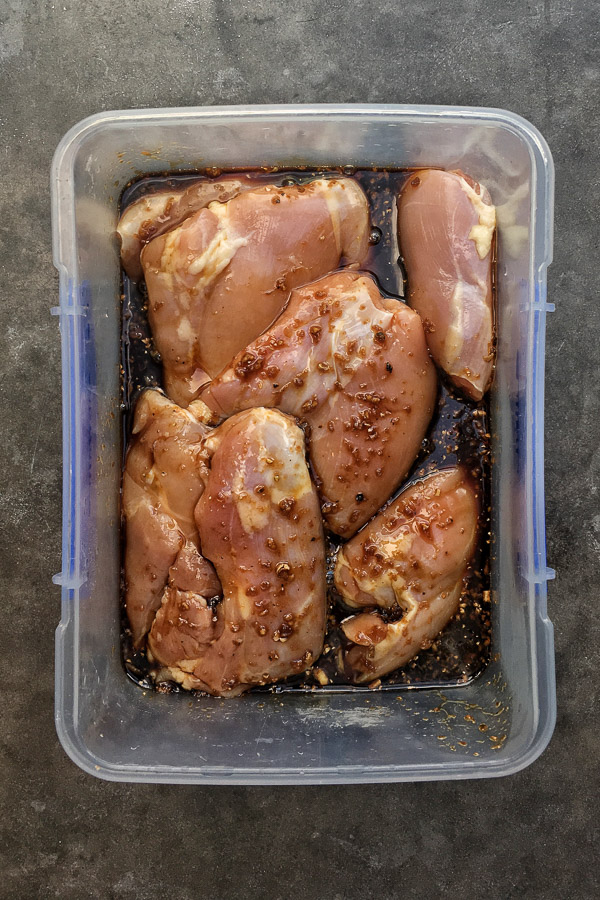 After a day in the fridge, we are ready to broil them.
Alternately, you can grill!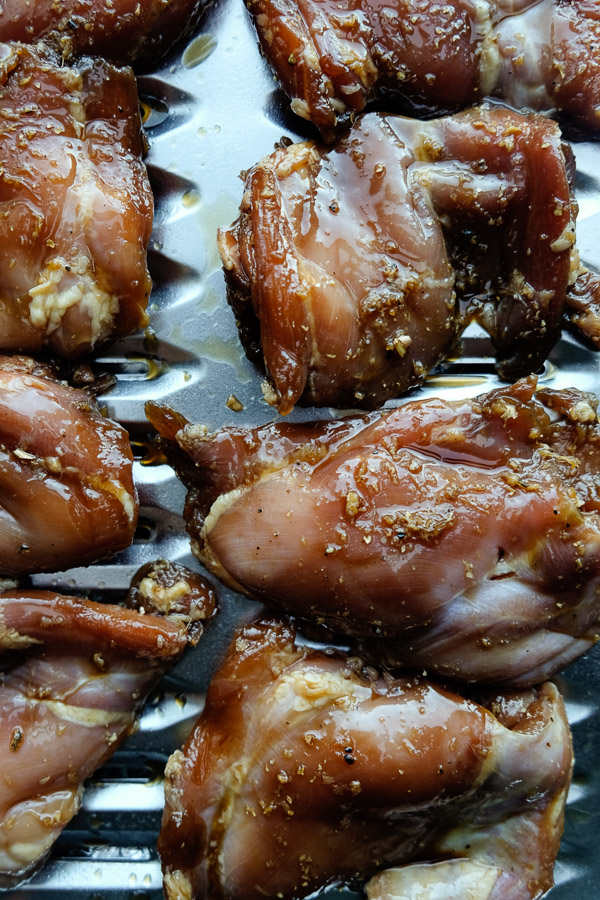 We are going to reheat the sauce. We have to bring it to a boil/strain it and then add in the cornstarch.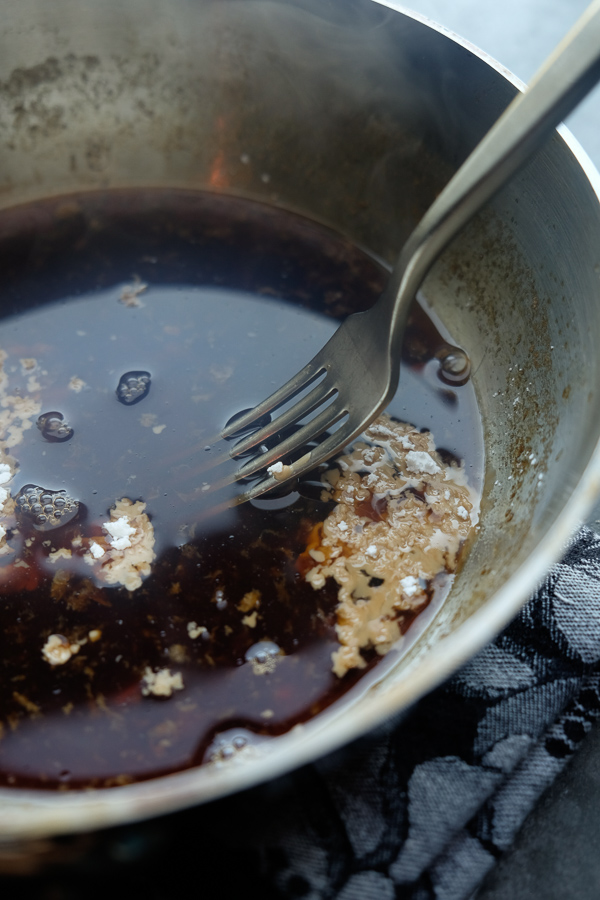 GLAZZZZZZZEEEEE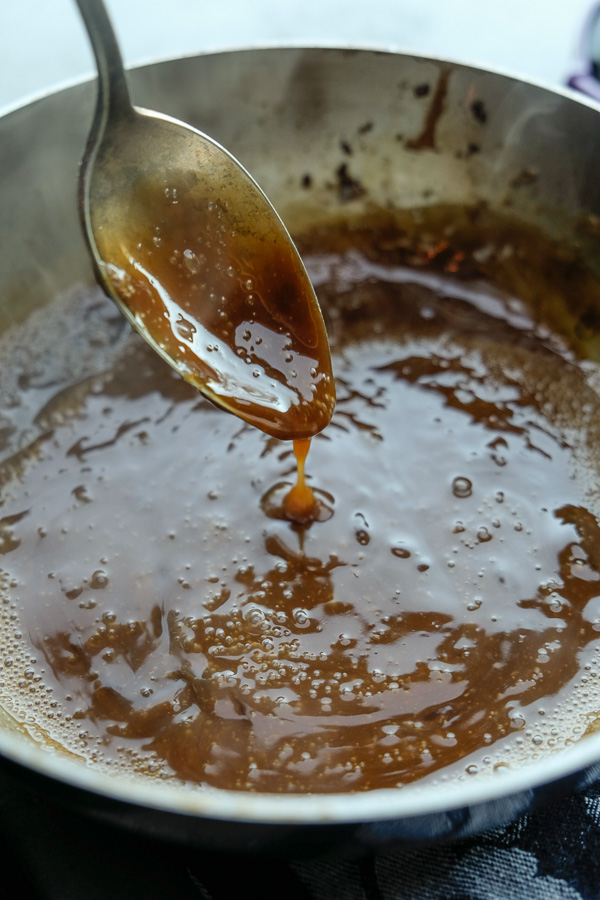 While the chicken is broiling, let's put some toppings out.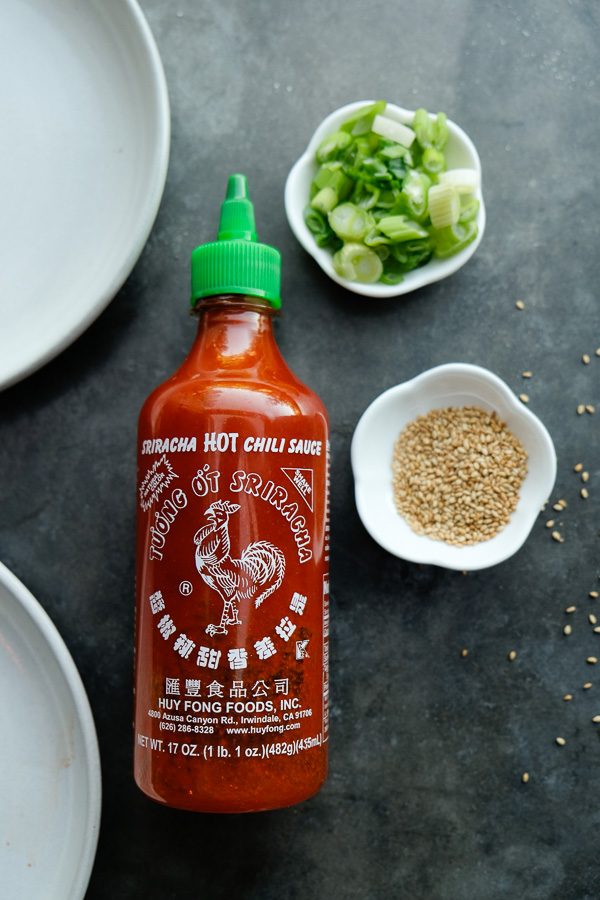 The original recipe said 3 minutes per side. In actuality, it takes about 6-8 minutes per side, maybe a bit longer. Just watch it, be patient and you're good to go!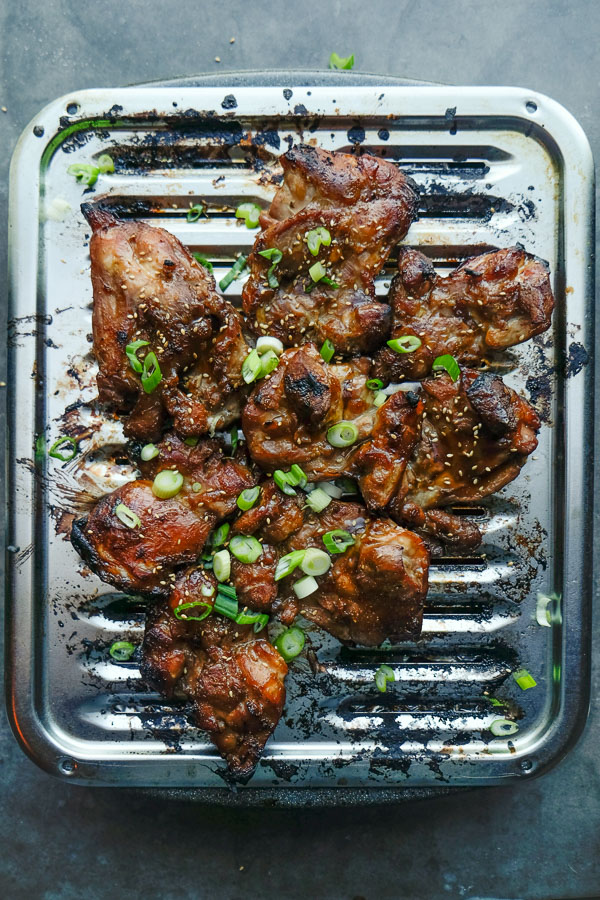 Chicken is done. Glaze on top.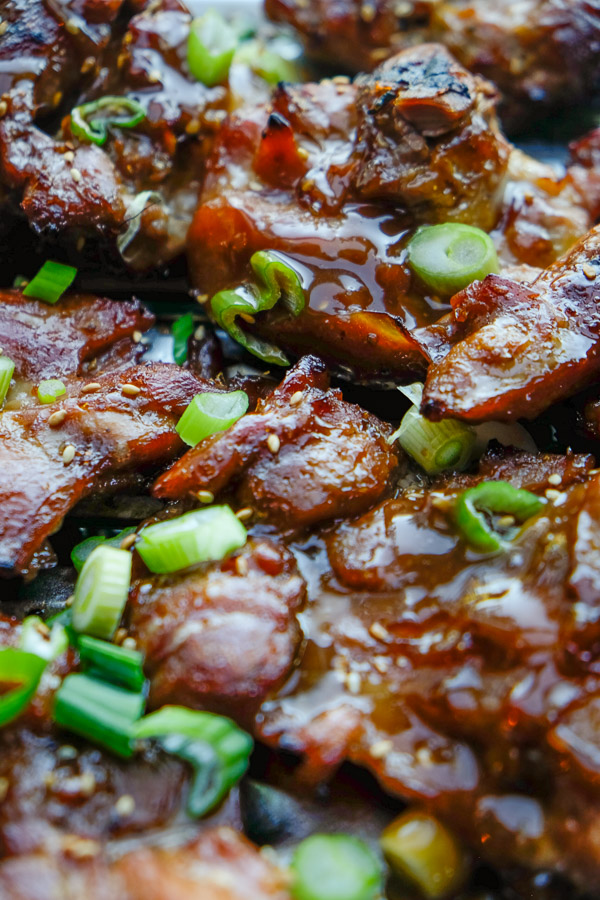 Served over rice!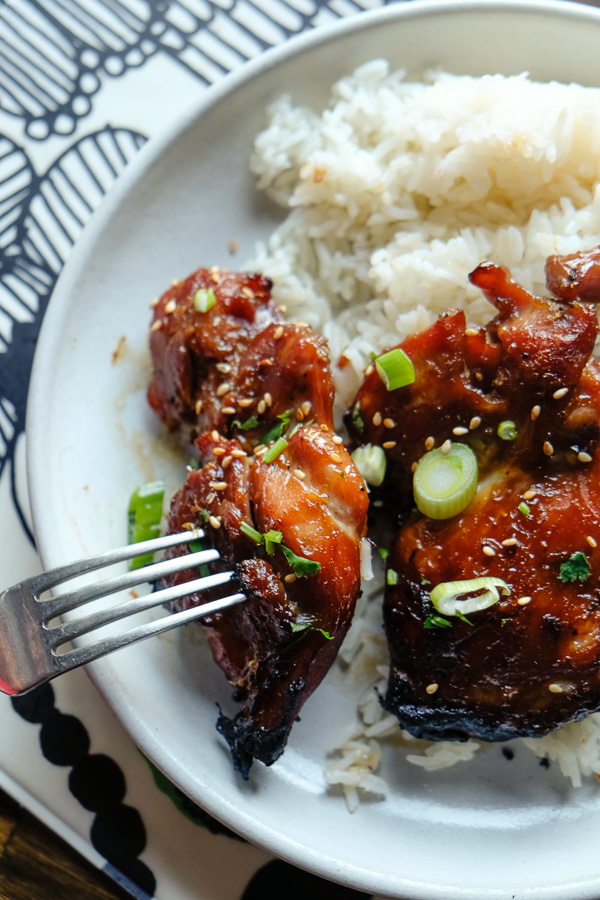 MMMMM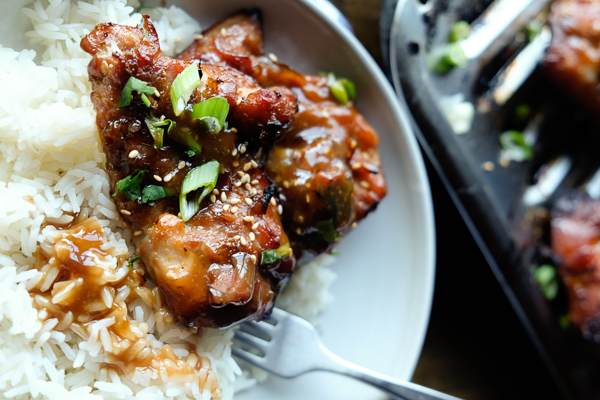 Perhaps this will be added to your dinner arsenal too?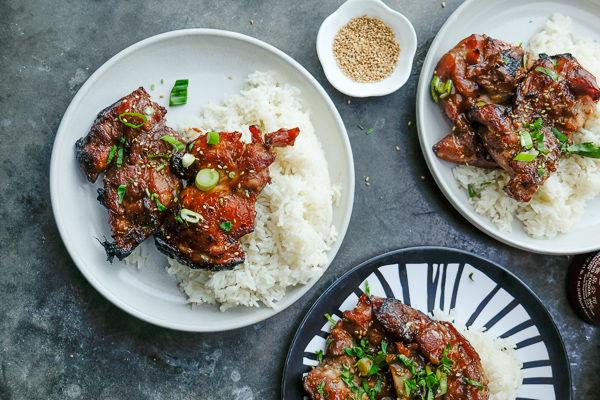 I love a dish that no one complains about! 😉

makes 8 servings

recipe slightly adapted from NY Times 

1

cup soy sauce

3/4 

cup granulated sugar

1 ½

teaspoons brown sugar

6

cloves garlic, crushed in a press

2

tablespoons grated fresh ginger

¼

teaspoon freshly ground black pepper

1

3-inch cinnamon stick

1

tablespoon pineapple juice

8

skinless, boneless chicken thighs

2

tablespoons cornstarch

In a small saucepan, combine all ingredients except cornstarch and chicken. Bring to boil over high heat. Reduce heat to low and stir until sugar is dissolved, about 3 minutes. Remove from heat and let cool. Discard cinnamon stick and mix in 1/2 cup water.

Place chicken in a heavy-duty sealable plastic bag. Add soy sauce mixture, seal bag, and turn to coat chicken. Refrigerate overnight.

Remove chicken and set aside. Pour mixture into a small saucepan. Bring to a boil over high heat, then reduce heat to low. If needed, strain any loose bits from the sauce. Mix cornstarch with 2 tablespoons water and add to pan. Stir until mixture begins to thicken, and gradually stir in enough water (about 1/2 cup) until sauce is the consistency of heavy cream. Remove from heat and set aside.

Preheat a broiler or grill. Lightly brush chicken pieces on all sides with sauce, and broil or grill about 6-8 minutes per side. While chicken is cooking, place sauce over high heat and bring to a boil, then reduce heat to a bare simmer, adding water a bit at a time to keep mixture at a pourable consistency. To serve, slice chicken into strips, arrange on plates, and drizzle with sauce.