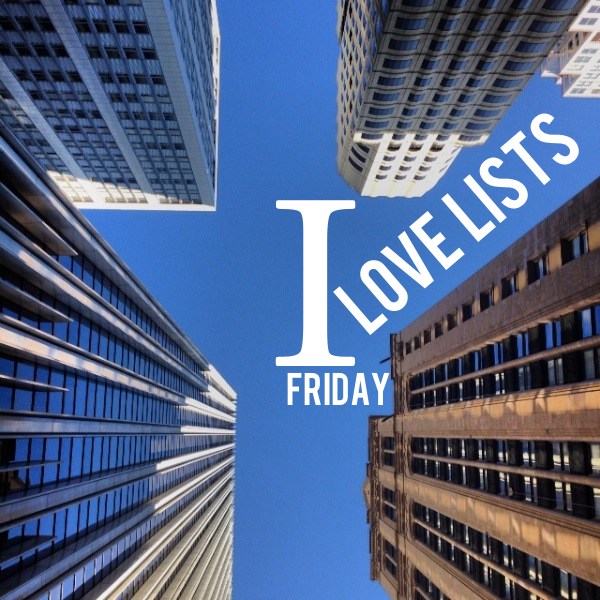 It's Hard to Eat & Cry— the title of our latest Joy the Baker podcast!  This week we answer your quickfire questions! Also…I do some photo mashups of Joy that I'm pretty proud of…

Tres Chicas Morenas made my Baked Caramel Apple Doughnuts
Tasty Artichoke made my Sriracha Mac & Cheese
Despite My Pancreas made my  Spinach Tortellini Soup & Banana Walnut Granola
Use Real Butter adapted my Baked Dark Chocolate Doughnuts
Thoroughly Nourished Life was inspired by my Broccoli Kale Slaw
The Cheesy Kitchen made my Sausage Sweet Potato Soup
Forbidden Rice Blog adapted my Raisin Focaccia
Blah Blah Birds also adapted my Raisin Focaccia
Stir and Strain was inspired by my Orange Ginger Toddy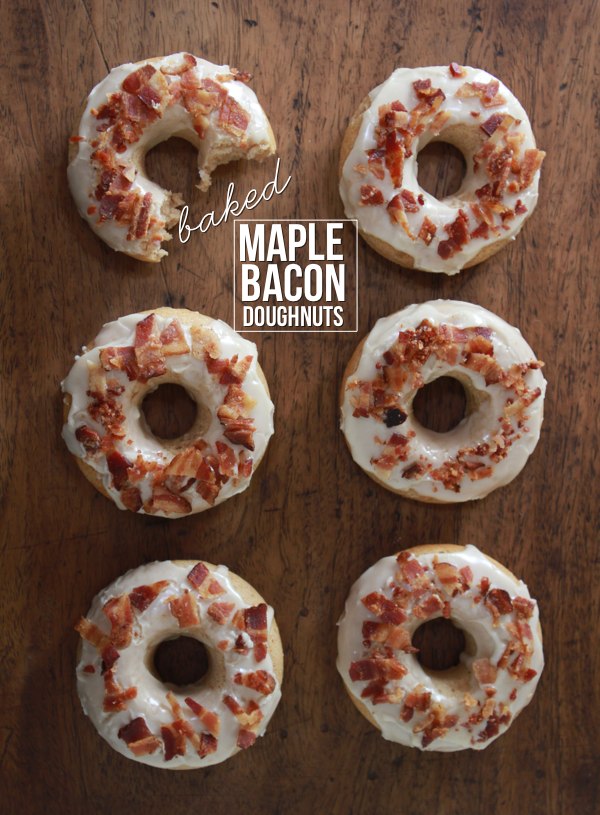 Putting bacon on Baked Maple Doughnuts is kinda like ordering a Diet Coke when you get a double double with animal style fries at In & Out Burger. Or maybe it's like getting your burger protein style (lettuce instead of bread)? I dunno. Baking a doughnut is just one simple way of sparing the littlest of calories.  What happens is that it tricks your brain into eating more…and you know what. THERE'S totally JUSTIFICATION in that.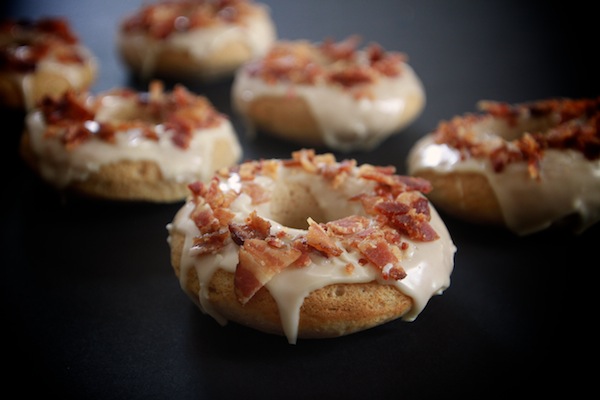 I give you permission to make these for your friends.  I give you permission to be the cool one at the office who brings in the best treats. I give you permission to use the "But they're baked!" line because sometimes you have to help people see the beauty in balance.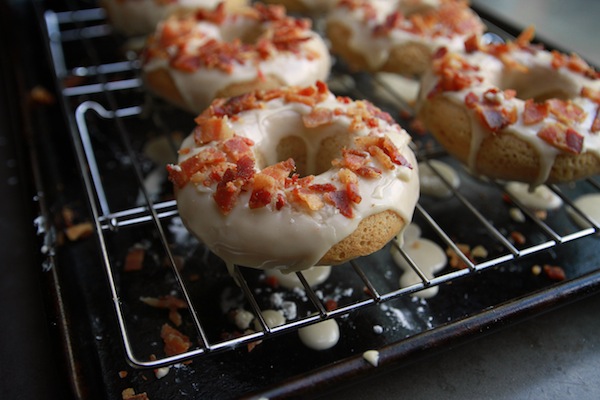 I give you permission to eat one and then turn that into two because you really want to appreciate the nuance of maple glaze with bacon. It's like a doughnut was put on a plate of pancakes with a side of bacon then someone who doesn't mind their foods to touch let it alllll happen. It's everything right.
Lastly, I give you permission to blame your sudden weight gain on me. But that now means you have my permission to buy a cute oversize sweater to cover said weight gain cuz DOUGHNUTS!

ONE/ TWO /THREE /FOUR /FIVE/SIX /SEVEN /EIGHT /NINE
I've been thinking about what I'm going to wear to Thanksgiving. I usually end up looking like a hot mess because I'm too busy cooking or rounding the troops up to go over to my parent's house. But this year I'd like to look less frumpy cuz maybe we'll take some holiday pictures…I dunno. We dress somewhat casual on Thanksgiving so I put together a "holiday" outfit I'd wear in a heartbeat. I love Navy & Gold together because it's a nice balance of warm tones with cool tones. Drapey fabrics are the way to go during big meals. You need room to grow!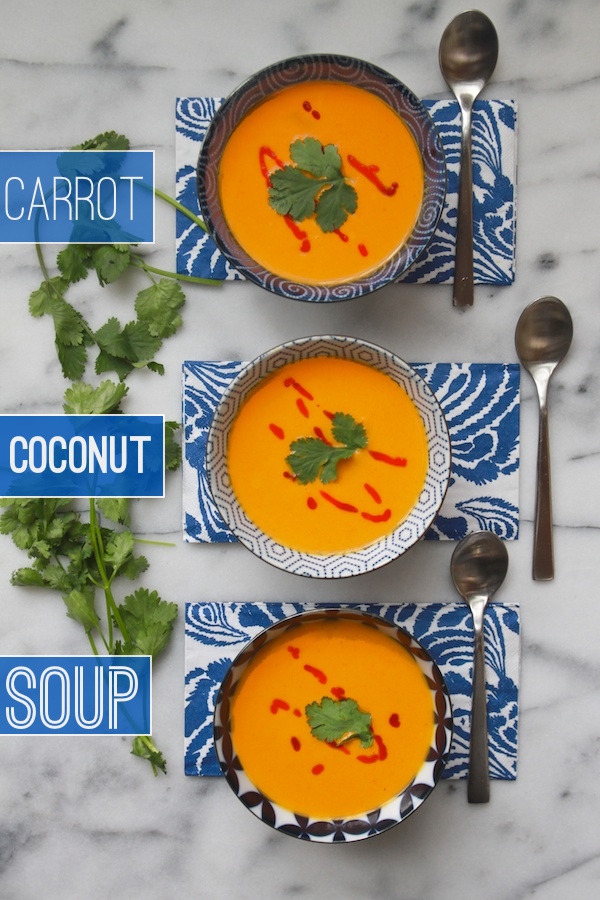 I made this soup twice in one week. That's how good it is. It wasn't because I had a ton of carrots to use up. Nope. I'm just clearly obsessed. Make it. You'll see what I mean.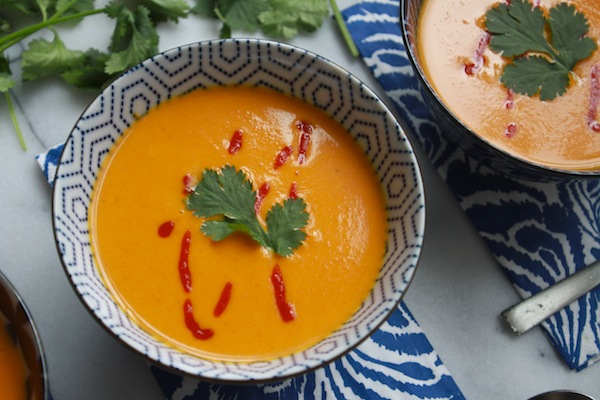 It was the sweet & spicy kick that I kept craving. The subtle hint of coconut reminds me of my favorite Thai soup.But! I didn't have to go to a restaurant to get it…which means I didn't have to get dressed cuz I'm allllllll for pajamas.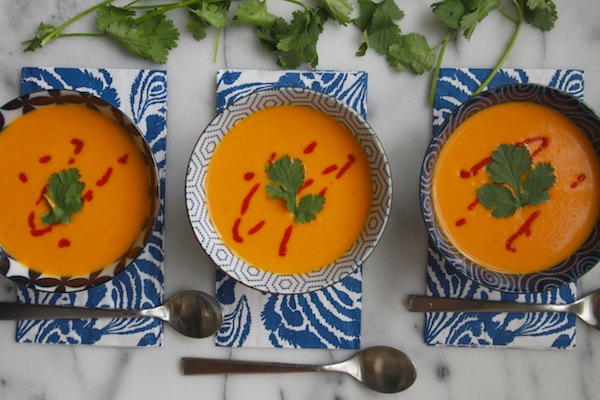 I also have all of these ingredients at my disposal most of the time and this soup took almost no effort. WIN.
Hooray for simple/satisfying soups. We have the holidays coming up, I say we make things easy on ourselves starting NOW. Can we make things even easier and tell everyone they can come to Thanksgiving in their pajamas? Cooooooool.
Here's what this past week looked like:
A week full of baseball! Congrats, Red Sox! You made the boys in my life SUPER HAPPY.
Now we can catch up on all of our shows on TV…