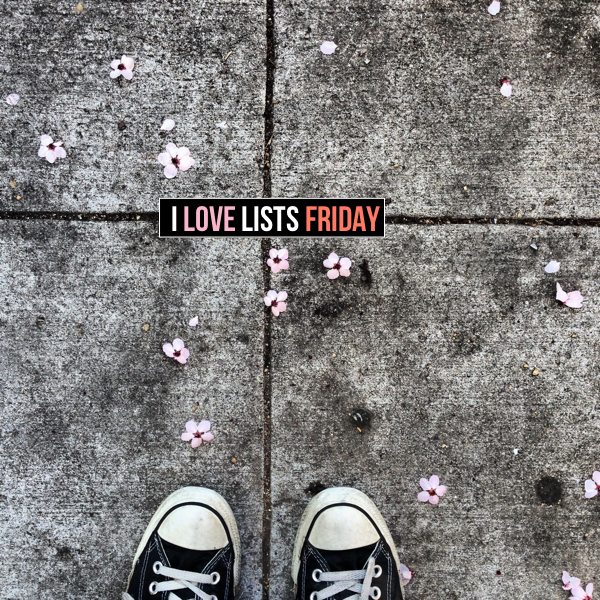 The Hippocratic Cupcake adapted my Blueberry Zucchini Bread
Celebrating Sweets made my Banana Walnut Granola
Cooking Madly adapted my Smoky Kale Caesar Salad
The Cheesy Kitchen made my Guacamole Hummus
Versatile Vegan made my Hearty Black Bean & Sweet Potato Soup
Happiness is a Warm Bun adapted my  Cinnamon Sugar Baked Doughnuts
How Sweet It Is  was inspired by my Smoky Kale Caesar Salad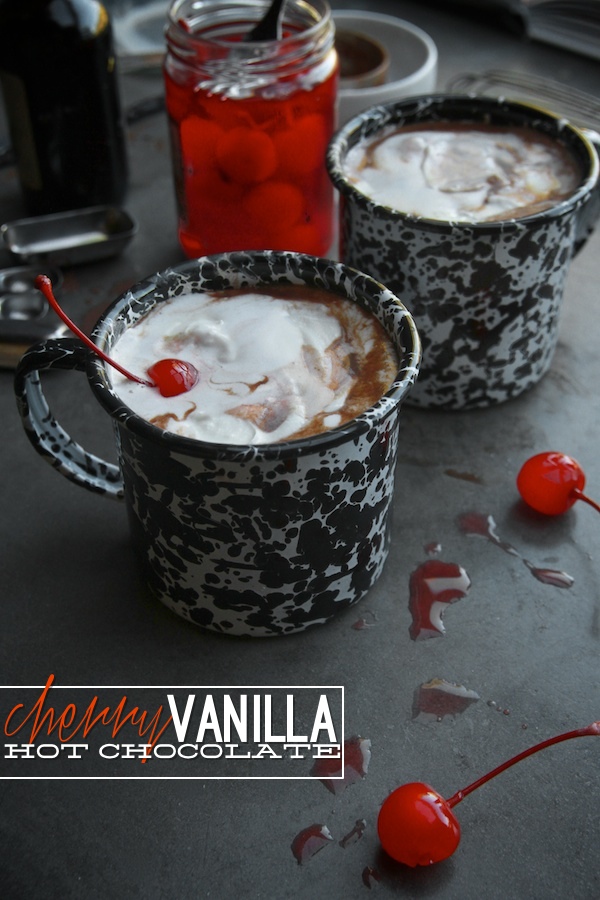 Hot chocolate was always a special treat when we were kids. My parents would occasionally take us to IHOP after Sunday mass. We'd order our breakfasts (always french toast for me) with thick handled mugs of hot chocolate overflowing with whipped cream. My brothers would scarf theirs down immediately, while I sat there playing with the whipped cream…savoring every bit… purposely taunting them. I played the role of little sister well.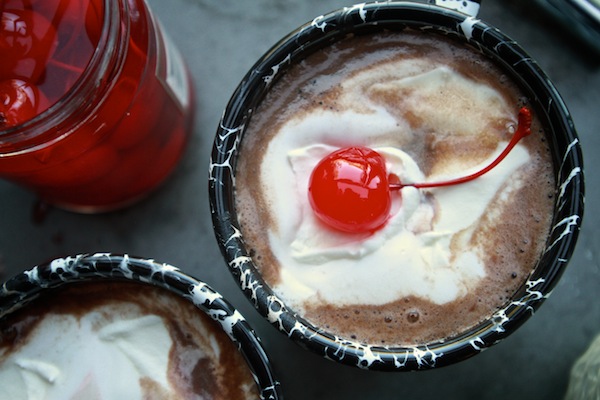 As a mom, I employ the hot chocolate as "special treat" trick every now and then. I've learned as a parent that any deviation from the regular routine food-wise creates memories and really rattles a kid- in a good way. I still haven't gotten over that time my dad tried to make us Italian wedding soup (hilarious fail!) or the bright red strawberry slushies he made us in Tahoe while he & my mom shared margaritas. The food memories stick with you- at least they have for me.  You should have seen Cooper's face the day I let him eat popcorn while watching a movie in our bed. PURE MAGIC. Also, sorry Casey.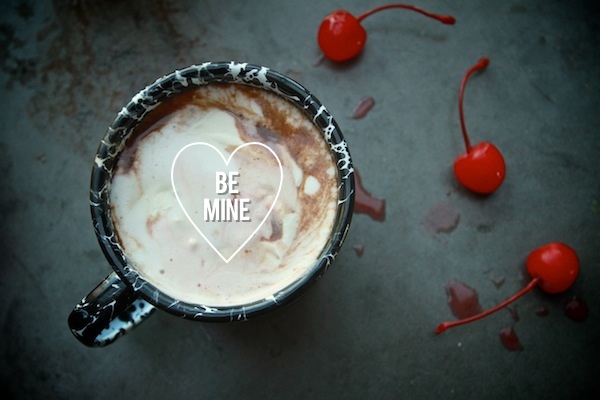 Hot chocolate isn't something Casey and I partake in. I mean… we went through a sipping chocolate phase a few years ago but for some reason that didn't last long. Part of it stems from my weird I'd prefer not to drink my calories because I'd rather eat them ideology. But then again, I can easily be persuaded when a drink has liqueur in it. This cherry vanilla hot chocolate is rich, creamy and super decadent.  Umm. Did I mention there's butter in it!?  And the addition of kirsch (a cherry liqueur) and white chocolate is wonderful. I gave Cooper a kids version and he wouldn't stop talking about it ALL DAY LONG. See? Food memories formed.
I can't imagine a more perfect drink for that special someone on Valentine's day.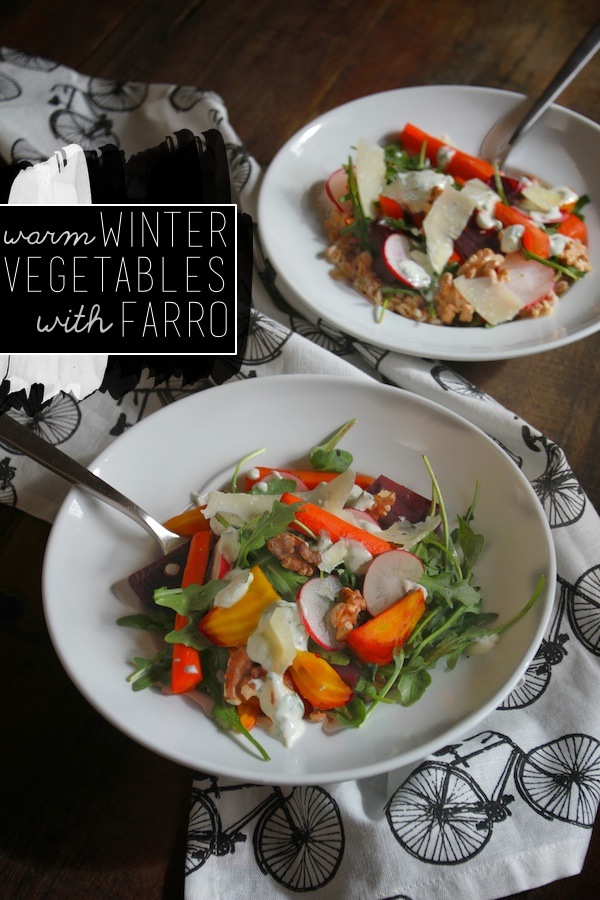 Happy Monday! Did we all eat too much yesterday during the big game? I ate cookies like it was my JOB. I'm not mad, though. They were good.
Hey! So, I wanted to say a quick thank you for all of your comments on my Meal Prep post, I'm so glad that you liked it. I really enjoyed seeing all of your pictures of your own meal prep on Instagram last week! AMAZING/Proud of you! Doesn't it feel nice to have an arsenal of food for the week? Btw- here's what we're eating this week.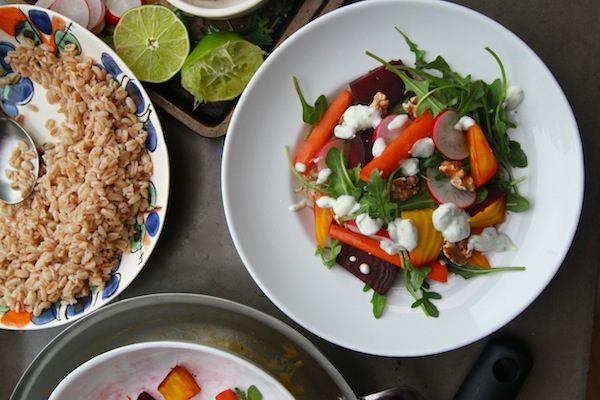 One of the salads I make constantly is my Reset Button Salad. You probably already know that I've been crushing on that salad so hard for the past few months.  My friend, Sarah Copeland  wrote an EXCELLENT vegetarian cookbook called Feast. I'm smitten with the book and I adore her writing and her fresh take on vegetarian food. If you take a look at the book, you'll see that her food combinations are downright inspiring! When I read the recipe for this Warm Winter Vegetables with Farro dish, I knew I had to make it. It has all of the ingredients I love and thought it would help bring new life to my salad game. I was also intrigued by the combination of radishes, honey glazed carrots, Parmigiano-Reggiano and the farro. The lime/yogurt/herb dressing was calling my name!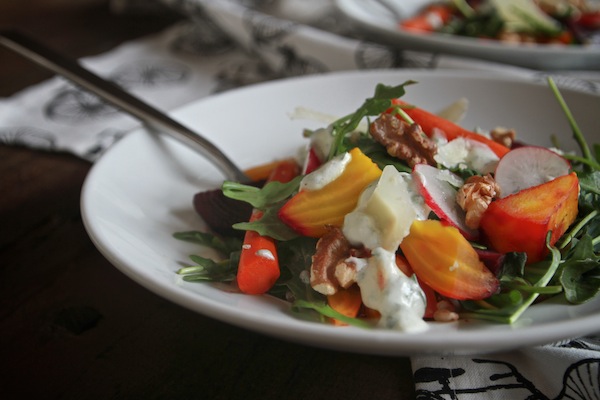 Aaaaaaaand we LOVED it. It's robust & hearty and you won't miss meat for once second. Totally satisfying. And that dressing? Addictive.
My salad game just got taken to a whole new level.
Here's what this past week looked like:
Blossoms. It feels like it's too early for this.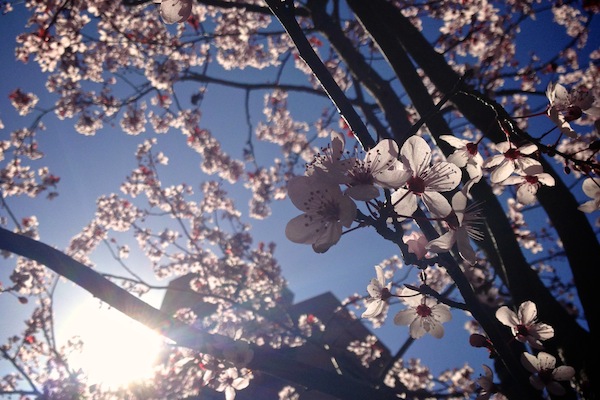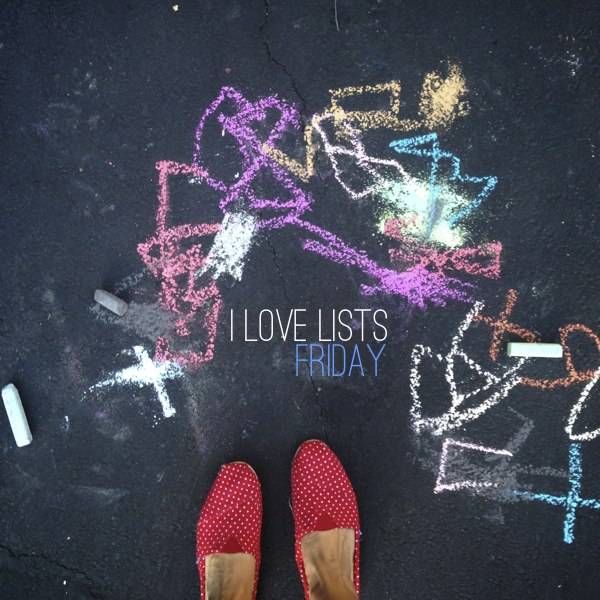 Collegiate Kitchen made my Freezer Burritos
Vanessa Vila also made my Freezer Burritos
Suppers from Scratch adapted my Smoky Kale Caesar Salad
Pickle and the Pie made Tessy's Banana Bread
Chill Cooks adapted my Addictive Brussels Sprouts Salad
Hazelfly made my Frozen Yogurt Dots
Chez CateyLou made my Carrot Coconut Soup
Homemade and Wholesome made my Banana Doughnuts w/ Peanut Butter Frosting