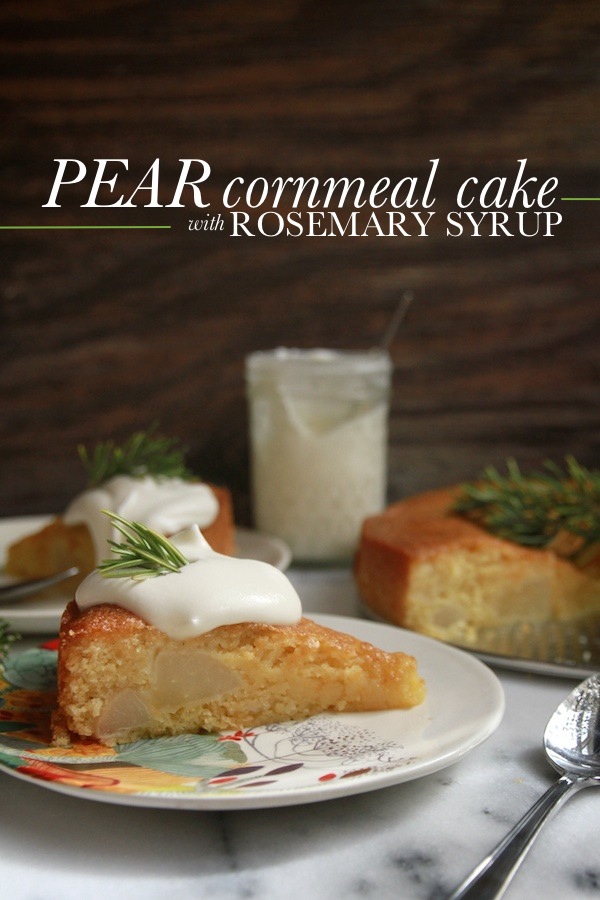 Say hello to my new favorite cake! It sure is lovely, isn't it?  It's such a lady-like cake. Let's have a tea party with it. Let's also use up all those pears we have sitting on our kitchen counter. OK?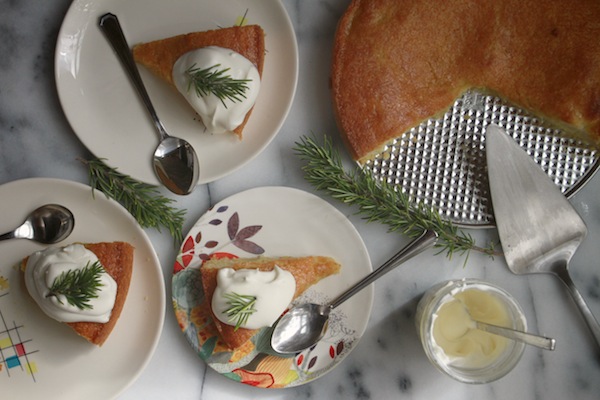 It's a cornmeal cake studded with pears and sweetened with a rosemary syrup infusion on top. It's kind of like cornbread meets cake meets spoon bread meets poached pears meets LET ME JUST HAVE ONE BITE and it turns into two slices CAKE. I should also note that I sat on the floor as I ate this yesterday. You gotta do what you gotta do for good light, people.
This cake is perfect for breakfast or an afternoon snack with a good book & a cup of hot tea. I suggest you do that this weekend!
And we're off! Gather your ingredients. Two major steps. Cake making & syrup making. Last step: Cake eating.
We'll get to that. Hold on.
Buttermilk & eggs get mixed. Butter is melted, cooled & added. Now we have our wet ingredients!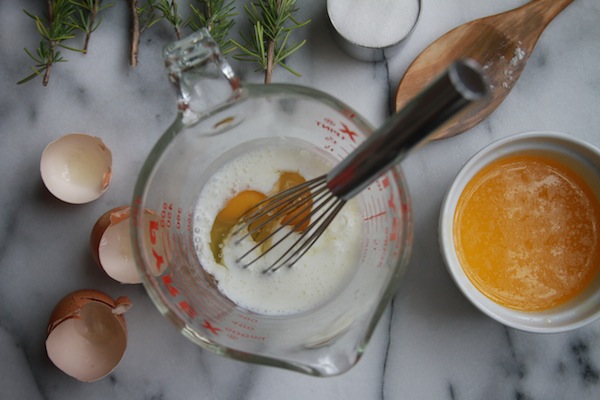 I forgot…we need to cut the pears into wedges. Peeled & cut.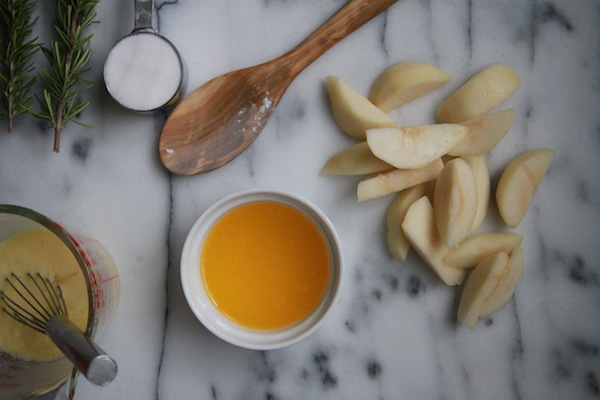 In a large bowl, we mix the dry ingredients. Whisk. Now add the wet.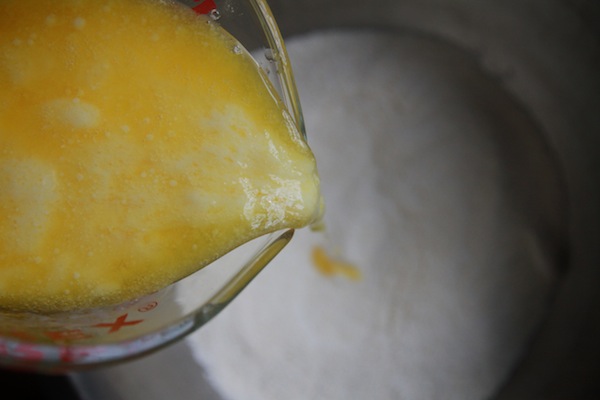 Fold in the pears.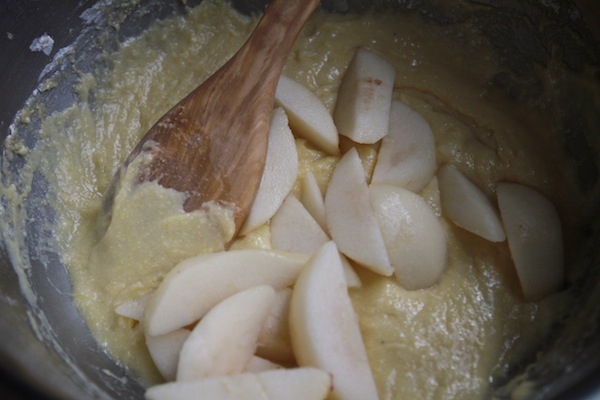 Prepare a spring form pan with butter. Add the batter. BAKE.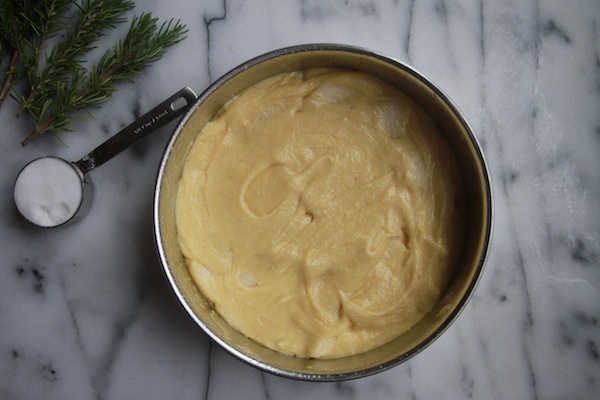 In a saucepan mix the sugar & water with the rosemary. Heat on the stove until sugar dissolves.
Put a lid on and let the rosemary infuse!  The cake is perfection with this syrup.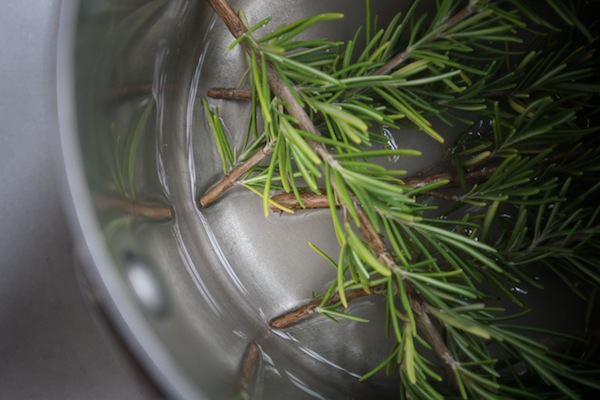 Take out the rosemary. The cake is done and it's still warm.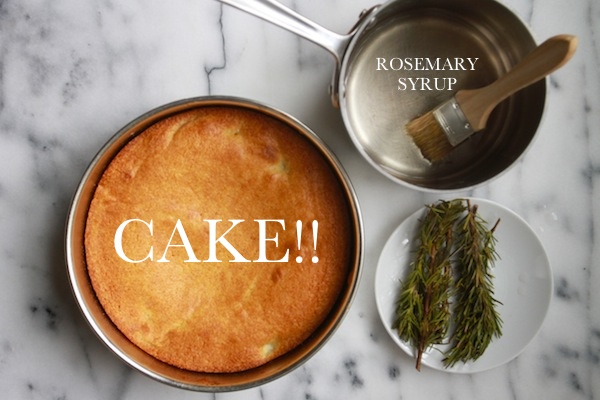 Brush the rosemary syrup on the cake. Goodness.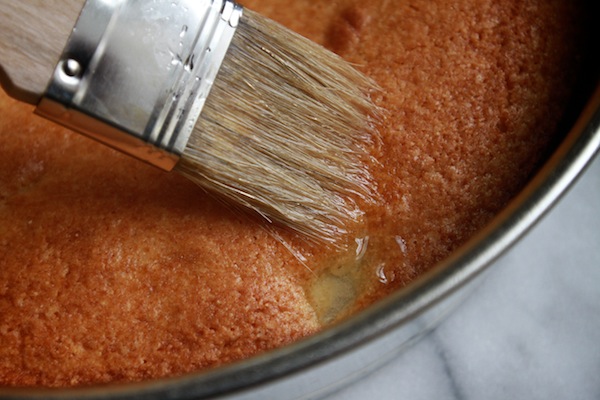 We cut into the cake & add whipped cream! I used my jar technique…as seen in my Blueberry Pudding Cake recipe.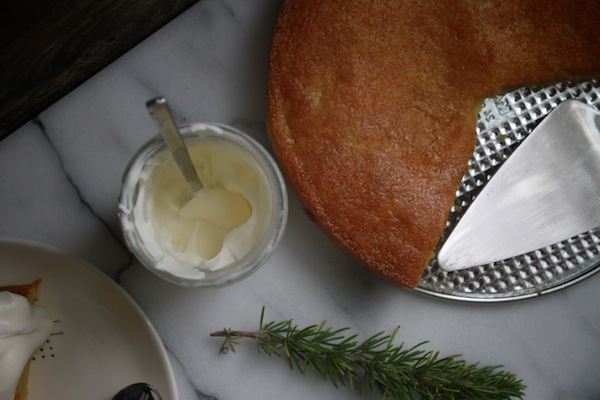 Serve it up!!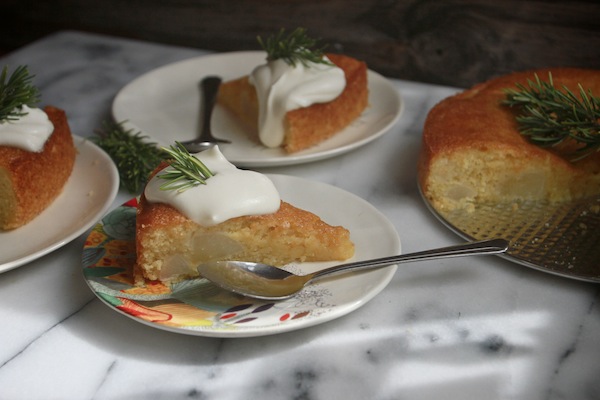 It's totally lady cake!
Pear Cornmeal Cake with Rosemary Syrup

serves 8

recipe from Real Simple Magazine

8 tablespoons (1 stick) unsalted butter, melted, plus more for the pan
1 1/4 cups all-purpose flour, spooned and leveled
1/2 cup yellow cornmeal
2 teaspoons baking powder
1/4 teaspoons baking soda
1/2 teaspoon fine salt
1 1/4 cups sugar
1/2 cup buttermilk
2 large eggs, whisked
2 ripe pears, peeled & cut into 8 wedges each
6 large sprigs rosemary
freshly whipped cream, for serving (optional)

Heat oven to 350° F. Butter a 9-inch springform pan.

Whisk together the flour, cornmeal, baking powder, baking soda, salt, and 1 cup of the sugar in a large bowl. Whisk together the buttermilk, eggs, and melted butter in a medium bowl. Add the wet ingredients to the dry ingredients and whisk to combine. Fold in the pears.

Transfer the batter to the prepared pan. Bake until a toothpick inserted in the center comes out clean, 45 to 55 minutes. Cool in the pan for 15 minutes; transfer to a wire rack.

Meanwhile, heat the rosemary, the remaining ¼ cup of sugar, and ¼ cup water in a small pot over medium heat. Cook, stirring, until the sugar is melted. Remove from heat, cover, and let sit, stirring occasionally, for 30 minutes and up to 4 hours. Discard the rosemary sprigs.

While the cake is still warm, brush the top and side with the rosemary syrup.

Serve warm or at room temperature with whipped cream, if desired.