The idea of waking up to a batch of homemade gooey cinnamon rolls baking in the oven is extremely novel isn't it? It's straight out of a Norman Rockwell painting! The reality is that it takes time for dough to rise and cinnamon rolls to bake. Since I'm the chief baker in my house, this fantasy isn't going to happen unless I take the bull by the horns and make my own cream cheese cinnamon rolls. Amidst a busy weekend I carved out a nice chunk of time for this doughy adventure. I let the dough rise, spread cream cheese on it, folded the dough and slathered it with filling then rolled it up and made legit cinnamon rolls. I then put those rolls in the fridge overnight with plans to bake them the moment the sun came up.  Let me tell you; it was a true test of patience.
Early the next morning I could hear a few small little Cooper yawns coming through the baby monitor. It's time! It was as if I was pregnant and my water broke and I was getting to ready to rush to the hospital. In reality I ran into the kitchen, turned on the oven and took the cinnamon rolls out of the fridge to sit on the counter and rise. Within a half hour I had the cinnamon rolls in the oven. I made my coffee and waited for Casey to wake up to the delicious smell of cinnamon rolls baking away. I waited and waited and then it dawned on me. This wasn't his fantasy. It was mine. After I glazed the cinnamon rolls, I brought him a bite in bed and within minutes he was up and eating cinnamon rolls with us in the kitchen. If I can get him out of bed on a weekend morning before 8am with one bite of a cinnamon roll, it's a true testament to how good they are. Now let's ignore the fact that I ate three of them that morning. OK?
Oh! We can cross off something else from my 31 comes before 32 list! #9. Make cinnamon rolls from scratch= DONE!


And we're off!
Dough ingredients!
Yeast, sugar & water. Let it foam.
Egg+ yolk, vanilla, milk get mixed in.
Dry ingredients meet wet! Your dough hook is ready for its closeup!
Mixing happening…
Time to butter it up!
And then you have a lovely dough! Cover it up and let it rest for a bit.
Get your filling ingredients together. Smells like Autumn!
Start rolling out the dough. It's really nice dough to work with.
Hello CREAM CHEESE!!!
Spread it all over and fold it into thirds like a letter that needs to go in an envelope.
Don't put this in an envelope. It's not a letter.
Now fold it in thirds. Left to right.
Roll it out flat! Now add your filling. It ain't pretty. But it's tasty!
Roll it up without looking at that bulging vein in my hand.
Cut off the ends. Eat them and then cut the dough into 8 pieces.
Place them in a buttered baking dish. Here's where I covered them and put them in the fridge.
Here they are the next morning. The fun part is that some of the filling oozed. It makes for a crispy sugary bottom!
Buttermilk & powdered sugar.
Glaze/Icing/Awesome.
One more shot of those rolls…rising…about to go into the oven!
OUT OF THE OVEN!!! BAAAAM!
Butter the top of the cinnamon rolls with melted butter and let's get working on the glazing.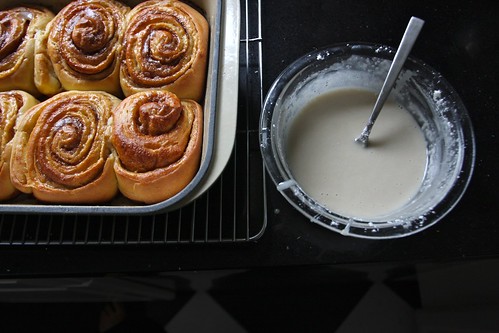 Drizzle drizzle everywhere.
You can totally blame me for your 5lb weight gain this weekend! I get it.
Cream Cheese Cinnamon Rolls

Makes 8
(recipe adapted from Saveur Magazine & Joy the Baker)
For the Dough:
1 1/4-oz. package active dry yeast
1/2 tsp. plus 1/4 cup sugar
1/2 cup milk, at room temperature
2 tbsp. light brown sugar
1/2 tsp. vanilla extract
1 egg
1 egg yolk
2 3/4 cups flour, sifted, plus more for kneading
3/4 tsp. fine salt
8 tbsp. unsalted butter, at room temperature, plus more for the pan
For the Filling:
1/2 cup sugar
1/4 cup dark brown sugar
1 tbsp. ground cinnamon
1/2 tsp. fine salt
1/8 tsp. ground cloves
2 tbsp. maple syrup
4 oz. cream cheese, at room temperature
8 tbsp. unsalted butter, melted
For the Icing:
2 cups confectioners' sugar
1/4 cup buttermilk

Make the dough: In the bowl of a standing mixer fitted with a hook, combine yeast, 1/2 tsp. of the sugar, and 1/4 cup water heated to 115°. Stir to combine and let sit until foamy, about 10 minutes. Add remaining sugar, milk, light brown sugar, vanilla, egg, and egg yolk. Beat on low speed until thoroughly combined, 1 minute. Turn mixer off and add the flour and salt. Mix on medium speed until the dough just comes together. Turn mixer speed to high and knead dough for 4 minutes. Add the butter and continue kneading until dough is smooth and pulls away from the side of the bowl, about 6 minutes. Remove bowl from the mixer, cover with plastic wrap, and set aside in a warm place. Let the dough rise for 1 1/2–2 hours, until it has doubled in size.
Meanwhile, make the filling: Combine the sugar, cinnamon, salt, and cloves in a large bowl; stir to combine. Stir in the maple syrup. Set filling aside.
Punch the dough down and turn it out onto a heavily floured surface. Gently knead the dough until it's no longer sticky, adding more flour as necessary, about 1 minute. Using a floured rolling pin, roll the dough into a 10″ x 10″ square. In a small bowl, beat the cream cheese with a rubber spatula until it's smooth and spreadable. Spread the cream cheese evenly over the dough square; then fold square into thirds as you would fold a letter to fit it into an envelope. Take the open ends of the resulting rectangle and fold into thirds again, to make a smaller dough square. Invert the dough so that the seam is face down and, using the rolling pin, gently roll into a 10″ x 20″ rectangle.
Turn the dough so that the short sides are parallel to you. Brush the top of the dough with half of the melted butter. Drizzle the reserved filling over the dough, leaving a 1″ border at the edge farthest away from you. Lightly press the filling into the dough. Using your hands, lift up the bottom edge of the dough and roll it forward into a tight cylinder. Place dough cylinder, seam side down, on a cutting board and, using a thin, sharp knife, trim off the ends; cut cylinder crosswise into 8 equal-size slices. Nestle the slices, cut sides up and evenly spaced from one another, into a buttered 9″ x 13″ light-colored metal baking pan. Cover pan with plastic wrap and set aside in a warm place to let rise for 2 hours. (Alternatively, the rolls may be refrigerated overnight.)
Heat oven to 375°. Uncover the rolls. (If refrigerated, let them sit at room temperature for 15 minutes.) Bake until golden brown and a toothpick inserted in the center of the rolls comes out clean, about 30 minutes.
Make the icing: While the rolls are baking, whisk together the sugar and buttermilk in a small bowl until smooth.
Transfer the pan of cinnamon rolls to a cooling rack; brush with remaining melted butter. Let cool for 5 minutes. Dip the tines of a fork into the icing and drizzle all over the rolls. Serve immediately.
***Shutterbean Notes***
-I thought these cinnamon rolls were perfect! Casey wished for more filling. He wanted it SLOPPY! If you want it sloppy, increase the filling amount! He also wanted a lot more icing on his cinnamon rolls. There was A LOT leftover so I happily obliged.
-The original recipe calls for raisins & nuts but I decided to omit them. If you want to try them with raisins & nuts, check out the links above.