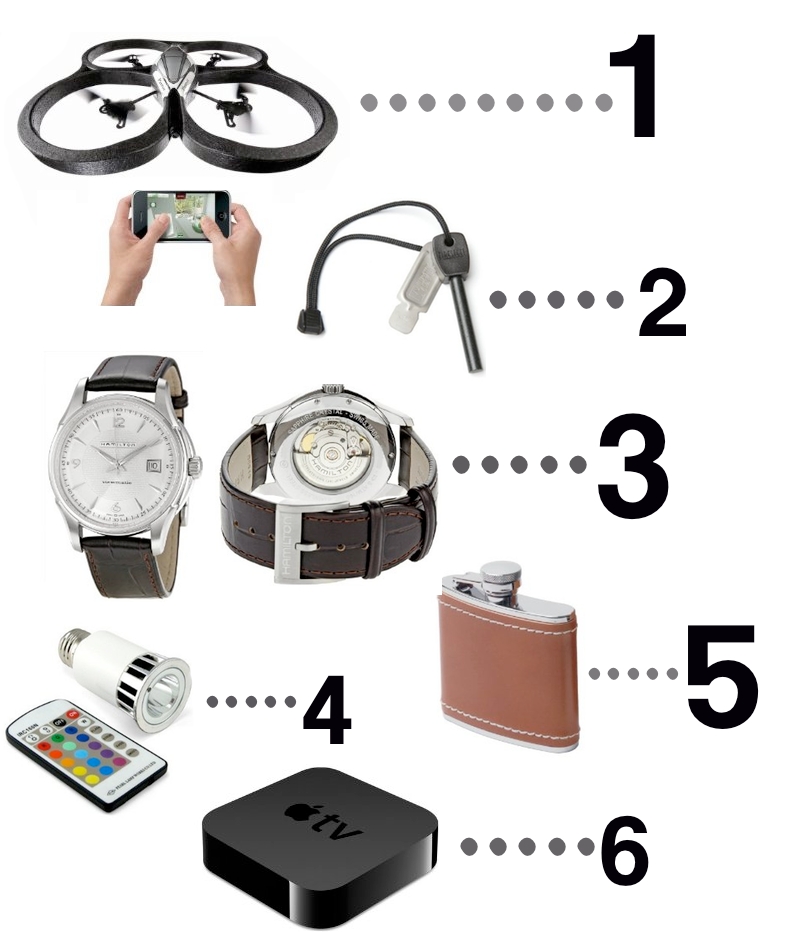 The other day I was showing Casey a gift guide I saw online for men and he said "I would never want you to buy me any of that stuff!"  I happened to like all the items on said gift guide and was wondering if it's because the list was made by a woman.  So I asked him to come up with his own Gift Guide and here's some of his suggestions. A guide FOR THE MAN, by a man. Enjoy!
1. Parrot AR Drone Quadricopter
A flying helicopter that you control with your iPhone, iPad, iPod Touch or Android device! For indoor and outdoor use, the built in WiFi system and front facing camera sends live video back to his phone or tablet. He can conduct his own surveillance and recon missions. Downloadable games let him battle his friends or virtual enemies.
2. Swedish Firesteel-Army Model
You start fires with it like a caveman, that is just plain awesome. I can guarantee the majority of units sold do not go in survival kits but end up in someone's garage or backyard as he and his buddies gather around to create a shower of sparks and fire.  Get this for a guy then hang around for the ensuing hilarity: "dude you suck at this, my turn." "You're doing it wrong man, you need a gentle downward stroke", "this thing blows, it could never start a fire, Man vs. Wild is WRONG" "It's working! Oh crap, grab the water hose."
His cellphone already has a clock, but does it have a 25 jewel Swiss ETA 2824-2 Elaborated mechanical movement with sapphire back?
Gentleman will appreciate the Hamilton Jazzmaster's handsome bezel and dial;  gearheads and techies will love showing off the complex mechanical movement visible through the clear sapphire back.
Hamilton Watch Company began in American in 1892 but is now a subsidiary of The Swatch Group Ltd. Their watches have appeared in hundreds of major Hollywood films including such guy flicks as Men in Black, Die Hard 4, Ocean's Eleven, Spiderman 2 and more.
4. Multi-Color LED Lightbulb w/ Remote
Guys like LEDs, they also like anything remote controlled.  This color LED fixture fits in a standard light socket. Adjust brightness, color, and transition effects with the included remote. I suggest the smooth  & fade for sexy time, strobe mode for parties and solid white for when you want to be boring. This is cool for work spaces, media rooms and more.
5. Glacier Stainless Steel Leather Wrapped Flask
If your holiday plans include visiting with extended family, this is a required gift. Bring along his favorite spirit in this discrete and stylish stainless steel flask. Combine this flask with a fine bottle of his favorite liquor and call it a holiday survival kit. I'm partial to Zaya Rum, but try Bookers or Basil Hayden's bourbon to add a kick to eggnog.
Enjoy movies, music, photos and apps on an HDTV with the AppleTV. In addition to all the content on the Apple Store, he can stream Netflix, Internet Radio or any audio or video content from iTunes on his Mac or PC.  If he owns an iPad, iPod Touch or iPhone and a television, then he NEEDS to own an AppleTV. The AirPlay feature allows him to browse and queue up photos, movies & music on the iDevice and have it play wirelessly to the AppleTV. No need to gather around the small screen to view a funny YouTube video, with the touch of a button he can instantly zap that video to his big screen thanks to the AppleTV.