I'd like to introduce you to my mom's famous (to our family) Pasta Fagioli soup. During the winter, my mom makes this soup like it's going out of style. Over the years, she's learned a few things while making this soup: always make a double batch & it's nice to add more pancetta. The double batch thing is important because she can pull some out of the freezer on a whim for my dad or she can be prepared for when my brother comes home from New York and raids her fridge (he inhales this soup, even when it's cold!).
For years I was reluctant to try this soup; I don't know why. I guess have weird issues with hot tomatoes and the thought having beans with pasta kinda weirded me. I dunno!
One day last year I was hanging out at my parents house and my mom convinced me to some.  Let me tell you I how dumb I felt for wasting many years of my eating career without this soup. It was AH-MAZING. I am a changed woman.
This is one of those recipes that instantly becomes a staple in your life. You'll go on auto pilot when you're grocery shopping and always buy the ingredients so you're never too far from a batch of this soup. Heck! You might even have some stocked in your freezer for a moment's notice like my mom.
It's hearty, comforting and pleases all the men in my life; I like that in a soup.
And we're off!
Gather your ingredients.
Heat olive oil in a pot. Add onions, pancetta & garlic.
Sweat those onions and then add fresh sage (KEY INGREDIENT!) and red pepper flakes.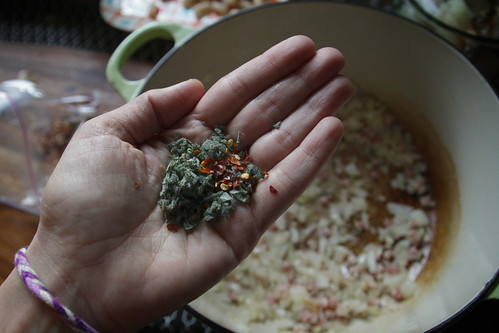 Now it's time to add the tomatoes, salt & pepper and you stew it for a bit.
BEAN TIME! So my mom makes the beans from scratch. I cheated and used a can of beans.
It totally worked. It totally tasted awesome. It totally saved me A LOT OF TIME.
I totally might have burned the dried beans I intended to cook for this soup. I don't want to talk about it.
So the beans get added to the base along with your stock. This is the tail end of that process.
After simmering for awhile, you add in the pasta! It cooks and then your soup is ready!
But wait!  What do we have here? What time is it?
It's TOPPING TIME!
With the additions of freshly grated Parmesan cheese…
some fresh Italian parsley and a drizzle of top notch extra virgin olive oil….
We have the most spectacular pasta soup combo!
MAKE THIS.
Love this.
Store it in your freezer.
Stock your shelves.
Always buy pancetta when you're grocery shopping.
Pasta Fagioli Soup

Serves 6

(recipe Adapted from Beans & Rice Cookbook By Williams Sonoma)

2 tablespoons extra virgin olive oil
3 oz. pancetta (or bacon), minced
1 yellow onion, finely chopped
2 cloves garlic, minced
2 1/2 cups chopped tomatoes (15oz. canned)
1 tablespoon chopped fresh sage
pinch of red pepper flakes
salt and freshly ground black pepper
4 cups (32oz.) chicken or vegetable stock
1 15oz. can cannellini beans, drained and rinsed
1 cup dried pasta (medium shells or elbow macaroni)
freshly grated Parmesan cheese
fresh Italian parsley, finely chopped (for garnish)

In a soup pot over medium low heat, warm the olive oil. Add the pancetta or bacon, onion and garlic and saute slowly, stirring until onions are soft, about 10 minutes. Add the tomatoes, sage, red pepper flakes and salt & pepper to taste and simmer for 20 minutes. Add the beans and stock and simmer for another 30 minutes.

Add the pasta to the soup and simmer until the pasta is tender, 12-15 minutes.

Ladle the soup into individual bowls. Garnish with the cheese and a few cut fresh parsley. Serve immediately.

(This recipe is not doubled.)