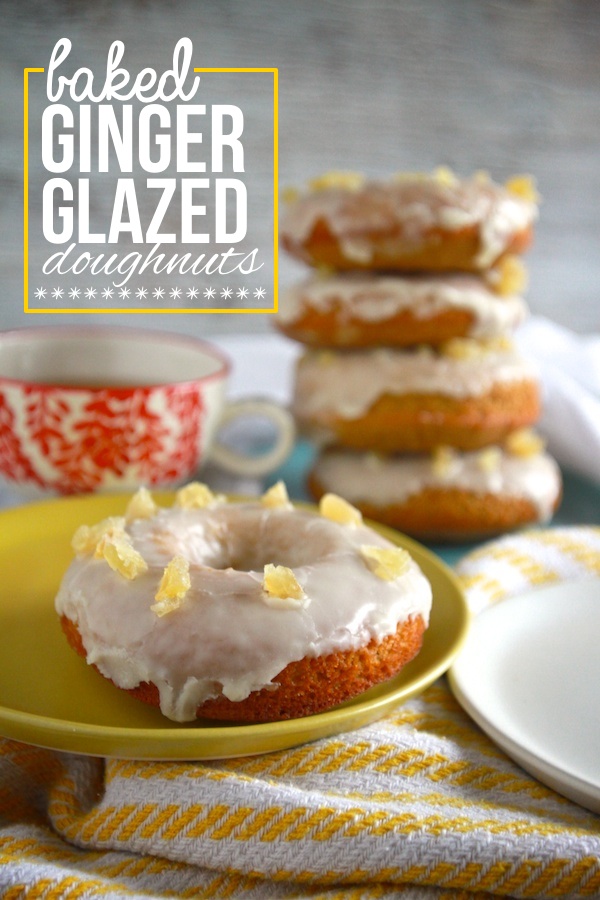 I watched an Oprah interview where she talked about how she much she loved rainy days because there's less pressure to run around and get things done.  To her, rainy days are for good books and tea. That made me love her even more. When it's raining I want to make a hearty soup with crusty bread, watch movies, and bake.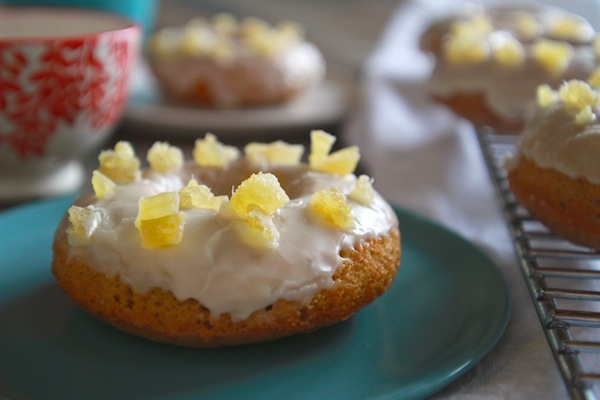 These doughnuts were a product of a particularly enjoyable (read:LAZY)  rainy Saturday afternoon. Cooper was taking a nap (still does! so thankful) so the house was nice and quiet. Doughnuts seemed like the perfect afternoon snack for us.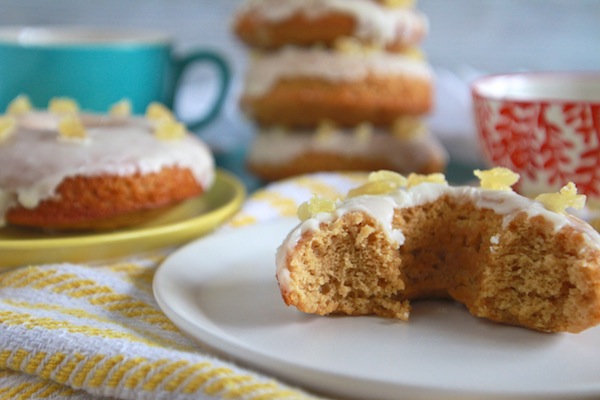 These doughnuts are slightly reminiscent of gingerbread but without the density & super spicy kick. The cinnamon, ground ginger and the bit of molasses give it just enough oomph. What really makes them tasty though, is the vanilla glaze and bits of candied ginger on top. They add a small element of chewiness that I love so much.
And we're off!
OK. Get your doughnut pan out! Dust it off.
Sidenote- if you don't have buttermilk you can use plain yogurt. I thin it out with a bit of milk.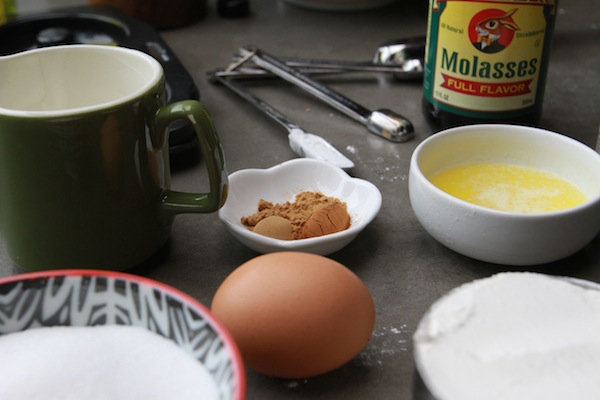 Dry ingredients get mixed.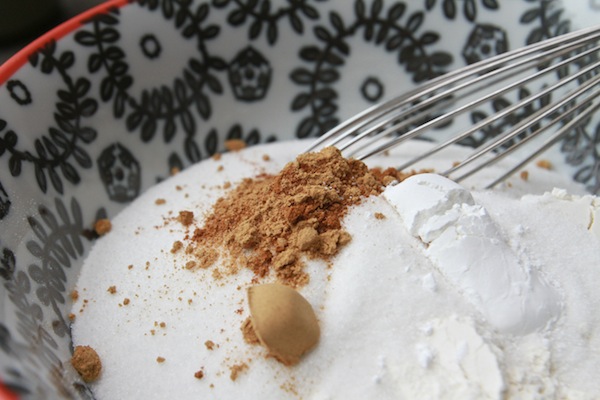 Wet ingredients get mixed.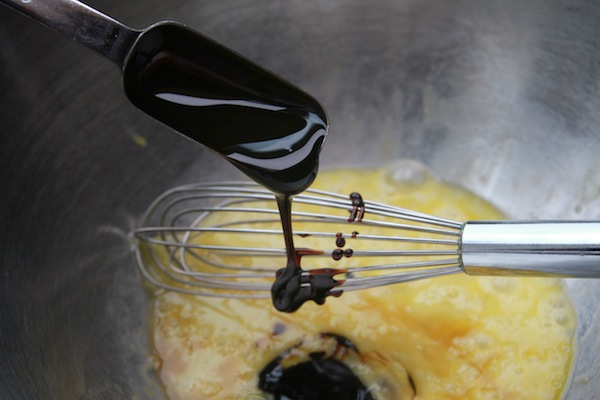 Dry meets wet.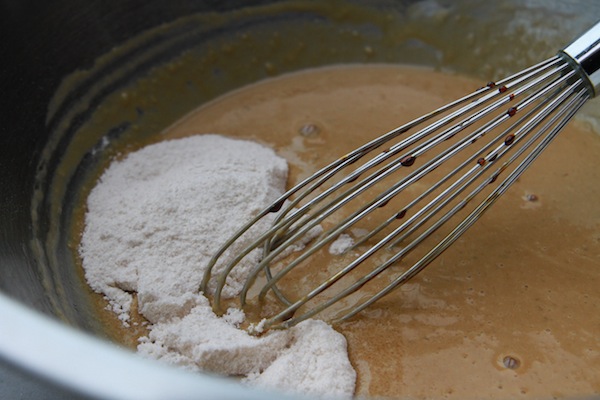 Batter up.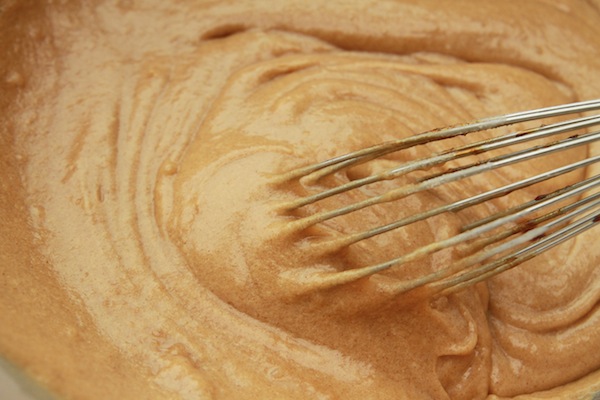 Now we fill up the doughnut pans and bake!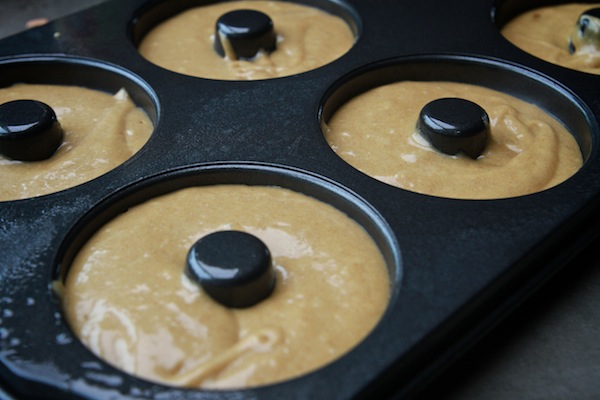 Invert doughnuts onto a rack. We need to make our glaze!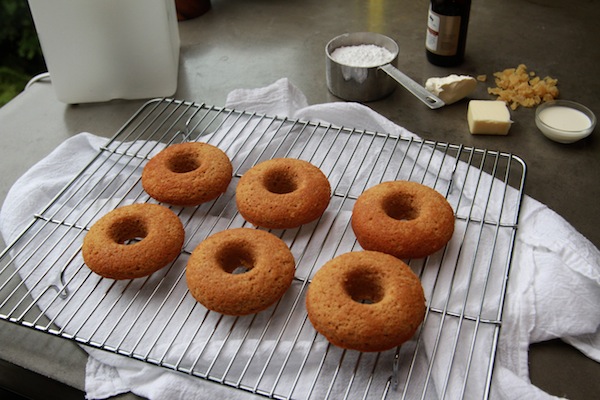 Melt the butter. I use salted because I like a good balance to my sweets. I KNOW I KNOW.
It's a problem I have. I just don't like the way unsalted butter on toast tastes so I don't always have it on hand.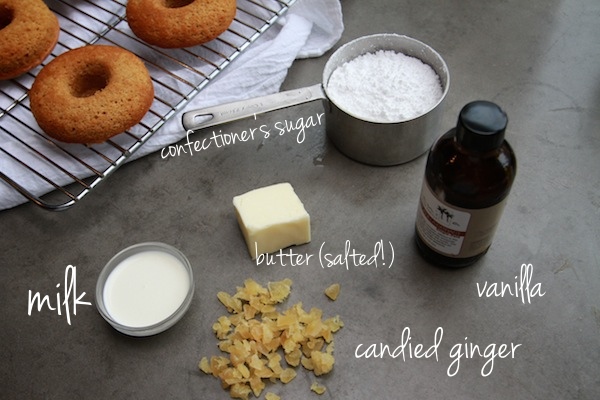 Stir the powdered sugar into the melted butter. Add the vanilla. Thin out with milk.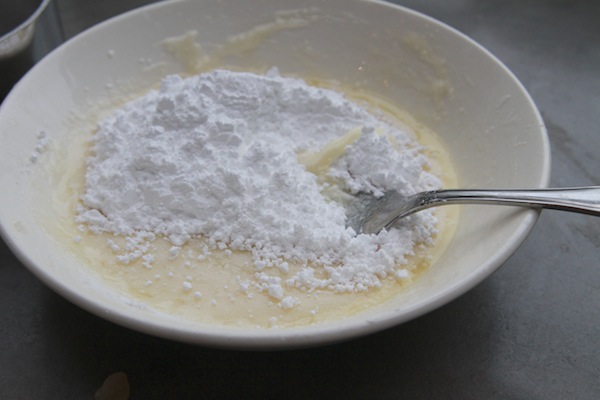 Frost the doughnuts and add candied ginger on top.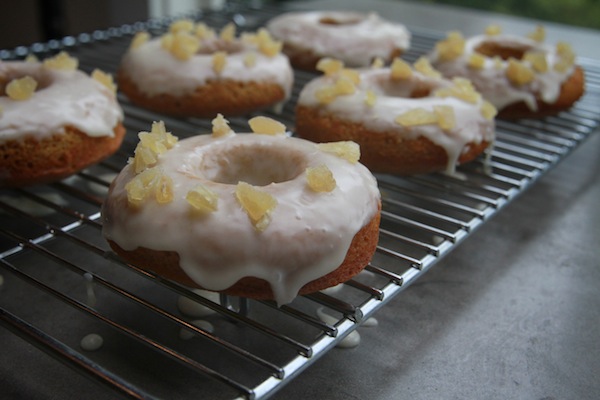 Stack them up for a picture. Or just call dibs on these 4.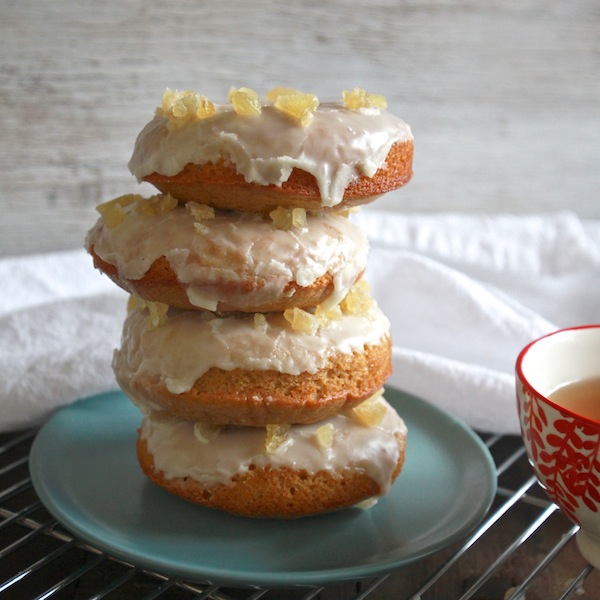 Rainy day doughnut-ing is your future.
You might like:
Baked Ginger Glazed Doughnuts

makes 6 doughnuts

1 cup all-purpose flour
3/4 cup sugar
1 teaspoon baking powder
3/4 teaspoon ground cinnamon
3/4 teaspoon ground ginger
1/4 teaspoon kosher salt
1 extra-large egg, lightly beaten
1/2 cup buttermilk
2 tablespoons unsalted butter, melted
1 teaspoon vanilla extract
2 tablespoons molasses

For the topping

2 tablespoons salted butter, melted
3/4 cup confectioner's sugar
1 teaspoon vanilla extract
2-3 teaspoons whole milk
3 tablespoons candied ginger, finely chopped

For the doughnuts: Preheat the oven to 350 degrees. Use a baker's spray to coat doughnut pan.

Sift together the flour, sugar, baking powder, cinnamon, ginger and salt in a mixing bowl.

Whisk together the egg, milk, melted butter , vanilla extract and molasses in a medium bowl or liquid measuring cup. Pour into the dry ingredients and stir until just combined.

Fill the wells of the doughnut pans a bit more than three-quarters full with the batter. Bake for 15-17 minutes or until a toothpick inserted into the wall of a doughnut comes out clean and the doughnuts are puffed and lightly browned. Let them cool (in the pan) for 5 minutes, then gently invert the doughnuts onto a rimmed baking sheet.

While the doughnuts are cooling, make the topping.

Melt butter in a shallow microwave-safe bowl (about 40-50 seconds on high). Stir confectioner's sugar and vanilla into the butter. Add 2-3 teaspoons of milk until frosting reaches a smooth, glazey consistency.

Dip cooled doughnuts into bowl and allow excess frosting to drip back into bowl. Transfer to rack. Top with chopped candied ginger and serve immediately.