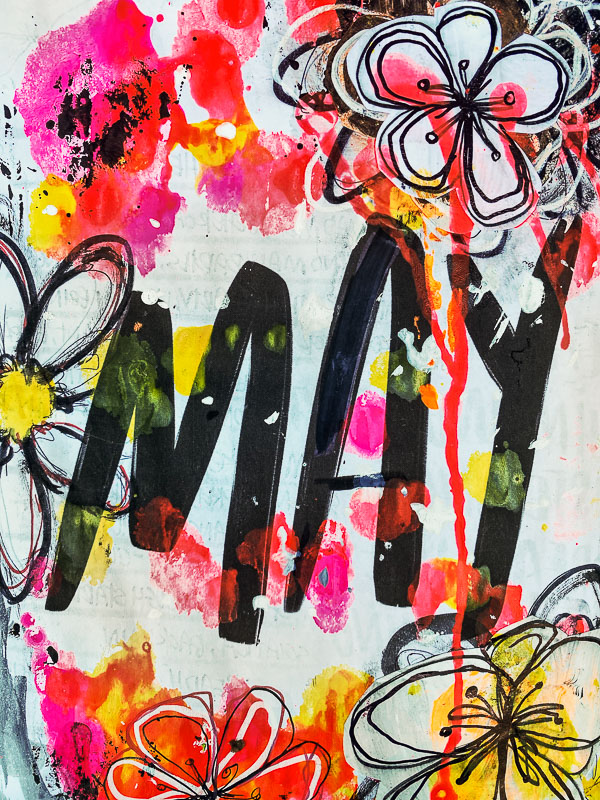 Currently May 2020
Time to check-in and go over the month in my Currently Workbook!
Whenever I do this, I liked to look back at the past years.
May marked the 3rd month of sheltering-in-place. I cannot even believe it has been that long!! Who would have ever imagined this is what our life would be like right now?!
We started seeing a few friends & family members from a distance during May. It was nice to be able to talk to people in person other than my family. I love my family but it's hard to be the only female in the house.
This time of uncertainty has been really stressful for so many. My heart hurts for the world. We are in the middle of great change and there are so many growing pains in the process. I feel very grateful that I have this art practice to return to when I have so many feelings and emotions to process.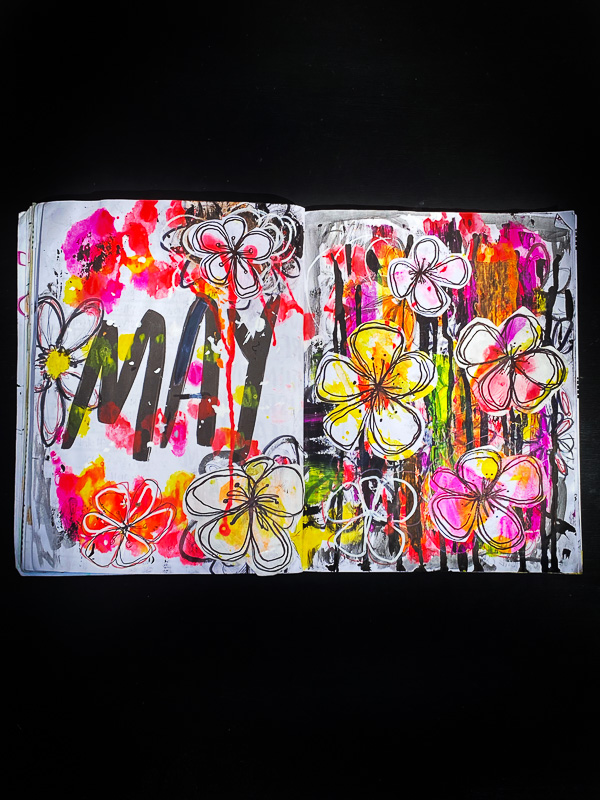 I played around with inks in my Currently Workbook this month.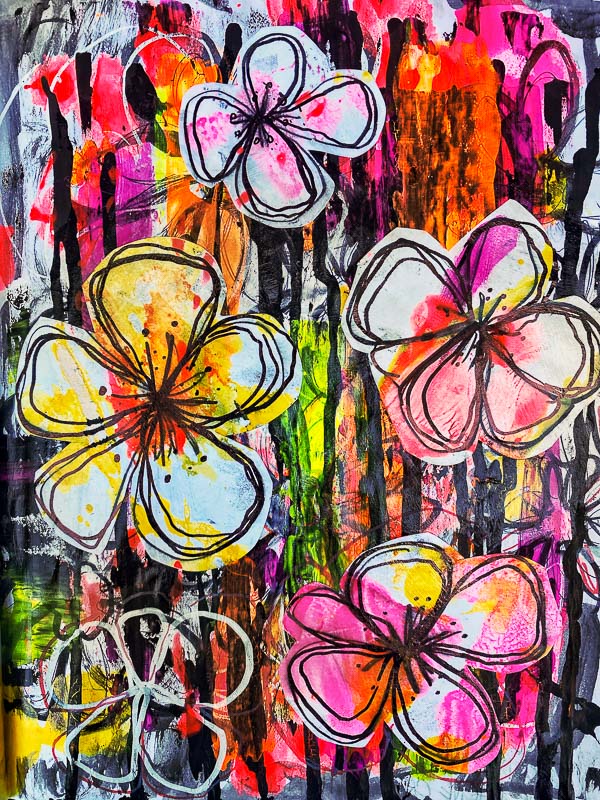 The spread!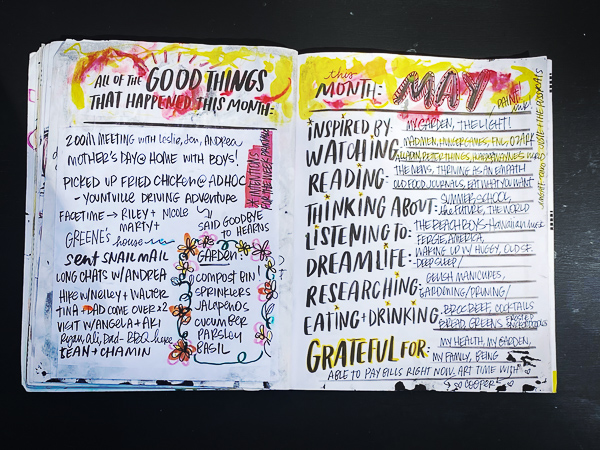 Focusing on the good things that happened this month helps my mental state.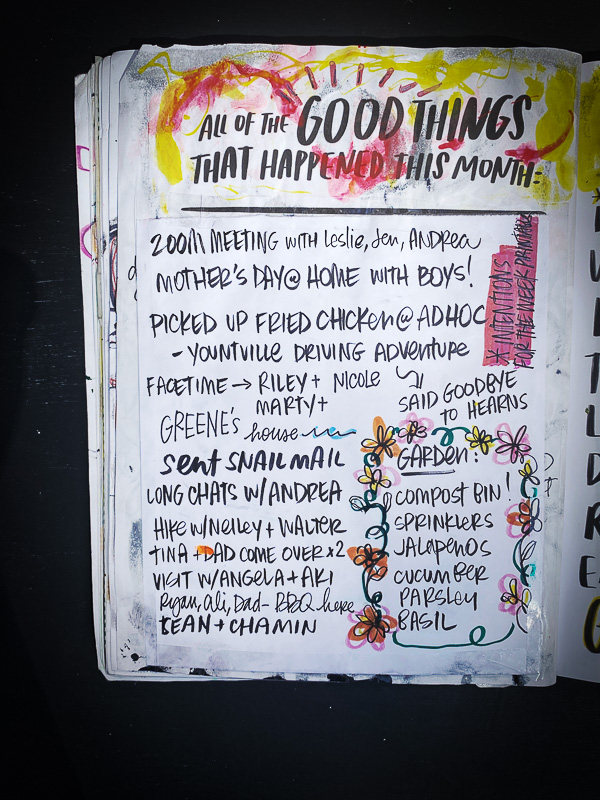 Let's get into it!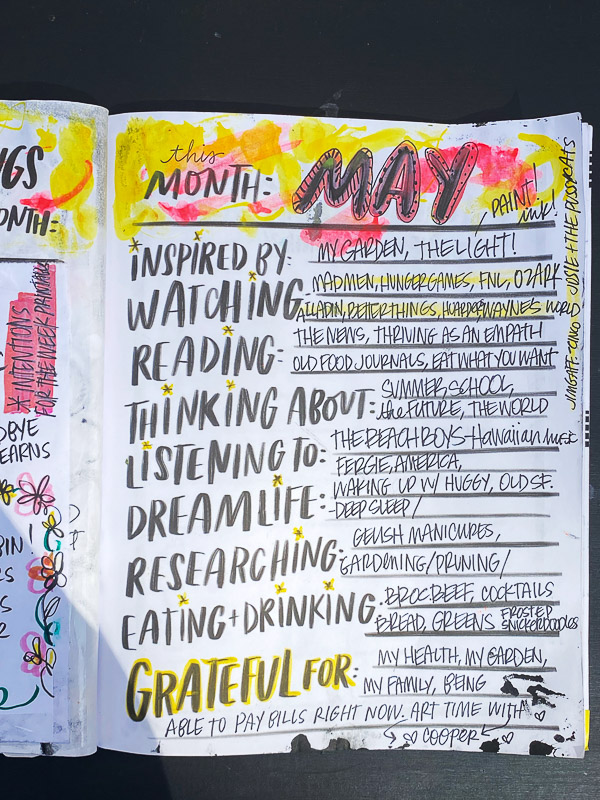 This month I finally launched my Intentions for the Week Printable!
It is so inspiring to see other people working on it too.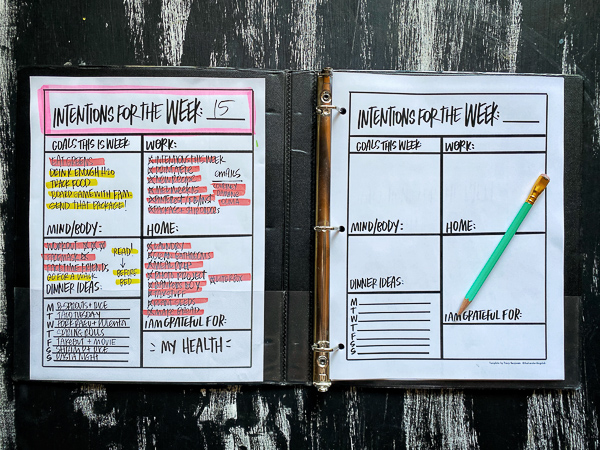 Inspired By:
I've been inspired by time at home/outside during the weekends. I've been spending most of my weekends outside in our yard and it's been nice to see how things GROW in your garden when you take care of it. It is so good for my brain to be outside.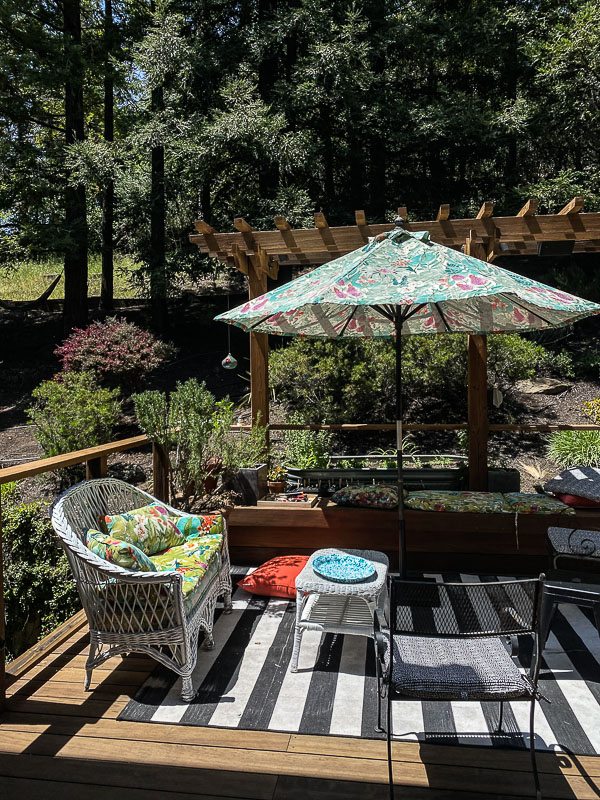 Sending out/receiving snail mail kept magic going this month. I am grateful for that! <3

My #100dayproject – 100 Things My Mom Used to Say (it's helping me keep her spirit alive during these weird times).

Watching:
Mad Men- Finished it! My Mom and Dad watched the show through before my Mom died and I remember her loving it. Watching it again reminded me of her…and it also made me sad because I picked up on things this second time around that I would have loved to talk to my Mom about. We loved getting deep into character analysis together.
Friday Night Lights-Casey has been watching this with his friend all month. He introduced his buddy to the show and he's been talking to him about all of the episodes when they watch together. I caught a few episodes here and there during the month. Watching Friday Night Lights reminds me of simpler times.
Better Things- finished the latest season. I WANT MORE.
Hoarders- a really good show if you're needing some cleaning motivation.
Hunger Games– probably not a good series to watch before/during a pandemic. But it also makes you think!
Wayne's World– introducing Cooper to our childhood favorites. He was shocked to find out that Mike Meyers was also Doctor Evil & Austin Powers! It's fun as a parent to experience the times when his mind is BLOWN.
Alladin- still holds up after all of these years. Cooper had never seen it so we watched it for family movie night.
Josie & the Pussycats– was a good movie to watch with Cooper because of its discussion of subliminal messaging. I think he thought they were cute. LOL.

Reading:
Everything is Under Control– I'm looking forward to diving into this one!
Martha Stewart Crafts for Kids
– to get ideas for projects this Summer.
Simple Beautiful Food– excited to cook from this!
How to Be a Person– Bought this for us to read together at night.
Smuggler's Cove
– Casey's been working his way through this book.
Josey Baker Bread
– been making bread from this book all month!
Dancing at the Pity Party
– I wish this was around right after my Mom died!
Eat What You Want
– already made the beef broccoli!

Thinking About:
Santa Fe. I was there last year to teach. I was supposed to teach again. SIGH.
Summer break. School in the fall. The future. Life. My Mom. My child's future.
THE WORLD. How fortunate I feel to be raised in an anti-racist home.
I wish I could talk to my Mom throughout all of this.
Listening To:
When I want to get in a cleaning mode:
Been enjoying this song…

Reggae music to make me happy
When I want to set a vacation mood vibe: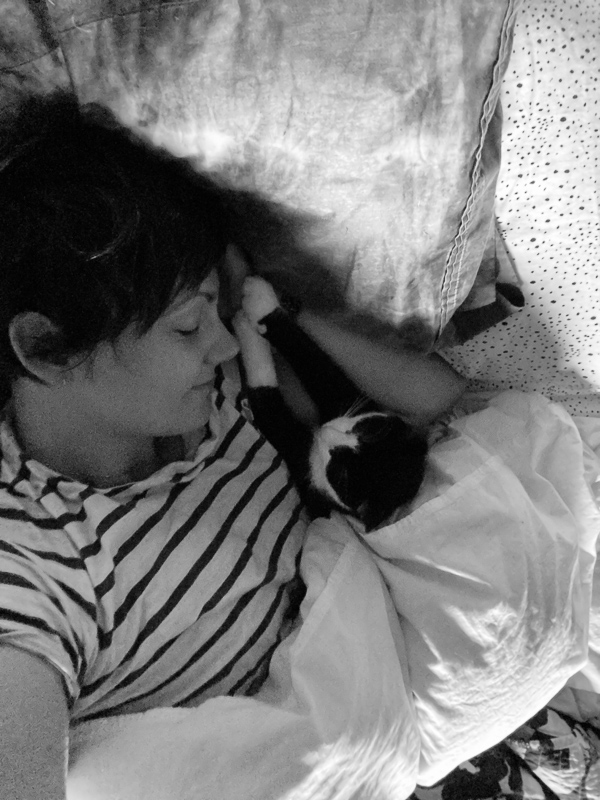 Dream Life:
Been dreaming about camp, and my childhood. I'm not remembering much of my dreams these days.
Every day is seeming to start the same. It's been like Groundhog's Day, perpetually for the past 80 something days.
Researching:
gelish manicure kits
pruning wisteria
pruning jasmine
pink eye in cats (I thought Huggy might have it)
Eating/Drinking:
This month I shot/styled some produce shots for a client.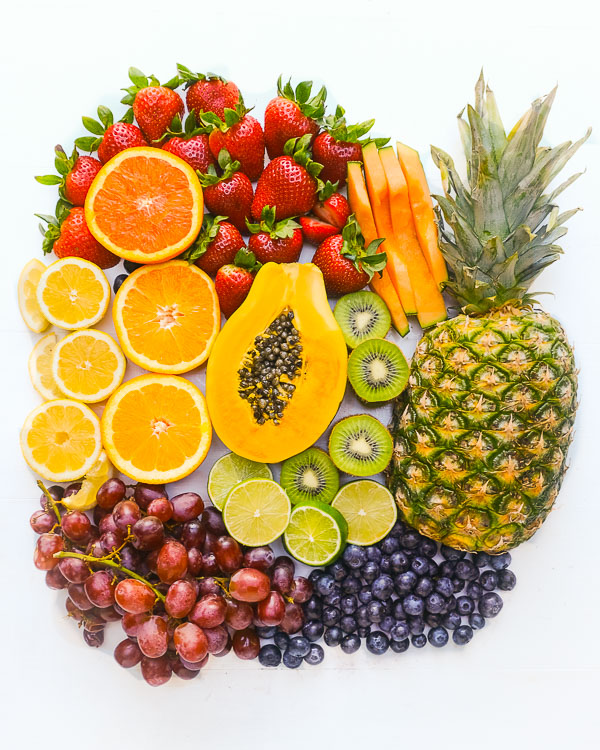 It was a wild adventure going to the Farmer's Market during this time.
It was nice to have a bunch of fresh produce to work with!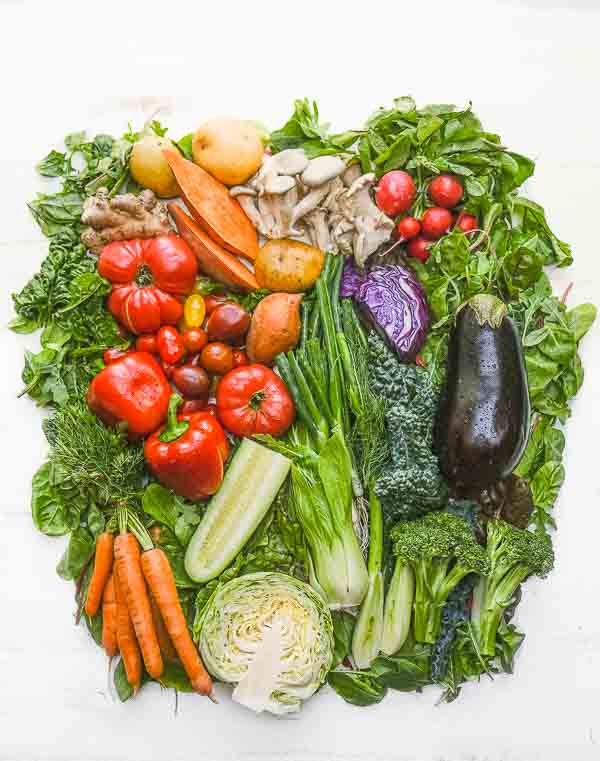 The case of refried beans I got at Costco helped fortify my life this month.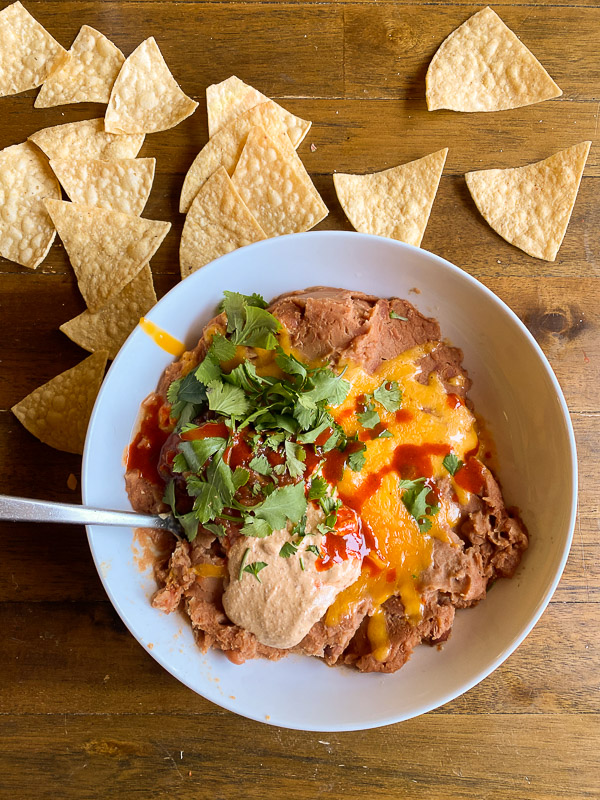 Also, made pulled pork and we made a few different meals out of it.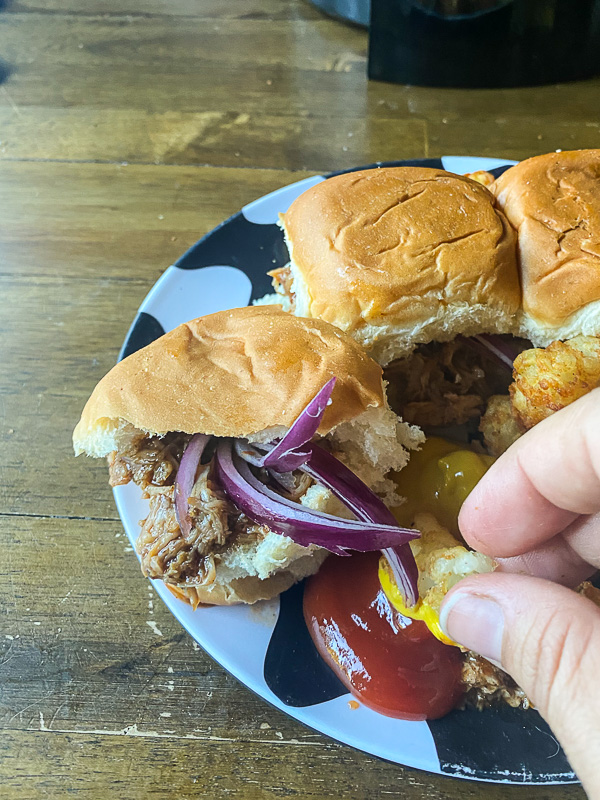 We said goodbye to our good friends, The Hearns, and brought over fried chicken from Ad Hoc and said our goodbyes from a distance.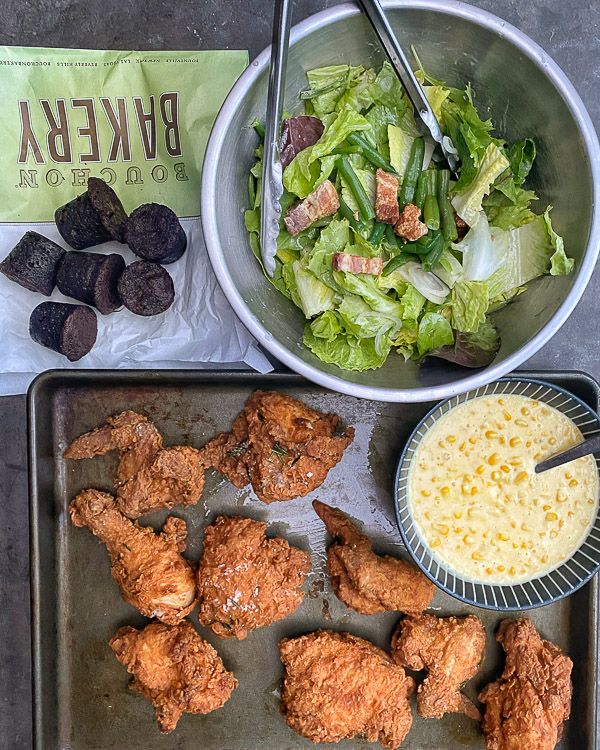 We ordered pizza twice.
It felt like a luxury.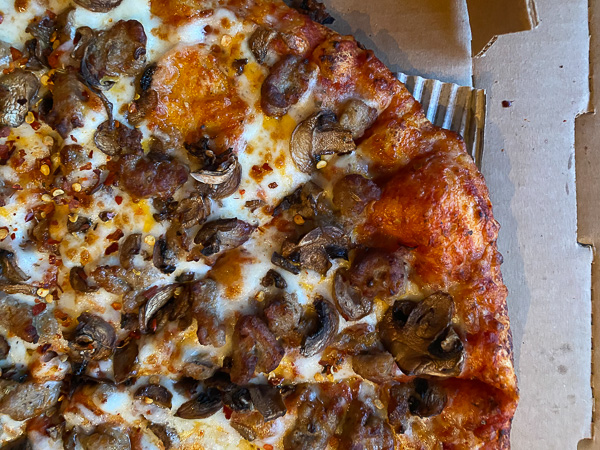 Casey continued his cocktail quest during quarantine.
My favorites included a pina colada.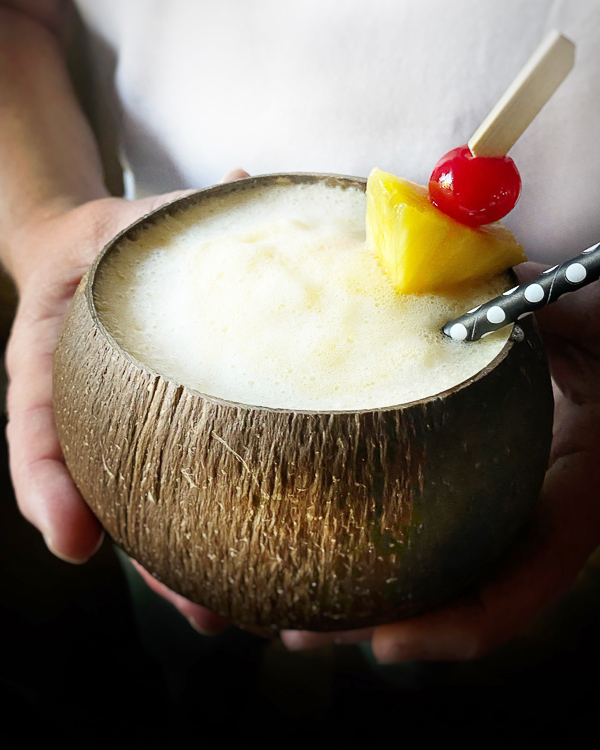 A delicious Mint Julep.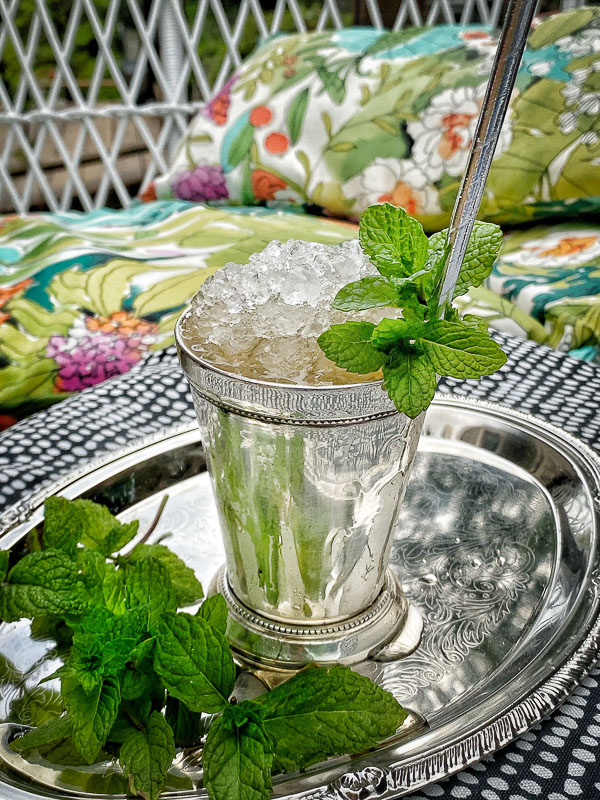 And The Red & The Black cocktail.
Maybe I'll bring a few recipes to the blog soon.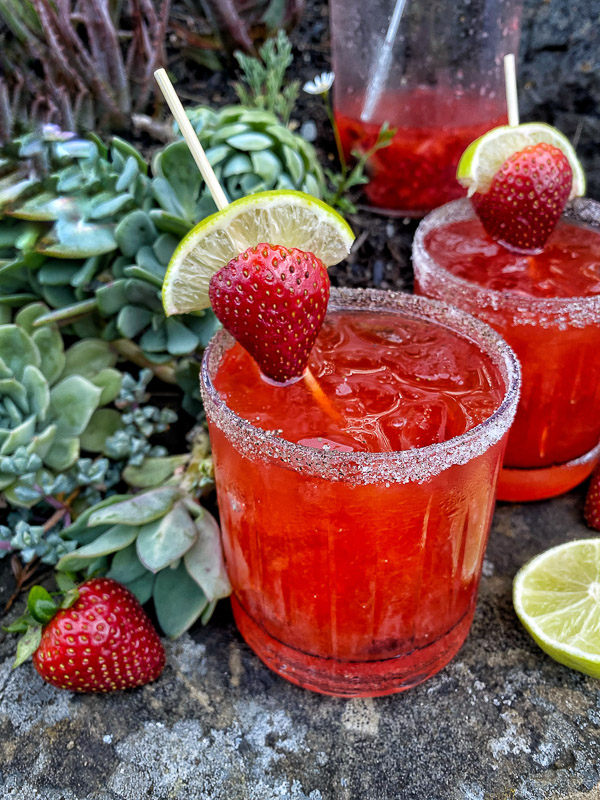 I cleaned out my fridge this month. It's a mess right now (AGAIN!) but looking at this picture might give me the motivation to clean it when I get done with this post. WE SHALL SEE.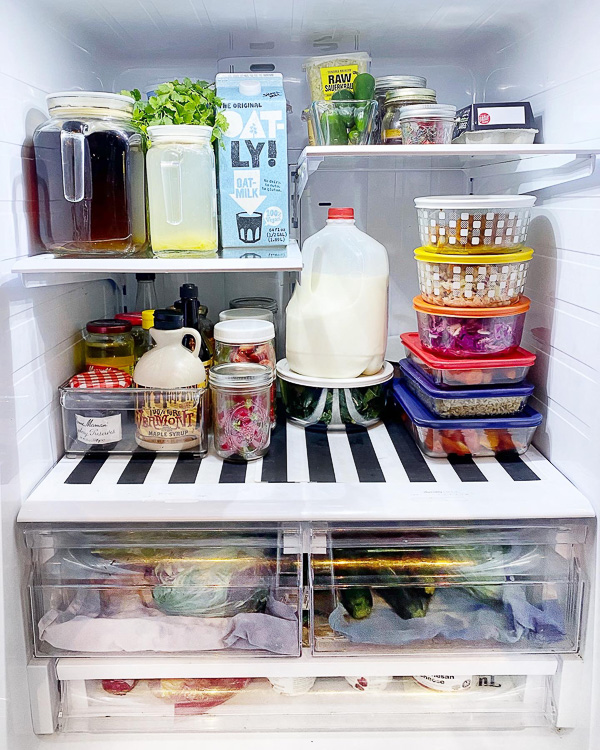 I've been baking bread…and then wondering WHY I AM BAKING SO MUCH BREAD WHEN I CAN JUST BUY IT. I think I've been pulled to do something with my hands— something that reminds me of my mother & my grandmother.
Putting love and care into nourishing my family and making them happy through food.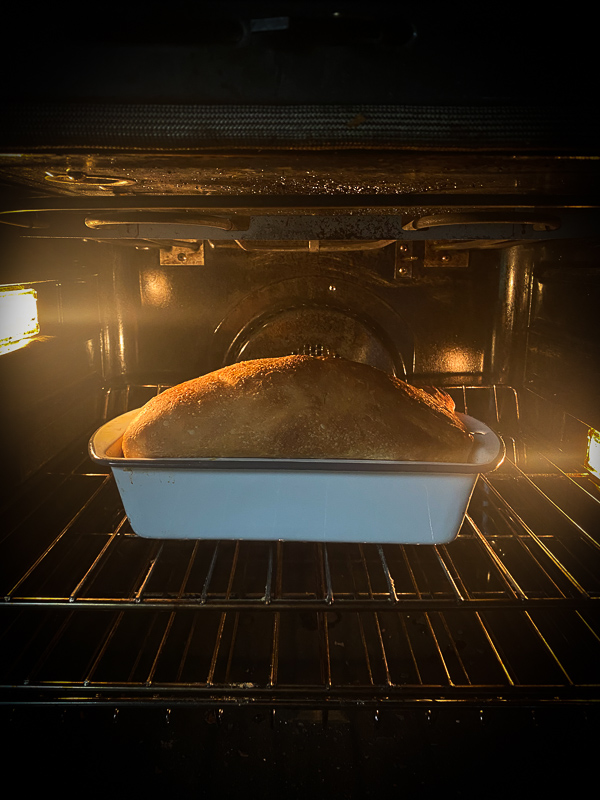 Shared the recipe for this Broccoli Beef that my boys loved.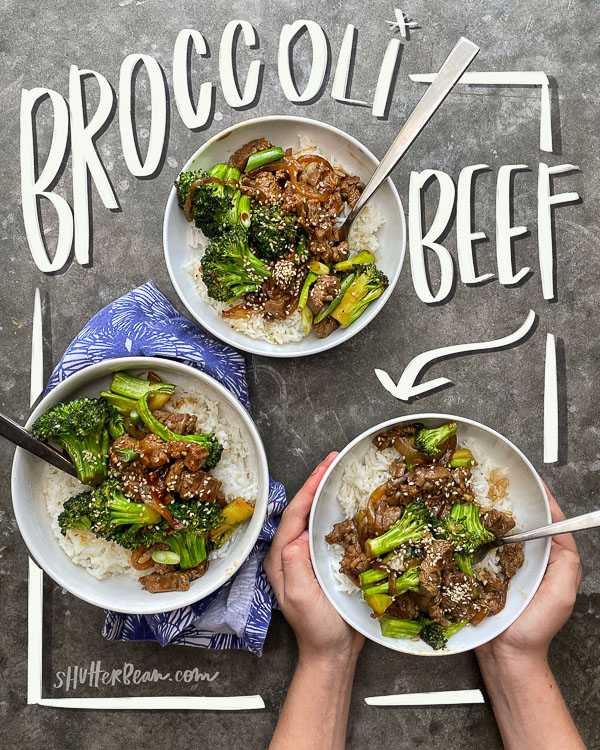 My friend Tucker brought me some produce from the culinary garden at Kendall-Jackson.
WE WERE SPOILED.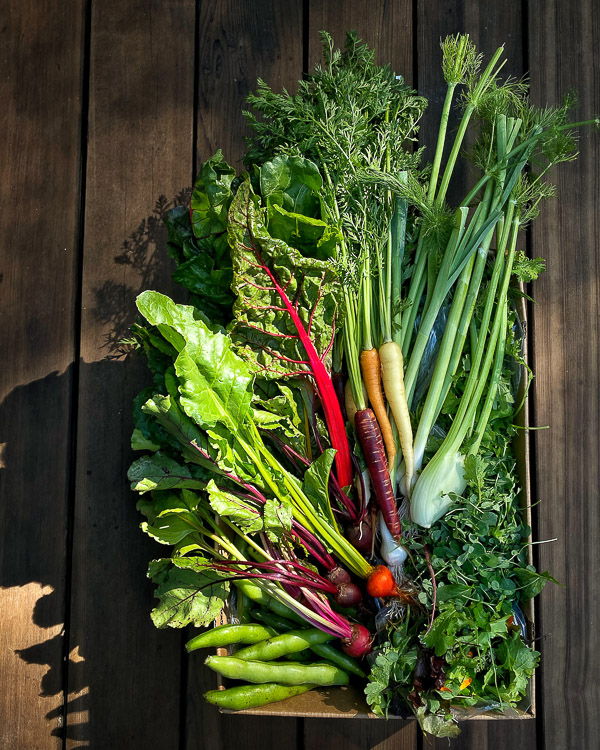 I am glad I am growing lettuce because there's no excuse not to eat it!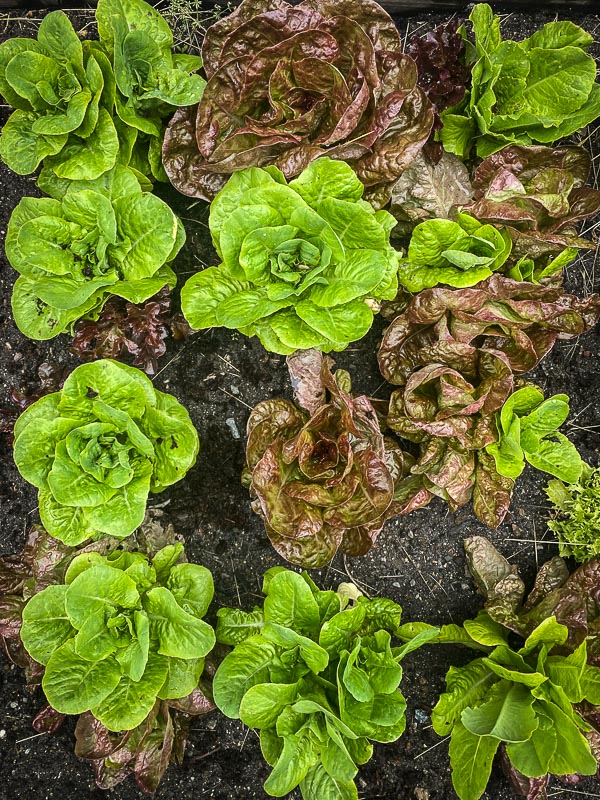 I made Frosted Snickerdoodle Bars and shared with family.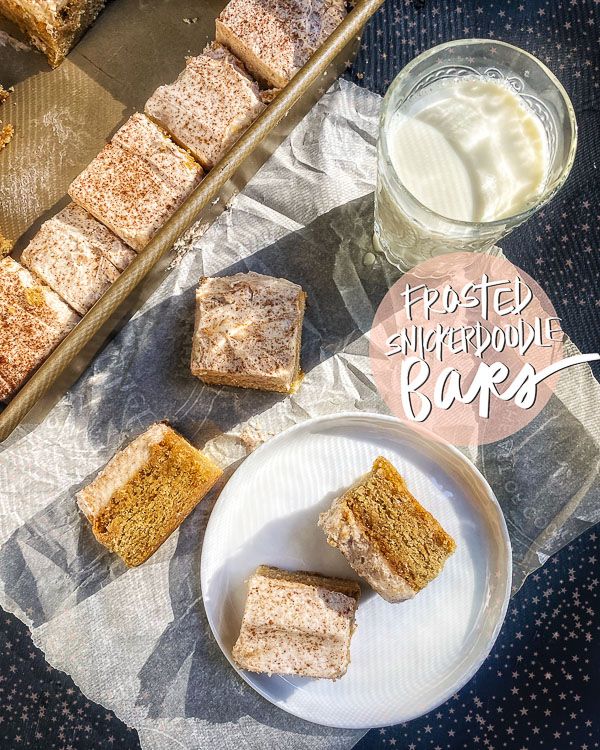 Grateful For:
my family
my health
my home + garden
being able to spend time with Cooper
doing art with Cooper!
being able to pay our bills + new projects
Self Portrait for May:
Deep in thought. Early in the morning, with the sprinklers going.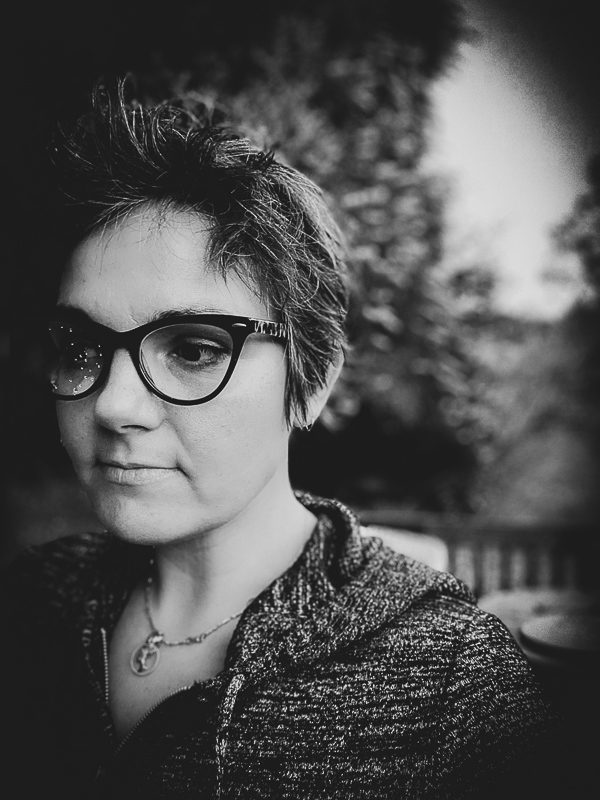 Let's hope June is a good one! xoxo