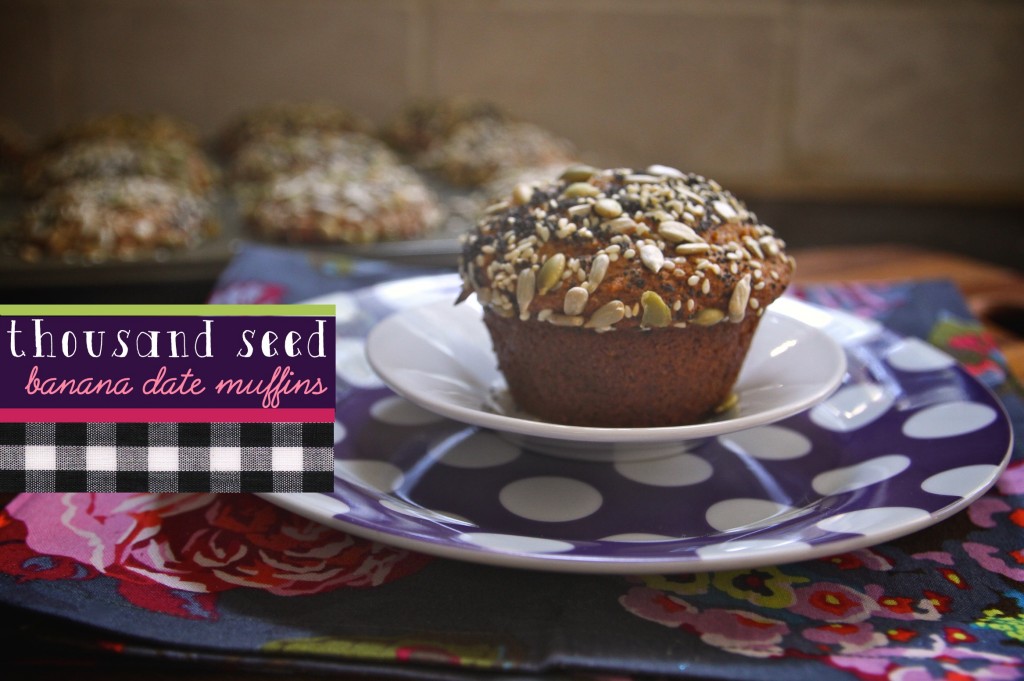 Random thoughts going through my head:
Do you think that someone actually counted out a thousand seeds in this recipe? At what point did they get interrupted by a 3 year old and lose count? My guess is 33. Do you think it's a thousand seeds per muffin or per batch? If I walked over to the mirror right now, how many seeds would be stuck in my front teeth? Who would be the first person to tell me about that poppy seed stuck near my canine? Why is the term muffin top so good yet so frightening? Why can I not resist a bread product covered in seeds?
Do you think there's a thousand specks of glitter in my nail polish? I put on three coats…
Pumpkin seeds, sunflower seeds, poppy seeds and sesame seeds make up that seeded muffin top. I told you they were seedy! They're super healthy (almost NO oil!) and packed with a fun ingredients including yogurt, bananas, whole wheat flour, ground flaxseed, whipped eggs whites and pureed dates! If you're planning on eating one before you leave the house, check your grill in the mirror! It's totally seed central.
And we're off!
Ingredient gathering…there are two bananas not pictured in this get up.
Seeds go into pans. Pans go into oven. It's a roast! Not like a Charlie Sheen Roast. Just browning seeds, roast.
Pitted dates get a whirl.
Add a little water to get it more paste like.
Egg separation. That yolk is pretty, isn't it?
Yolk, dates, banana, sugar, vanilla & yogurt. Wet!
Egg white time! Things get all mixy! Cream of tartar is in the egg whites and here comes sugar.
Fluffy egg whites get folded into the banana date mixture.
Dry ingredient sifting…
Dry meets wet. More folding!
Scoop the muffin batter into lubed muffin tins. Top with seeds.
THINGS ARE GETTING SEEDY.
BAKE! And look at these fluffy muffin tops.
Feel free to lift that plate…
Now dump the rest of the seeds in your mouth. You're totes classy.
1000 Seed Banana Date Muffins

makes 12 muffins
(recipe from Sunset Magazine)
1/4 cup sesame seeds
1/4 cup poppy seeds
1/4 cup sunflower seeds
1/4 cup pumpkin seeds
1/2 cup packed pitted dates
1 cup mashed ripe bananas
1/4 cup plain low-fat yogurt
2 tablespoons vegetable oil
1 1/2 teaspoons vanilla extract
1 large egg, separated, plus 1 large egg white
1 cup sugar, divided
1 cup whole-wheat pastry flour
3/4 cup all-purpose flour
1/4 cup flaxseed meal
1 1/2 teaspoons baking powder
1 teaspoon baking soda
1/2 teaspoon salt
1/8 teaspoon cream of tartar
Preheat oven to 350°. Butter 12 muffin cups (1/3-cup size) and set aside. Put sesame and poppy seeds in a pie pan and sunflower and pumpkin seeds in another. Bake seeds, stirring once, until golden, 6 to 8 minutes. Combine seeds in 1 pan and set aside.
Whirl dates with 1/2 cup water in a blender or food processor until very smooth. Scrape into a medium bowl and add bananas, yogurt, oil, vanilla, egg yolk, and 3/4 cup sugar. Whisk to blend, then set aside.
Stir flours in a large bowl with flaxseed meal, baking powder and soda, salt, and all but 2 tbsp. of the seeds.
Beat egg whites with cream of tartar in a bowl with a mixer on high speed until foamy. Gradually add remaining 1/4 cup sugar, beating until soft peaks form. Fold whites into banana mixture. Fold into flour mixture just until blended. Spoon batter into prepared muffin cups (they'll be very full). Sprinkle with remaining 2 tbsp. seeds.
Bake muffins until just firm to touch and edges are golden, 22 to 25 minutes. Loosen from pans with a small metal spatula. Serve warm or cool.