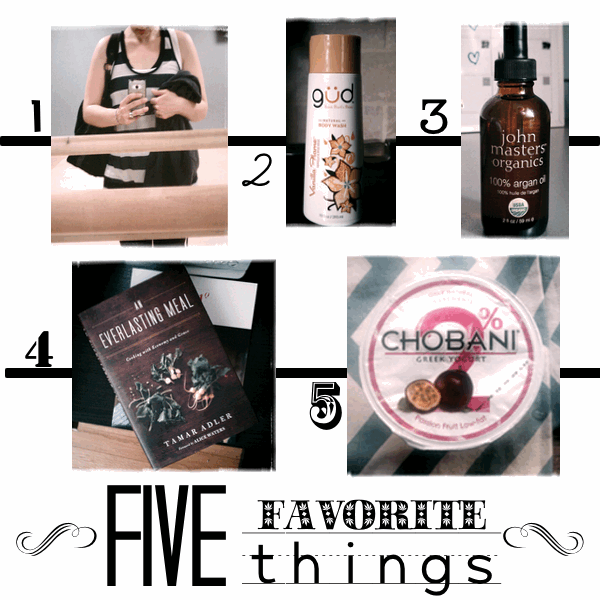 On last week's podcast, we gave homework to our listeners: Tell us 5 of your Favorite things right now!
HERE ARE MY FIVE FAVORITE THINGS RIGHT NOW (this is me doing my homework!)

1. Zumba!– A few months ago I was watching an episode of Martha Stewart and a woman came on promoting Zumba DVDs. I watched Martha Stewart do Zumba and it actually looked kinda fun! I've been wanting to get on an exercise kick and decided to take a class the other night. It was awesome! It took me a little while to get used to it, but it totally satisfied my inner dancer. It actually didn't seem like working out because it was FUN. I find that going to actual classes helps keep me motivated. I am fortunate that there wasn't anyone I knew in that class or I would have been laughing hysterically when the dude turned on Ricky Martin before our "cool down."
2. Güd Vanilla Flame Body Wash– I picked this up at Target a few weeks ago. I love the way it smells and it suds up nicely so a little goes a long way. Way to go, Burt's Bees.
3. John Masters Organics Argan Oil– Joy got me into this oil business! I put some of this oil all over my face & neck before bed and whatever I have leftover I rub into my hair and elbows. Between the argan oil & my Clarisonic Mia, my skin is looking great.
4. An Everlasting Meal: Cooking with Economy and Grace, by Tamar Adler– I just started reading this book a few nights ago before bed. The writing is beautiful and Tamar Adler is a gem. It's kind of like reading directions for recipes…but a whole book full of them. You learn a lot about cooking with your senses & Tamar helps you tap into your own cooking intuition. It's nice to see information I already know in this book because it makes me realize that I've got a good cooking base (thanks to my mom & grandmother). Rarely do you find that kind of instruction in a book.
5. Chobani's Passion Fruit Greek Yogurt– My friend Kimli got me into this yogurt. They have SOO many flavors but the Passion Fruit is by far my favorite. It's super hard to find passion fruit in general, so it's nice to be able to get it in my yogurt. I'm kind of addicted to those crunchy seeds. I like this yogurt cuz it's really high in protein and I've found that if I have it as an afternoon snack, it helps tie me over til dinner. Protein POWER! The Non-fat flavors are really good too! I like raspberry, mango & honey.
What are your FIVE FAVORITE THINGS RIGHT NOW?