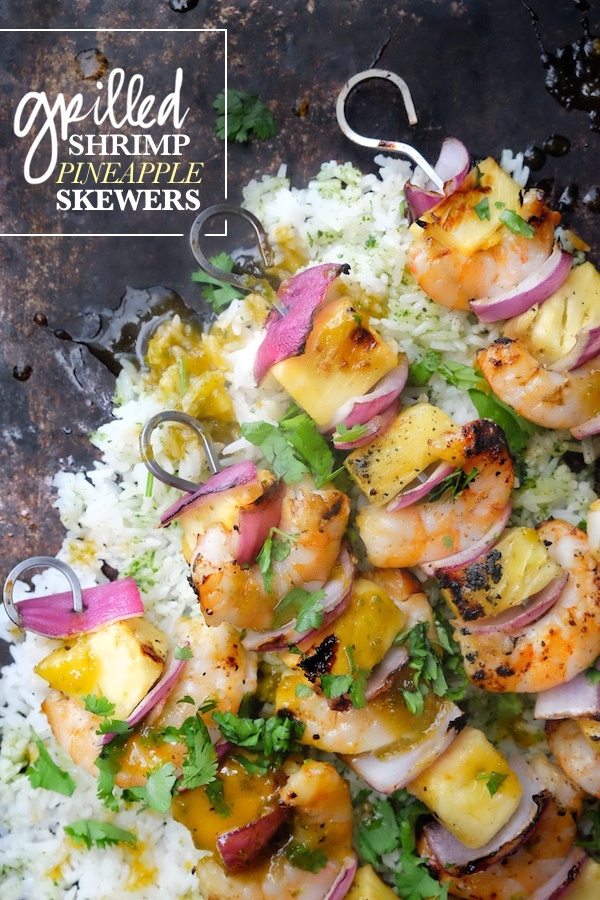 I had this image of shrimp & pineapple in my brain for a few weeks now. Non-stop shrimp & pineapple images going through this mind of mine. When I took this photo you see above, I was like YAAAAAAAAS. FINALLY.  Food fantasy actualized! Hello, Grilled Shrimp & Pineapple Skewers!!!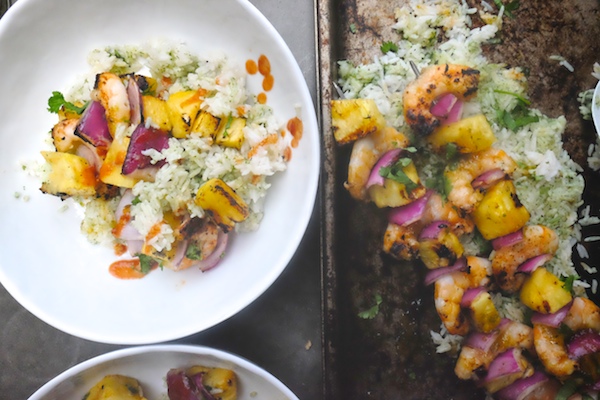 I knew that I wanted the shrimp to be kind of spicy….with an Asian/cilantro flavor profile.
And that spicy was going to be balanced with pineapple and honey.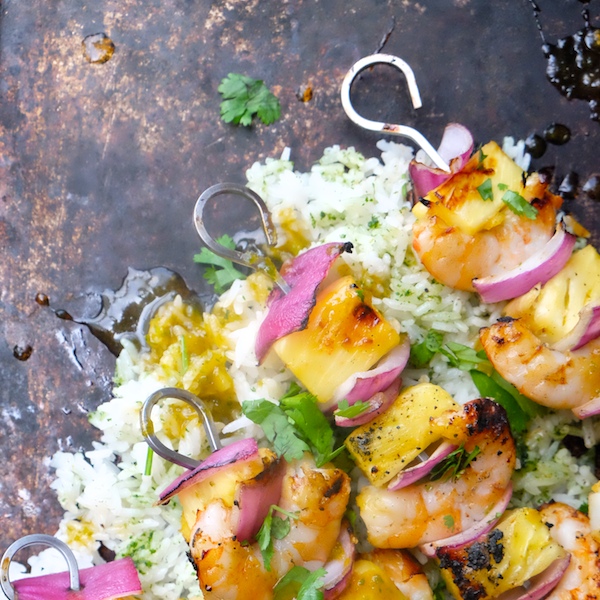 The pineapple would be infused in the marinade so you'd get a nice kick of the lime, jalapeño and garlic with each juicy bite.
Here we are. Grilled Shrimp & Pineapple Skewers. I told Casey that I was thinking of putting some of the leftovers in a taco for lunch and he got all sad that he'd have to share leftovers. I know how he feels, man. I get super possessive when it comes to food.
And we're off!
Three main ingredients on our skewers:
-Shrimp
-Pineapple
-Red Onion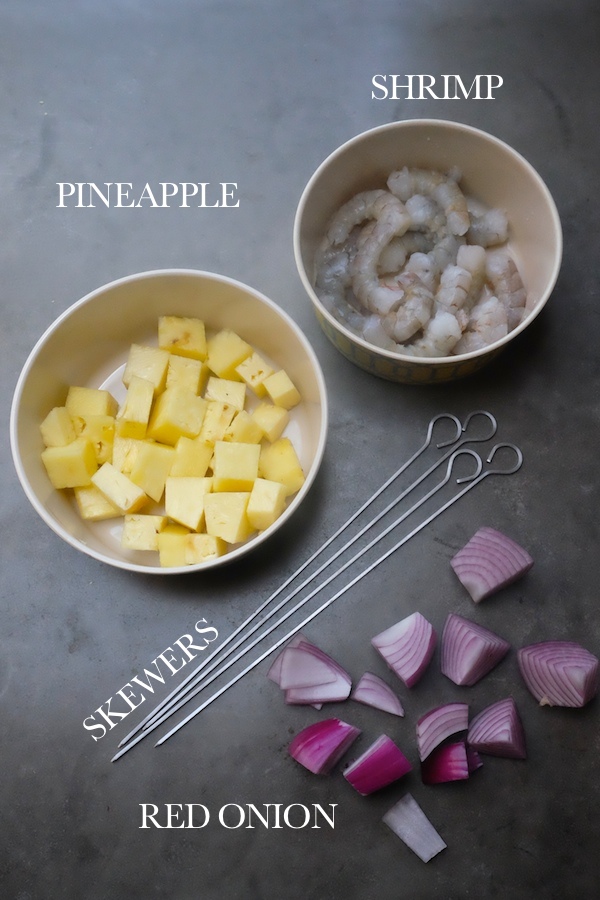 But first we make a marinade.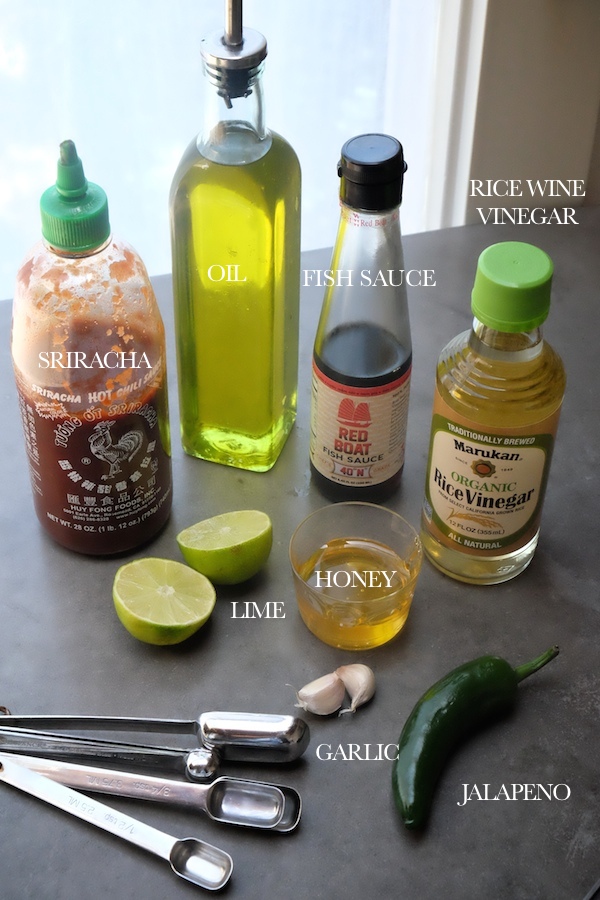 I used a whole jalapeño for kick! If you don't like spice as much as I do, use half.
I put half in the directions….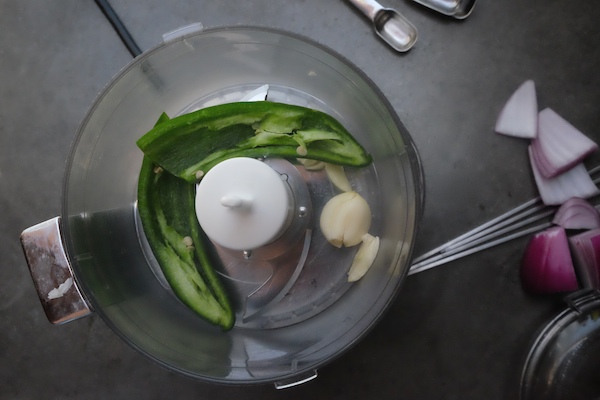 Marinade gets blended in mini food processor. I think it out with a little bit of water.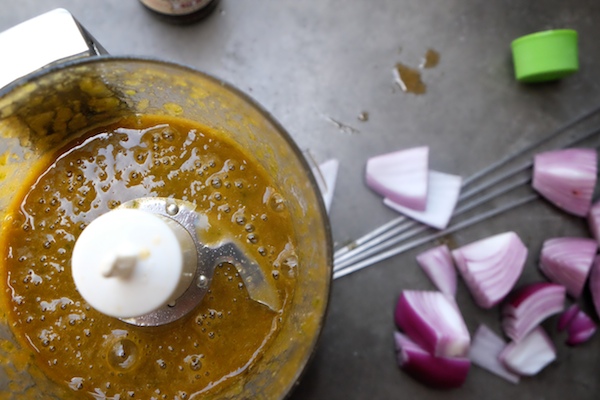 We put some on the pineapple and shrimp (separately) and marinade for about 15 minutes.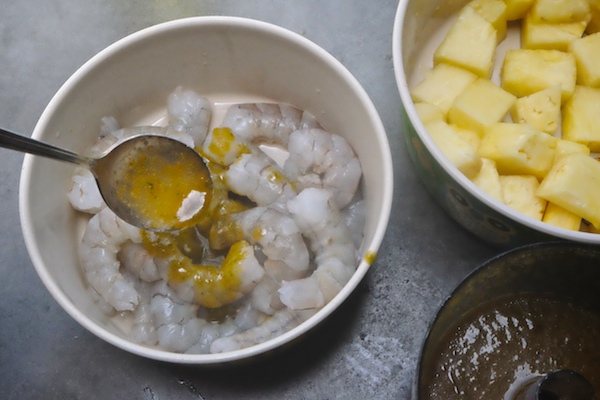 We're ready to skew it up!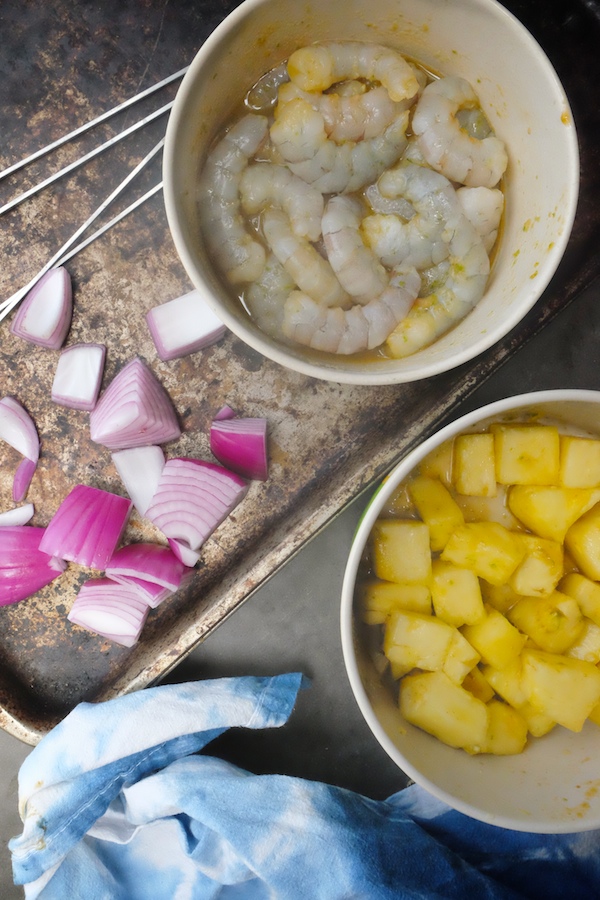 Red onion + pineapple+ red onion + shrimp + pineapple ….repeat!
All on these metal skewers!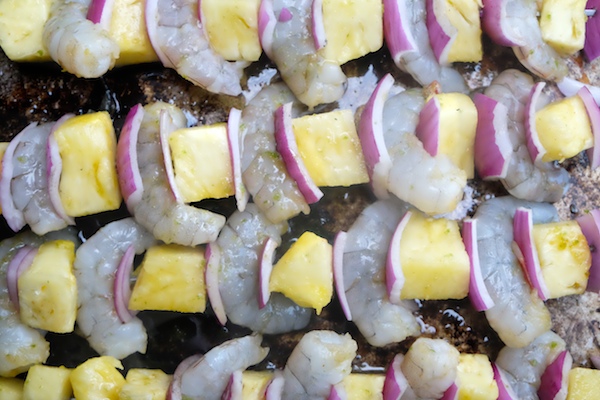 I estimated about 4-5 shrimp per person. Although who am I kidding? People always want more.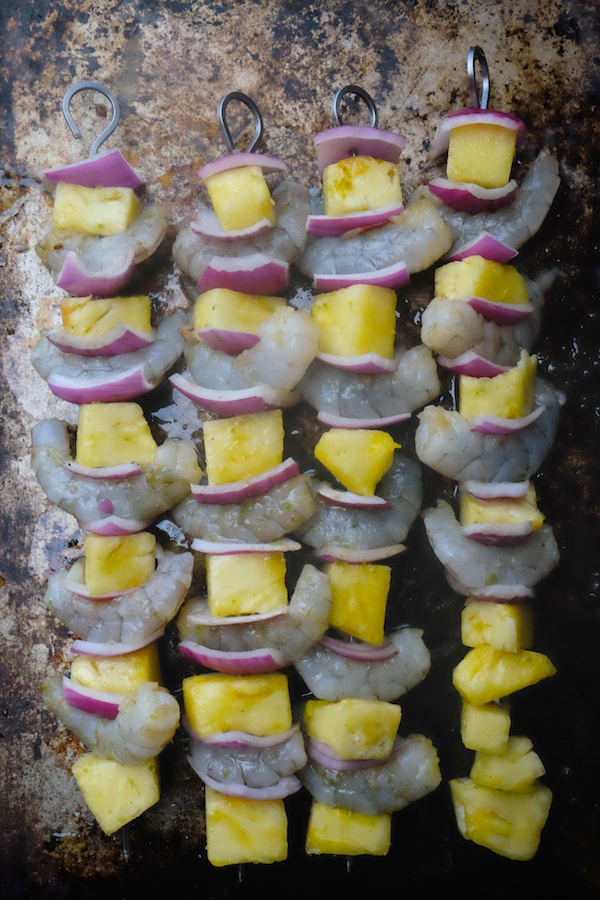 And GRILLED!  We grill for about 3-4 minutes per side.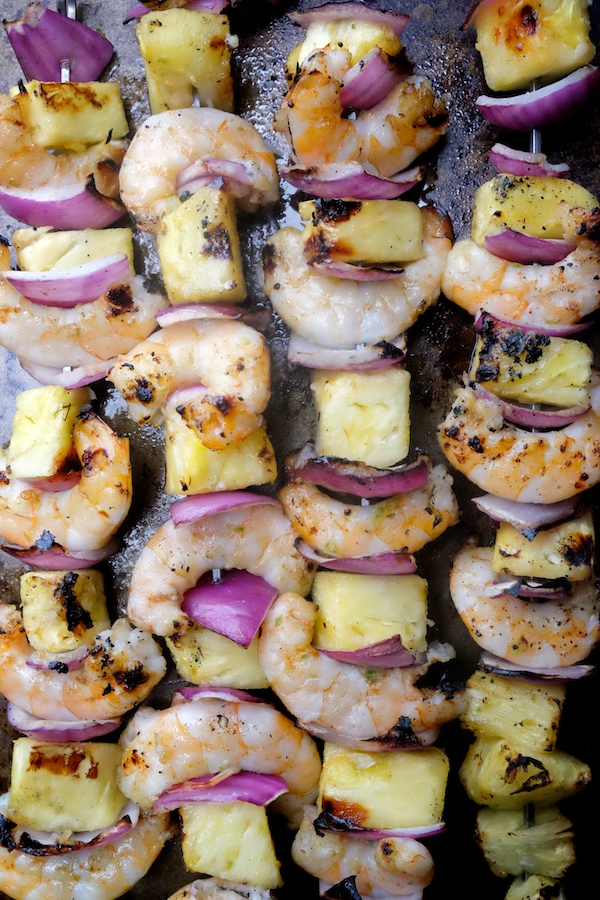 Here's the thing. My husband loves carbs so I couldn't NOT serve this with rice.
I took cilantro pesto (it's really just cilantro oil- you can see how I did it in this post) and mixed it in a batch of rice.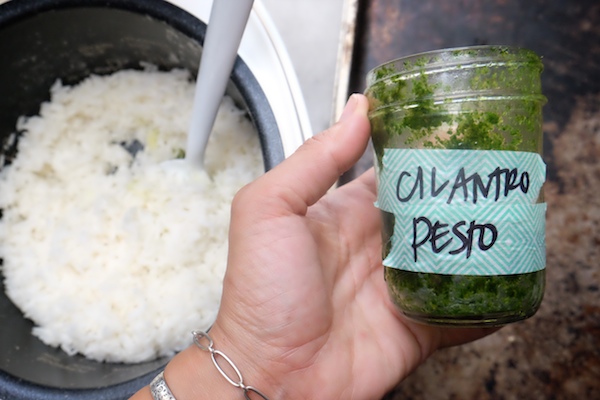 Cilantro oil meets rice…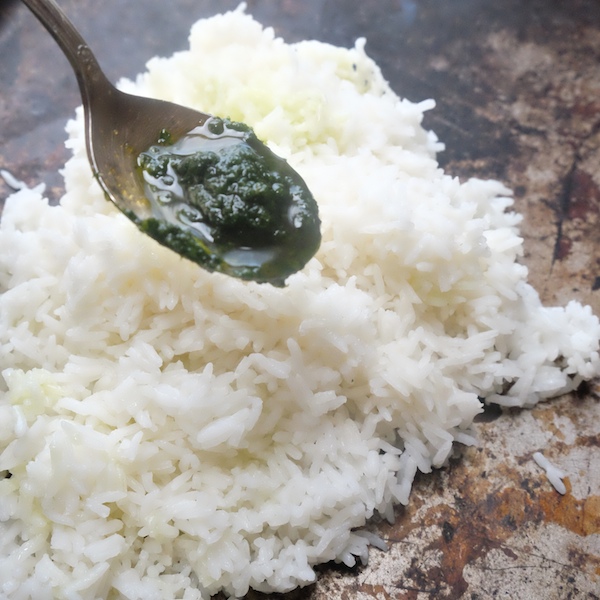 Instant cilantro rice.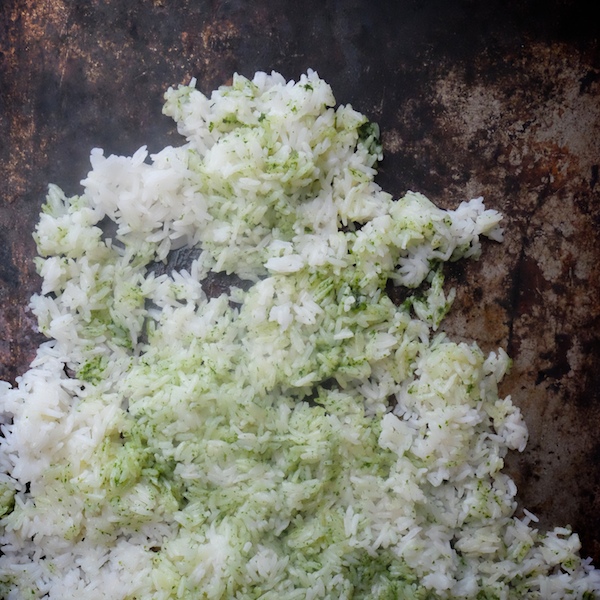 We put the skewers on top. Drizzle the remaining marinade.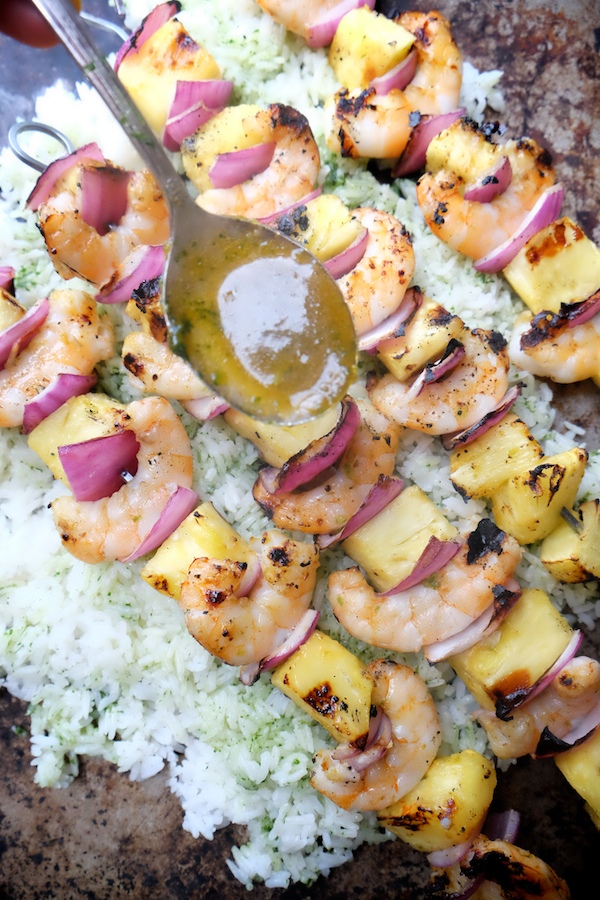 Top with cilantro for garnish.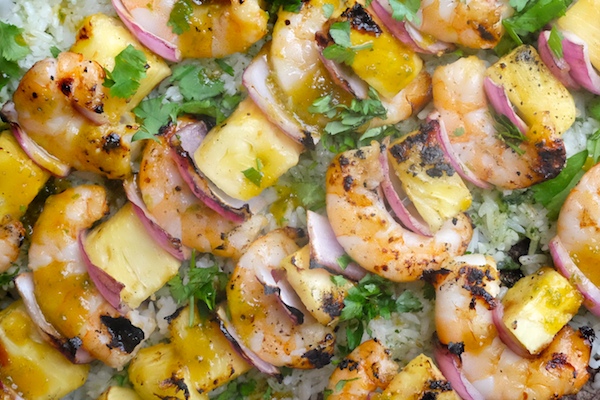 Maybe a little squeeze or four of sriracha. You can totally add a little squeeze of lime too.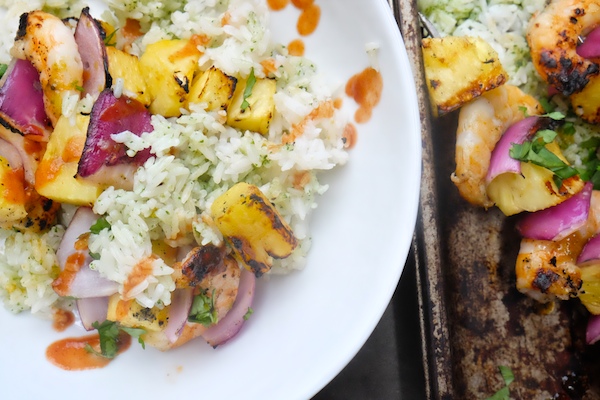 We like things spicy 'round these parts.
Oh!
Here's another good skewer recipe—-Sambal Chicken Skewers
And if you're a pineapple lover try this one—- Roasted Pineapple with Yogurt & Pistachios
Grilled Shrimp & Pineapple Skewers

serves 4

20-25 medium sized shrimp, tail-off (about 1 lb.)
3  1/2 cups chopped pineapple
1 medium red onion, cut into large chunks
2 cloves garlic
1/2 jalapeño (seeds discarded)
the juice of 1/2 lime
3 tablespoons honey
1 tablespoon rice wine vinegar
1 tablespoon sriracha
2 teaspoons vegetable oil
1 teaspoon fish sauce
salt & pepper
coconut oil cooking spray, for grill
chopped cilantro, for serving

Preheat grill/BBQ to medium-high heat.

Place the shrimp and pineapple in two separate containers to marinade.

In a mini food processor, add garlic jalapeño and process until both the garlic and jalapeño are finely chopped. Add fresh lime juice, honey, rice wine vinegar, sriracha, vegetable oil and fish sauce to the mixture and process until marinade is smooth. Add 1 tablespoon water to thin it out. If mixture is too spicy, add additional honey.

Pour 1/4 cup of the marinade into the shrimp. Stir well and set aside. Pour another 1/4 cup of the marinade into the pineapple. Stir well and set aside. Reserve the leftover marinade for serving.  Cover the pineapple and shrimp and let marinate in the refrigerator for 15-20 minutes.

To make skewers, place a piece of red onion on the skewer followed by pineapple, another piece of red onion and then shrimp. Continue the process so each skewer has roughly 4-5 pieces of shrimp on it, making sure a piece of red onion is nestled in between every layer. You should have about 4 skewers total. Season skewers with salt & pepper and spray skewers with cooking spray. Grill 3-4 minutes per side or until shrimp is cooked through. When skewers aren't sticking to the grill, you know that each side is ready. Remove from the heat, drizzle the skewers with reserved marinade and garnish with fresh cilantro.