I'm a huge snacker. My most favorite snacks are carb based. I'm sure you would have guessed as much. I simply cannot pass up a good cracker situation. It's even better if there's cheese up on those crackers. While I'm eating cheese & crackers I almost ALWAYS imagine there being a diet where all you eat is cheese & crackers. Can you imagine? I can. It would be fantastic.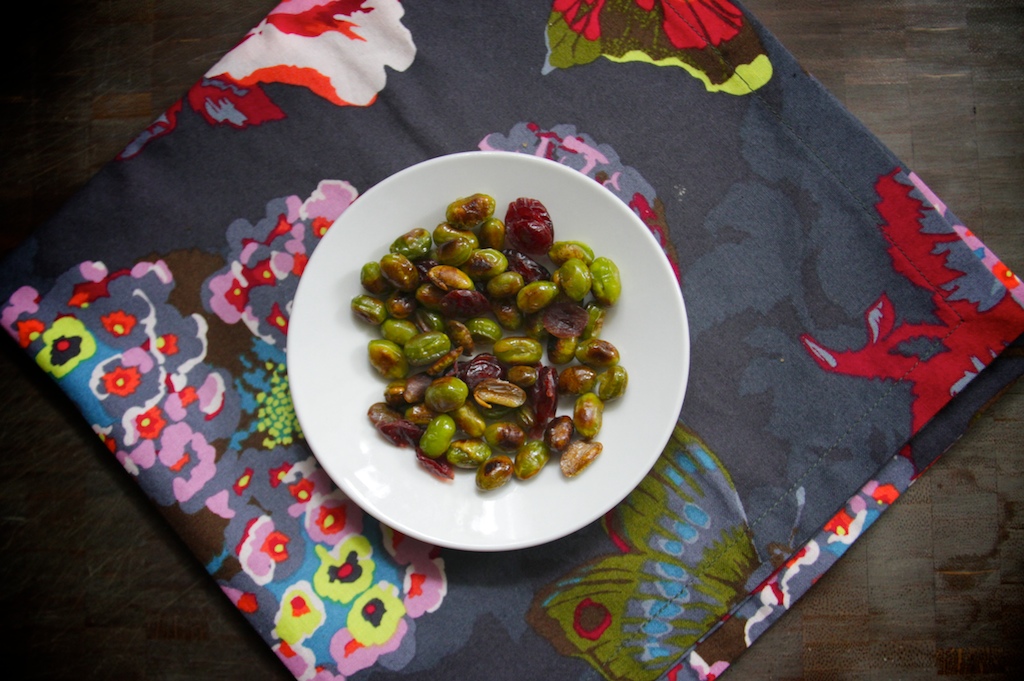 But in real life…snacking can get you in trouble if you're not careful. What you're supposed to do is snack to tie you over until you have a legitimate meal. Stay on top of your hunger or else you find yourself like me…almost eating 2 dinners because you didn't arm yourself at 3pm with something that contains protein & crunch. That's where these Dry Roasted Edamame & Cranberries enter the picture. When it's 3pm and you're craving something salty & sweet, these will do the trick. The edamame are salty and crunchy and the tangy/ tart/sweet cranberries balance things out in a trailmix kinda way.  Is it wrong to eat the whole batch? I dunno. I did it and I survived….until dinner.
And we're off!
Ingredient party. You're invited. Soak the frozen edamame in warm water. It's spa time for them!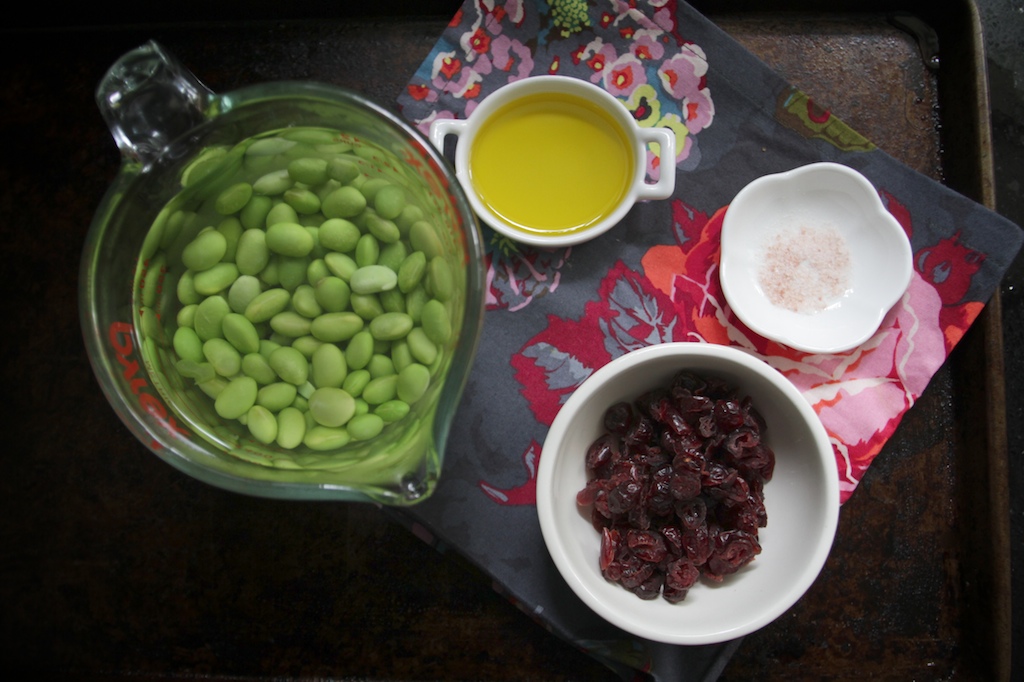 Get our your oil and a baking sheet…and put the edamame on that sheet.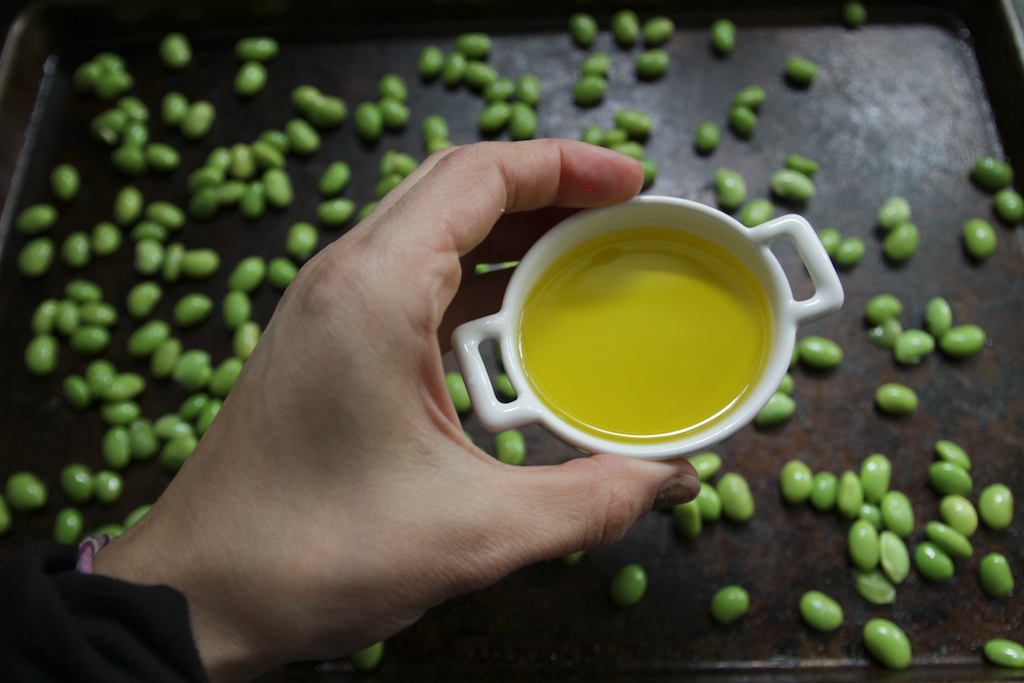 Toss them in oil.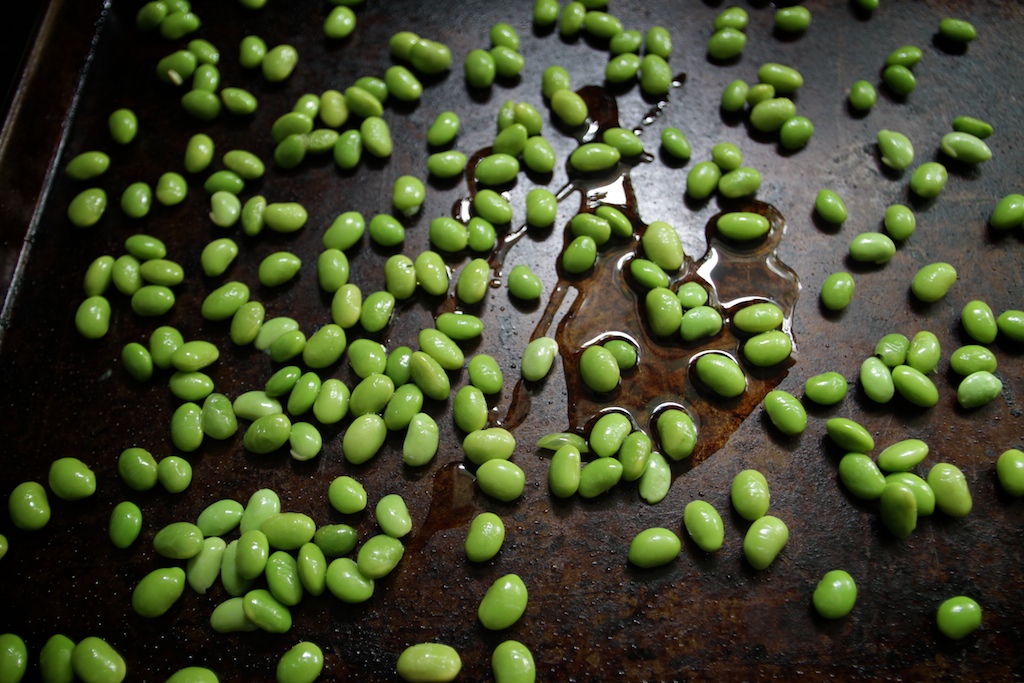 Sprinkle with salt and put them in a HOT oven.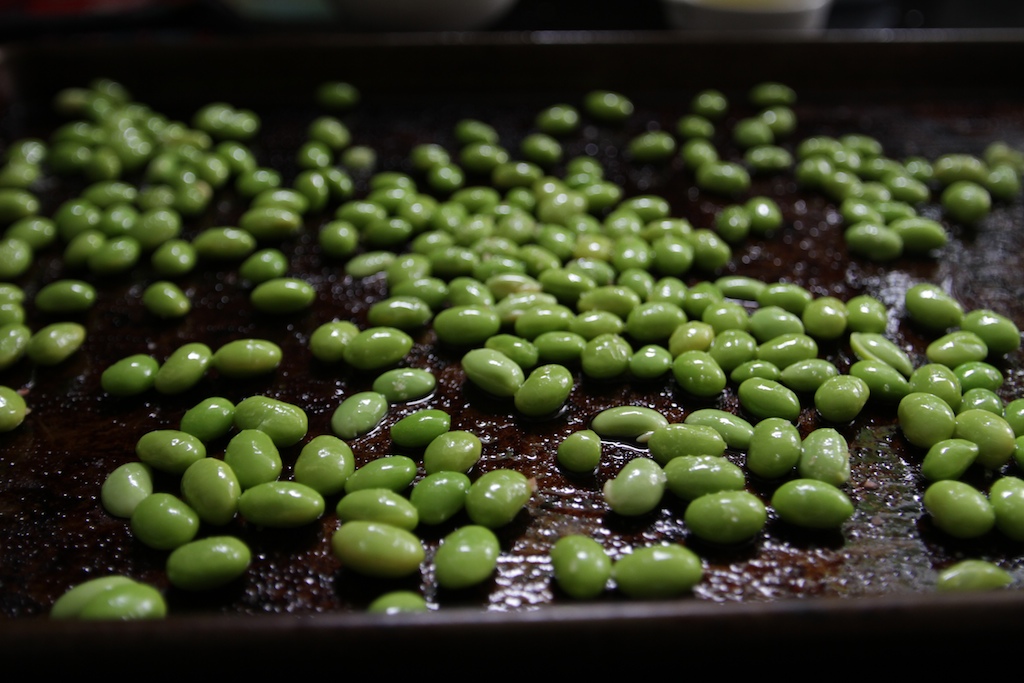 Now it's time to mix up your batch. Take your cooled edamame and put them in a jar with dried cranberries.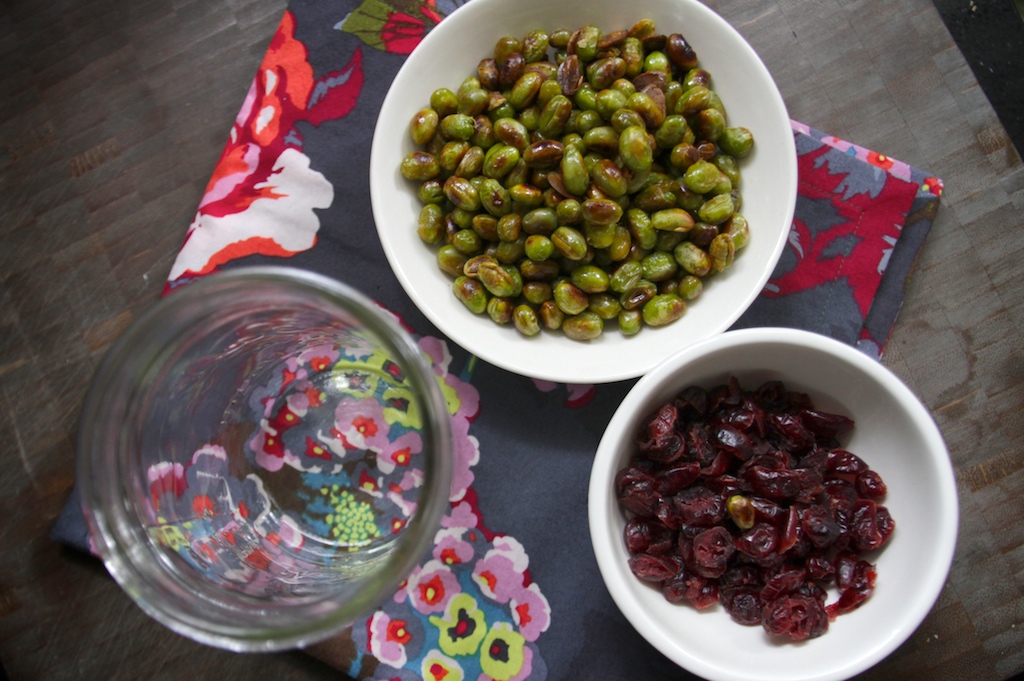 Put a lid on. MIX IT UP.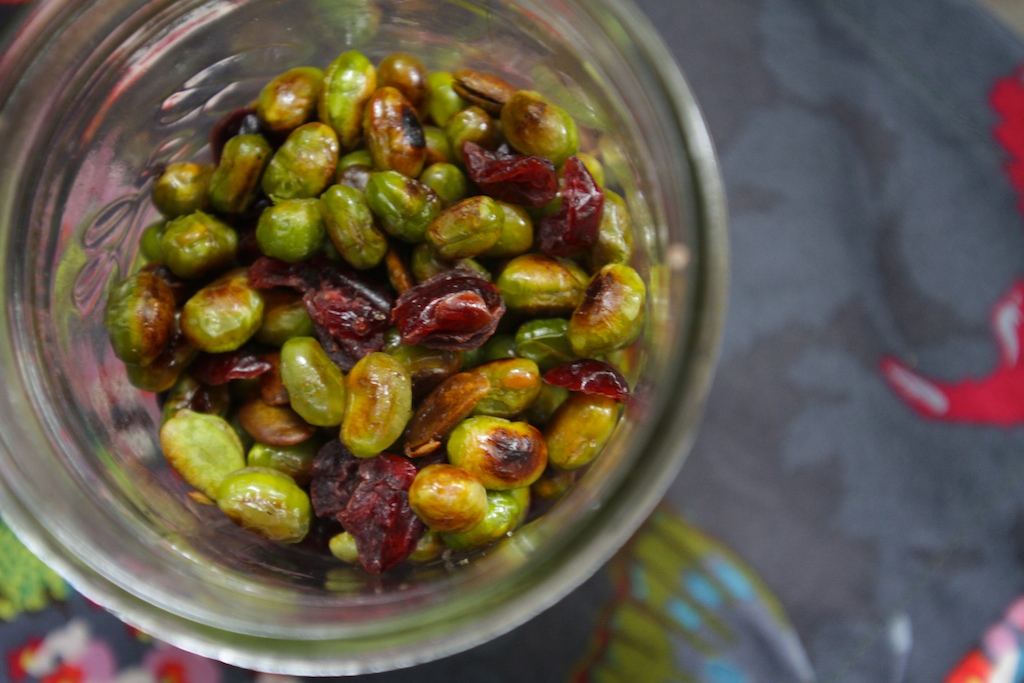 That will tie you over…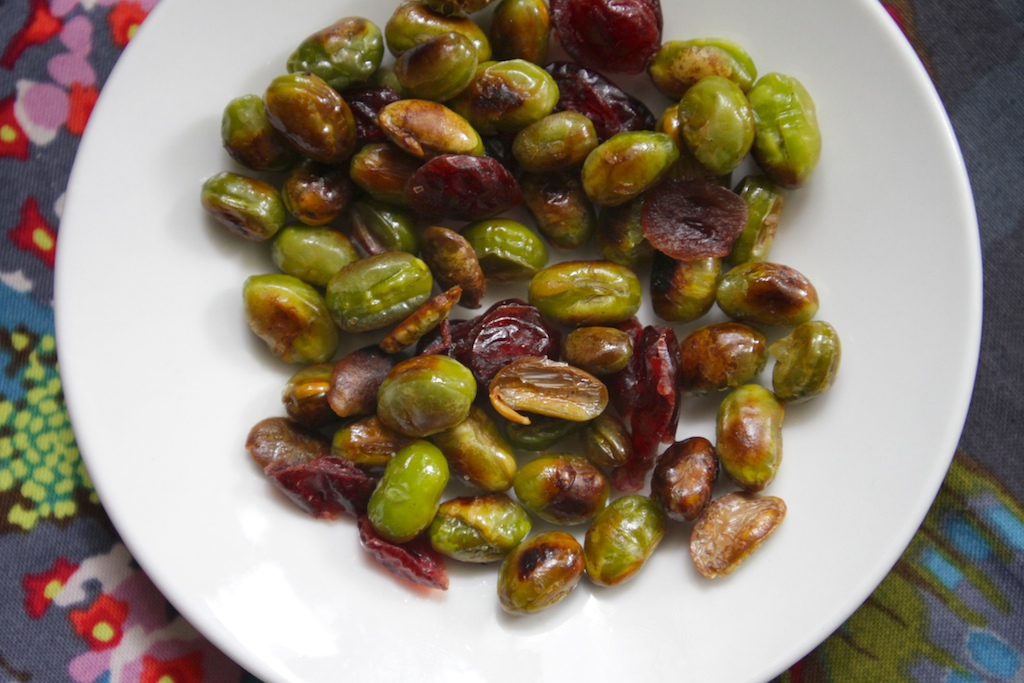 Until you're ready to snack again!
Dry Roasted Edamame w/ Cranberries

makes almost 2 cups

(recipe slightly adapted from Whole Living Magazine)

1 1/2 cup frozen shelled edamame, thawed
1 1/2 teaspoons extra-virgin olive oil
coarse salt (I used Himalayan salt!)
1/3 cup dried cranberries

Heat oven to 425F. Arrange edamame on a baking sheet and drizzle with olive oil. Toss to coat. Sprinkle with salt and roast in the oven for 20 to 22 minutes, stirring occasionally. Edamame will be crisp & golden. Let cool and toss with cranberries and store in an airtight container for up to 5 days.