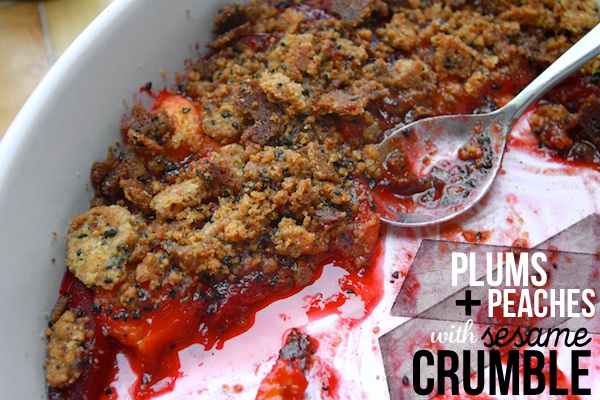 Brain tired. Brain still processing all the traveling, eating & talking I did in the past 5 days.  I seriously feel like Encino Man.
I hope all of your comments begin with no wheezing the juice. That's an order!
Am I on east coast time? Wait. Am I on west coast time? Is this a food hangover that I'm experiencing?
Do we even have milk in the fridge? Laundry? What's that?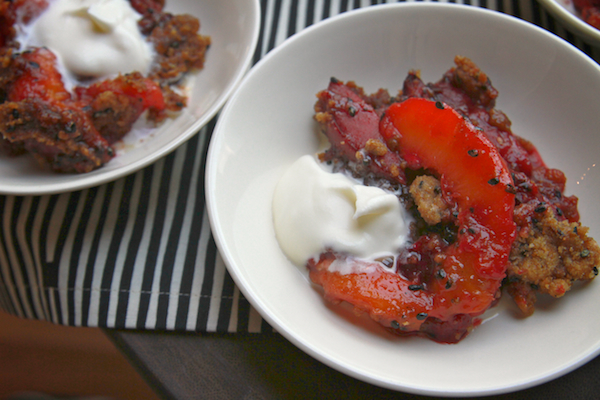 This week I plan to binge on arugula, avocados, fresh fruit and JUICE. Lots of juice. I also need to get back to my favorite flavor profiles. You know… the ones that lean more on the hippie side. It just helps me balance my brain and set me on track.  It reminds me of my crunchy California roots. Don't get me wrong, I love visiting New York but I ate like a truck driver this time around and the humidity didn't help…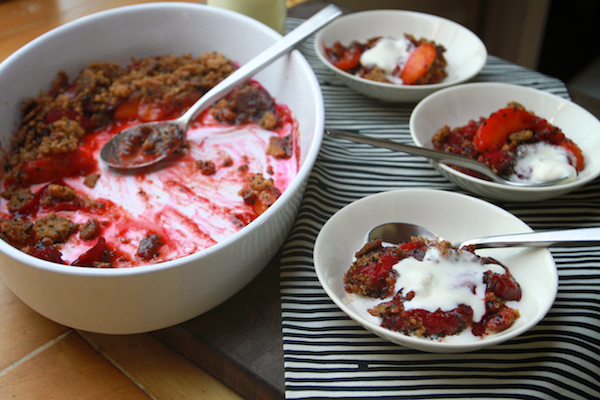 Peaches & plums were blowing up my CSA box right before I left and I felt like I couldn't keep up! This crumble helped me make a big dent in my stash. And that black sesame crumble with tahini? All is right with the world!  The savory/sweet/buttery crunch marries so well with the sweet/tart plums. The only problem I encountered was not eating all of the crumble before I put it on the fruits. Wait…I always encounter that problem.
We ALL have that problem. No wheezing the crumble.
And we're off!
Ingredient gathering. It doesn't take that much.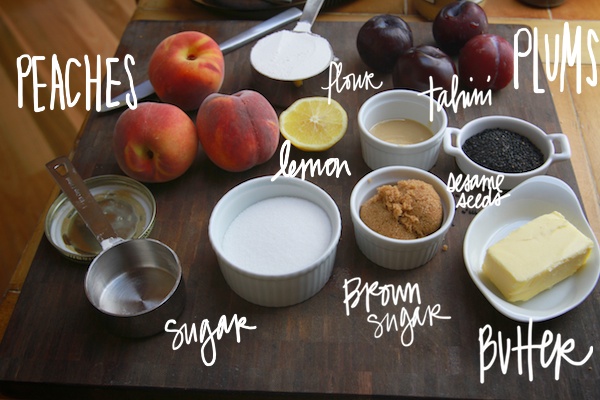 We start with the topping! Flour & brown sugar go into the food processor.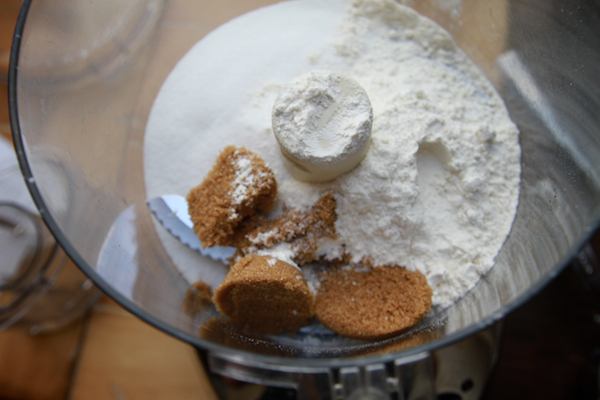 Then butter & tahini make an appearance.
And finally we have black sesame seeds. Oh man. This is delightful!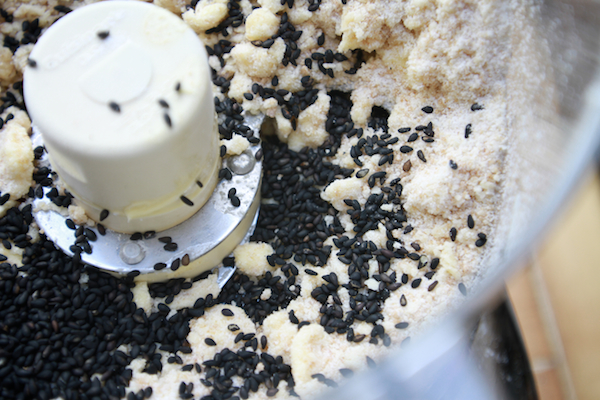 Spread the crumbs out on a baking sheet. Put the baking sheet in the oven. Bake those crumbs.
WHAT???? That's right. We're separating this process. This way we don't have soggy crumbs on top of our crumble.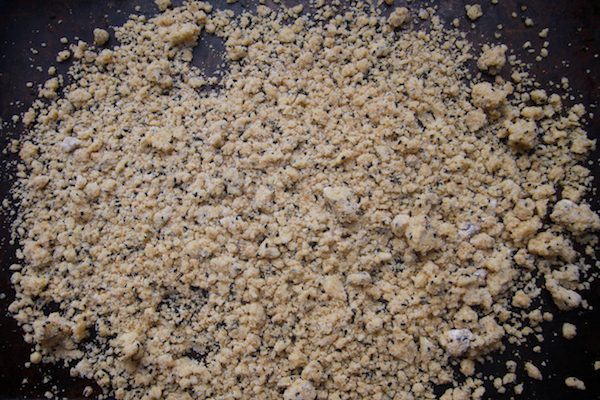 Chop up your fruit. Add sugar & a squeeze of lemon and cook the fruit until it softens just slightly.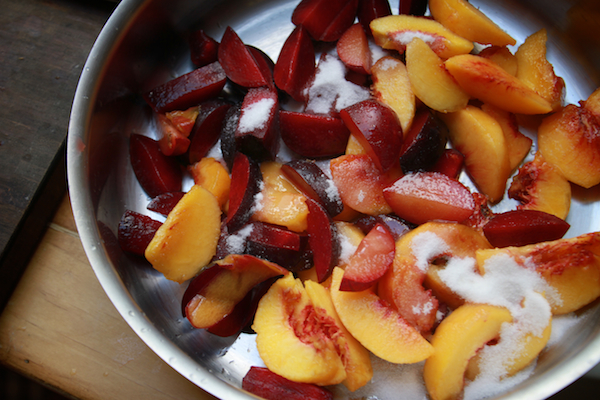 Put the cooked fruit into a baking dish. Look at that color. It's crazy.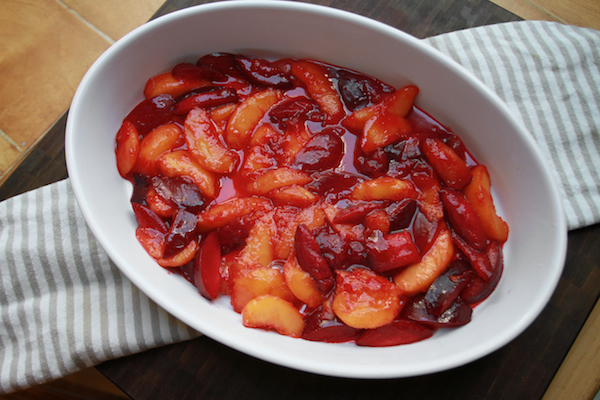 Now you take the topping from the oven…try not to eat it all before you put it on the fruit.
It's incredible. REALLY.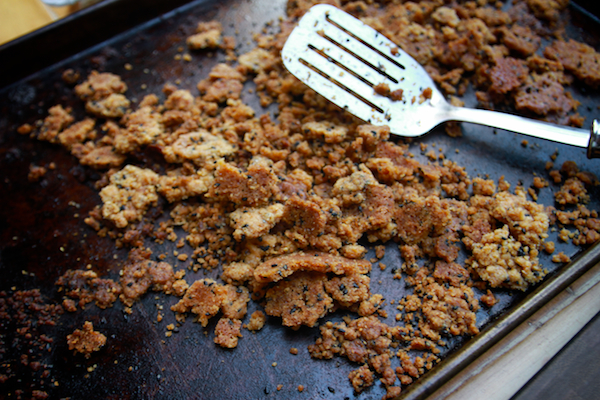 Now bake! It's a very short bake. We just want the fruit to bubble a bit.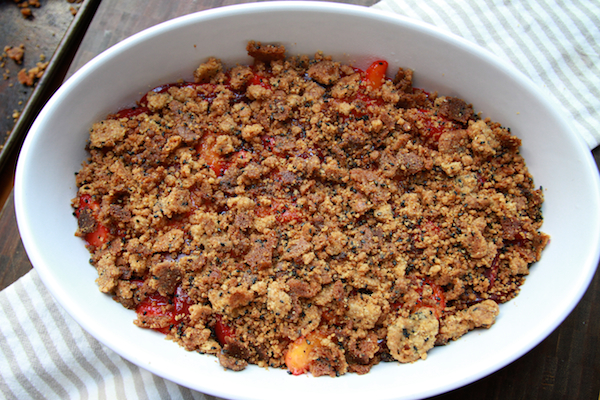 Delightful. Now we wait just a second.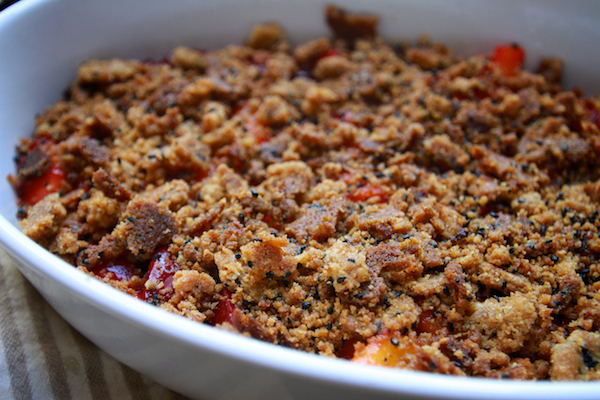 Put the crumble in bowls. Add some whipped cream on top. Watch it melt.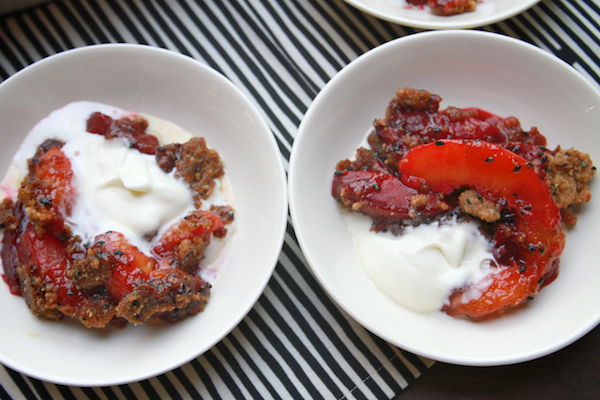 Would you just LOOK at the color of that peach? I bet you'll go back for seconds…thirds… if you're not sharing!
recipe slightly adapted from FOOD & WINE Magazine

1/2 cup all-purpose flour
3 packed tablespoons light brown sugar
1/4 teaspoon kosher salt
4 tablespoons unsalted butter, cut into tablespoons
1 tablespoon tahini
1 1/2 teaspoons black sesame seeds
1 pound purple plums (about 3), thinly sliced
1 1/2 pounds peaches (about 3), peeled with a vegetable peeler and thinly sliced
1/2 cup granulated sugar
1 tablespoon freshly squeezed lemon juice

Preheat the oven to 350° and line a baking sheet with parchment paper. In a food processor, pulse the flour with the light brown sugar and salt. Add the butter and tahini and pulse until moist crumbs form. Add the black sesame seeds and pulse to combine. Scatter the tahini crumbs on the baking sheet and bake them for about 20 minutes, until they are golden and crisp. Let cool, then break up any big clumps.

Meanwhile, in a large skillet, combine the plums and peaches with the granulated sugar and lemon juice and cook over moderate heat, stirring occasionally, until the fruit is just softened and the juices are thickened, about 10 minutes.

Scrape the fruit into a shallow gratin dish or glass pie plate and sprinkle with the crumbs. Bake in the center of the oven until the fruit is bubbling, about 10 minutes. Let cool for 5 minutes, then serve.