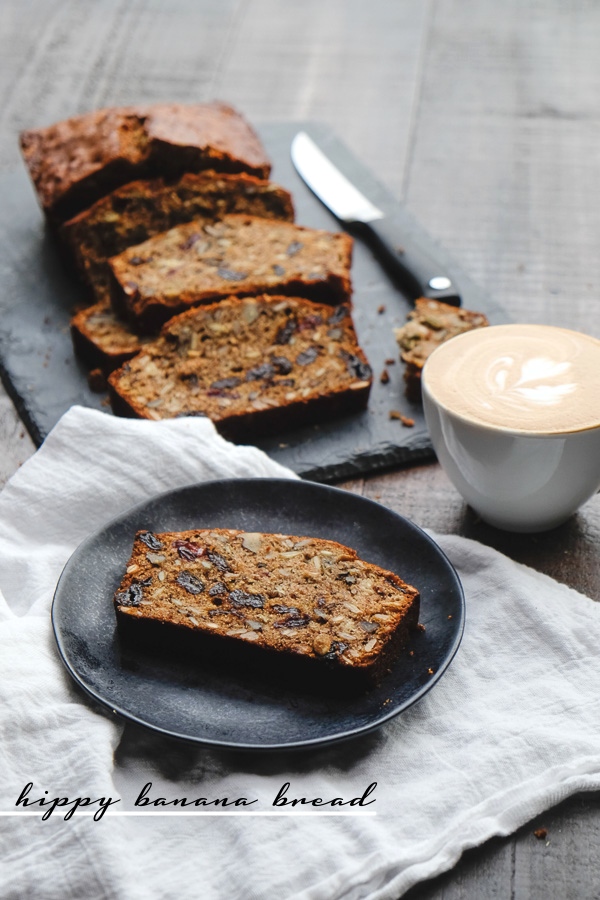 I made our favorite banana bread during the holiday break and it didn't last a full 24 hours in our house. We plowed through it in no time and I think it's kinda light and fluffy so it's very easy to go through. There's nothing to slow you down. There's no lingering. It's just an EAT BANANA BREAD NOW and then cut another sliver until you realize there's none left kind of situation.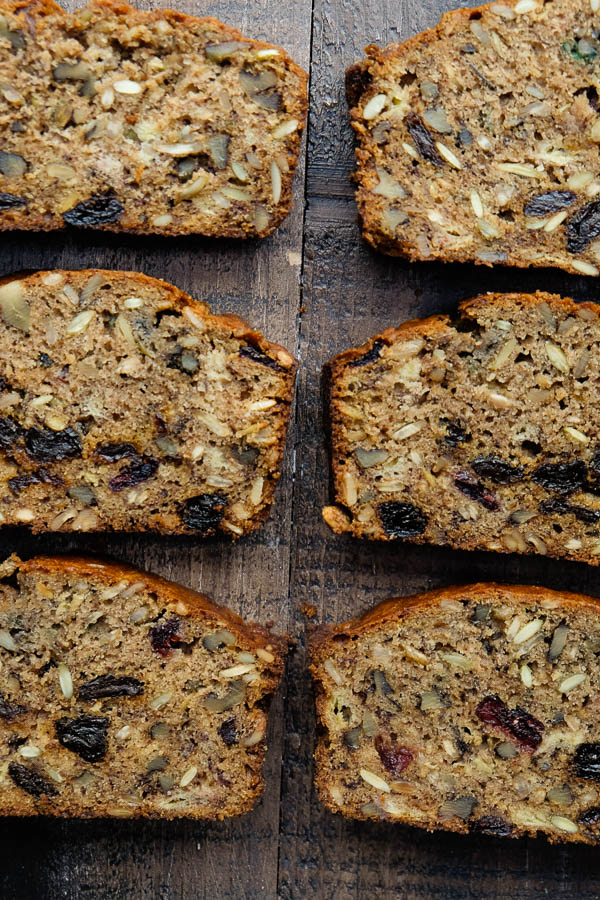 So I put my thinking cap on and made what I like to call Hippy Banana Bread. I need a banana bread with bite!  I need something hearty, something a little dense. Something with texture and bite!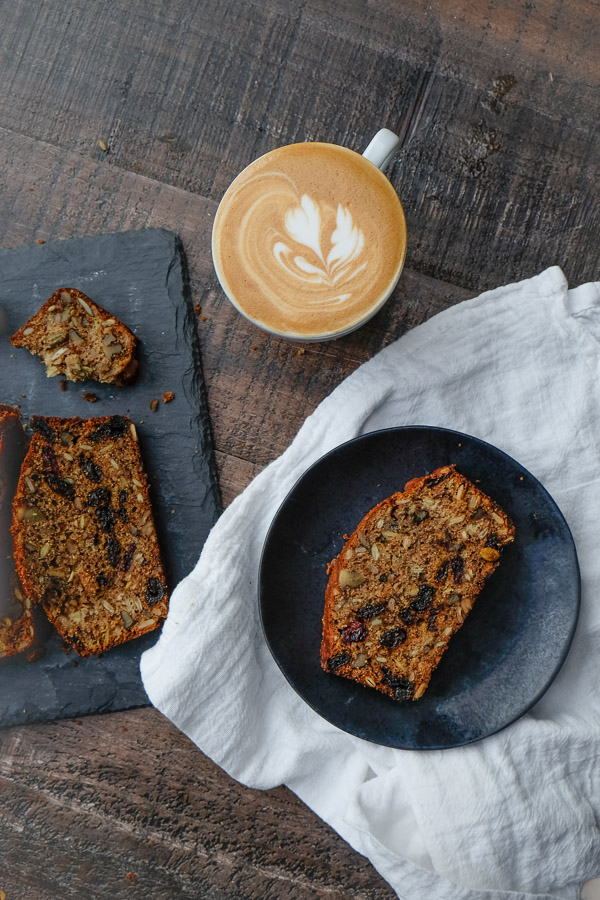 This banana bread lasted more than 24 hours in our house.  It's been my breakfast for the past week and I looooooooove it.  What makes it "hippy?"  All the seeds (sunflower seeds & pumpkin seeds!), walnuts and dried cherries (that plump up after baking!).
You might find yourself buying extra bananas each week for this recipe. I'm already gathering ingredients for my next loaf…
Let's gather our ingredients.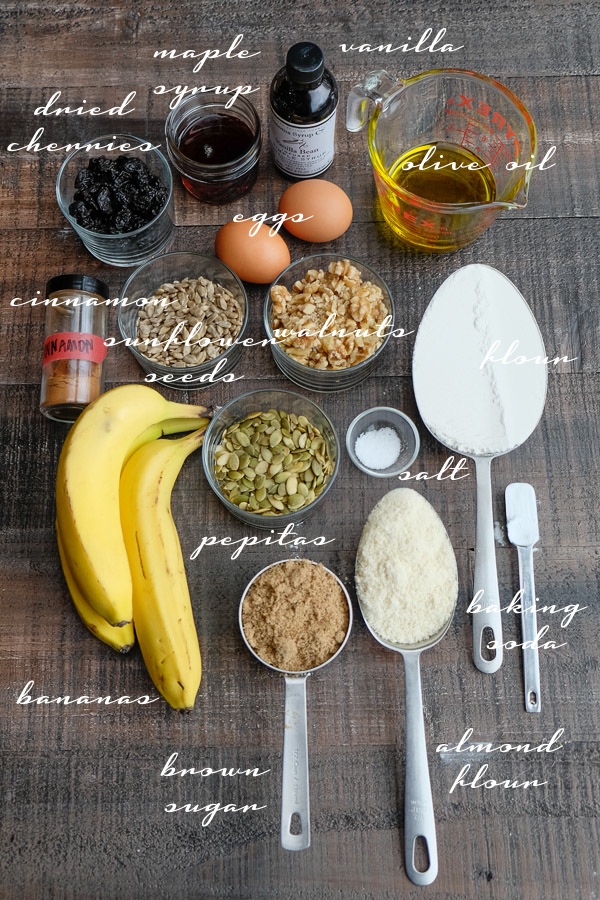 Dry ingredients! We use some almond flour in this one. I think the next batch I'm gonna experiment and put more in and less all-purpose flour.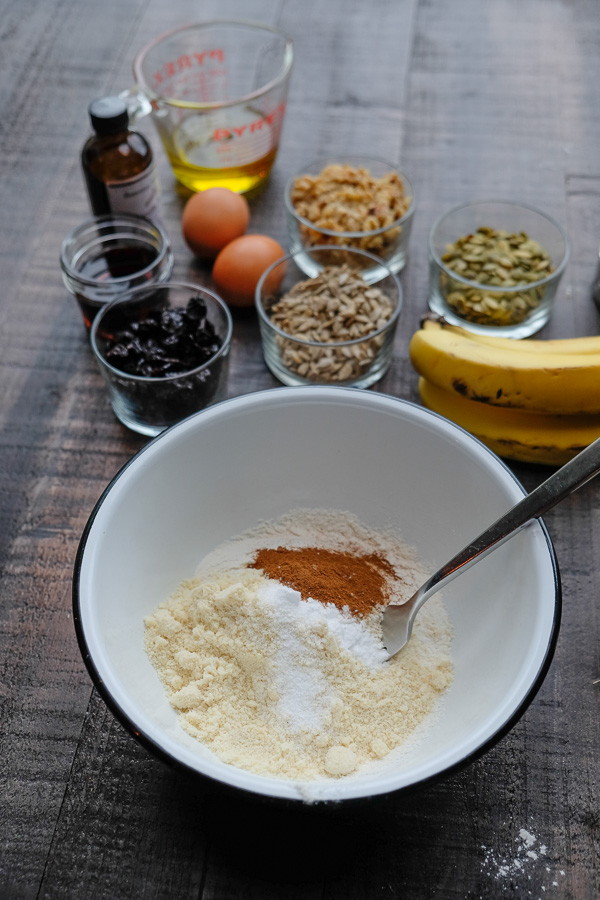 Bananas are mashed.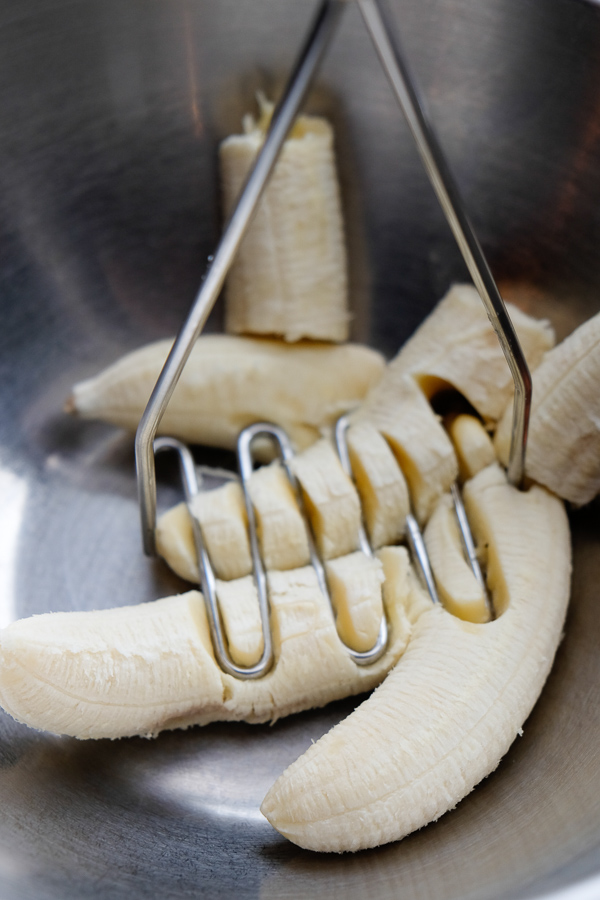 We add all the liquids + sugar to the bananas. MIX.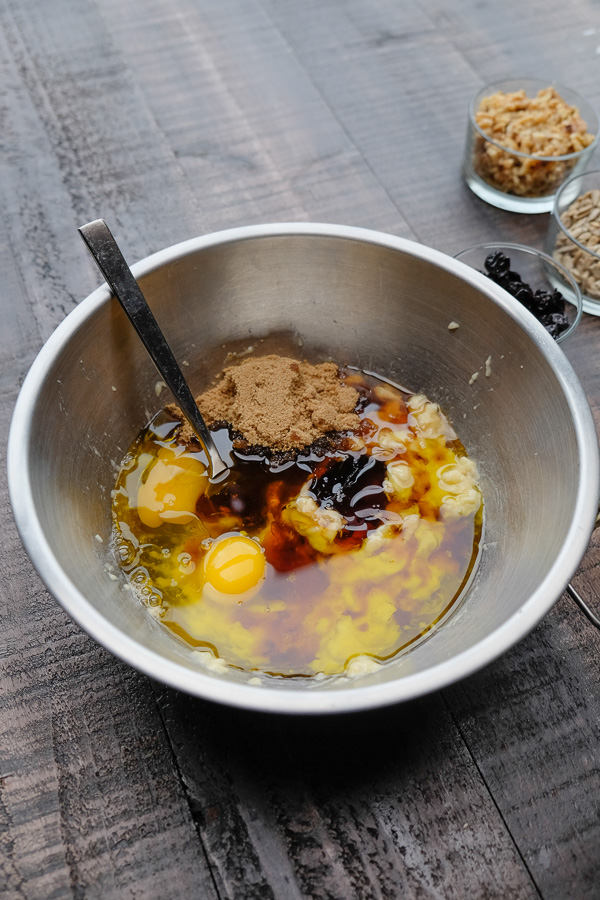 Dry meets wet.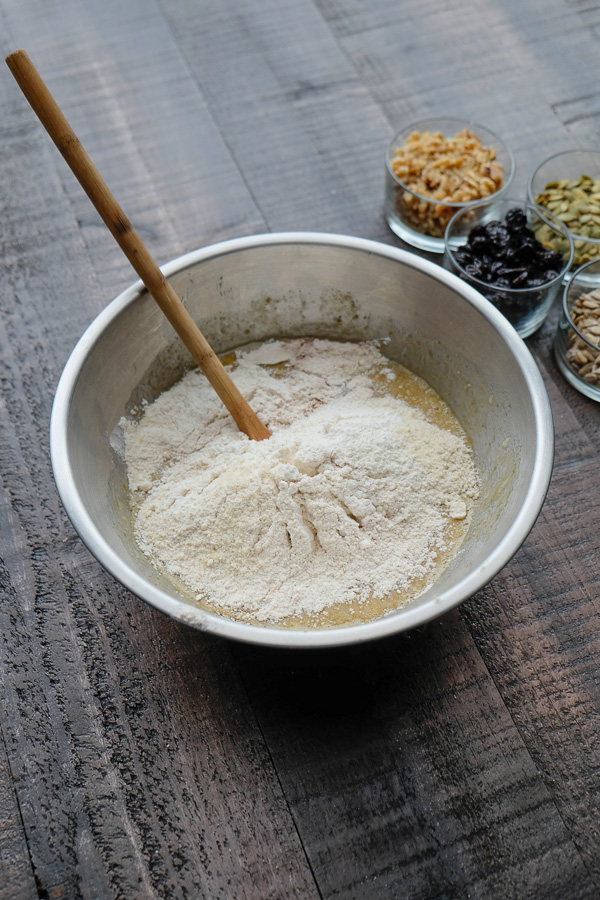 Hello goodness.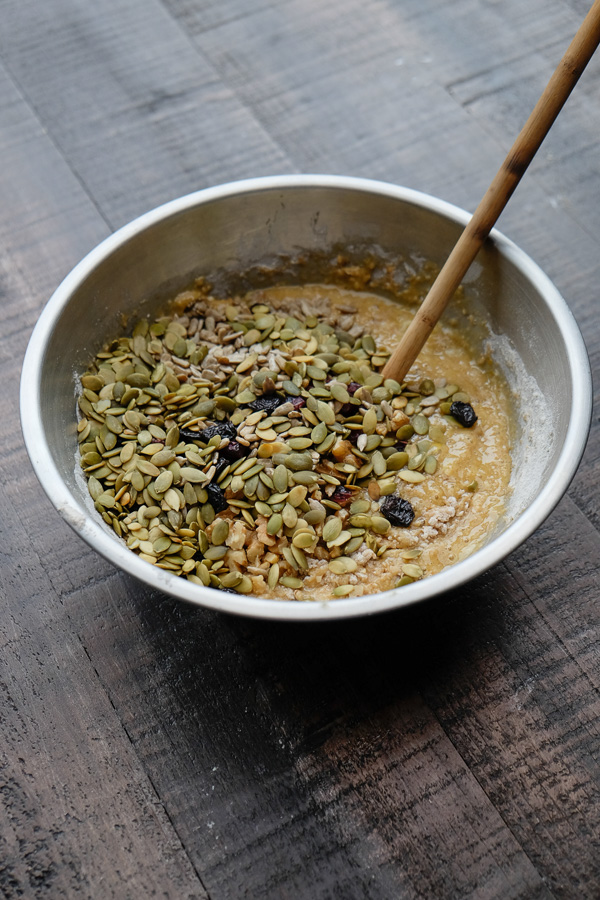 I spray a loaf pan with some cooking spray and line it with parchment.
Just a little parchment so I can pull the bread out easier.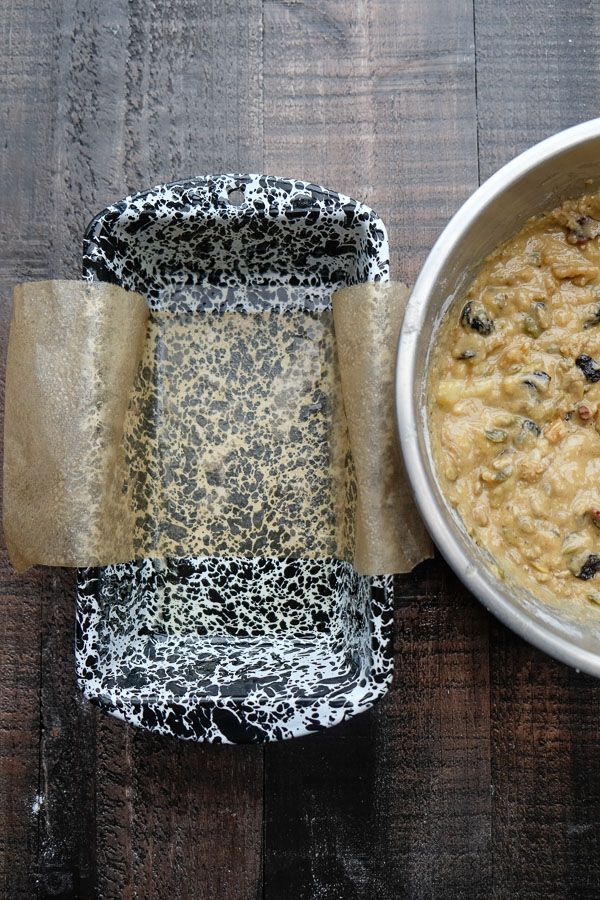 In goes the batter.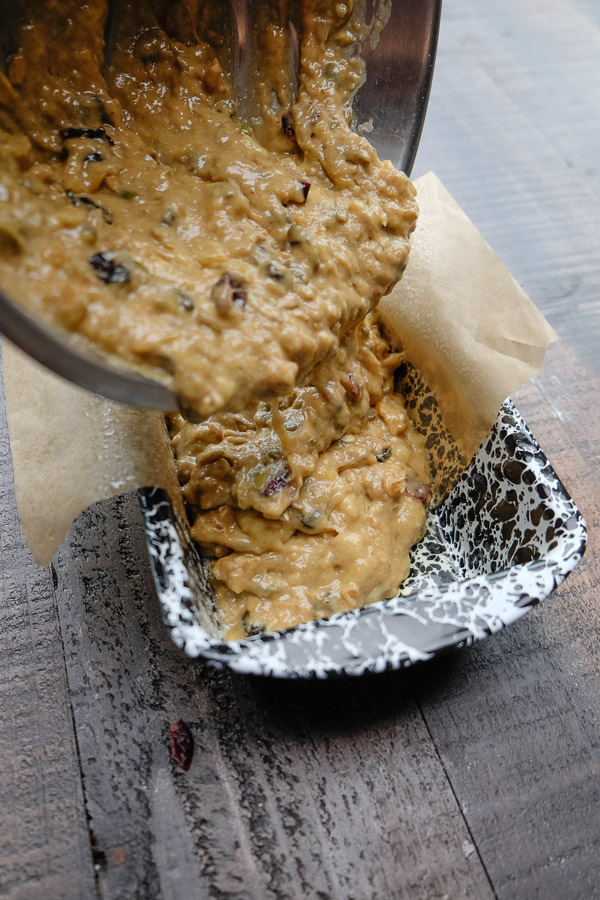 Hey batter batter.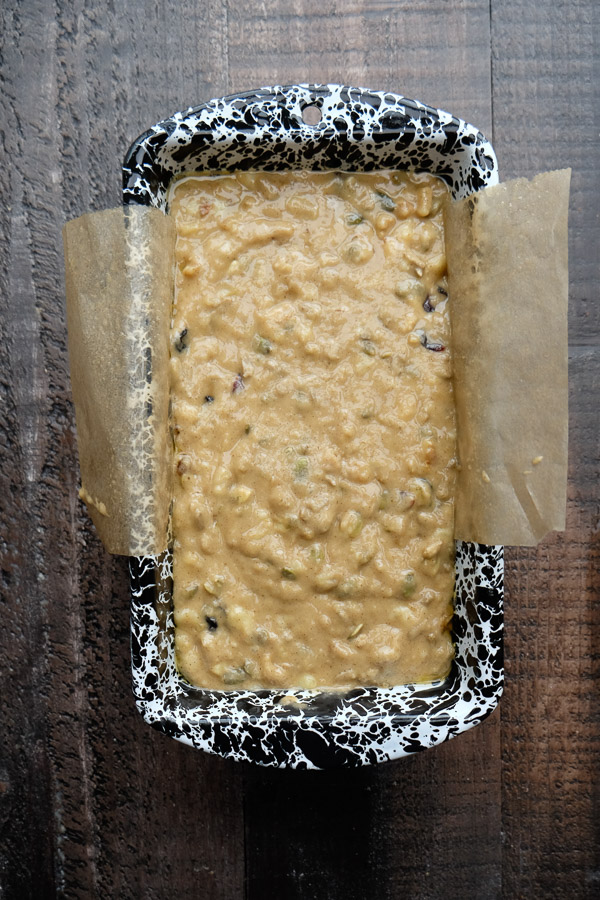 BAKED!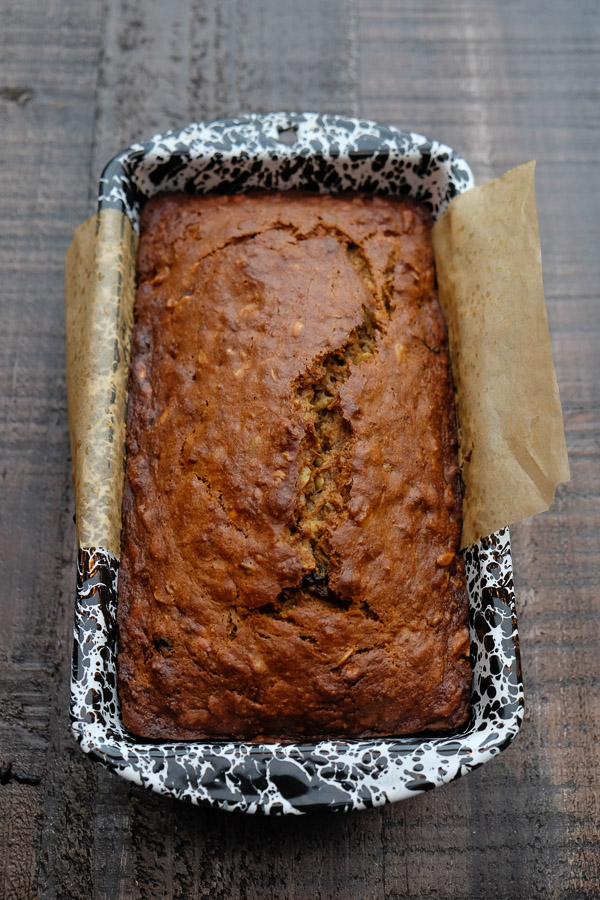 Look inside.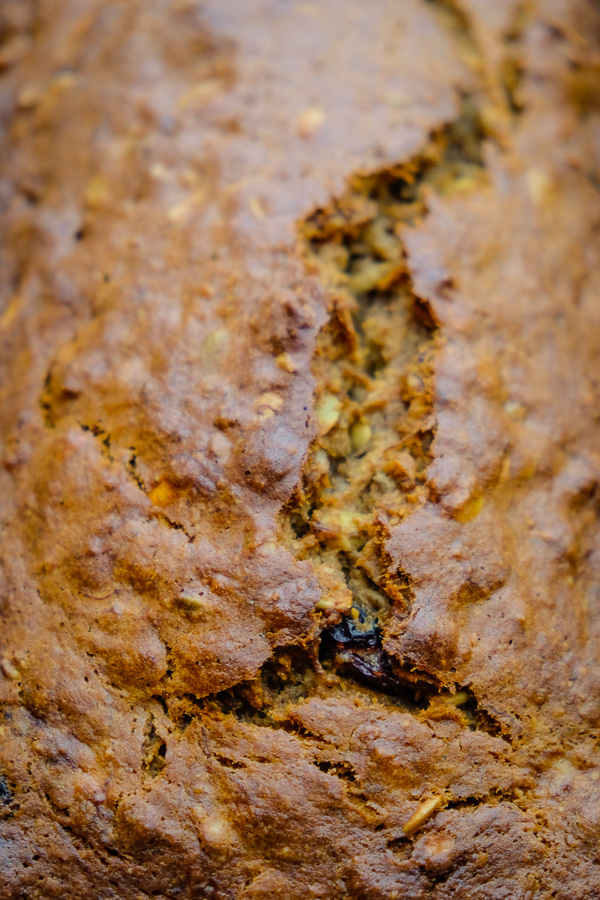 Look at all of those nuts and seeds!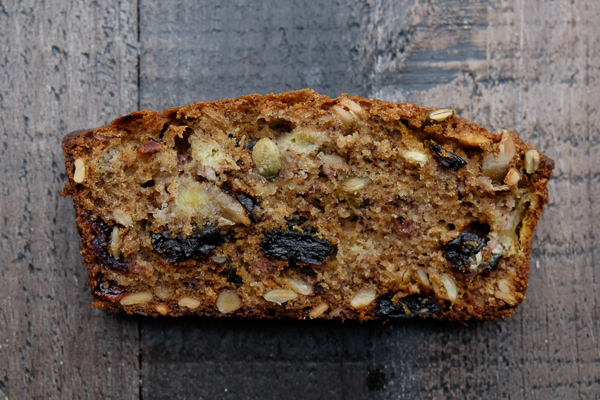 It's my morning/afternoon fuel.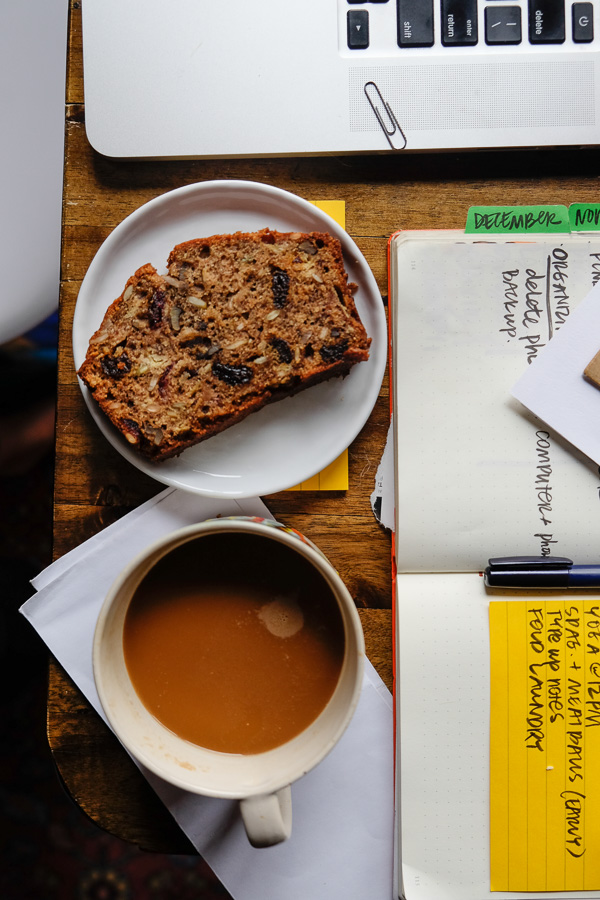 And it's soon to be yours too!
Thanks for reading Shutterbean!  If you'd like to check out more of my everyday life, follow me on Instagram and be sure keep in touch via Facebook, Twitter,  Bloglovin,  Pinterest, or subscribe via email to get new posts delivered to your inbox.
Hippy Banana Bread

makes 1 loaf

1 cup all-purpose flour
1/2 cup almond flour
1 teaspoon baking soda
1 teaspoon salt
1/4 teaspoon ground cinnamon
1/2 cup olive oil
1/2 cup brown sugar, packed
1/4 cup maple syrup
1 1/2 teaspoons pure vanilla extract
2 eggs
3 ripe bananas, mashed (about 1 cup puree)
1/2 cup chopped walnuts
1/2 cup dried cherries
1/2 cup raw sunflower seeds
1/2 cup raw pepitas

Preheat oven to 350F. Butter an 8 x 4 inch loaf pan. Line pan with a sling of parchment paper, with the long sides overhanging. Lightly butter the parchment, then set the pan aside.

Whisk together the flours, baking soda, salt and spices in a medium bowl. Set aside.

In a large bowl, whisk together the olive oil and brown sugar, breaking up any lumps. Add the maple syrup and vanilla, whisking until smooth. Add the eggs, one at a time and beat until fully incorporated. With a wooden spoon, stir in the bananas. Add the flour mixture to the liquids, stirring until just combined. Stir in the walnuts, cherries, sunflower seeds and pepitas until fully incorporated. Pour batter into prepared pan, evening out the top if necessary.

Place bread in the oven and bake until cake tester inserted in the middle of the loaf comes out clean, about 55-60 minutes. Remove from the oven, and leave the bread to cool in its pan for 10 minutes. Using the parchment sling, lift the bread out of the pan, unwrap and allow to cool completely on a wire rack.