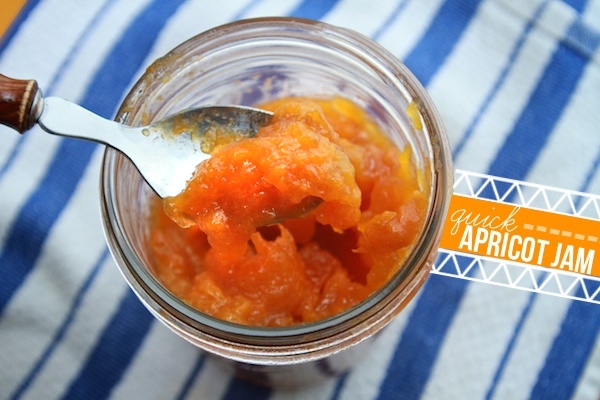 When we were kids my mom always always ALWAYS bought apricot jam. And as most kids do, we despised apricot jam. We just wanted grape jelly like allllll of our friends. Was that too much to ask, MOM?
And then I grew up and started to like apricot jam until suddenly I grew to loooove it. It's especially nice when you get those thick bits of apricot in a dollop of jam. I really enjoy that part. As a child? No so much.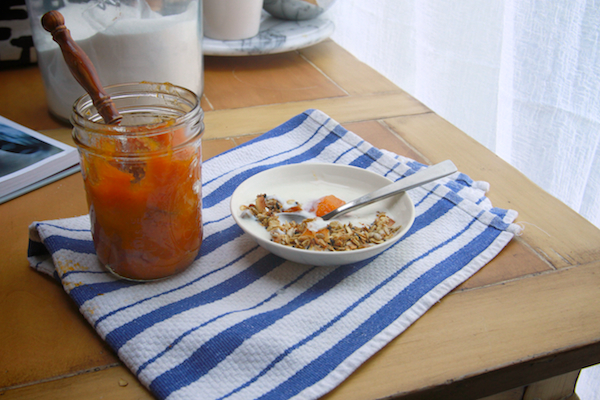 So, when I started my preliminary read of the The Sprouted Kitchen Cookbook, the second recipe in the book for Quick Apricot Jam jumped out at me. It was EXACTLY what I wanted/needed. I did not pass go. I did not collect $200. I made that jam RIGHT AWAY and then I ate the whole jar of jam in less than 48 hours.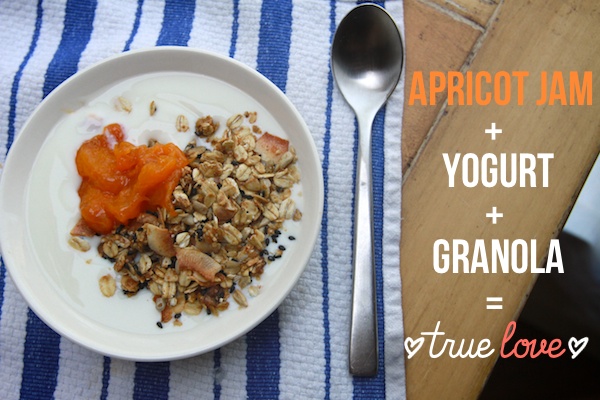 Quick jams are my favorite because they don't involve sterilization & canning. I mean…I love that stuff I just don't always have the time for it. In the end you get a small batch of jam that's super easy to finish within two weeks. I found every excuse to put this jam on stuff. But mostly, it was loaded onto a spoon and transported directly into my mouth.
Oh and BTW! If you're looking for a good cookbook to add to your collection, I highly recommend The Sprouted Kitchen Cookbook. Pre-order it! Put it on your wishlist! Get it for your upcoming birthday, Virgos & Libras! Sara's eloquent writing is perfectly matched with Hugh's stunning photography. It's no wonder they're married! It's filled with an assortment of creative/healthy recipes that will help you enjoy a bounty of whole foods & flavors. I have at least 25 little stickies sticking out of the side of the book of recipes to try. I'm so proud of you Sara & Hugh! You two did such a fantastic job with your first cookbook. It's a beaut!
And we're off!
Get some apricots. I'm pretty sure other fruits would work well in this jam too if you can't find apricots.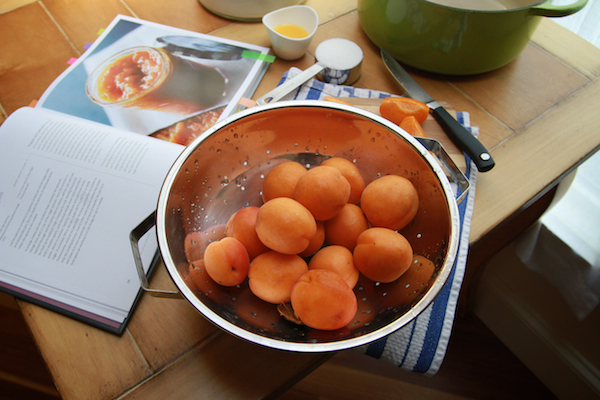 Here we have OJ, sugar & apricots. Not pictured? Sea salt. We'll get to that later.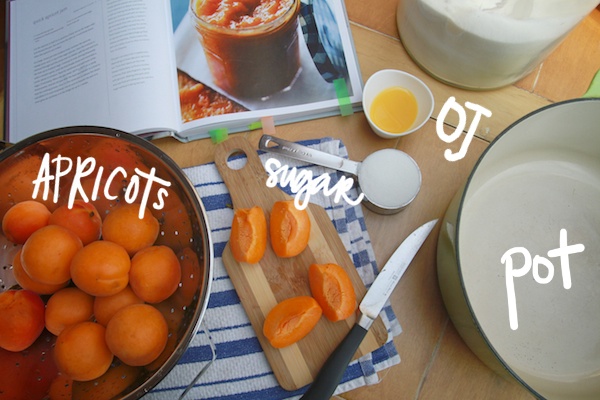 Half or quarter (if you have some bigger ones!) the apricots.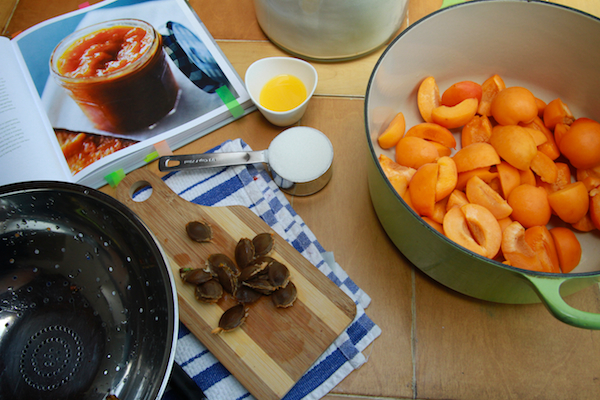 Toss them in a pot with the fresh orange juice & sugar.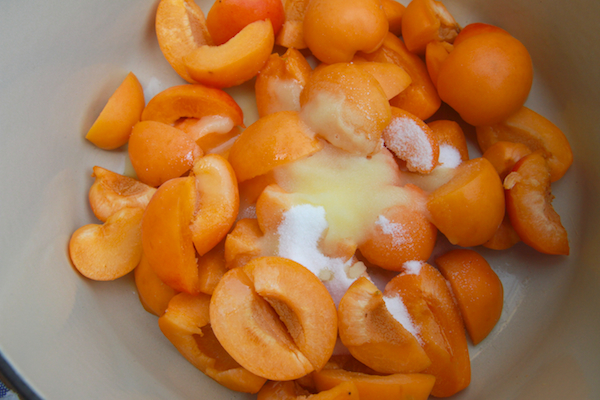 Get the heat going. Look at how glazey it is! Keep tasting it along the way. Add the salt, add more sugar if need be.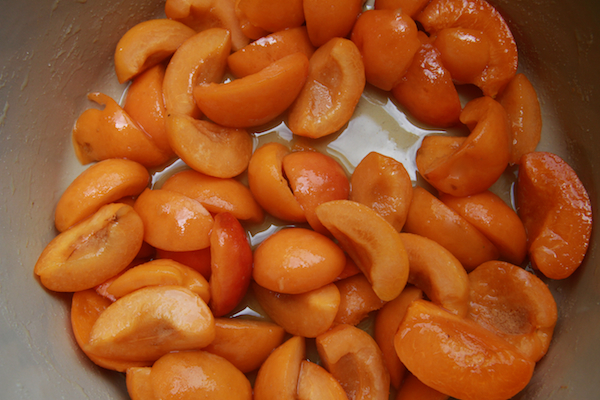 And after about 15-20 minutes you have this!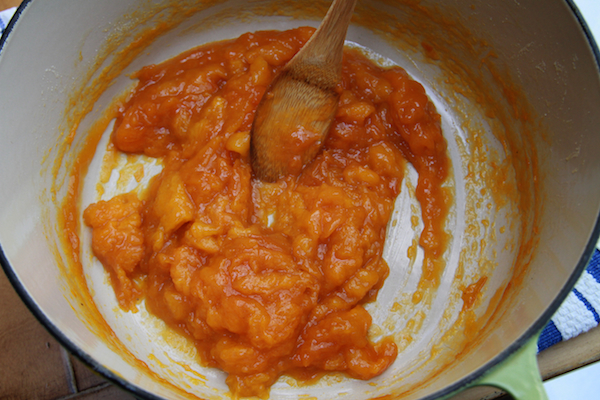 Transfer the jam into a bowl. Let it cool.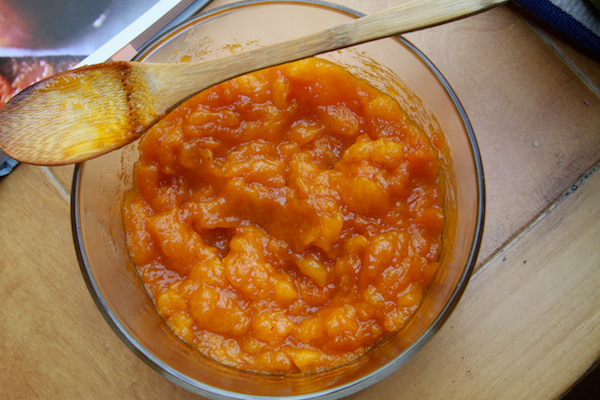 Take a taste…wait… take 5.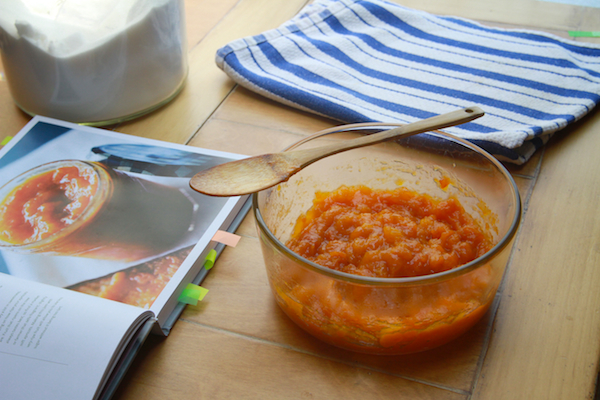 QUICK! Put it on something. Or…just put it in a jar and eat it with a spoon. No shame.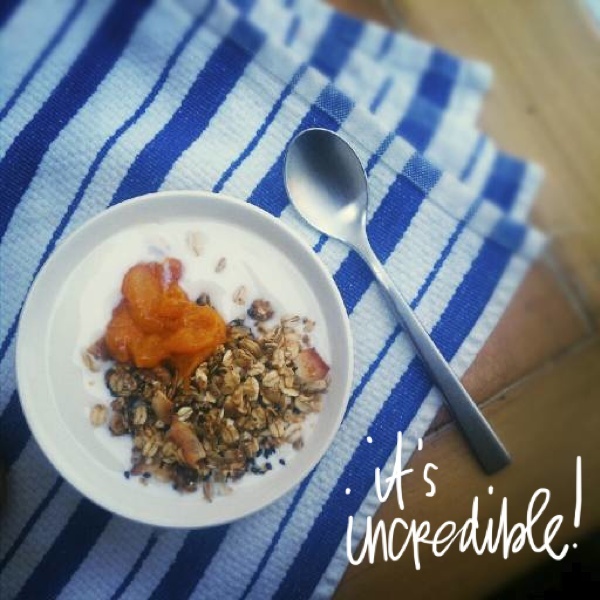 Here it is paired with some yogurt & killer granola (recipe soon).
I also smeared some on herbed flatbread that I can't wait to share with you.

Quick Apricot Jam

makes about 2 cups

recipe from The Sprouted Kitchen Cookbook

1 1/2 pounds ripe apricots
2 tablespoons freshly squeezed orange juice
1/3 to 2/3 cup natural cane sugar
pinch sea salt

Cut the apricots in half (or in quarters if they're on the larger side) and discard the pits. You can leave the skin on; it will break down when the apricots are cooked.

In a large, heavy pot over medium-high heat, combine the apricots, orange juice and 1/3 cup sugar and stir. Once the mixture is warmed through and the juices start to release, add the salt and turn the heat up to medium-high. Continue to cook, stirring frequently with a wooden spoon, until the fruit breaks down and resembles a puree, about 15 minutes. Taste for sweetness and add more sugar, if necessary. When the jam reads 190F to 200F on a candy thermometer, remove the jam from the heat and transfer to a bowl to stop the cooking process. Give it a few more stirs to release the steam and allow it to cool completely. Use at once of transfer the jam to a clean glass jar and keep it in the fridge for up to 2 weeks.