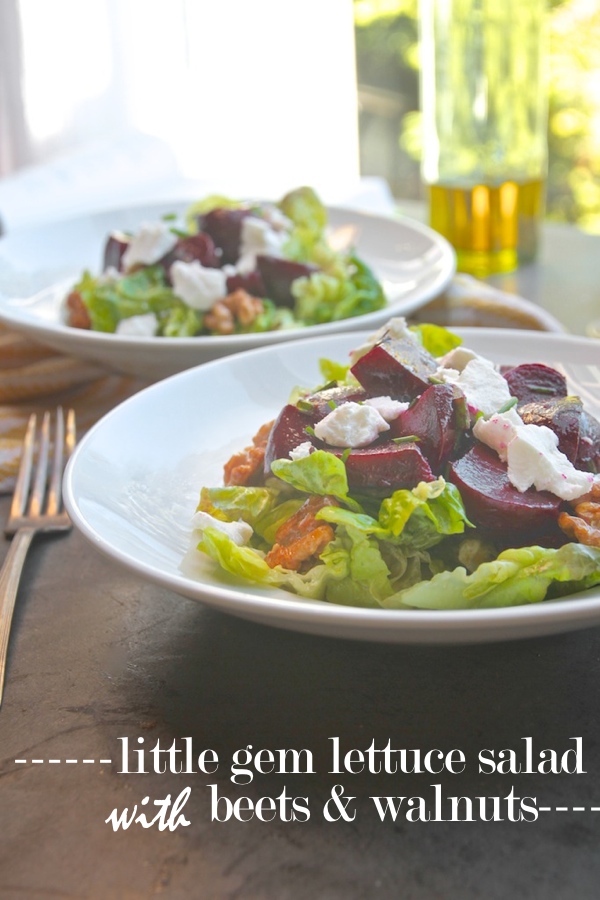 This weekend I survived an epic playdate, a party to watch the Blue Angels, and a fundraiser at school. In between all of that, I made two dozen cupcakes, a batch of blondies for dessert  and this salad for you.  I am falling asleep just typing that last sentence. Whew.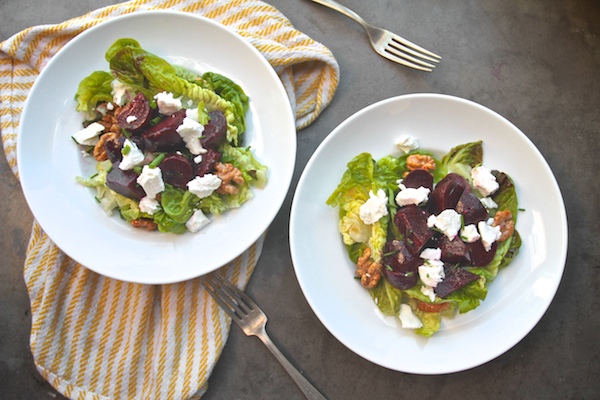 I also had an epic eating weekend which means this week I'm trying to start off on the right foot. What better way to balance the fact that I had two cheeseburgers in less than 24 hours? Salad for dinner— but not like a light salad. A hearty salad. A salad that uses the Honey Candied Walnuts I made last week. A salad that gives me the reset I need.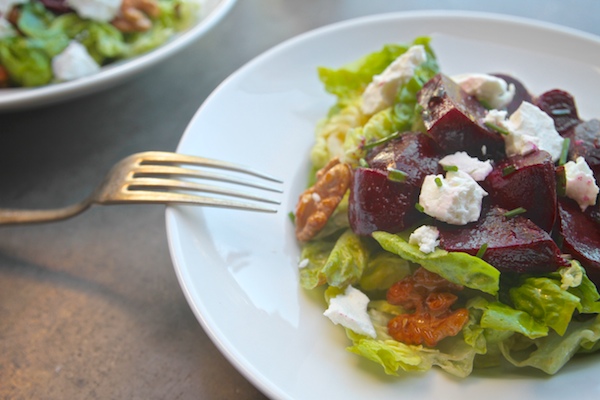 A salad that has tang, supple lettuce leaves, bits of chives, roasted beets and crunchy walnuts with a dijon vinaigrette .  A salad for the beet lover in your life!  That would be my mom 🙂
And we're off.
We're going to roast our beets first.  Put them in a baking dish, drizzle with olive oil. Season with salt & pepper and cover with aluminum foil. ROAST.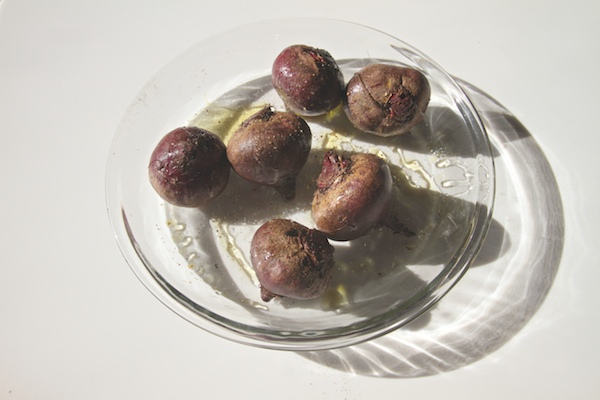 They're all roasted. Pull the skins off. I do this with a few paper towels.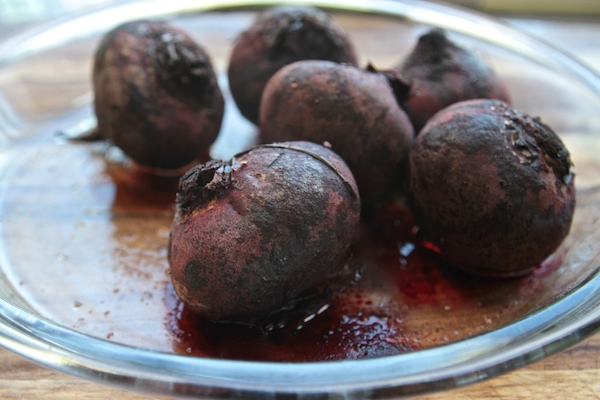 Chop them up!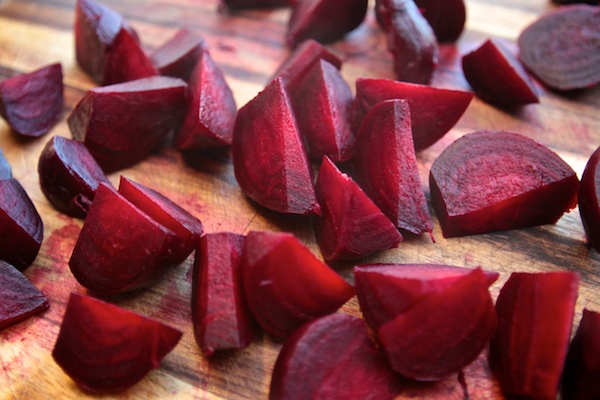 Let's get our salad ingredients together.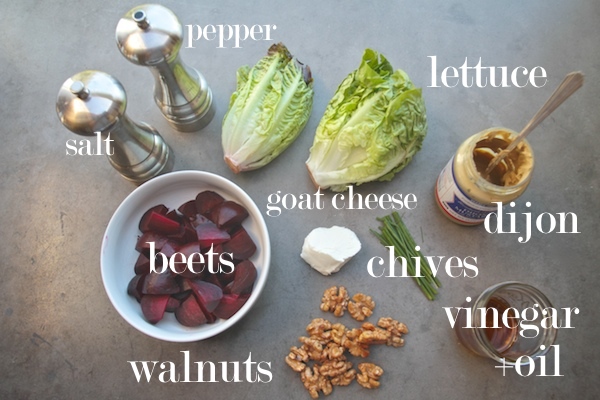 We start with our dressing. It's a simple red wine vinegar/dijon/olive oil base.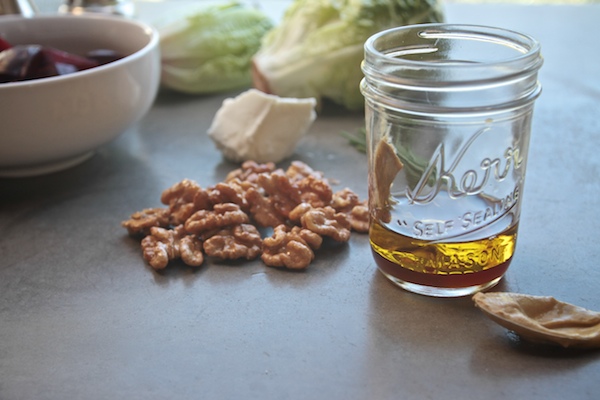 In a bowl we toss the beets and the chives together.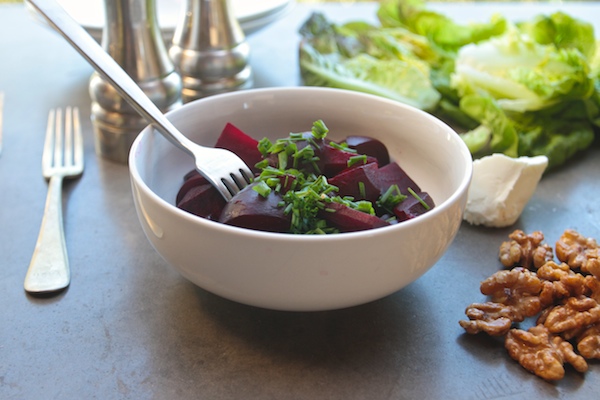 Hello, dressing.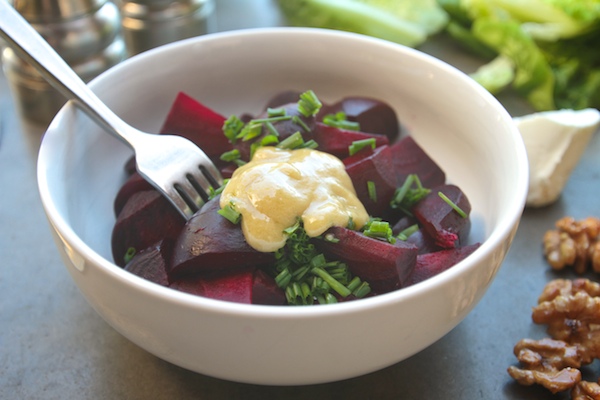 We're doing this so our lettuce doesn't turn pink. I mean, totally go for it if you want.
But I am trying to seduce you with my photos and I'm not sure having pink lettuce would convince you to eat this. Maybe it would! I dunno.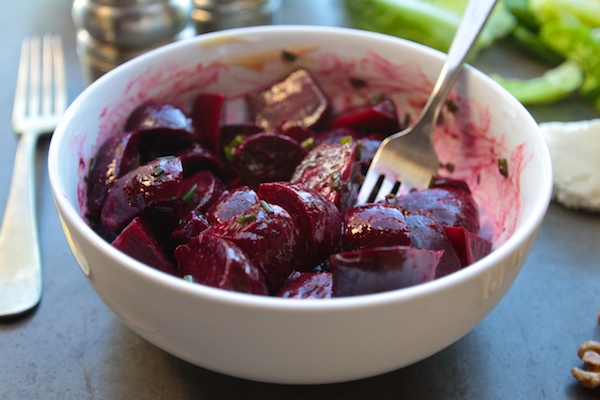 We put the little gem lettuce into a large bowl.
I like this lettuce because you really don't have to tear the leaves into small pieces. They're already wee.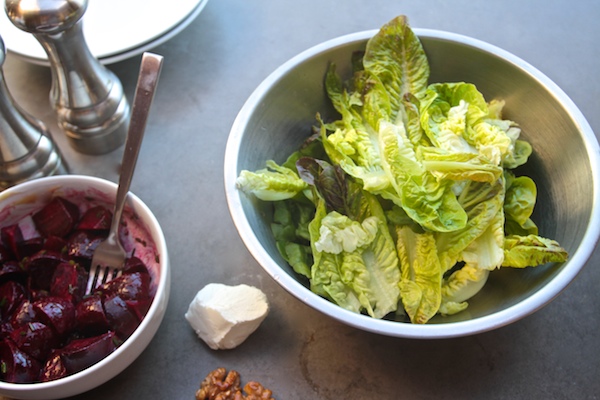 Dressing goes on top. TOSS.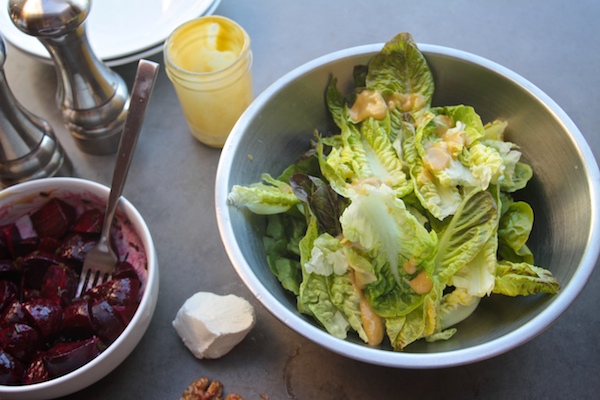 Toss in the nuts. Toss. Season with salt & pepper.
If you don't want to make your own honey candied walnuts, then just toast walnuts in the oven.
They'll be just as good!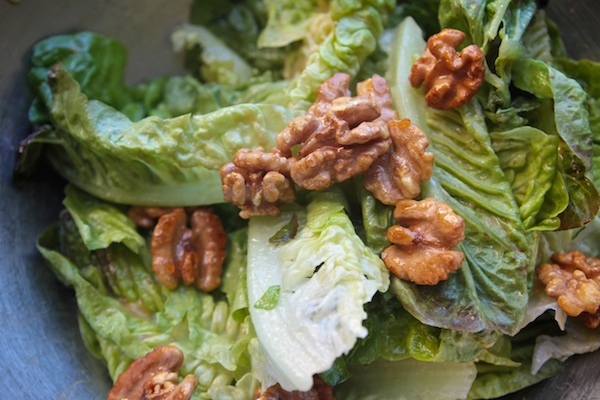 Plate a bed of lettuce on your bowls/dishes.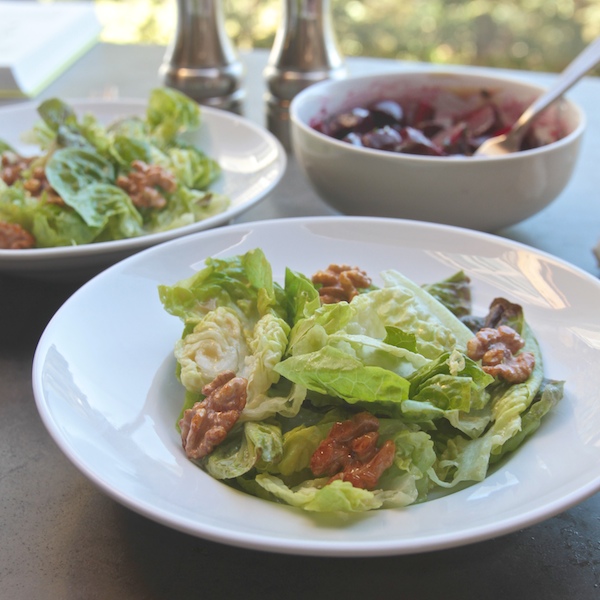 Top with the beets & finish with goat cheese. Extra chives if you please.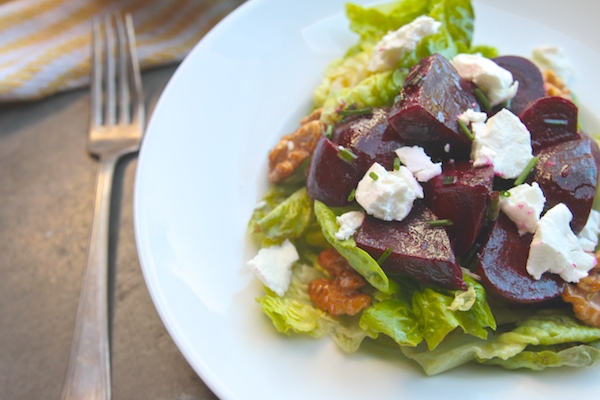 Get in there.  I most certainly did.
Little Gem Lettuce Salad with Beets & Walnuts

serves 2-3

for the roasted beets:

1 bunch baby beets (about 4-5 beets)
a glug extra virgin olive oil
salt & pepper

Preheat the oven to 425F.  Clean baby beets, remove stems and place in a baking dish. Drizzle beets with a glug of olive oil and season with salt & pepper. Cover baking dish with aluminum foil and roast beets for 50-60 minutes, or until beets are tender. Remove from the oven and let beets cool to touch. Take a paper towel and rub the skins off the beets. Slice into quarters and set aside in a medium bowl for salad prep.

for the dressing:

1 teaspoon dijon mustard
2 1/2 teaspoons red wine vingear
3 tablespoons olive oil

In a small jar, combine dressing ingredients. Top jar with a lid and shake until dressing is completely emulsified.

for the salad:

3 cups roasted beets, quartered
1 tablespoon chopped chives
2 small heads little gem lettuce
1/3 cup honey candied walnuts
2 oz. crumbled goat cheese

To assemble the salad, mix the chives in with the bowl of beets. Toss beets with a tablespoon of dressing. If you mix the beets with the lettuce, you'll get pink leaves. In a large bowl, tear the butter lettuce and toss with the remaining dressing. Add walnuts and continue to toss. Plate the lettuce and walnuts into the serving bowls. Top each bowl with half of the beets. Crumble goat cheese on top of the beets and season with salt & pepper.