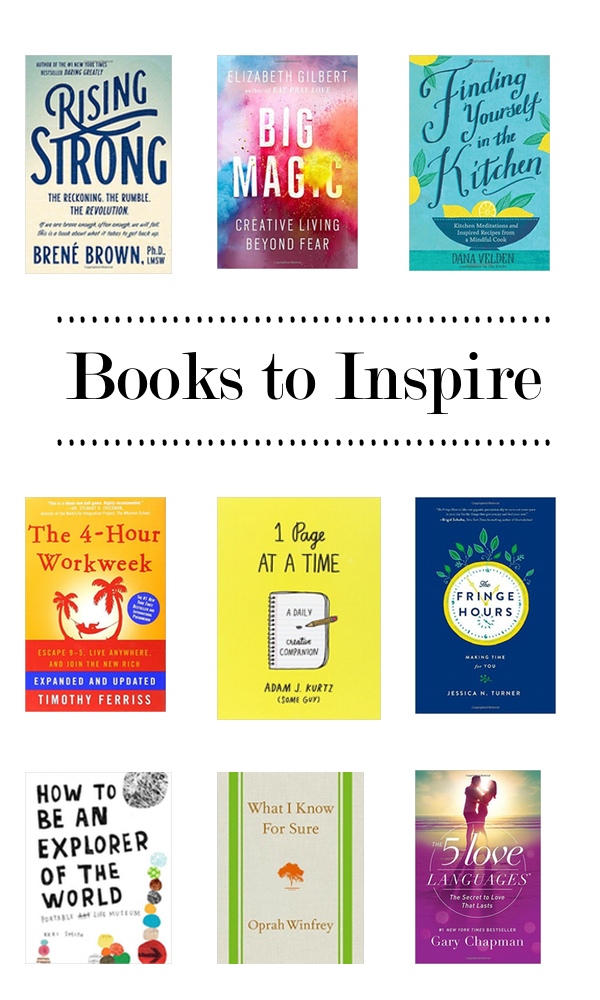 Happy Monday! Hope you're slowly easing into the week. Today I wanted to share some of the books that I picked up recently to help inspire me. My creative brain thrives on new information.
I'm currently feasting on these Books to Inspire:
Rising Strong– Currently reading this one. Already into it. After over a decade of research, Brené Brown writes about how we must lean into the discomfort of the in- between space before we can rise above our struggles. No one ever talks about that messy in-between space but her she does! She breaks it down with The Reckoning The Rumble & The Revolution. I picked this book up after I watched Brené on Super Soul Sunday (love that show!)
Big Magic: Creative Living Beyond Fear  Picked this one up and am looking forward to reading it this winter. As a creative person, I'm hoping it will help me with my own creative process. I'm alllllll ears.
Finding Yourself in the Kitchen Currently reading this one as well. I've been reading a chapter before bed and loving it. I'm definitely interested in exploring my relationship with cooking since I spend so much time in the kitchen. 
The 4-Hour Workweek– Someone recommended this book to me and it comes to my house this week. I'm always trying to find ways to optimize my time and do more in less time. As a mom who is self-employed, I could use alllllllll the help I can get!
1 Page at a Time– This one is FUN. This book has a lot of great prompts to get you writing/drawing/thinking creatively. There are a lot of pages I want to do with Cooper. I'm looking forward to rainy day drawing sessions coming soon.
Fringe Hours: Making Time for You– Like I said before…time management is something I'm always trying to work on. I'm hoping that I might find some new strategies in this book so I can claim a little time for myself each week.
How to Be an Explorer of the World: Portable Life Museum  – I feel like I spend a lot of time exploring through My Everyday Life series, but I want to be inspired to see MORE and see things DIFFERENTLY. I thought this book looked fun when I was looking through the Amazon photos.  There are a lot of cool lists in the book and you know how I feel about lists…It comes this week and I'm excited to look through!
What I Know for Sure – I read this book at the beginning of the year and loved it. I want to go back and look at all of things I highlighted on my first reading. I wonder what has changed in my life since I read it last. Should be interesting.  Also…maybe I just miss Oprah.
The 5 Love Languages– A few years ago I went online and read all about love languages. It comes up a lot in conversations, so I thought that I would do a little more research and actually read the book. When Casey and I figured out what our individual love languages are, it helped both greatly to see things from each other's perspectives. FYI- My love language is Acts of Service & Quality Time 😉