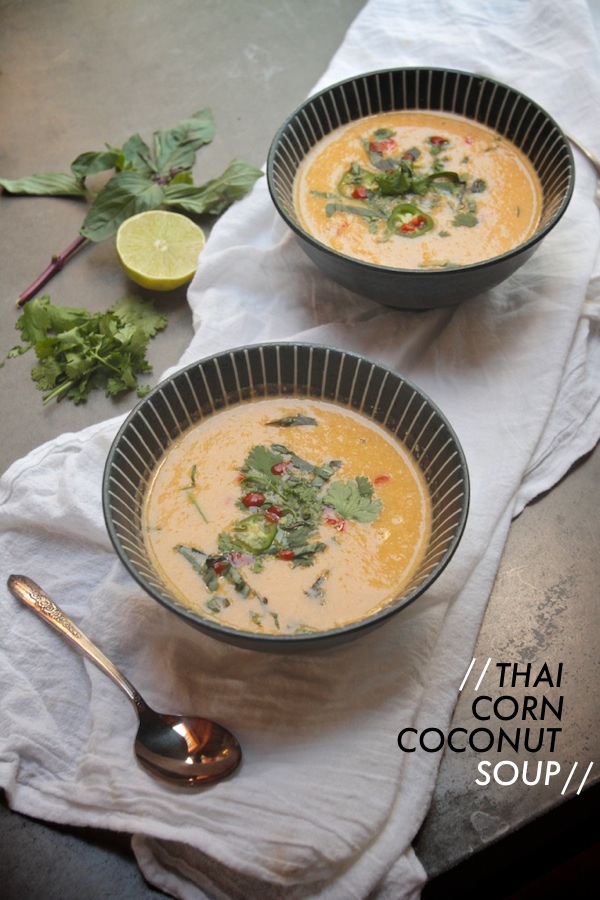 I spent about 4 years working in a cubicle, so I know how it feels to be stuck at work while you see your friends living it up in the summer. I can imagine it's even worse since we all check in to what other people are doing on Instagram.  Summer seems so out of reach when you're sitting under florescent lighting, working on spreadsheets and trying to STAY WARM from the incessant air conditioner. It's like… SUMMER??! WHAT SUMMER?  I'd give anything to be a bored 9 year old, playing bank with old Monopoly money on our summer vacations in Tahoe.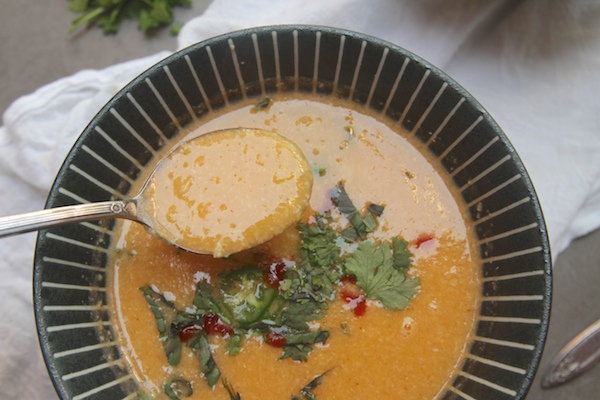 Here's a soup that will help get you through the week at work. We exploit SUMMER CORN and make a beautiful Thai coconut soup with it. It's both sweet and spicy as well as light and hearty. I'm pretty sure it would be great with an addition of rice (if you'd like to stretch it out even more) and some cold avocado. I might go crazy and serve it over rice with grilled shrimp on top! What do you say about that?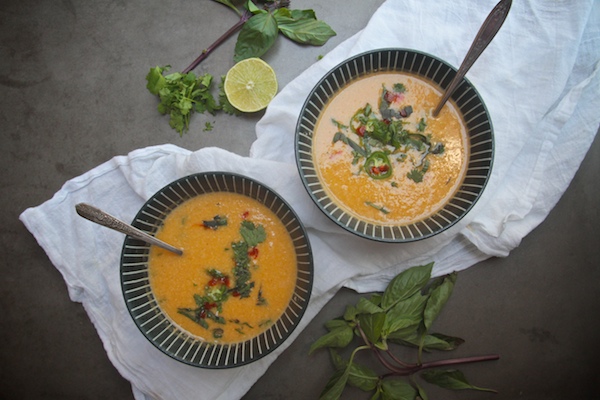 So if you're stuck in cubicle land, you can bring the summer INTO your workspace with this soup. It's sure to warm you up and make you appreciate the season's best even if you're sitting behind a desk with a view of your coworker's crazy origami collection.
And we're off!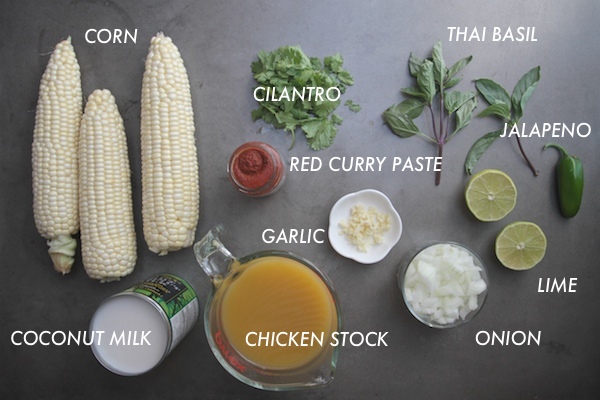 I always keep a jar of this curry paste in my fridge. The green curry paste is great too!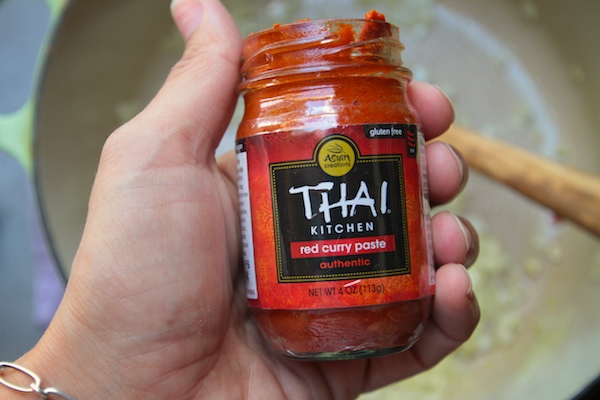 We sweat onions and garlic in a large pot.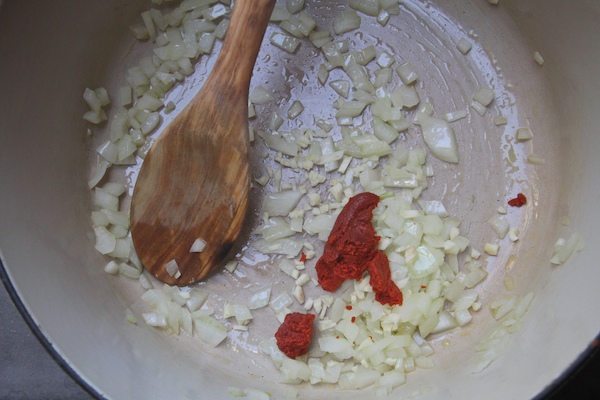 We stir in the red curry paste.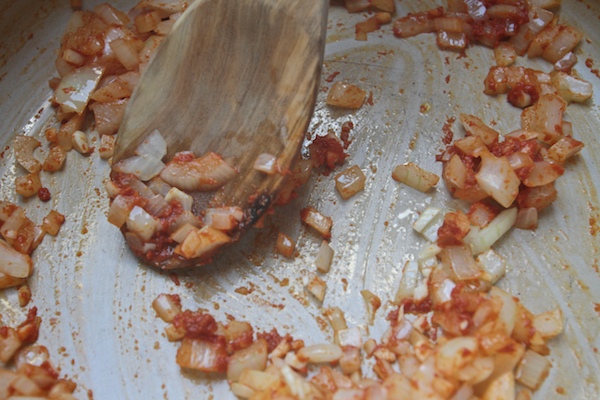 Then we add the coconut milk, the chicken stock and the corn and stir.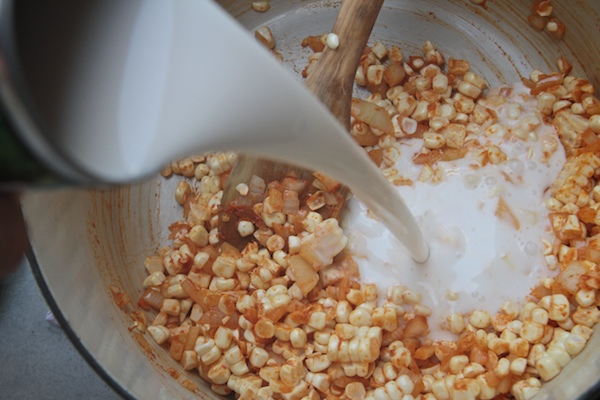 We bring the soup to a boil and then we simmer. We want to make sure the corn is fully cooked because we are going to puree it.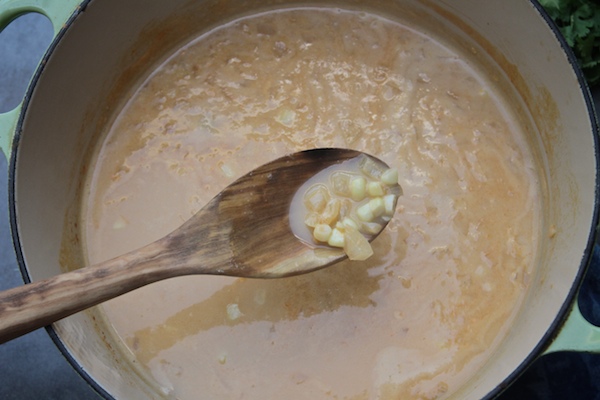 We bust out our immersion hand blender and BLEND.  You want to make sure there are no big corn chunks.
We want a smooth soup.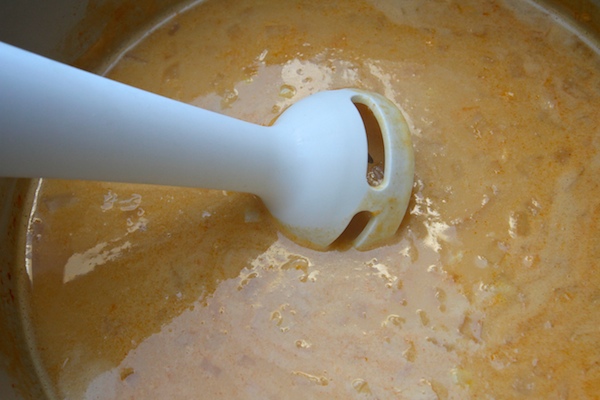 If you'd like to have some texture to your soup add more corn in!
I bet red peppers and mushrooms would be great too.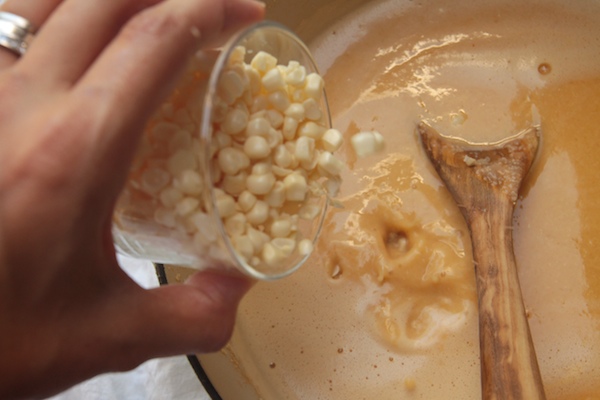 After we cook the soup a little more with that corn, we season with salt & pepper and add some fresh lime to brighten up the flavor.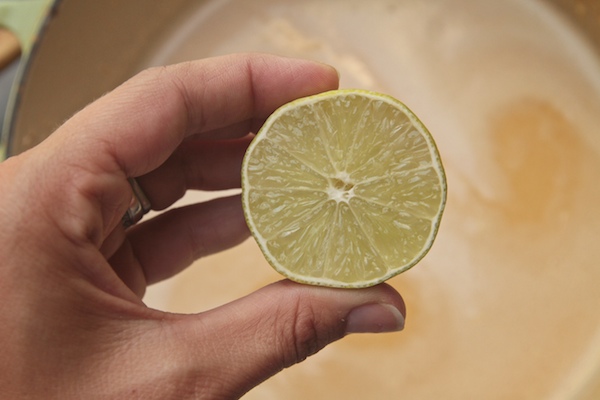 And then we get our GARNISH PARTY together!!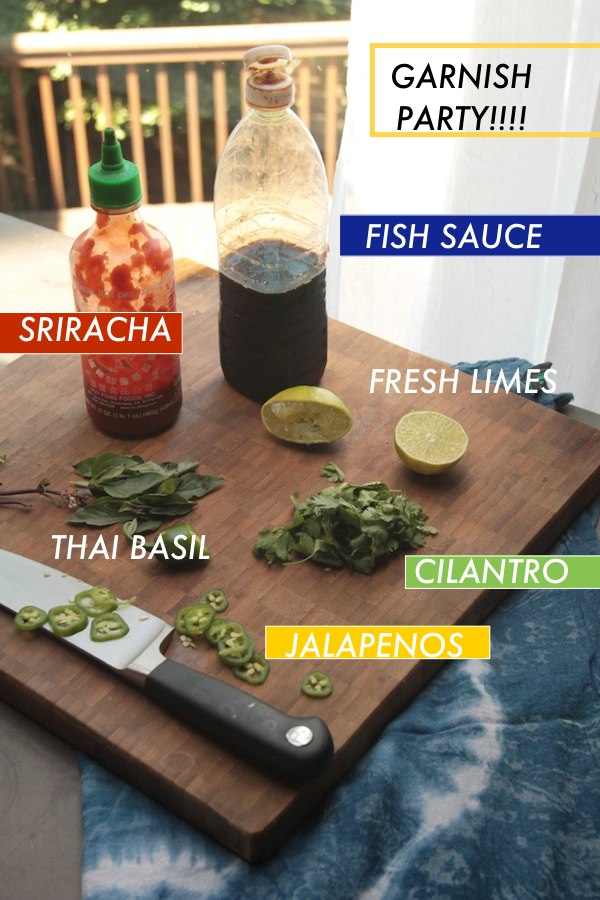 Soup goes into a bowl. I added fresh thai basil, jalapeño, and sriracha on top of mine.
Casey gets a nice splash of fish sauce in his.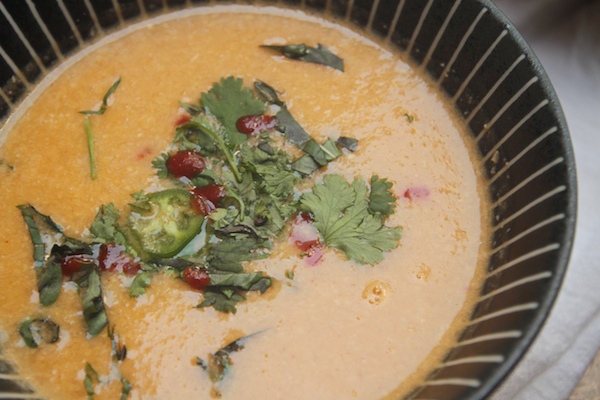 I plan on stashing some in my freezer…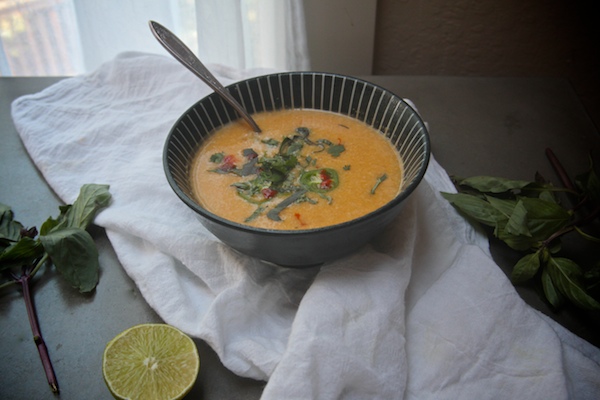 So I can have a taste of Summer when I really need it this Fall.
Thai Corn Coconut Soup

serves 4

1 glug olive oil
1/2 medium yellow onion, chopped
2 cloves garlic, minced
1 tablespoon red curry paste
3 ears corn, shucked & divided (about 3 cups total)
2 cups chicken stock
1  15oz. can coconut milk
fresh lime juice
sea salt & fresh ground pepper
5-7 thai basil leaves, chiffonade
1/4 cup fresh cilantro, for serving
1/2 fresh jalapeño, thinly sliced, for serving
fish sauce, for serving
sriracha, for serving

In a large pot, heat oil over medium-high heat. Add onion and garlic and cook until onion is translucent, about 6 minutes. Stir in red curry paste and cook for another minute. Add 2 cups corn, chicken stock and coconut milk to the pot and bring to a boil, reduce heat, and simmer, stirring occasionally, until corn has softened and liquid is slightly reduced, 30-35 minutes.

Let soup cool slightly, then puree in a blender or with an immersion blender until smooth.  Reheat in the pot with reserved cup of corn and cook for another 15 minutes until corn is tender.  If you find the soup to be thick, thin with water to desired consistency. Add a squeeze of fresh lime juice and season with salt & pepper to taste.

Divide soup among bowls, garnish with freshly chopped thai basil, a few slices of jalapeño, a splash of fish sauce (if you desire) and  a drizzle of sriracha.