I loooooooove baked potatoes. Always have. Always will. When I don't have much time to throw dinner together, I make myself a baked potato with broccoli. Cheddar is always in there somewhere.  Sometimes I exploit the microwave and other times I bake them. I had some leftover cooked broccoli from another recipe so I popped a few potatoes in the oven and….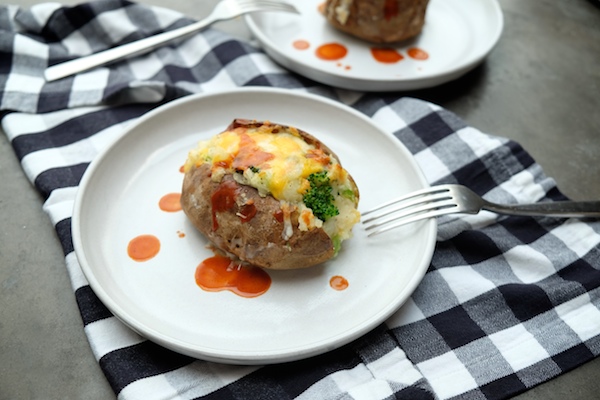 These cheesy twice baked potatoes with broccoli were born!  What's not to love about twice baked potatoes? This concoction combines butter, cheese and broccoli- ALL GOOD THINGS. I also added a little bit of hot sauce for good measure.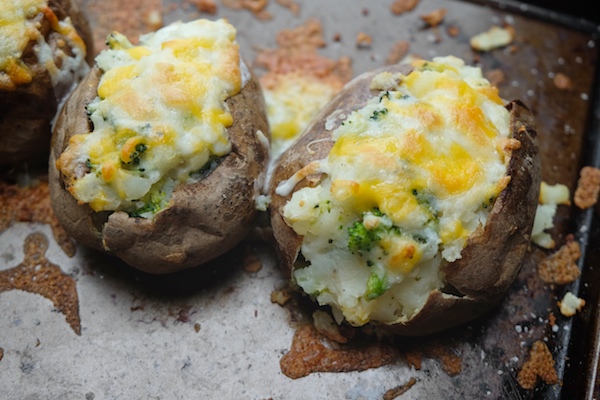 Make yourself a batch and then eat them for the next few days!
Your future self will thank you. Your current self needs to board the twice baked potato train. Seriously.
Let's gather our ingredients: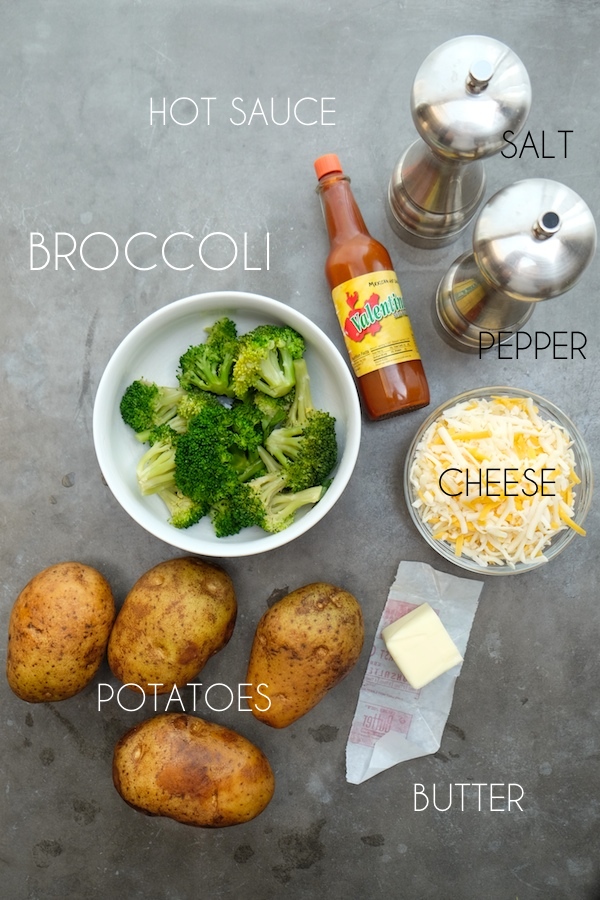 First we are going to bake the potatoes. 425F for about 50-60 minutes.
This means you have some free time to play while this happens.
What can you do in an hour?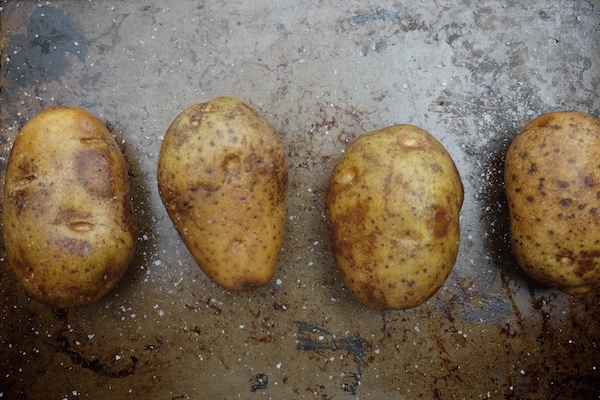 Chop up the broccoli.
I use my trusted kitchen shears for this because I didn't feel like messing up a cutting board.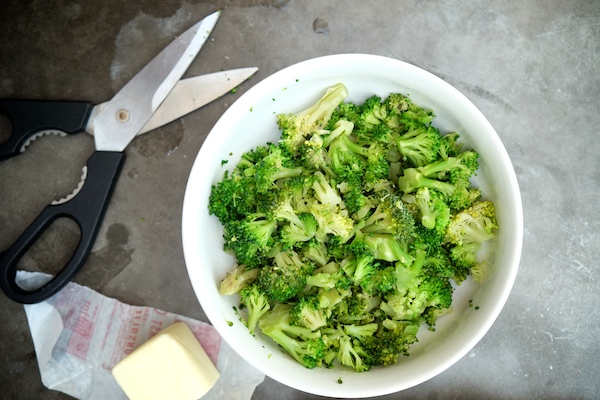 Potatoes are done. We cut them open being careful not to wreck the crispy skins!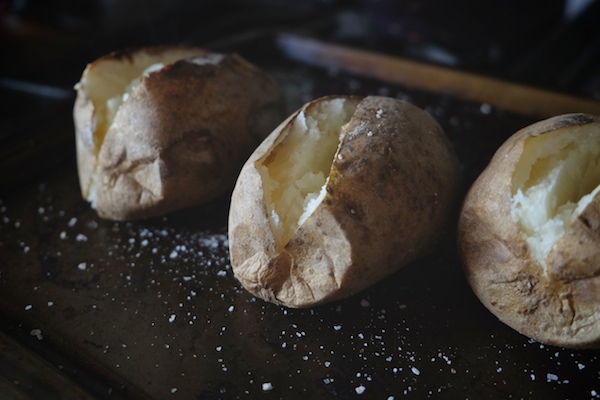 SCOOP out the filling.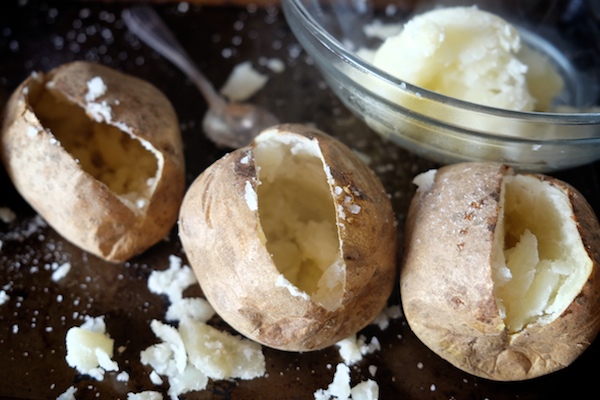 Take the potato innards and mash them with the butter.
Let's get it melted!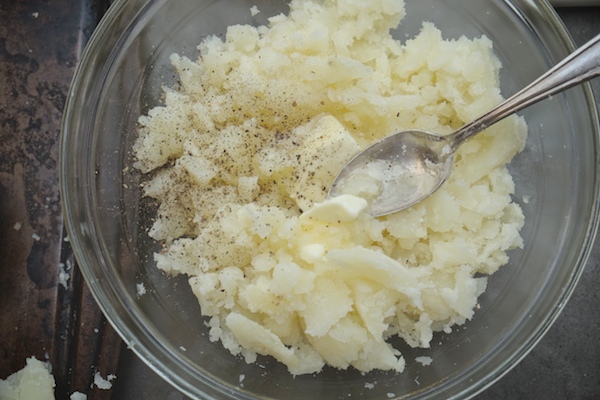 In goes the broccoli, half of the cheese and a few dashes of hot sauce and mix!
Those limes were for something else…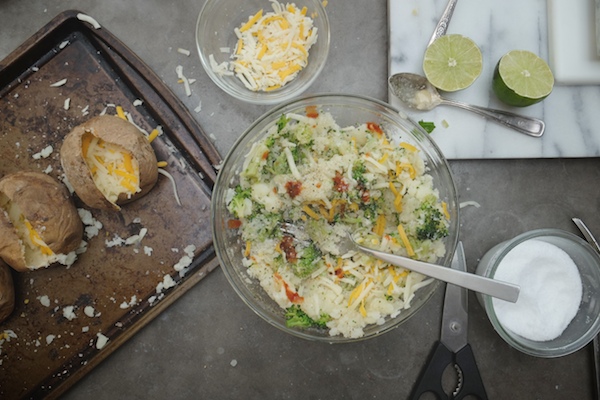 I forgot to tell you that we line the bottom of the potatoes with cheese…..
So basically what I am saying is that the potatoes are being SANDWICHED with cheese.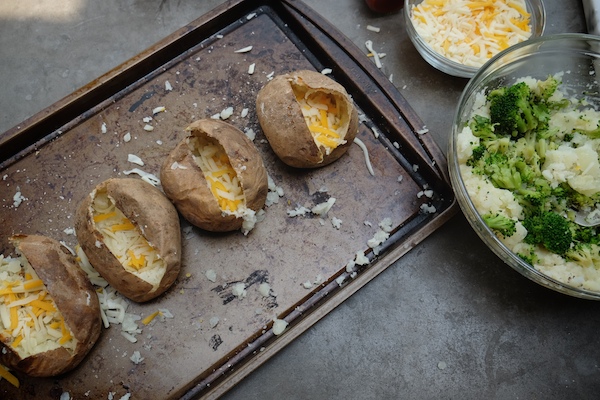 Hello filling.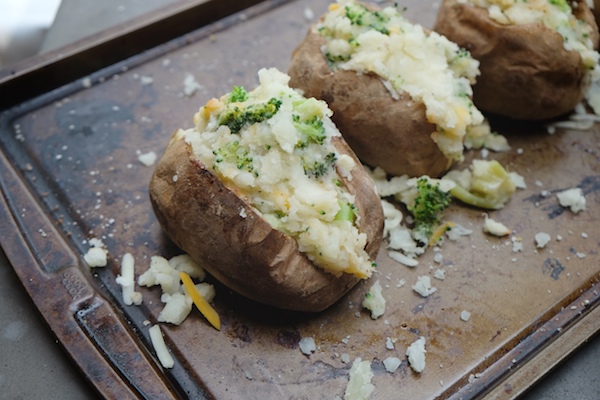 Top with cheese and BAKE.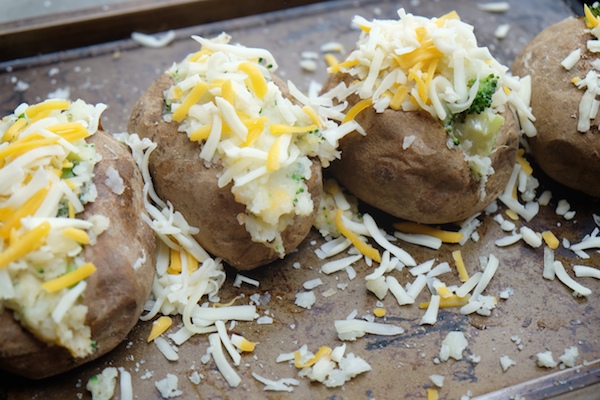 I mean…..Dibs on the crispy cheese…..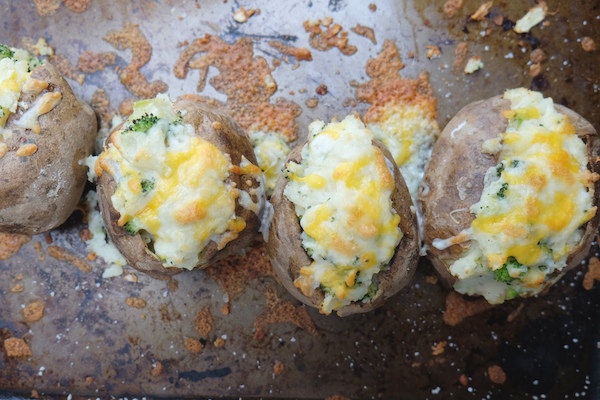 ALL MINE.
Thanks for reading Shutterbean!  If you'd like check out my everyday life, follow me on Instagram and be sure keep in touch via Facebook, Twitter,  Bloglovin,  Pinterest, or subscribe via email to get new posts delivered to your inbox.
Twice Baked Broccoli Cheddar Potatoes

serves 4

4 russet potatoes
2 cups cooked broccoli, roughly chopped
4 tablespoons salted butter
1 1/2 cups shredded cheddar cheese, divided
4-5 dashes hot sauce
salt & pepper

Preheat oven to 425F.  Poke each potato with a fork and place on a baking sheet. Drizzle potatoes with olive oil and season generously with kosher salt.  Bake in the oven, flipping occasionally until completely cooked, about 50-60 minutes.

Remove potatoes from the oven and let cool to touch. Cut the potatoes in half and scoop out the filling. Place potato filling in a large bowl and stir in butter. Season with salt & pepper and stir in chopped broccoli, half of the cheese and 4-5 dashes of hot sauce. Add more if you want a spicier baked potato. Set broccoli filling aside.

Divide the remaining cheese in half and line the bottoms of each cooked potato with 2-3 tablespoons cheddar cheese. Carefully stuff each potato with the filling and top each potato with the what's left of the cheese. Place potatoes in oven and bake for another 15-20 minutes, or until cheese starts bubbling. Serve immediately.