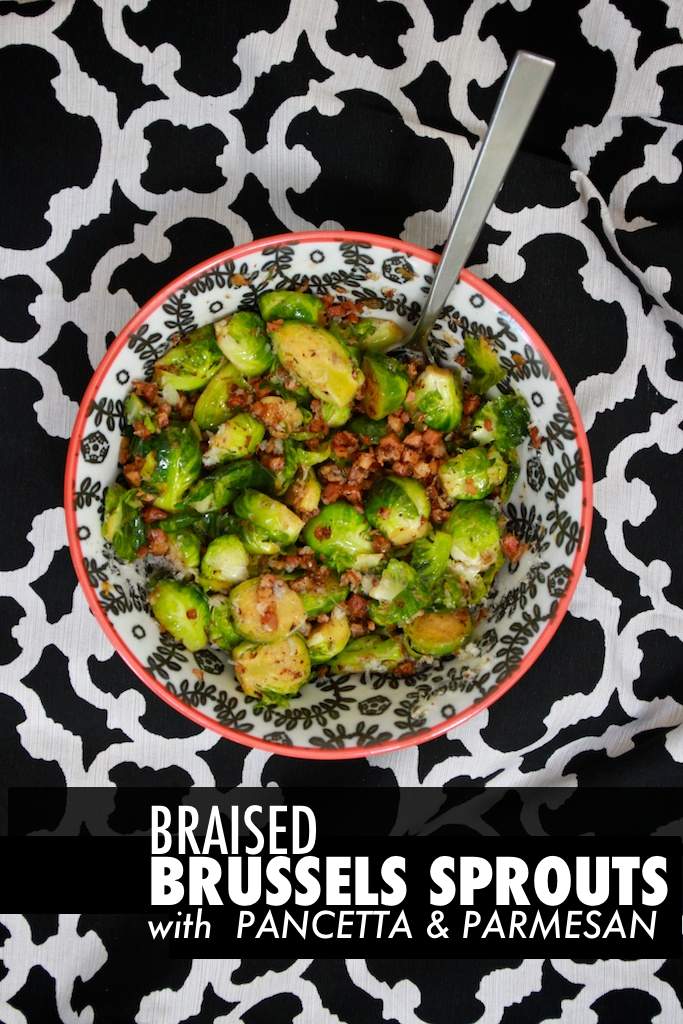 Is it too early to start thinking about Thanksgiving? I mean… I've seen Christmas decorations at Costco since August, so I think we're cool. Right? One of my favorite things about Thanksgiving is the side-dish action. Gimme mashed potatoes, stuffing & sweet potaotes and I'm totally cool. No need for turkey, but I'll take some gravy if you've got it.  Oh wait, shouldn't I be eating something green? I'll take this braised Brussels Sprouts recipe, please.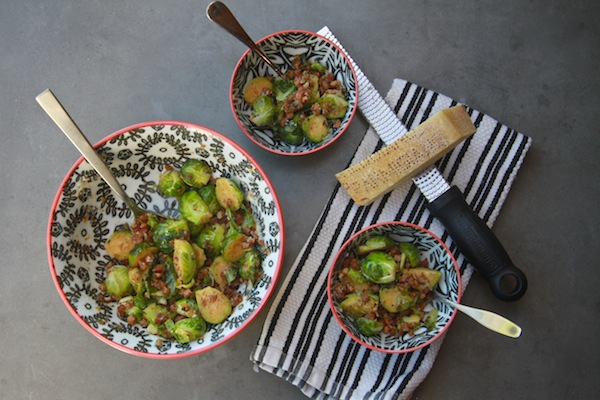 The Brussels Sprouts here are super tender and almost creamy with the addition of the Parmesan. The browned pancetta & onions create a hash-like quality to the mixture. If some turkey gravy trailed off into my mound of sprouts, I'd probably shed three solid happy tears. I might even punch somebody; they're that good.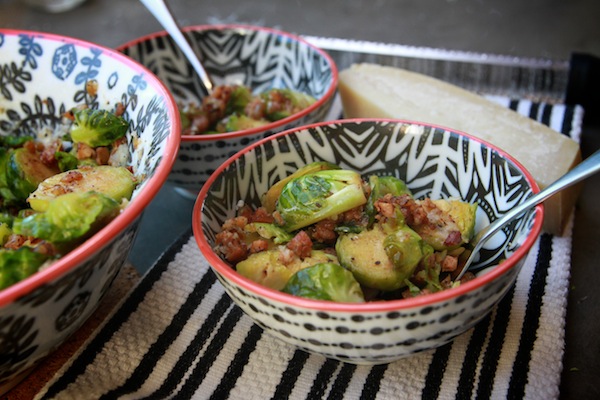 But then again, this is one of those side-dishes that can turn into a WHOLE meal because you simply CANNOT stop at one helping. I gave Casey a small bowl and then later I saw him standing over the counter shoveling more in his mouth. Good sign. Good sign.
And we're off!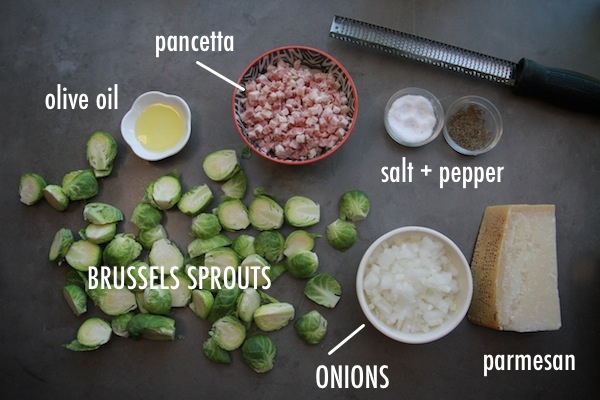 Put the pancetta in a medium pan with olive oil and render the fat over medium heat. Add the onions.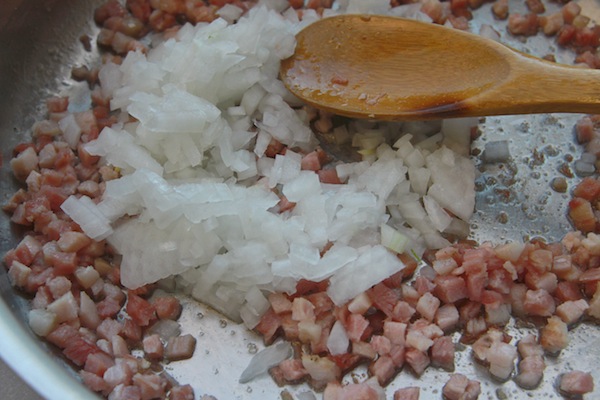 While they're starting to brown, grate your cheese. I do it over parchment for easy clean up.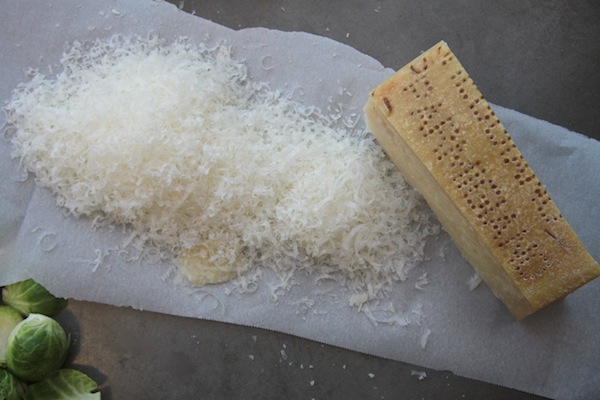 When the onions & pancetta have browned a bit, add in the Brussels Sprouts!
After about 5 minutes the sprouts will get super green. Add in 1/2 cup water. We're braising!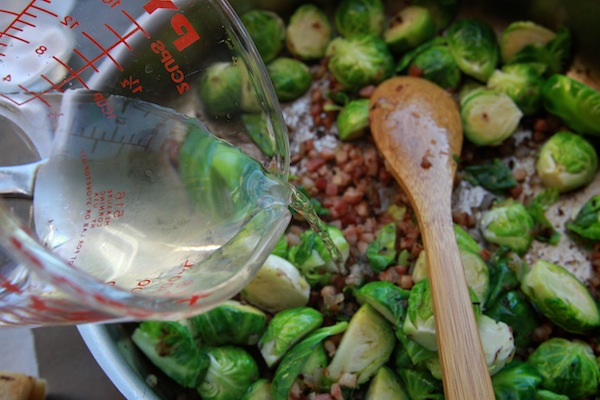 After the sprouts have cooked for about 10-15 minutes (until tender!) put them in a serving bowl and mix in the cheese.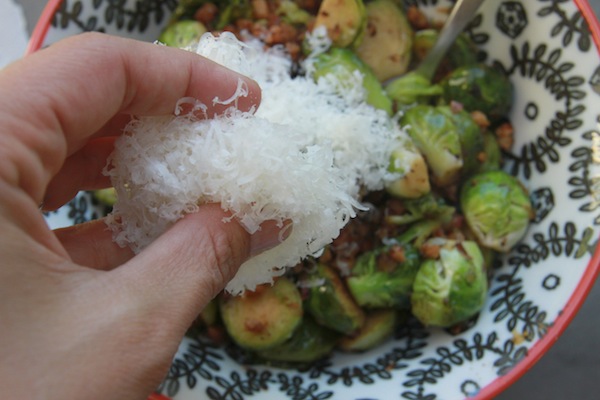 Uh huh.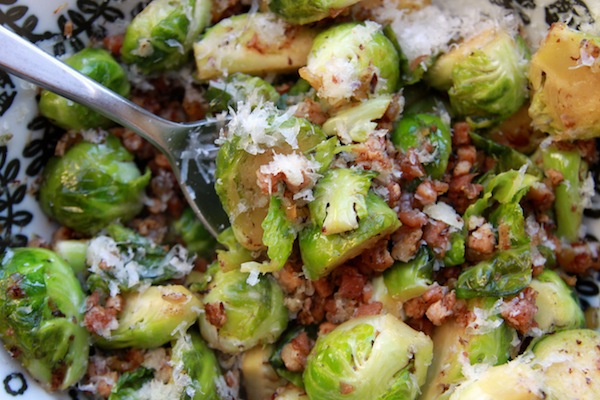 That's what I'm talking about!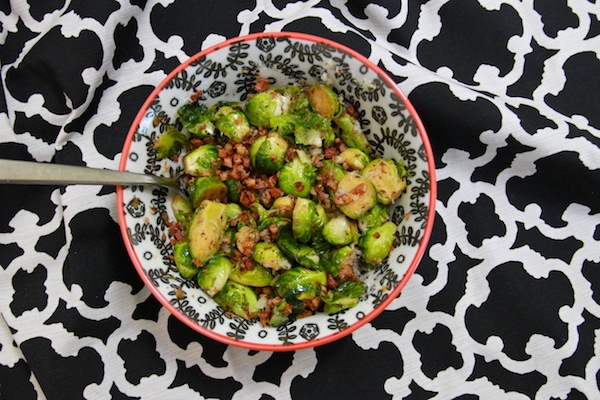 Meat, dairy, vegetable….all in one dish!
This recipe comes from the cookbook, Bountiful: Recipes Inspired by Our Garden by Todd Porter & Diane Cu from White On Rice Couple. I've been following their blog FOREVER and I'm so happy to see their work in print…ON MY KITCHEN COUNTER. Their cookbook is absolutely gorgeous and filled with all of my favorite kinds of dishes. It also makes me want to start scheming for our future vegetable garden next year!  I have a spinach salad coming your way soon from their book. Stay tuned!

Braised Brussels Sprouts with Pancetta & Parmesan

serves 4

recipe from Bountiful: Recipes Inspired by Our Garden

2 teaspoons olive oil
5 oz. pancetta, diced
1/2 medium onion, diced
1 lb. small to medium Brussels Sprouts, trimmed & halved
1/4 teaspoon kosher salt
3/4 teaspoon freshly cracked pepper
1/2 cup freshly grated Parmesan

In a medium pan, heat the oil over medium heat. Add the pancetta and cook until the fat begins to render from the meat.

Add the onion and cook until brown. Add the Brussels sprouts and stir to coat them evenly with the oil and rendered fat in the pan. Cook over medium heat for about 5 minutes, until the Brussels sprouts turn a bright green color.

Add 1/2 cup water and salt & pepper to the pan. Braise the Brussels sprouts over low heat for 10-15 minute, or until they are tender.

Transfer to a serving bowl. Stir in the Parmesan and toss to combine. Serve warm.