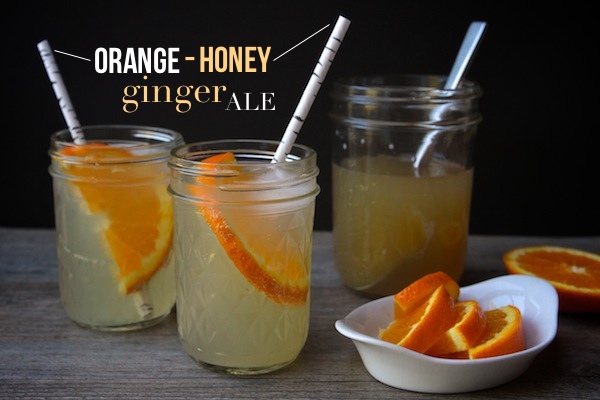 Spring is starting to show its face here in California. We've had a few nice days recently. They were the kind of days where I deeply regretted my long sleeve shirt & boot choices. I should probably look at the weather app on my phone before I get dressed. I have a feeling if I start now, I won't stop. I can get rather obsessive with weather.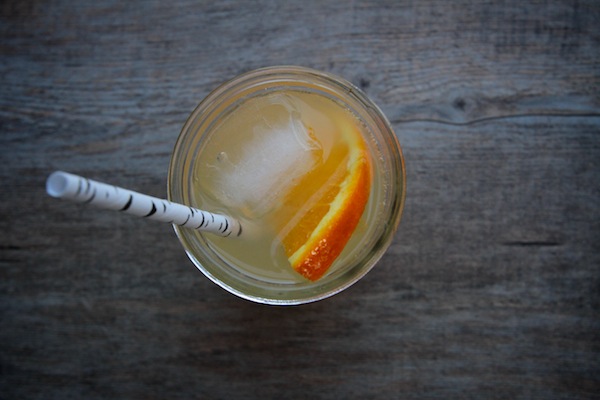 Blossoms are appearing on trees and it's a nice change of pace to see some blocks of brilliant pink & white amongst the skeletal limbs of trees on our way to school in the morning. My daydreams are focused on warmer weather. Sunshine, citrus and things that make me feel good when it's sunny…. like big jars of Orange Honey Ginger Ale on the back porch while Cooper digs muddy trenches for his big Tonka trucks. Birds chirp and seed packets wait to be organized.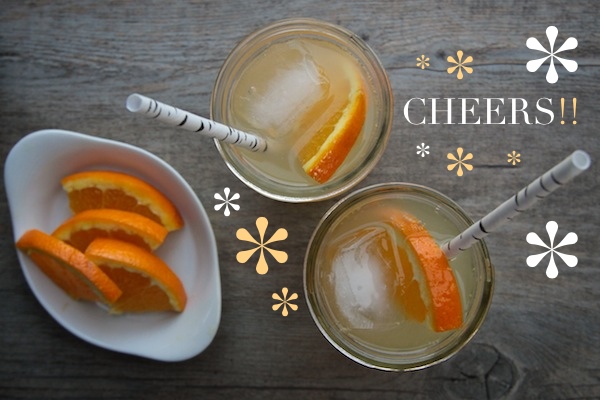 This orange honey ginger syrup reminds me of perfumed orange blossoms and spicy ginger beer. It makes a wonderful mixer if you're wanting to make a boozy drink. Rum, vodka, bourbon & gin are all welcome. Just probably not all together…at the same time.
I hope that sun is shining in your neck of the woods. And if it's not, here's a little bit of sunshine in a jar for you.
And we're off!
Let's make the syrup!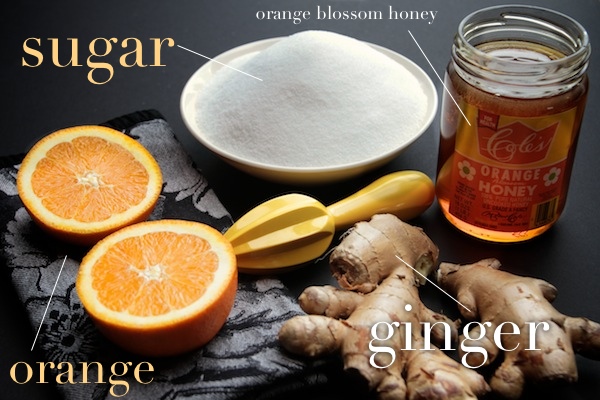 Water, honey, fresh orange juice, and sugar go into a big saucepan.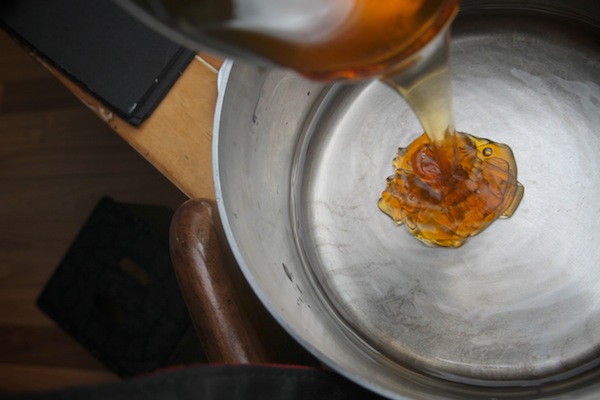 Grate your ginger. If you don't have a ginger grater, you should get one! They're GRATE .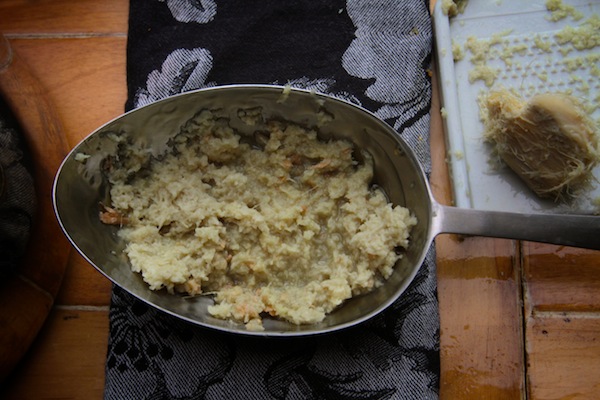 Ginger gets mixed in. You simmer it on the stove for a bit.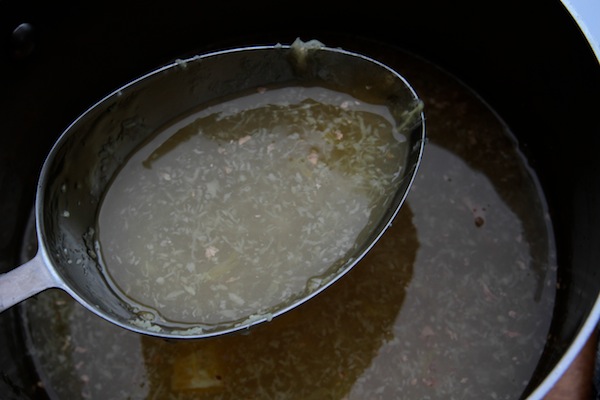 Strain the syrup.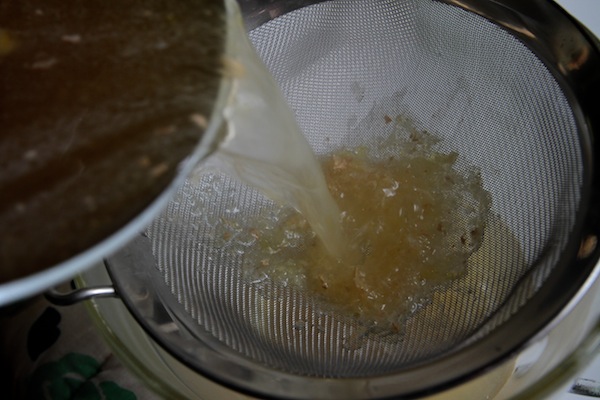 Let it sit.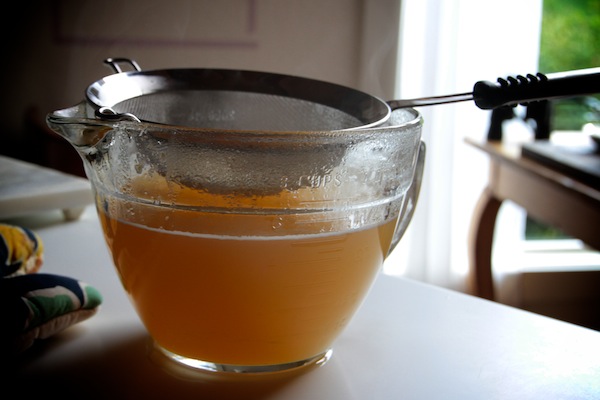 Jarring it up! I gave two of these away and kept the middle one for myself.
It makes great gifts. It will last up to two months in the fridge.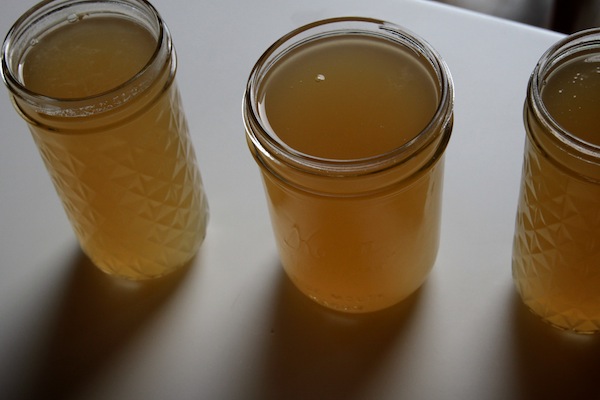 Now let's show you how you can make a drink with one.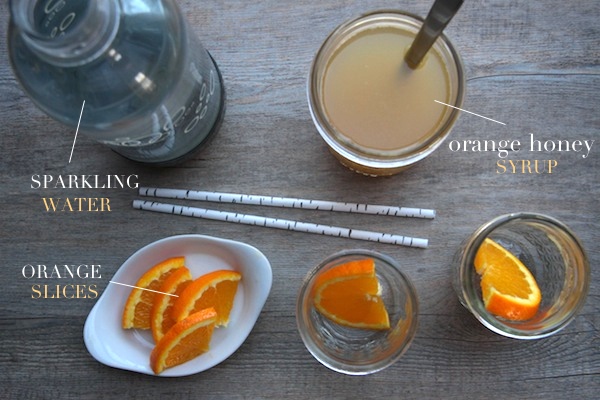 Take out a spoon and put some syrup in a cup.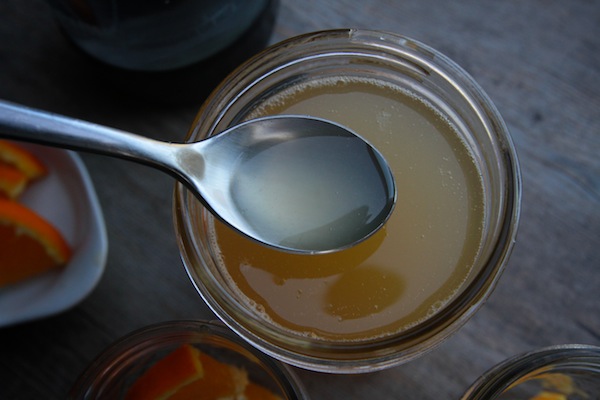 Add an orange slice to the cup and top with sparkling water. Give it a stir.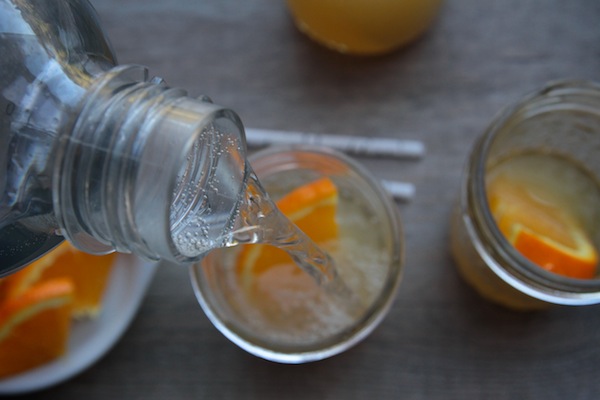 And it's drinking time! If you want, you can top it with some more OJ or you can add some booze in it.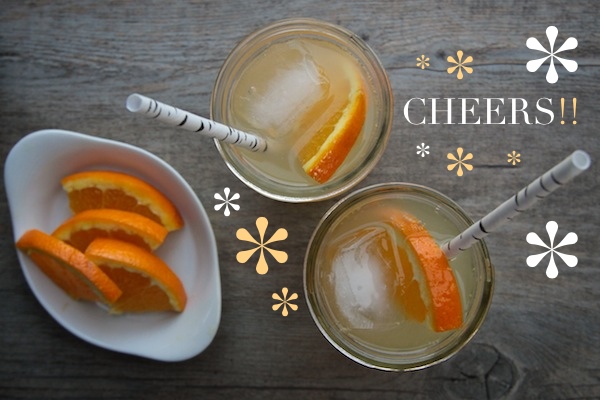 It's sure to make the happiest of happy hours. Cheers!

Orange Honey Ginger Ale

Mmakes about a quart of syrup

recipe from the Homemade Soda Cookbook

1 quart water
 2 1/4 cups sugar
3/4 cup mild honey, such as orange blossom
3 oz. fresh ginger, peeled & grated (about 1/2 cup)
juice of 1 orange

Combine the water, sugar, honey, ginger and orange juice in a large saucepan, and stir to combine. Bring to a simmer over medium heat, stirring occasionally until the sugar dissolves, then let simmer, uncovered for 30 minutes. Remove from the heat, let cool for 30 minutes, and strain out the solids.

To make Orange Honey Ginger Ale:

3-4 tablespoons orange honey ginger syrup
1 tablespoon orange juice
1 1/2 cups seltzer

Pour the syrup and juice in a tall glass filled with ice. Add the seltzer and stir until blended.

(this syrup can be stored in the refrigerator for up to 2 months)