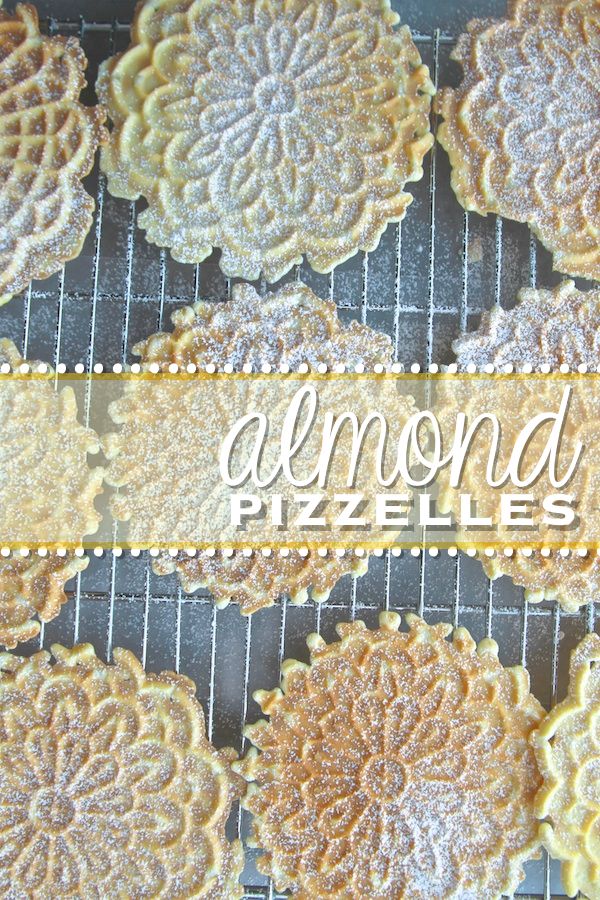 My grandma is one of those people who never shows up to party empty-handed. This is just one of the many reasons I'd like to be her when I grow up. I always remember being excited to see what she had in her hands when she walked through the doorway of my parents house. Whatever it was, I knew it was bound to be good. Of course it was always a treat when she brought pizzelles with her. And in my grandma's fashion of recycling before recycling was cool, her cookies would be in a decoy container so the real fun was to see what was inside. We always knew that meatballs were in an emptied milk container. Pizzelles had to be in something HUGE. Just look at what a stack looks like!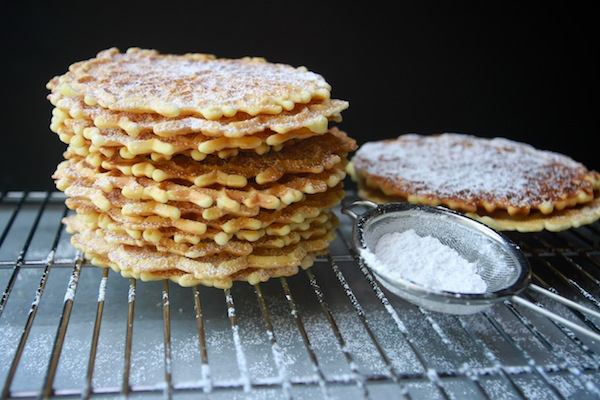 Before my grandma left to live in a retirement home in New York, she went through her kitchen and put aside a few things for me. I accepted her pizzelle maker. with great pride because I knew that with it in my possession, I had the power to make my father happy & nostalgic for his childhood. Now, it's something that will help build memories in our own household. Cooper was an instant fan.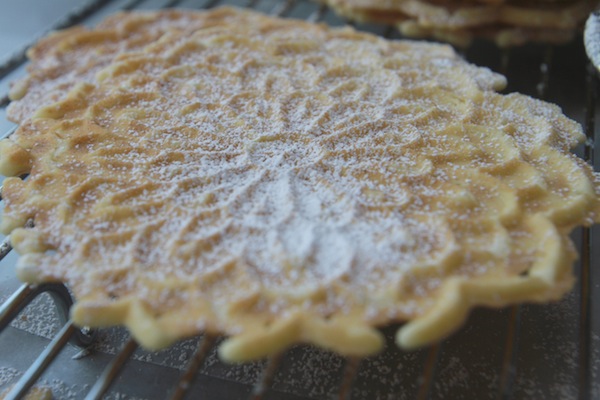 I stood in my kitchen the other day and made pizzelles thinking of my grandma. I thought about how she doesn't have a computer and how much I wish I could show her a picture of these pizzelles.  I know she'd be proud of me and I know she'd be the first to tell me to put anise seeds in the batter. I ran out, Grandma! These cookies are crisp and delicate, slightly almond-y, and perfect with a cup of coffee. It's like eating a waffle cone before it's been shaped.  I can just imagine my late grandfather eating a few with a demitasse cup of espresso spiked with anisette. Gives me warm/fuzzy feelings.
And we're off! I love that this recipe requires pantry/kitchen staples.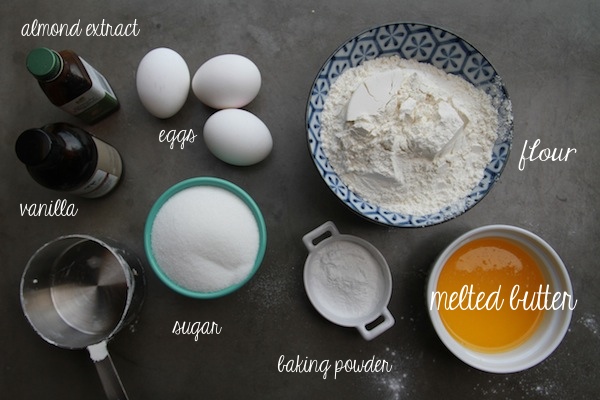 Eggs and sugar get a little whisking.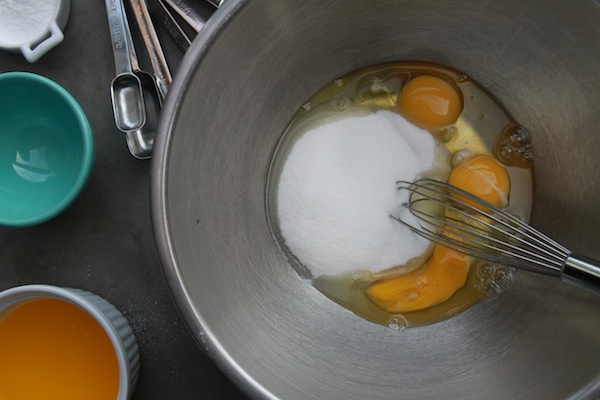 In goes the melted butter that looks more egg yolky than my egg yolks!
Vanilla and ALMOND EXTRACT show up to the party. If you want you could add anise seeds, grated citrus zest or another extract that you fancy. I love that you can customize this.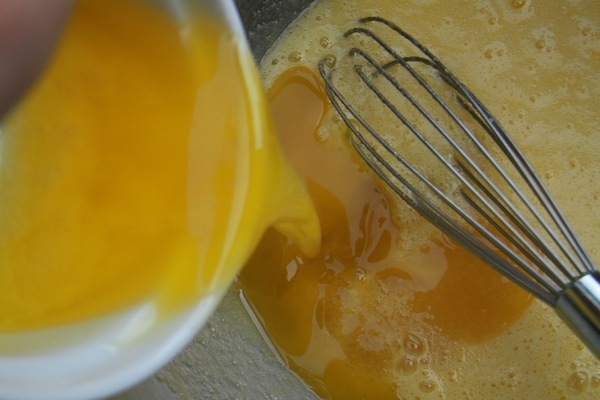 Next we sift our flour & baking powder over the wet mixture. Batter coming right up!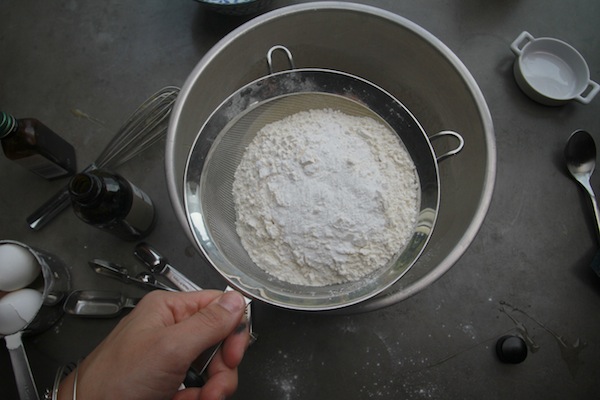 Delicious batter. This is the first batter I've made in awhile and this might be weird to say but seeing those swirls of goodness made me feel happy and safe.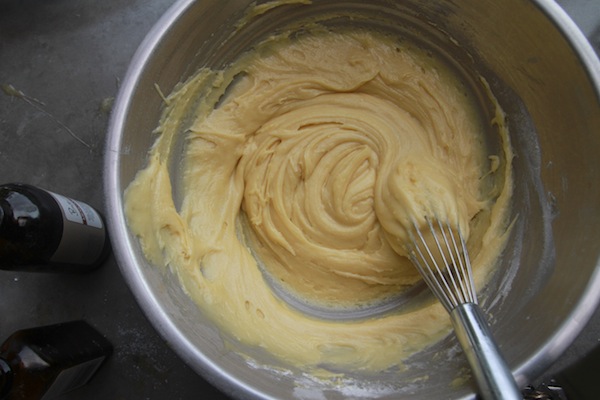 Since my pizzelle maker. didn't come with instructions, I had to figure things out on my own.
First round, I filled up the iron with a little too much batter.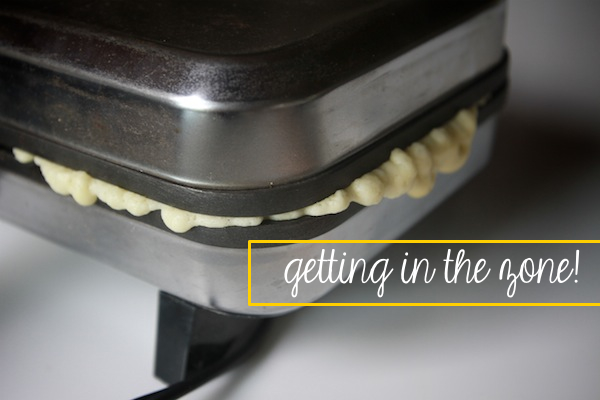 I also realized that if I put the batter in the MIDDLE of the iron it would seep out the front and not spread towards the back so I placed about a tablespoon of the batter off-center–more towards the back.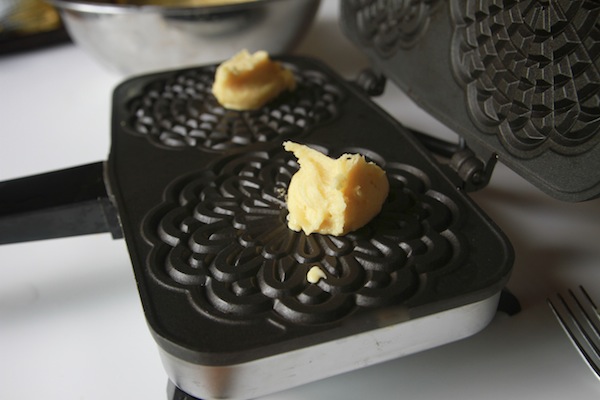 Another thing I learned is that it takes my iron about 35 seconds to make the cookies, so I used my stopwatch on my phone to track it. Alternately, you're supposed to remove them when you see the steam stop coming out.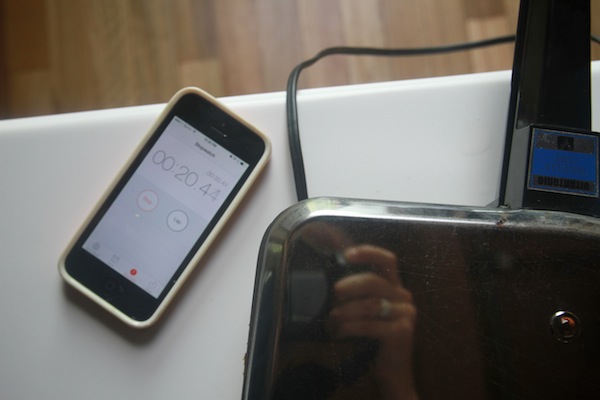 Tada!! Not entirely perfect, but no big deal. They taste amazing.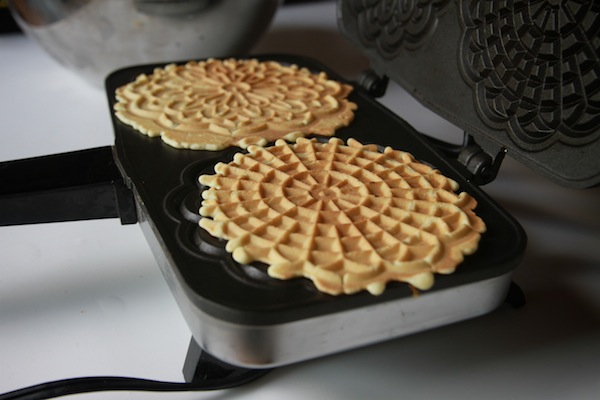 I lined the pizzelles on a cooling rack with some parchment underneath.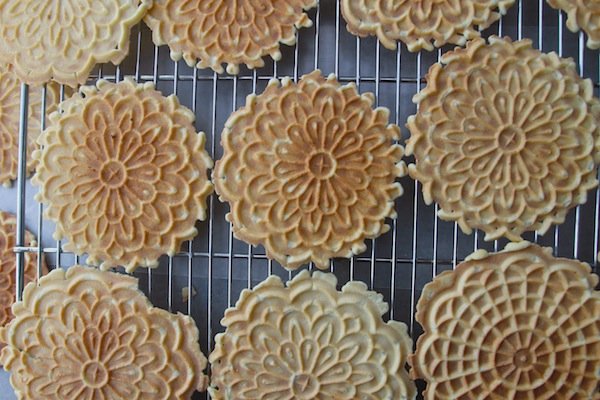 To hide any imperfections, I added powdered sugar on top! The cookies themselves aren't super sweet so adding a little sugar makes them prettier/hides imperfections/makes it obvious who broke into the cookie jar. As a side note, don't wear black when you're eating them!
If you have powdered sugar on your clothes, I know what you've been up to.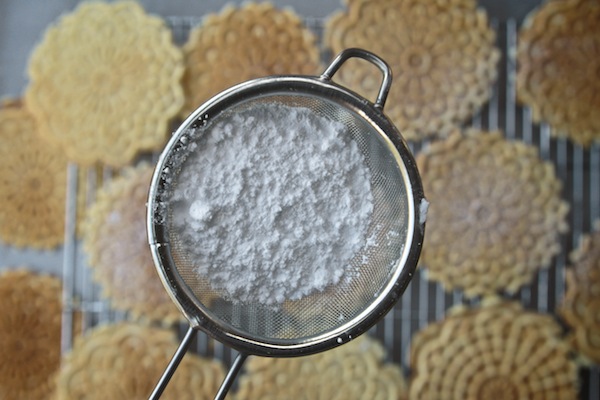 So pretty.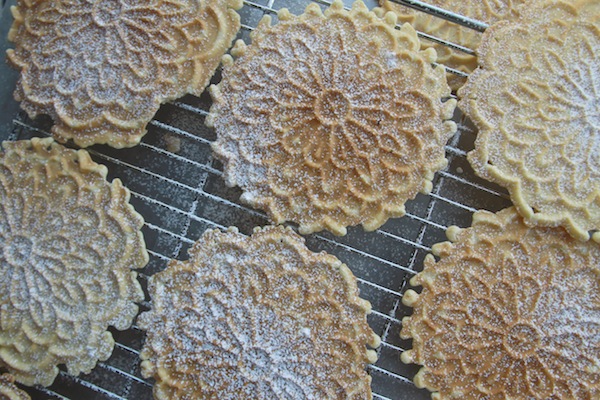 The recipe is supposed to make 24, but I got 18 out of the deal. I think it's because my first two had too much batter. They were a bit thicker than the others and that didn't stop me from eating them. Or maybe I ate the first two. These things, I do not remember.
I used to think that it was kind of a waste of space to have a pizzelle maker.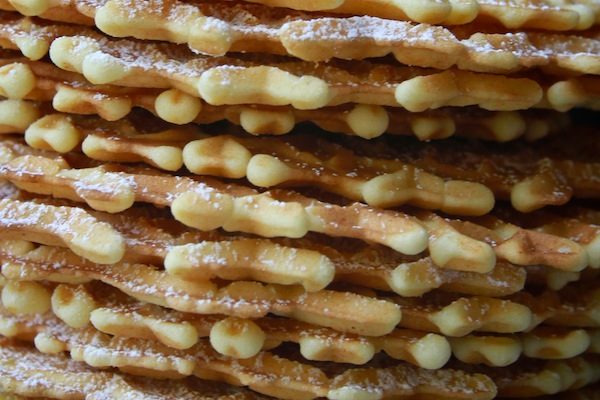 I am now a firm believer in them. It seriously took no time to make a batch of cookies. I can whip these up for a party and make little ice cream sandwiches with them! I can't wait to tinker with ingredients too.
Almond Pizzelles

makes 18-24

recipe slightly adapted from AllRecipes

3 eggs

3/4 cup sugar
1/2 cup  (1 stick) butter, melted
1 teaspoons vanilla extract
2 teaspoons almond extract
1  3/4 cup all-purpose flour
2 teaspoons baking powder
oil for pizzelle maker
1/4 cup powdered sugar (optional)

In a large bowl, beat eggs and sugar until thick. Stir in the melted butter, vanilla and almond extract. Sift together flour and the baking powder and stir the batter until smooth.

Heat the pizzelle iron, and brush top & bottom with oil. Drop about one tablespoon batter onto each circle on the iron. You may need to experiment with time and amount of batter to get the cookies right. Bake for 30-45 seconds, or until steam is no longer coming out of the iron. Carefully remove cookies from iron and place onto a wire rack to cool. Cool completely sprinkle each cookie lightly with powdered sugar. Store in an airtight container for up to 1 week.