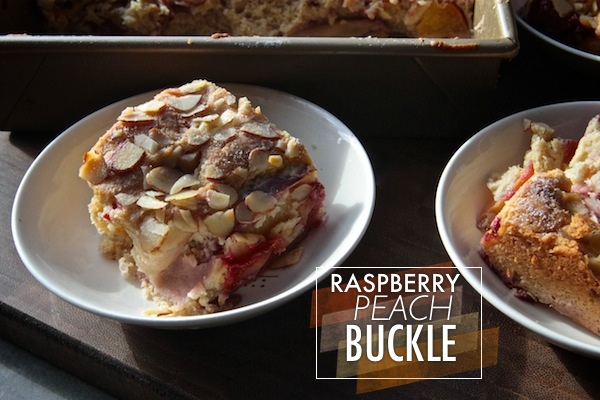 I've been buying raspberries with the intention of making dessert but every time I bring them home, I eat all of them. I suppose there are worst things to eat, but this vicious cycle has been getting in the way of me eating raspberry cake. And raspberry cake with a heavy dose of almond extract is what I've been craving.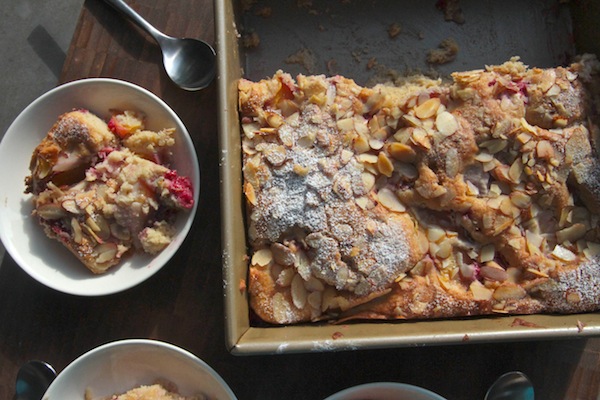 Cake…Cobbler…Grunt…BUCKLE. Let's talk about the giant elephant in the room. BUCKLE! What a funny word for something that's cake-ish. Here's a run down of the differences. Either way, Casey refused to say buckle when he asked for another slice. When I served it up and it wasn't so easy to cut into perfect squares, I called it a buckle. It's like a cake that you spoon out.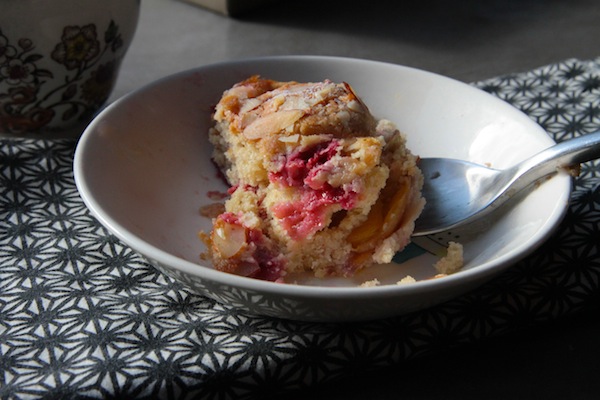 I call it OH WOW I LOVE THE  SWEET JUICY PEACHES, TART RASPBERRIES AND ALMONDY CAKE THAT'S REALLY A BUCKLE… THING. I think you'll agree that this is the perfect name when you try a bite yourself. That and WHOA, Dude, WHOA.
And we're off!
Ingredient gathering. Pantry staples meet a few market items.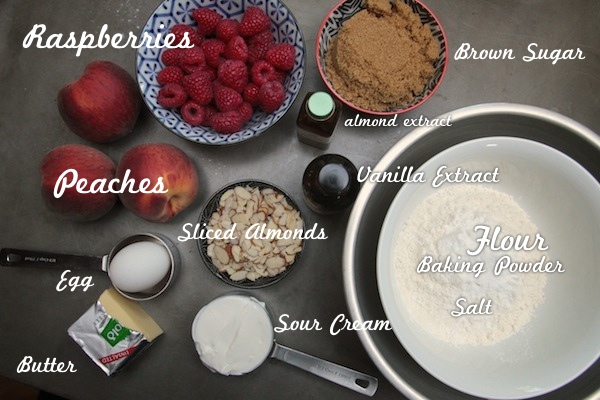 First we cream the brown sugar & butter. I love that there's just brown sugar in here.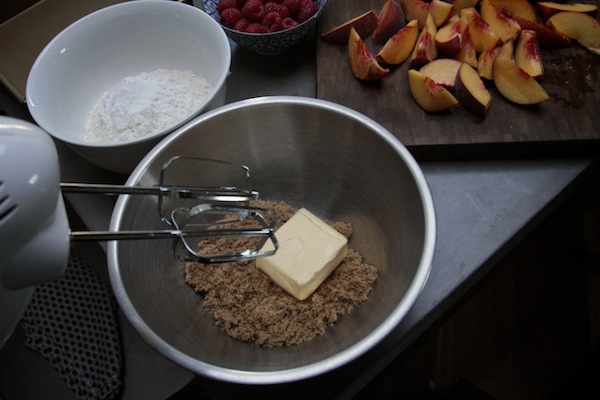 Then add in the almond extract, vanilla extract & egg.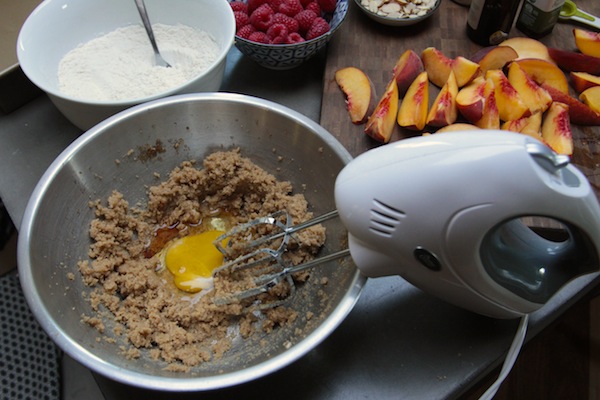 Dry mixture meets wet.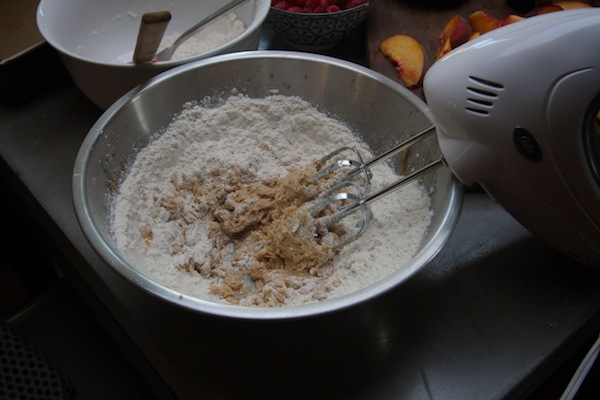 Sour cream goes in. Then the rest of the dry stuff.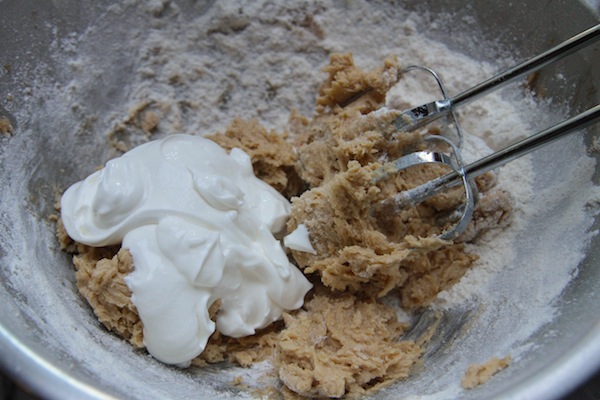 Now we stir the peaches in. This gets awkward. I started to stir in the raspberries…but then things got mushy.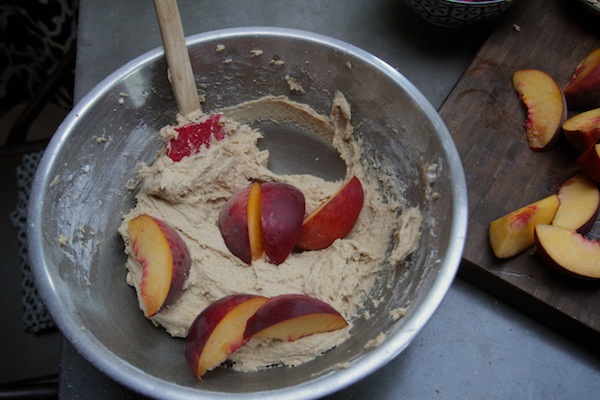 I decided to spread the raspberries out in the pan and spoon the batter on top. I did a few layers of berries in there.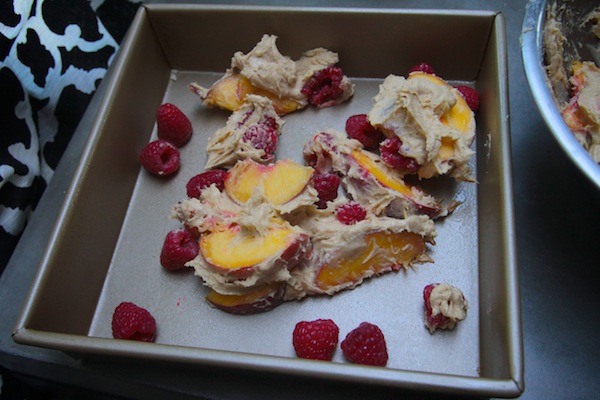 Now that everything is all set, it's time to add the sliced almonds.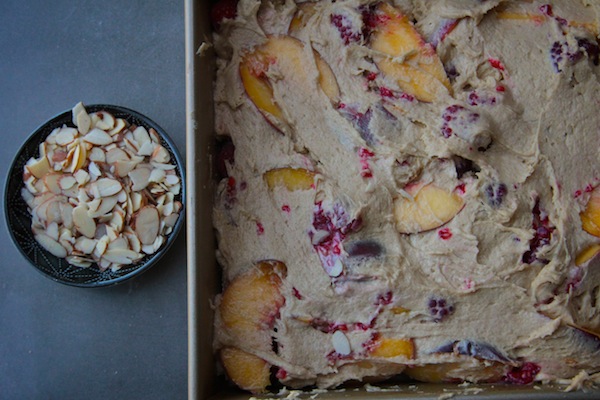 Added. Now bake!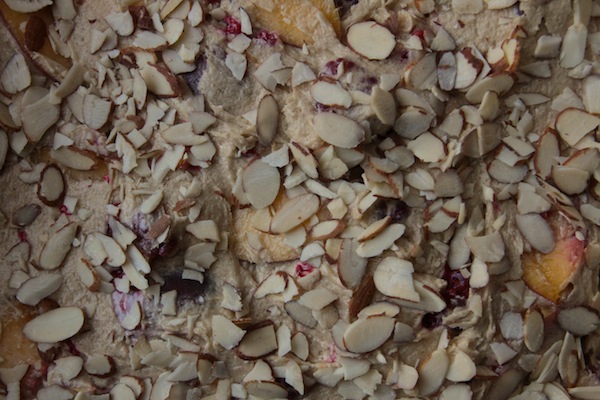 Done….except!! We sugar it!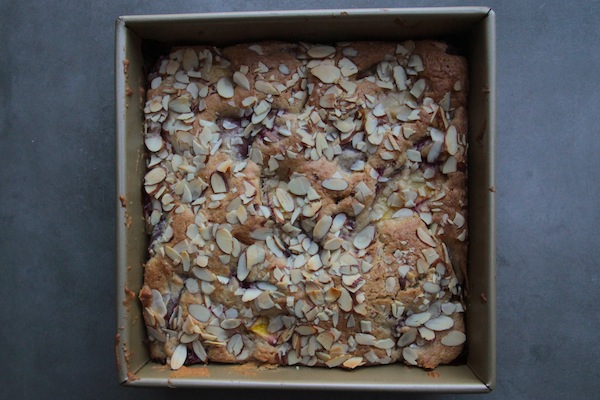 Confectioner's sugar goes on top!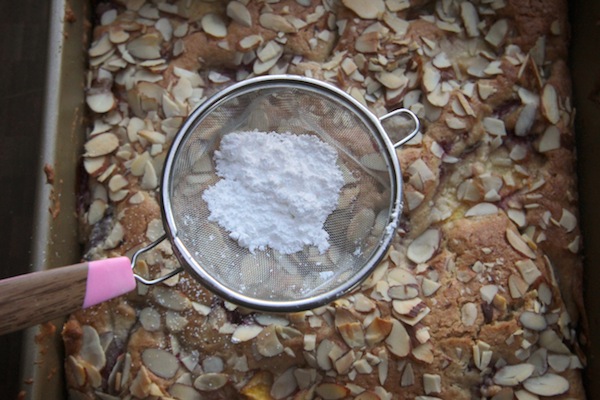 Annnnnnnd. CUT!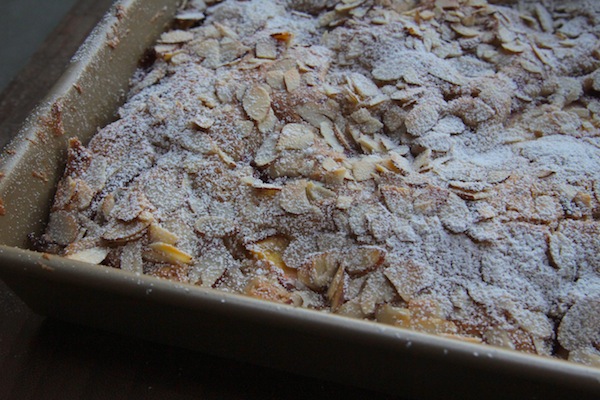 We had this for breakfast the day after I baked it. So, being covered overnight made the cake extra moist (don't roll your eyes!) with a little powdered sugar left in some parts. It was delicious.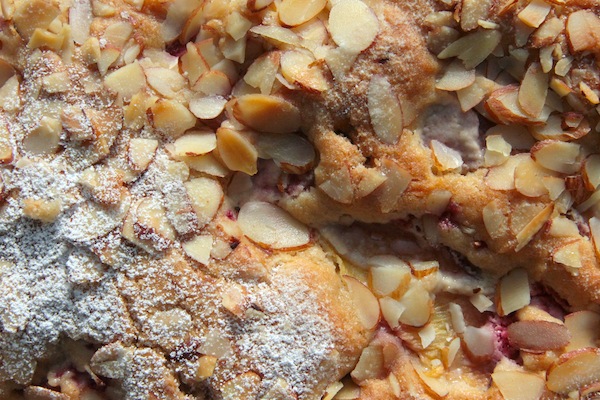 Alternately you can serve it warm with a scoop of vanilla ice cream. Yes. That would be incredible.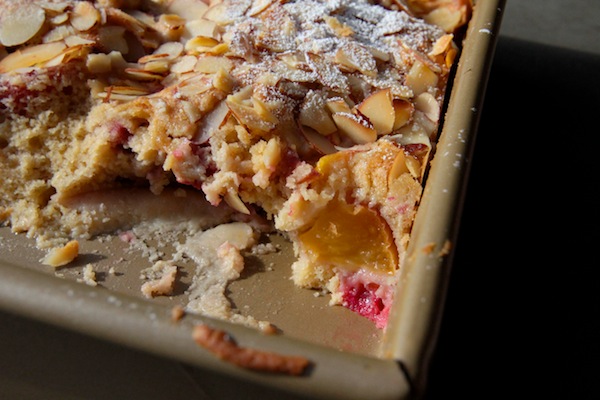 I have no doubt.

Raspberry Peach Buckle

makes 8 servings

recipe adapted from Real Simple Magazine 

1 3/4 cups all-purpose flour, spooned and leveled
2 teaspoons baking powder
1/2 teaspoon kosher salt
8 tablespoons (1 stick) unsalted butter, at room temperature
1 cup packed light brown sugar
1 large egg, at room temperature
1/2 teaspoon pure vanilla extract
1 1/2 teaspoons almond extract
1/2 cup sour cream
4 peaches, each cut into 8 wedges (about 4 cups)
1 pint raspberries
confectioners' sugar, for dusting

Heat oven to 350° F. Whisk together the flour, baking powder, and salt in a medium bowl; set aside.

In a separate bowl, beat the butter and brown sugar with an electric mixer on medium-high until light and fluffy, 2 to 3 minutes. Beat in the egg, vanilla, and almond extract, scraping down the sides of the bowl as necessary.

Reduce mixer speed to low. Add half the flour mixture, then the sour cream, and then the remaining flour mixture, mixing well between additions. Fold in the peaches. (Don't worry if there seems to be too much fruit in proportion to batter. The batter will rise around it while baking.)

Scatter raspberries into a buttered  8-by-8-inch or other 2-quart baking dish.  Transfer batter into the pan, covering the berries and sprinkle with the almonds. Bake until a toothpick inserted in the center comes out clean (aim for the batter, not the fruit),  45 minutes to 1 hour. Let cool slightly. Dust with the confectioners' sugar and serve warm.