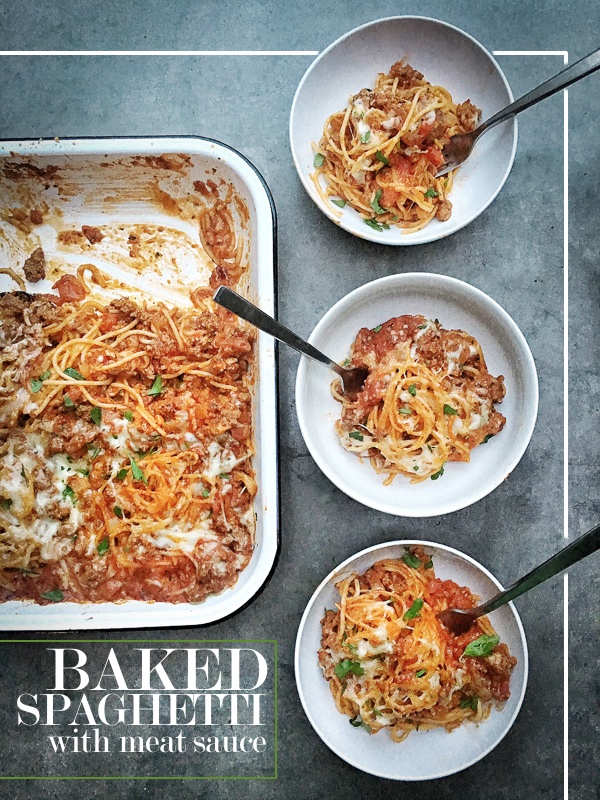 There was this one time when Cooper was about 3 and I didn't let him get up from the table until he had a bite of spaghetti. It was a spaghetti recipe a lot like this one….meaty/cheesy goodness.  There was one small bite wrapped up around his teeny tiny kid fork.  At the 20 minute mark (he's stubborn/there might have been tears), he told me he had to go to the bathroom and I said he could do so when he took a bite. I thought it was that simple.
Sidenote—
I MEAN JUST TAKE A BITE. IT'S NOT GONNA KILL YOU, CHILD.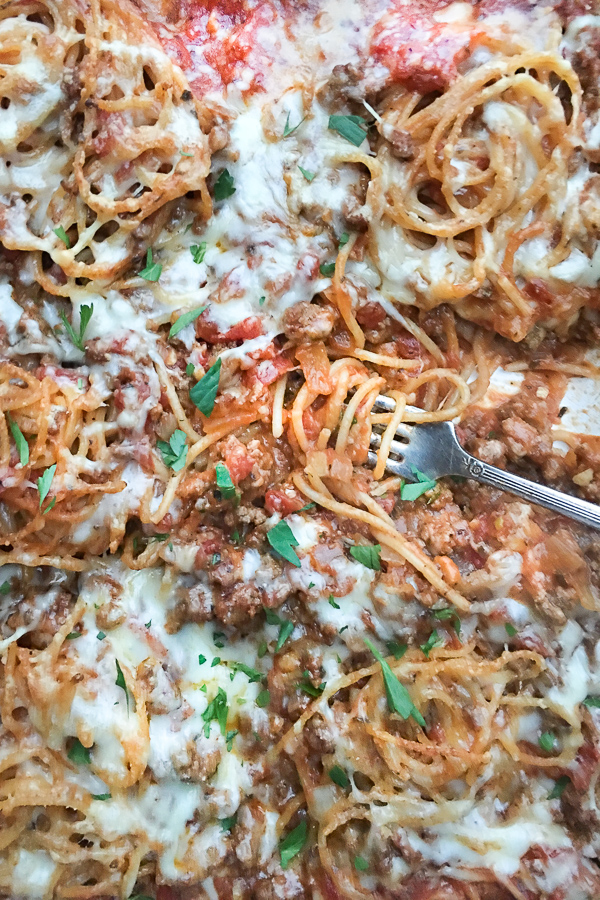 He still wouldn't and then he just went to the bathroom….right there in his kid chair at the table. Like….all over the place. It was one of those out of body experiences. Mixed emotions. Feelings of guilt/bewilderment/utter confusion. What just happened???  I mean,  when I was a kid my parents had to STOP us from eating our third helping of pasta…
All of this over pasta….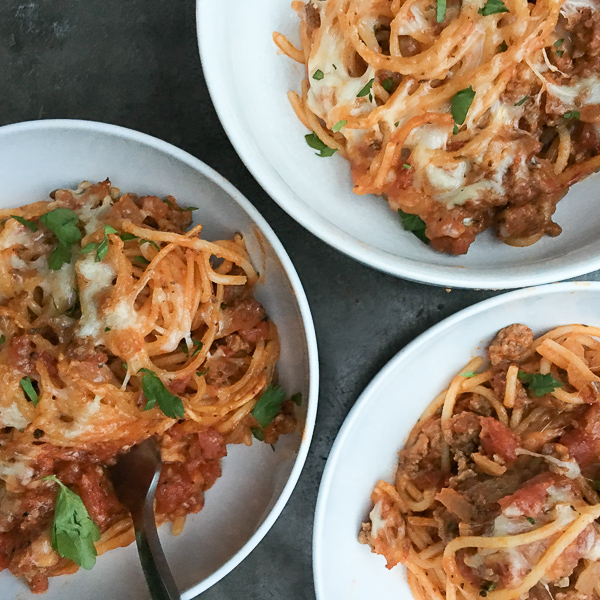 Stillllllllll not a pasta fan… but that doesn't stop Casey and I from eating it on occasion. I had a craving for meaty pasta smothered with melted/crispy cheese on Sunday night. The weather was begging for it.
I know I'm not reinventing the wheel here. You probably already have a spaghetti situation in your life. BUT, let me tell you that when you twirl the pasta into little nests, cover them in cheese and bake them, it makes for an incredible dinner. Making the pasta into little mounds makes it really easy to spoon out and serve too!
Let's gather our ingredients: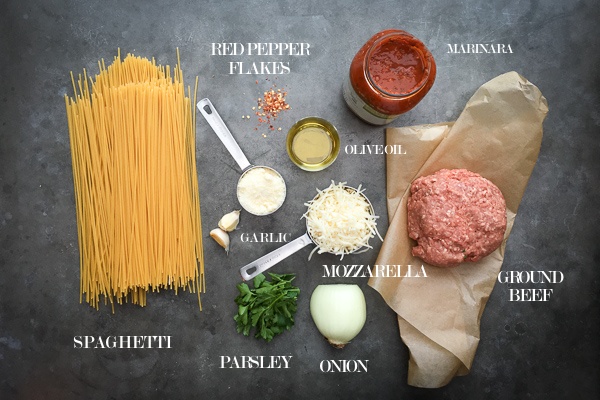 Onions soften in olive oil.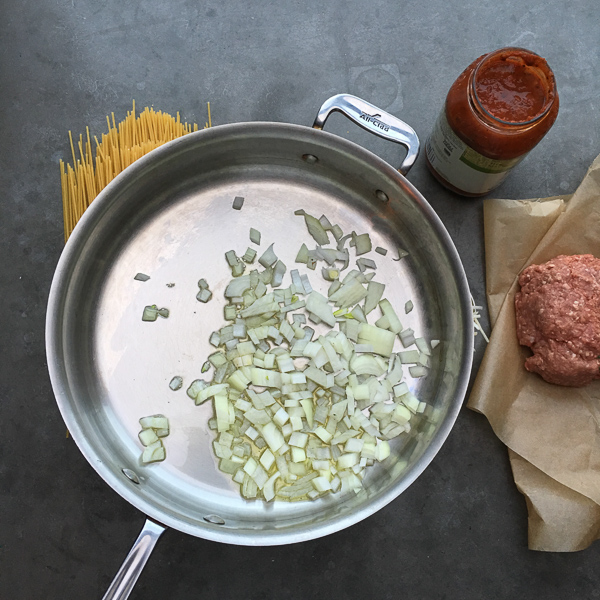 Ground beef added.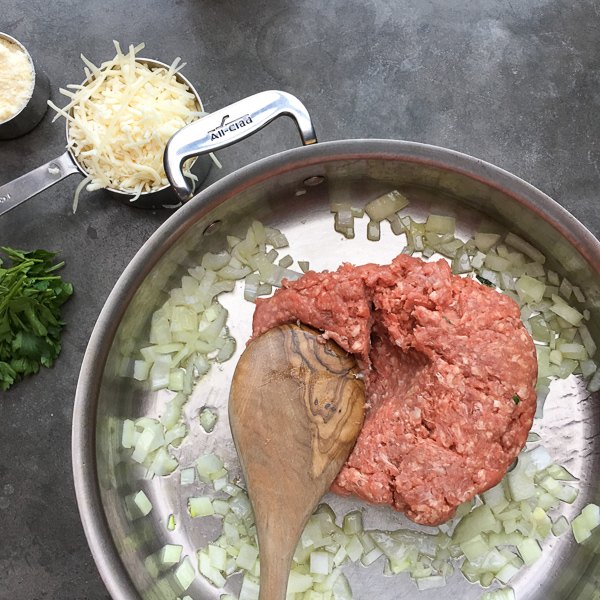 Browned and then garlic and red pepper go in.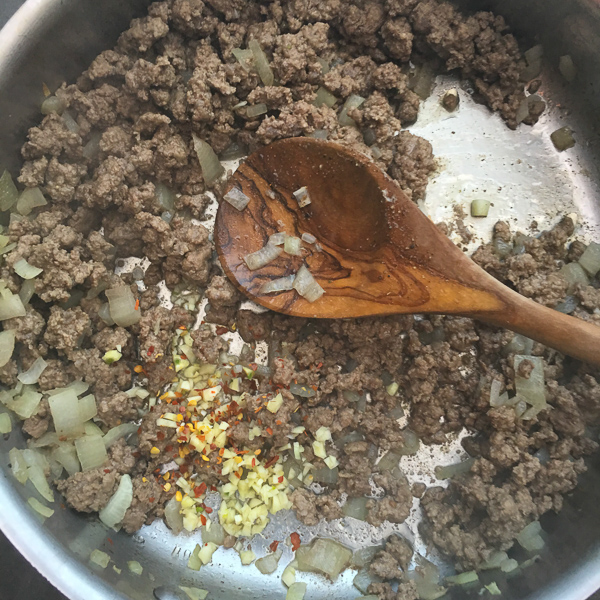 Marinara time!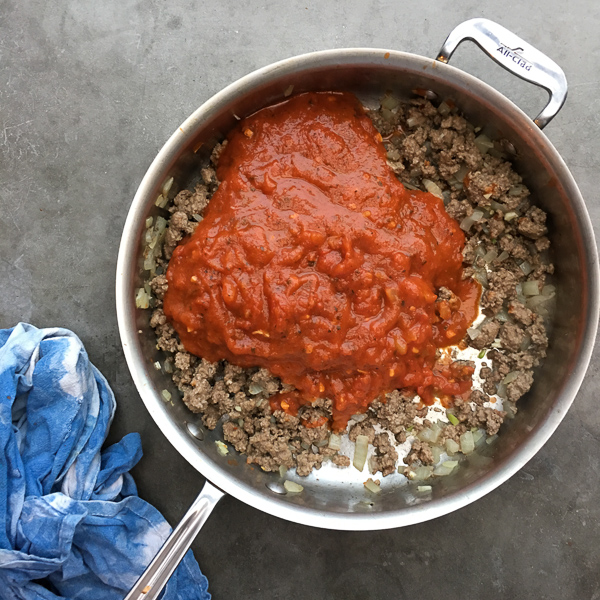 Sauce meets pasta.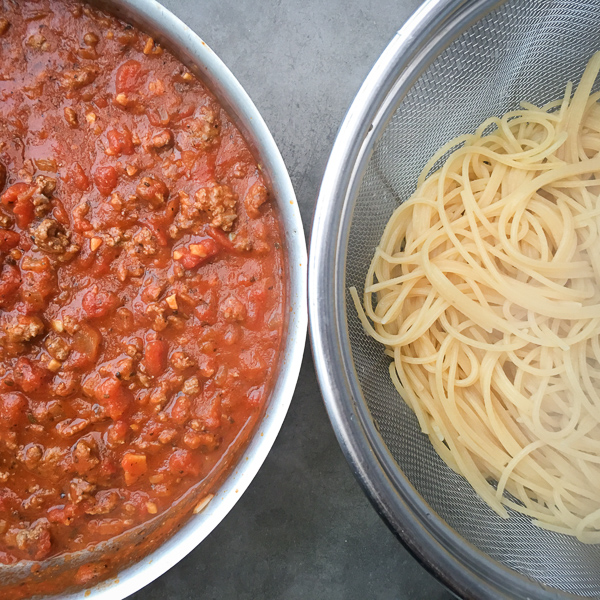 Spray a baking pan!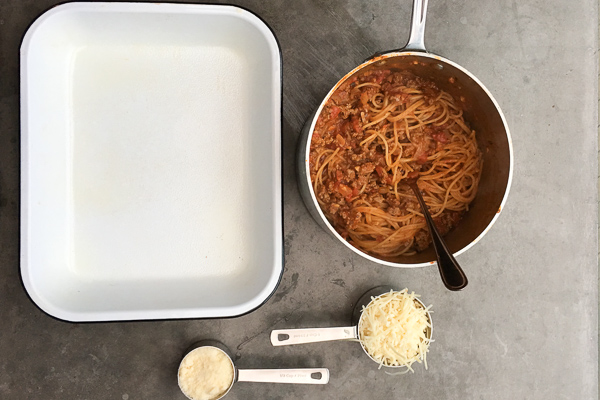 Half the spaghetti goes in. Make mounds!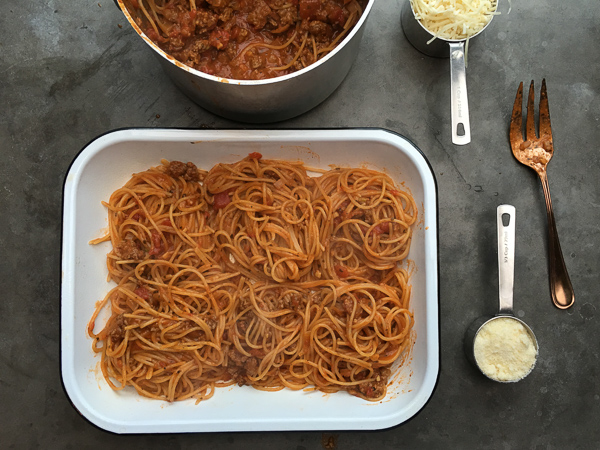 Top with half of the cheeses.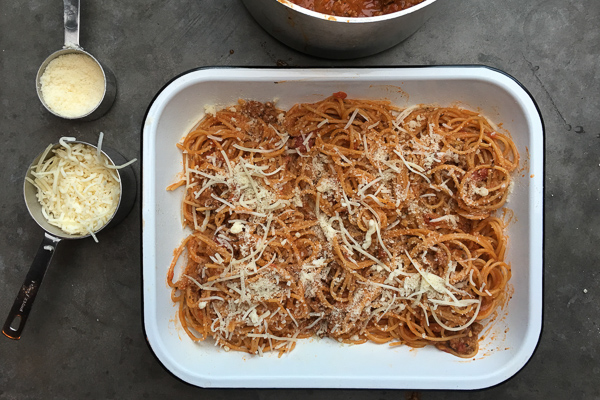 Rest of the pasta goes on top. More twirling!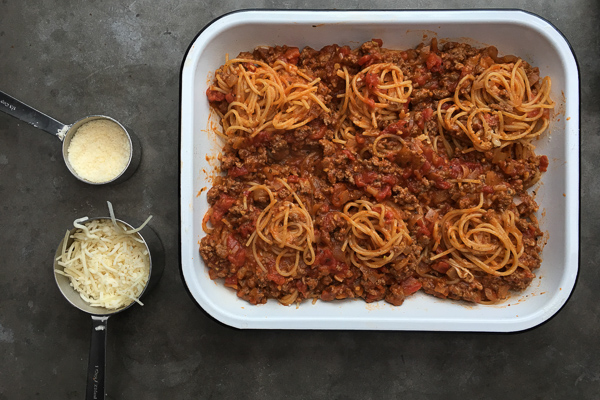 Ready for the oven with MORE CHEESE.
WHAAAAAAAAAAAAAAAAAT.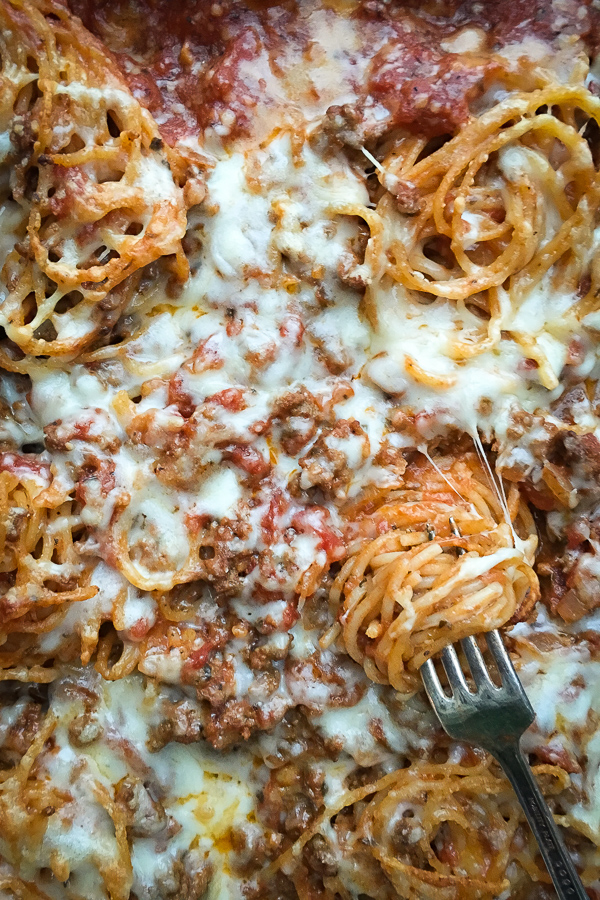 Don't mind if I do…..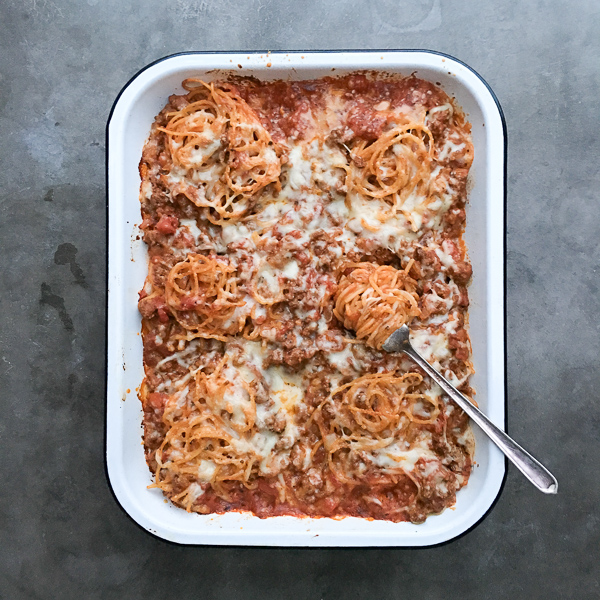 Parsley makes everything pretty.
That's it! Baked Spaghetti with Meat Sauce!
For more pasta recipes check out my: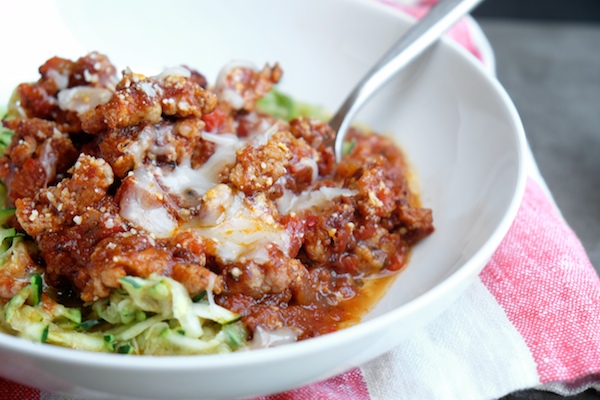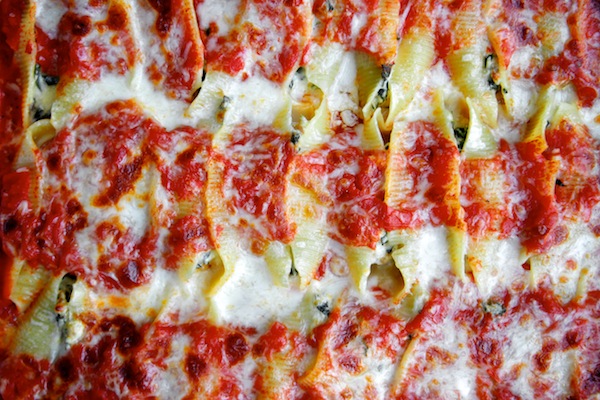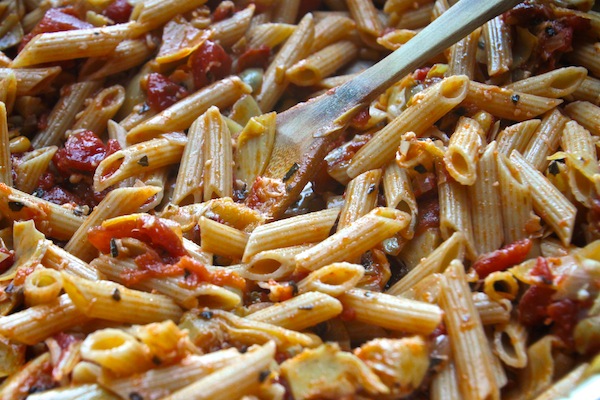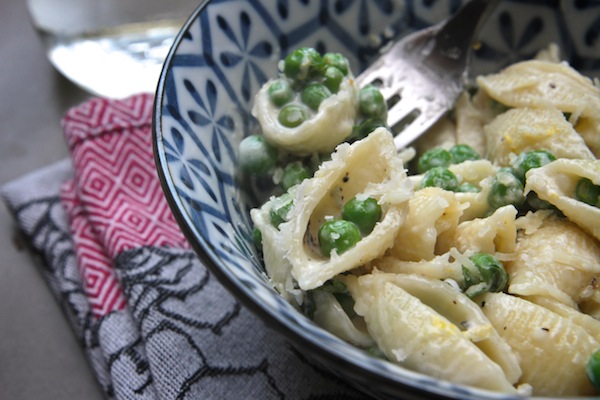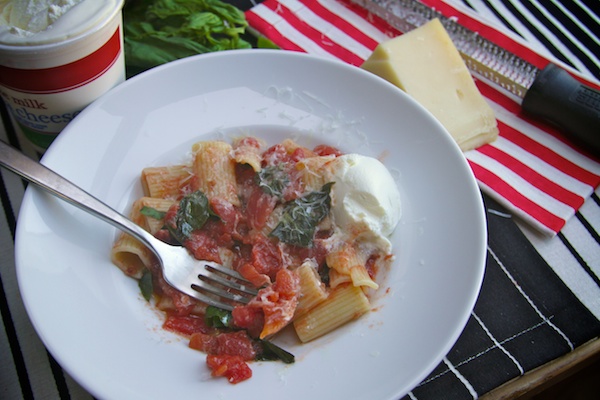 Rigatoni with Marinara & Ricotta
Angel Hair Pasta with Chile Lemon & Arugula
Baked Spaghetti with Meat Sauce

serves 6

1 lb. spaghetti
1 tablespoon olive oil
1 lb. ground beef
1/2  medium onion, chopped
2 cloves garlic, roughly chopped
pinch red pepper flakes
4 cups marinara sauce
1 cup shredded mozzarella
1/2 cup grated Parmesan cheese
parsley, for topping

Preheat oven to 350F.

Spray a 9 x 13 baking pan with cooking spray and set aside.

Heat oil in a large skillet over medium-high heat. Add onion and cook until translucent, about 3-4 minutes. Add ground beef to the skillet and cook, breaking up with a spoon until meat is thoroughly cooked, about 4 minutes. Add garlic and red pepper flakes to the meat mixture and cook for another 2 minutes. Slowly stir in the marinara and continue to simmer on low for another 10-15 minutes.

Meanwhile, boil water in a large pot over high heat. Cook spaghetti according to package instructions. Drain, and return to pan. Slowly incorporate sauce into the pasta and stir until well combined.

Transfer half of the spaghetti into the prepared baking dish. With a large fork, twirl pasta into 6 equal sized mounds. Make a little well at the top of each mound and sprinkle top with half of the Parmesan and mozzarella. Add the rest of the spaghetti, continuing the same process as before. Top with cheeses and any leftover sauce. Bake in the oven for 20 minutes. Turn the oven to Broil and cook pasta for another 3-5 minutes, or until some of the cheese starts to crisp.  Sprinkle with chopped parsley and serve warm.