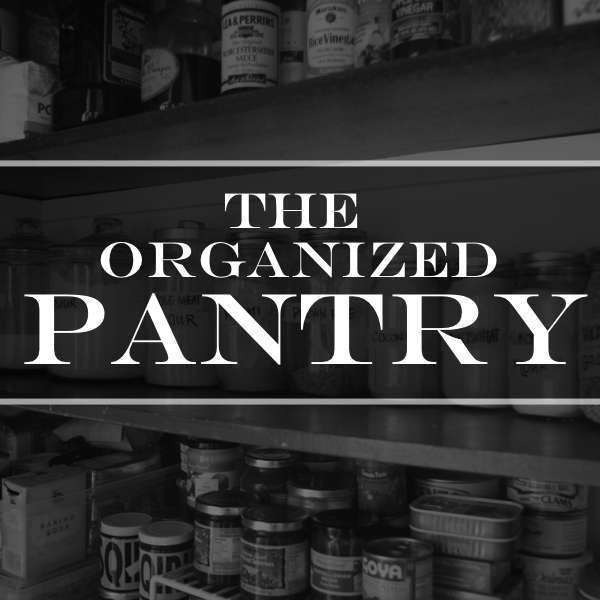 I've organized my pantry before and part of me was like… Do people really need to see my pantry again? It's a chore that I (sadly) do once a year and I keep it up for the most part and then I FREAK OUT and want to bomb it when it gets out of control. You may be in the same boat too.  Let's discuss that!  Things that race through my mind: Why didn't I keep it clean?  What part is the hardest to keep organized? What makes me drop the ball?  I have noticed that the trigger for me to clean it out is always finding that I have repeats of pantry staples….and it's because I'm not organized enough to know that I already have a jar of salsa in my pantry. I COULDN'T FREAKING SEE IT behind the chaos. The good news, is that every time I clean out my pantry, I come up with a new organizing scheme. I find that it's best regroup and change your organizing habits to make way for new/better ideas. Let me show you!
First we start with the BEFORE.  Ooof.
No styling. This is the real deal. Go ahead, snoop. I know you want to.
Totally not Pinterest worthy. THIS IS REAL LIFE, folks.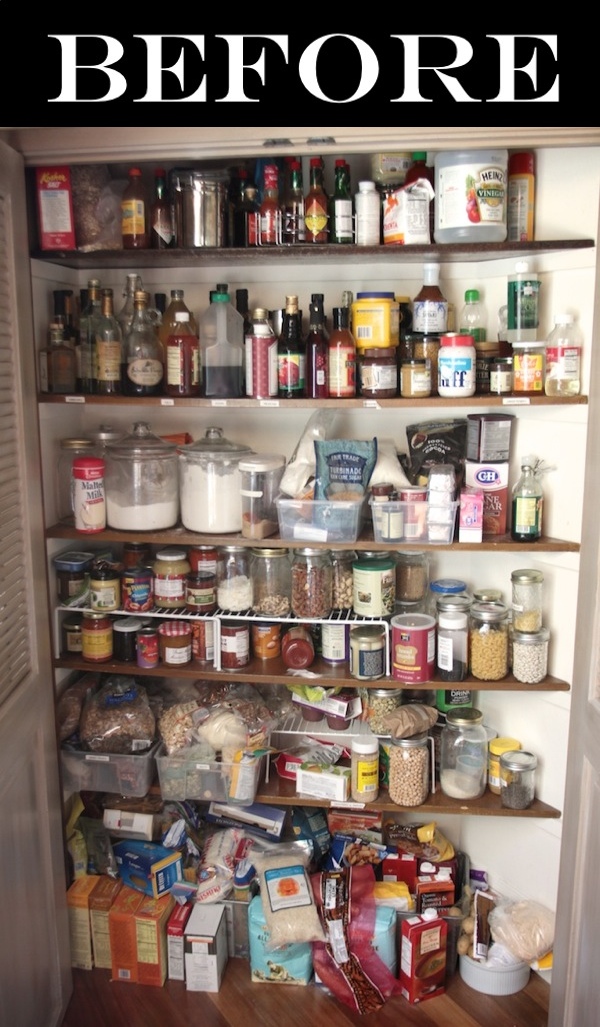 Top shelf view. Polenta is mixed with hot sauce, vinegar, oats, and RANDOMNESS.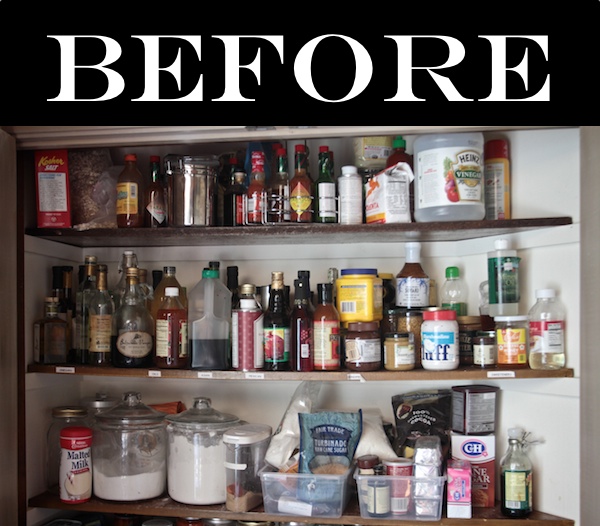 Middle shelf view. Baking crap. Oh. I just bought that malted milk for a recipe and had no place to put it.
Niiiiiice.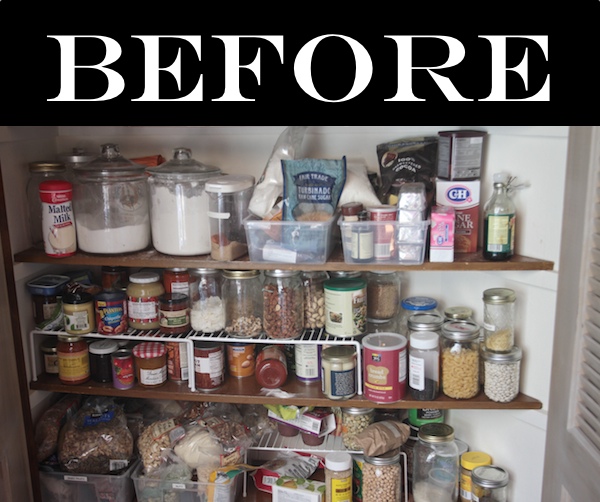 Bottom view. THIS AREA IS THE WORST.
There's a lot of crap that needs to be organized…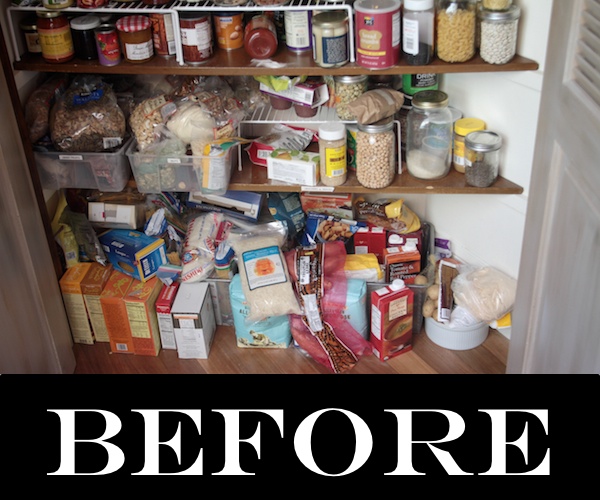 The last time I organized my pantry, I labeled sections. That was cool until I didn't have enough room for each section and the labels then came off. BUH-BYE labels. I liked the idea of you but you're unrealistic.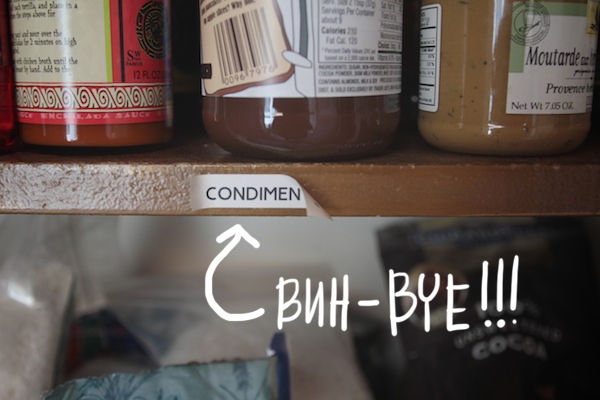 That one time I spilled all the cornstarch… let's remove the evidence.
And The GREAT Cocoa Powder Explosion of 2014 too!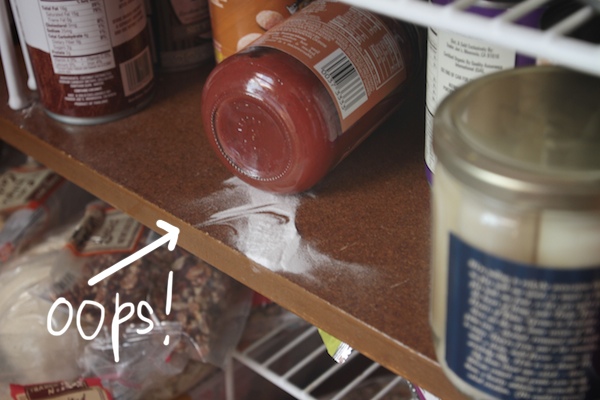 So the first thing I do is take everything out shelf by shelf. I clean the shelves with soapy water and I remove any food gunk from lids & jars. It's time consuming, but if you're gonna do it, DO IT RIGHT.
I have a hot sauce problem…and it takes up a lot of space. It's also really hard for me to see where a specific hot sauce is so I decided to do something about it.
I decided to label everything with 3M Washi Tape and my favorite Chisel Tip Sharpie.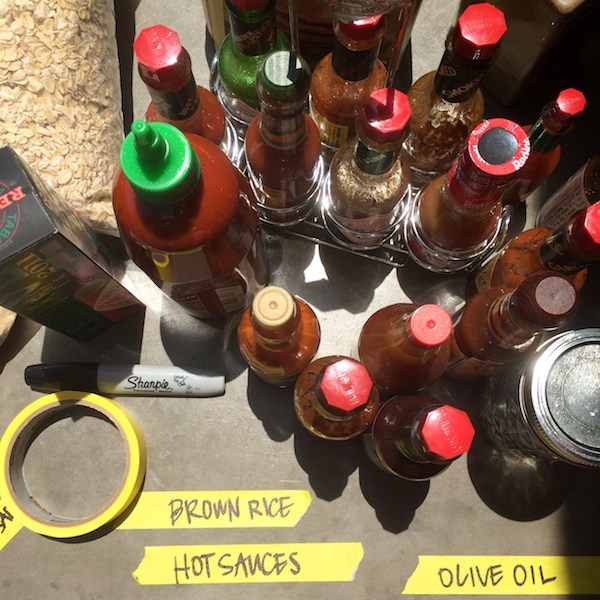 I put all of the hot sauces in a plastic bin. The bin is labeled. Of course it's labeled.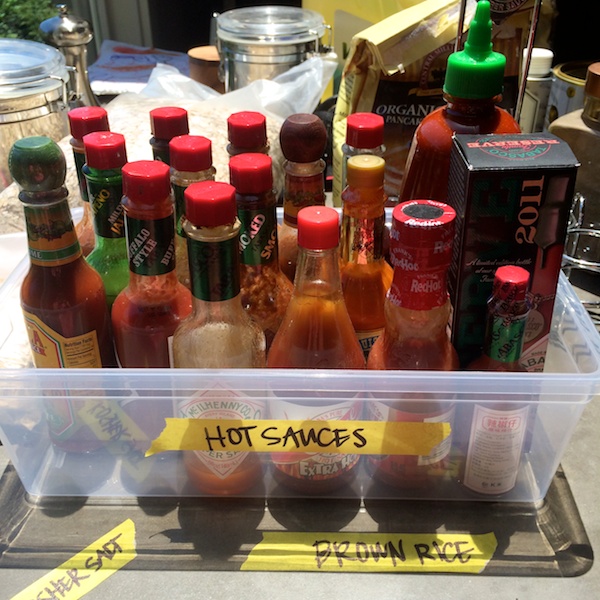 I like to move things around in the process. I decided to change what goes on some of the shelves. That's what I like about a project like this. It will force you to revaluate how you use the space. Over time some of your organizing systems don't last and it's great to regroup and problem solve!
This is the part in the process where I always want to scream. I want to scream because I just want it to be done with and I'm sad that my disorganization caused me to waste food. IT IS SO FRUSTRATING. But I carry on…
It gets worse before it gets better. Keep telling yourself that!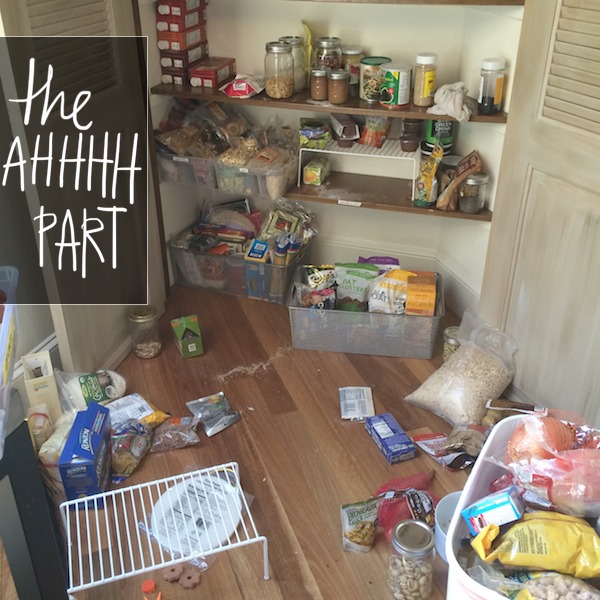 I had a lot of rogue flours, nuts and grains in plastic bags, so I put a lot of them in Wide Mouth Ball 32-Ounce Jars.
I decided to label the top AND the side of each of the jars so I could see from above (if they're on a lower shelf) and head on what's in each of the jars.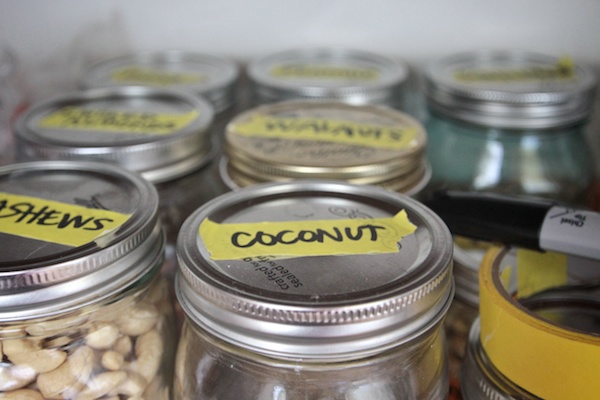 I love the way this looks.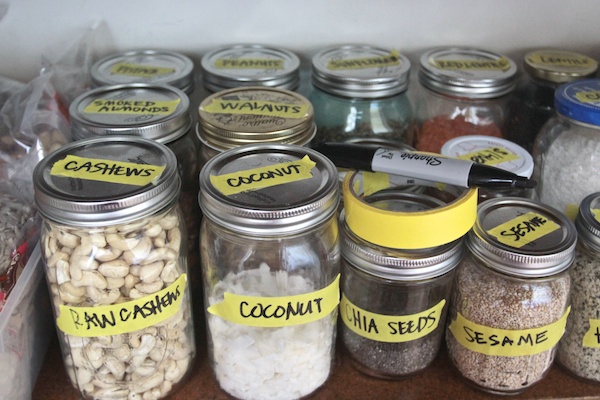 I also consolidated some my pastas. Here's a tip! If you want to keep some in a jar, take a piece of washi tape and write the cooking time on top.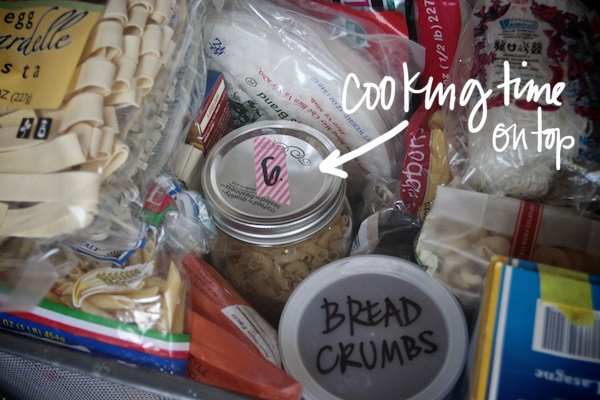 This took a few hours…and caused my back to hurt but OMG IT WAS WORTH IT.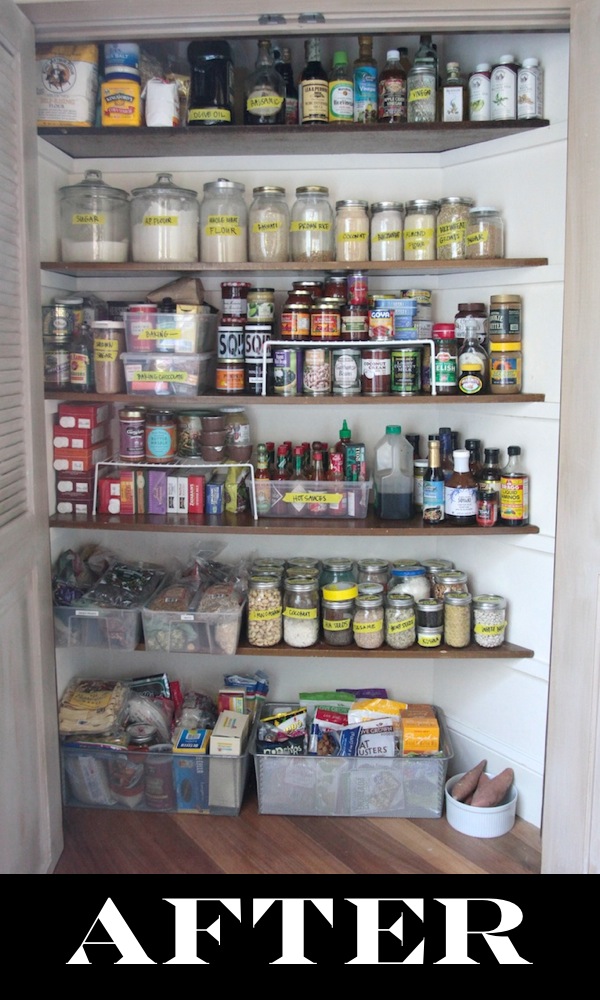 First we start with the top. I decided to keep all of my vinegars and oils on top as well as the extra flour I have.
It was so hard to see all of our hot sauces when they were up here and I had to access them ALL THE TIME.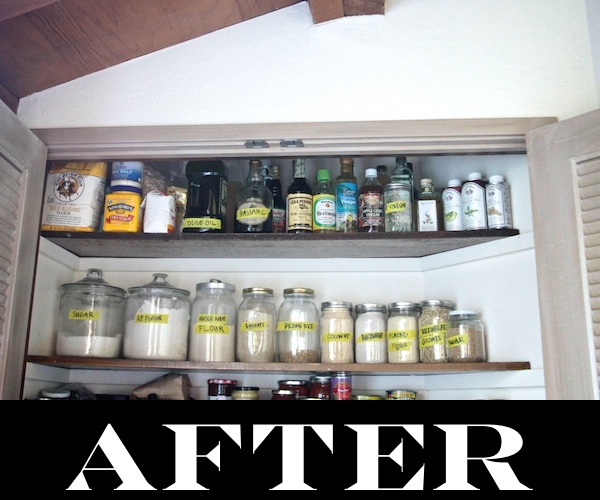 Here we have the middle.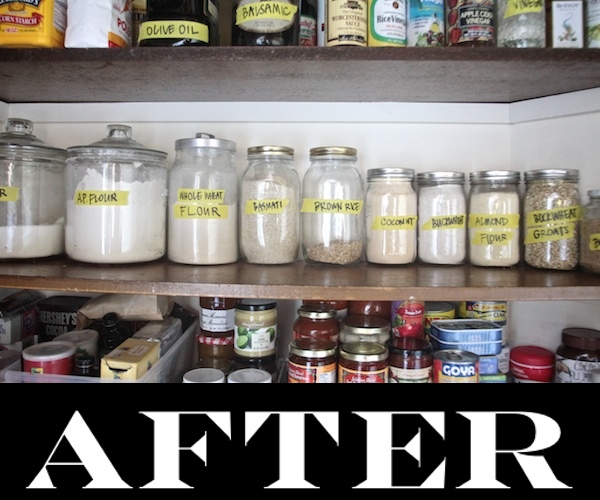 I LOVE the way the jars look, don't you?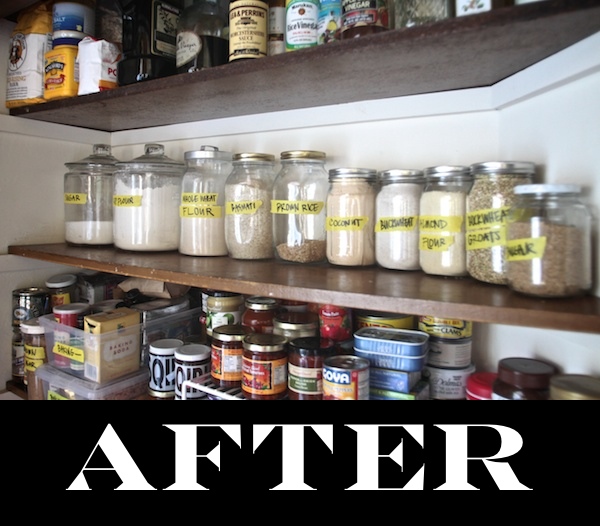 And we have the middle.
I put all of my baking stuff in another pull out plastic bin so that I can grab & go.
These shelves from The Container Store are fantastic because they create another level. No space waste!
I decided to stack all of our stock & soup on the left. I like the way it looks and I can immediately see what we have and what we don't have!
Look at that hot sauce!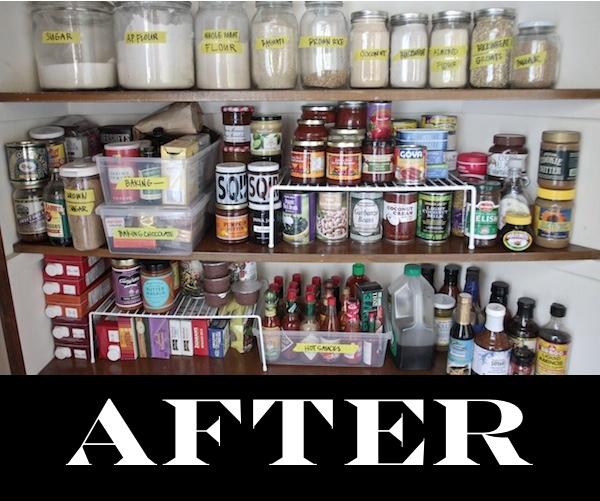 Here's the bottom:
The two plastic bins on the left contain dried fruits & nuts. I put more nuts, lentils, beans and seeds on the bottom right of that shelf.
And in the bins on the floor- Left is all our pasta and Right is the SNACK bin with a few cake mixes in there.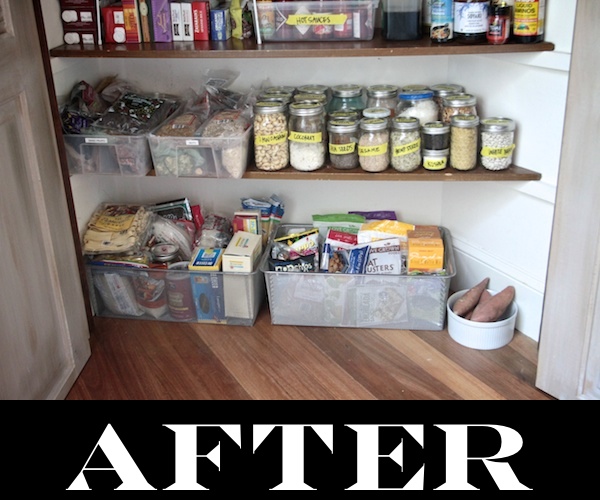 WHEW! Let's cross our fingers and hope I can keep this up all year! I'm pretty sure it's going to need some touch-ups from time to time but now I have these pictures as motivation.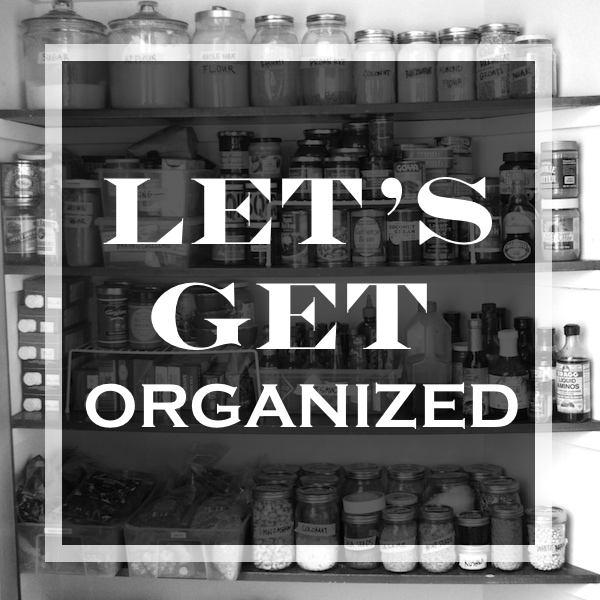 YOU SHOULD DO IT TOO!!!!!!!