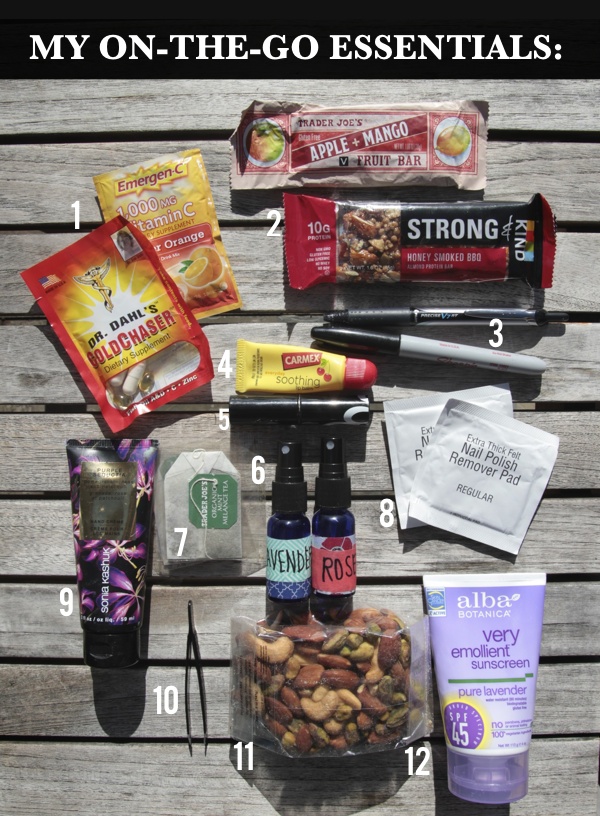 Casey and I went on a little trip this past weekend to Big Sur. It was magical and I'll try to share more of that soon! Whenever I'm away from home I spend a good deal of time creating a little sense of home wherever we are staying. When I was transferring some of my stuff from one bag to another, I thought it might be fun to show you some of the things that I can't travel without. I find it so fascinating to see what people's essentials are.  Mine include:
1. Cold Chaser & Emergen-C  When I'm traveling I am like HYPER aware of people who are sick around me. If I'm on an airplane and see someone snotty and coughing, I quickly take a packet of  Dr. Dahl's Cold Chaser.  It's something I pick up at Whole Foods and it seems to help me from getting sick. I also carry Emergen-C Super Orange for extra vitamin C but also as a way to mask gnarly tap water. I also really like Emergen-C Tropical.  It's delicious when you mix it with sparkling water. I've been known to mix some with vodka…
2. Energy Bars I must carry snacks around with me because I have a child and I also have a condition called HANGRY wherein I get angry when I'm hungry. I have a savory snack bar like this STRONG & KIND Honey Smoked BBQ  bar (it's SO GOOD!)  and some type of Fruit bar (here's the Trader Joe's Apple & Mango Bar) that I'll eat in a pinch or give to Cooper as a treat.
3. Pens- I think it's funny that I only chose to take pictures of TWO pens when in actuality, I carry at least 5. I must have a Sharpie (came in handy at our pumpkin patch excursion last week!) and a writing pen (my favorite is the Pilot Precise V7 RT Retractable).  I've been known carry around a highlighter and a Mechanical Pencil I feel like doing Math. Just kidding, I write all numbers in pen because I'm a grownup.
4. Carmex: This stuff is my security blanket. For some reason I cannot sleep without a proper application on my lips. If I have to spend the night somewhere and it's unplanned, I keep Carmex Lip Balm in my bag/car just in case.  If there's none, then I won't be able to fall asleep. Weird, right?  What's weirder is that I only use it right before bed. One application a day. That's it.
5. Lipstick- If you want to class things up, add some lipstick to the situation. People will think you put time into your looks. Also can be used as blush if you feel like you don't want to give someone the I AM A VAMPIRE impression. My favorite lipstick is the Silky Finish lipstick by Benefit in Mocha Sorbet. It goes on smooth and doesn't dry my lips out. Adds the perfect amount of color!
6. Mint Tea – If I need a moment to chill out because traveling was stressful, I carry some mint tea with me. It's also a way for me to feel calmer when I'm on an airplane and I find it to be a nice palate cleanser. I enjoy the Melange (fun to say!) mint tea from Trader Joe's. Makes a great iced tea too!
7. Rose & Lavender Spray- Attitude adjustments & room fresheners. If I want to chill out, relax, or focus- I spray Lavender. If I need an attitude adjustment or I'm feeling hot, I spray Rose spray. I have these really small blue glass spray bottles I carry around with me. Cooper & Casey are huge fans of the Rose spray. We were in major traffic and everyone in our car was annoyed so we sprayed some and we were all happy again. ATTITUDE ADJUSTMENT.  If you don't want to make your own, I recommend this Rosewater spray and this Lavender spray. You can always transfer some into smaller glass spray bottles if you don't feel like lugging around the full size containers. I labeled mine with washi tape so I could tell which one is which.
8. Nail Polish Remover Pads- Chipped nail polish on MY nails REALLY bothers me. I really don't like walking around with my nails looking funky. Not only do I carry a bottle of nail polish (not pictured) I almost always have a Nail Polish Remover Pads or two. If I have time to kill in between appointments, I'll sit in my car and give myself a mini manicure. You have to be creative with your primping time when you're a mom! Most of the time I don't wear nail polish…but I am always prepared for when I want to/don't want to!

9. Smelly Lotion– I think of smelly lotion as a survival tool. I'm kind of a scent junky, which is probably why I am obsessed with aromatherapy & essential oils right now. Here's the weird part— I'm not really a person who likes lotion. It takes too much time and I don't like feeling sticky. But every now and then there's something that compels me to put some on. If I need to freshen up a bit or fix my hair somehow, I rub some smell lotion through my hands and run it through the ends of my hair. Smelly lotion should smell good and I'm currently digging the Purple Seductia by Sonia Kashuk for Target.
10. Tweezers- I would have put tweezers AND nail file but I always seem to misplace my nail file.  Having tweezers in my bag make me feel safe. I also consider fabulous tools for killing time. If I have some moments in the car before picking up Cooper, I do a quick little makeover and pluck my brows (don't worry! I'm parked!). They're also good to have for that random hair you discovered while catching a glimpse of yourself in the rear view mirror.  I've found true love with  Revlon's Expert Tweezers.  They're such a good value too.
 11. NUTS-  Not only do I have a few granola/energy bars in my purse, I carry a baggie of nuts and/or homemade trail mix. If I'm stuck in traffic, it's nice to have a snack. I've found that protein keeps me sane.
12. Sunscreen– I try to carry some with me at all times. It's part of being a mom- SUN protection! I read some statistic that most of our skin damage is done in the early years of our life so I am kind of obsessed with slathering this stuff on Cooper. The barrier (pun intended) I have with sunscreen is the smell and the consistency. Sticky sunscreen gives me the same annoying feeling that a pair of tight underwear does; they both can ruin my day. After searching for a good sunscreen, I've really enjoyed the Alba Botanica Very Emollient Sunscreen, Pure Lavender SPF 45,  The smell is light and pleasant and it rubs right in hence the very emollient label! The bottle is also small and squat which is much appreciated in my bag of tricks.
 There you have it! What are some of your essentials?