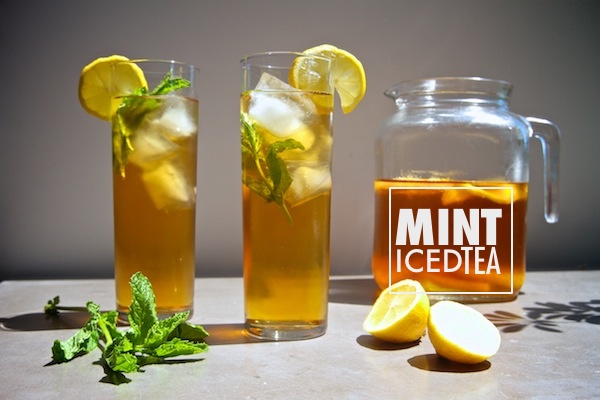 Sometimes it's the little things that make the most impact. The little things like….making a batch of mint iced tea from scratch for a husband who has a crazy store bought bottled iced tea obsession. It's a part love and part OMG BOTTLED ICED TEA IS SO DANG EXPENSIVE WE SHOULDN'T BE BUYING THIS WHEN I CAN MAKE IT thing.
Either way, I've added homemade iced tea to our popcorn obsession at home and it's definitely been well received.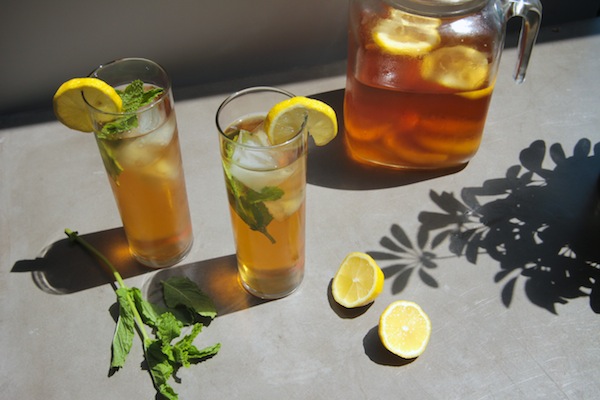 This simple iced tea is refreshingly minty, perfectly sweet and the best option for people in my house (ahem husband!) who don't like drinking plain water. Bonus points for it being caffeine free because this lady goes crazy if she imbibes caffeine after 12PM!
Don't worry, we tried some with the vodka and some with bourbon for your sake and it was deeeeeelish.
And we're off!
Say hello to simplicity. If you don't have agave, go with honey!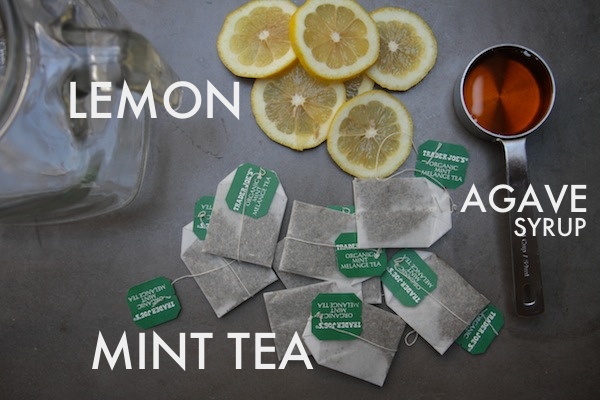 I'm kind of obsessed with Trader Joe's Organic Mint Melange Tea right now.
Mostly because I like to say the word MELANGE. Go ahead, say it. I'll wait. COOL, right?
Put the agave syrup in your HEAT PROOF (make sure it's HEAT PROOF) container/pitcher.
Wrap the tea bags around a chopstick or a something stick-like to help fish them out later.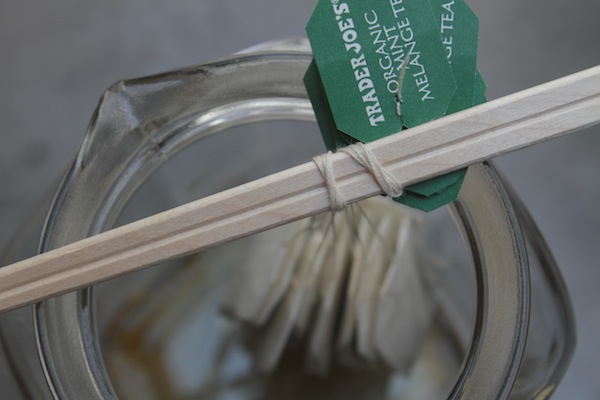 Pour your hot HOT water on top. STEEP STEEP. Pull out your teabags.
For 8 teabags, I used about 7 cups.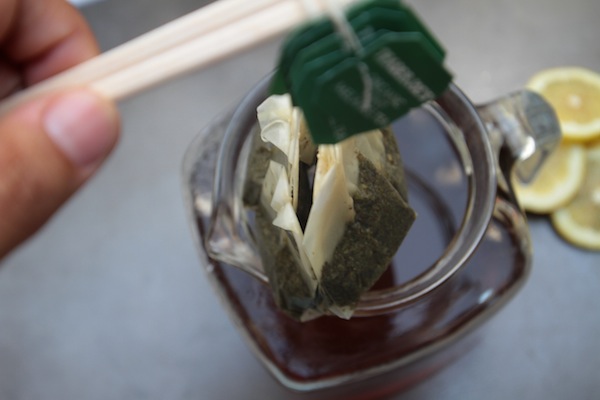 Add 2 1/2 cups cold water on top. Give it a good stir. The agave melts into the tea fast!
Add a bunch of ice cubes and set in the fridge overnight.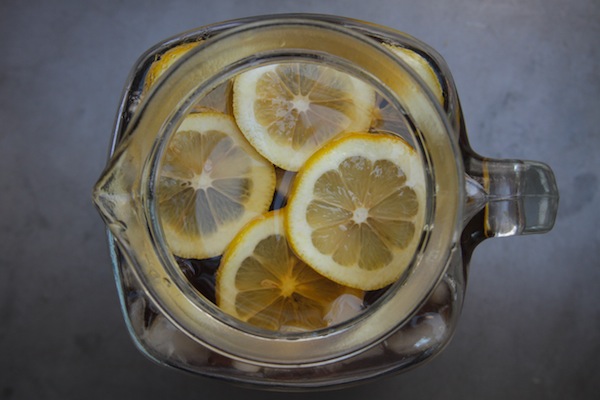 Next day, we've turned into iced tea drinkers!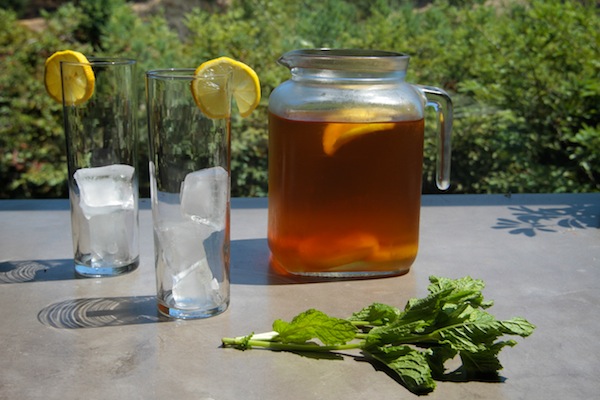 Fill each tall glass with ice as well as mint & lemon for garnish.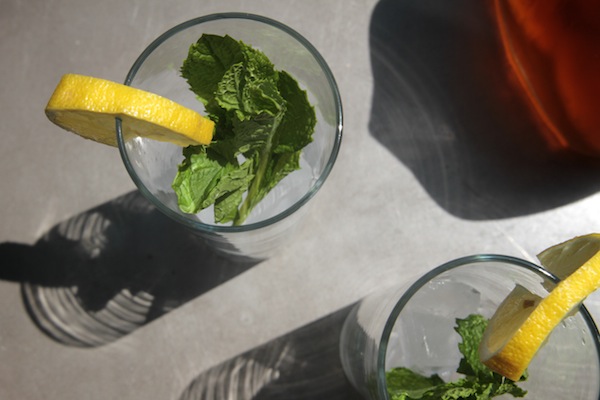 Pour that tea in there.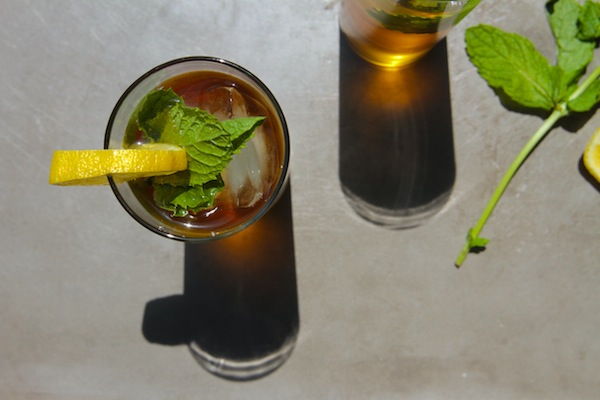 Pull out a magazine and let's sit on our imaginary porch.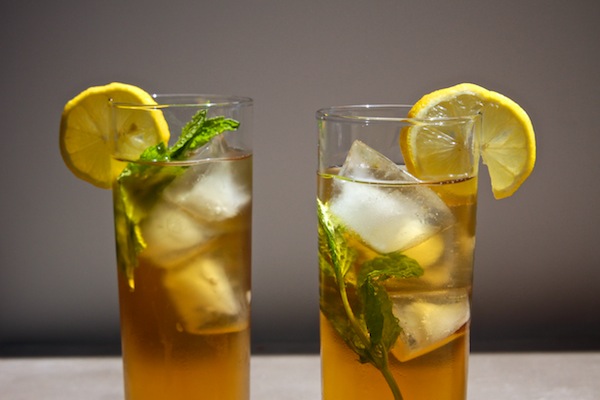 Watching all of the crazy neighborly activities happen in front of us.

Mint Iced Tea

makes about 9 1/2 cups

1/4 cup agave syrup
8 mint teabags
1 lemon, cut into thin slices
a few sprigs fresh mint for garnish

Pour the agave syrup in a large heat resistant 78 ounce container/pitcher. Unwrap teabags, wrap them around a chopstick and set the chopstick on top of the container so the tea bags are suspended in the pitcher. Pour 7 cups boiling hot water over teabags and let them steep for 5-6 minutes. Discard teabags and let the mixture sit for 10 minutes to cool down. Add 2 1/2 cups of cold water in addition to least a dozen ice cubes to the hot tea to continue the cool down. Give tea a good stir to distribute the agave and then add the lemon slices. Seal in a refrigerator to cool overnight. Serve cold with ice cubes and fresh mint & lemon for garnish.