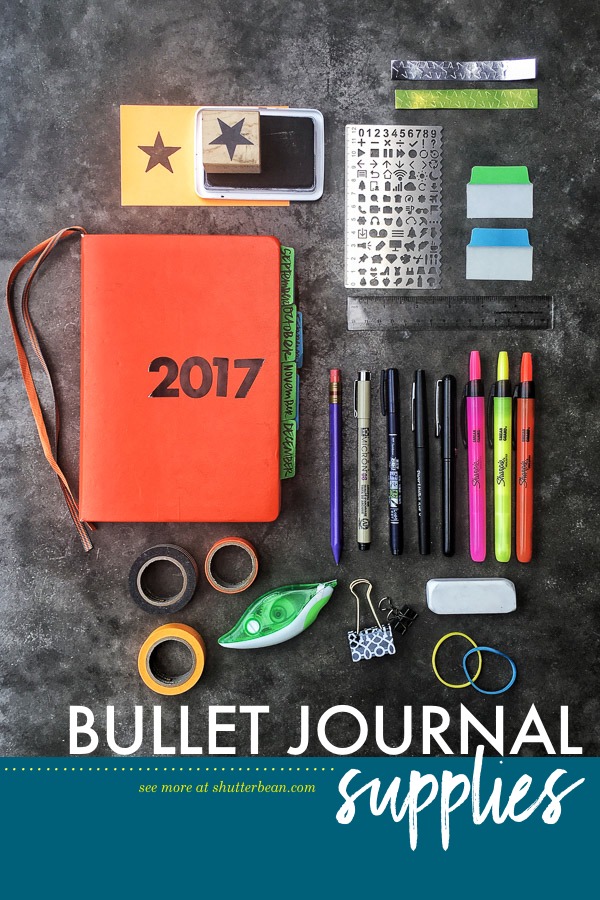 Last September, I started a new bullet journal. I was a little apprehensive starting one in September since most calendars start in January, but I really didn't want to wait! I wanted to start experimenting with a system that works for my brain. One that will keep me from having calendar burnout….where I buy into a new calendar system after giving up my old one after 4 months. Can anyone else relate?
I've been using this journal for the past 7 months (kind of a record for me) and it's mostly because I decided to treat this journal differently.
This journal is my experimental journal.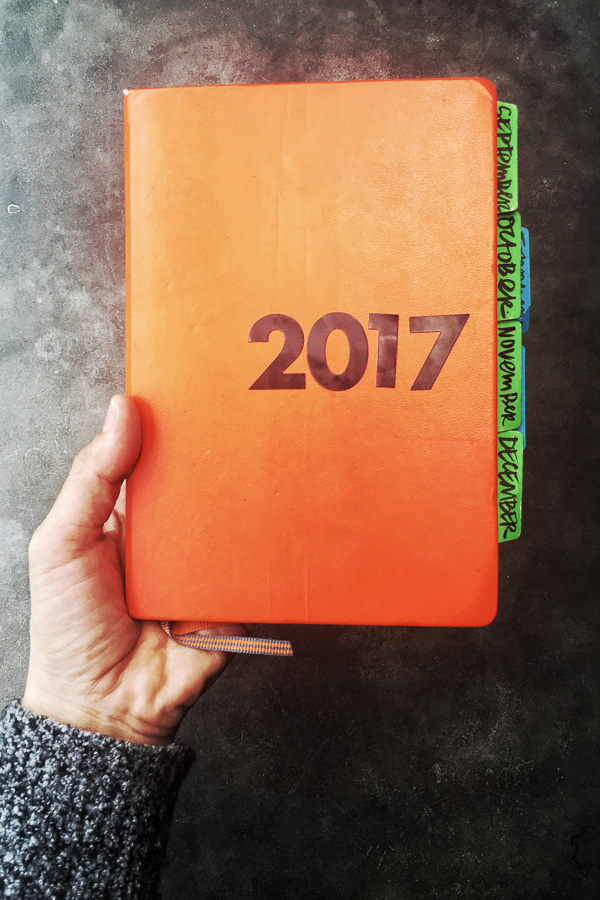 I'm constantly inspired to see how people make the bullet journal system work for THEM, since it's really not a one-size-fits-all system.
My intention is to use this journal to figure out what system works for ME.
Did you know that they're referred to as bujos?  So, from now on I will refer to it as my bujo for the remainder of this post!
There might be some of you who are wondering….
What's a bullet journal?
You can see more about it here.
If you're interested in starting your own bullet journal,  here are some of my supply recommendations:
I'll share some of my favorite experimental spreads with you soon!
Let's go through my setup!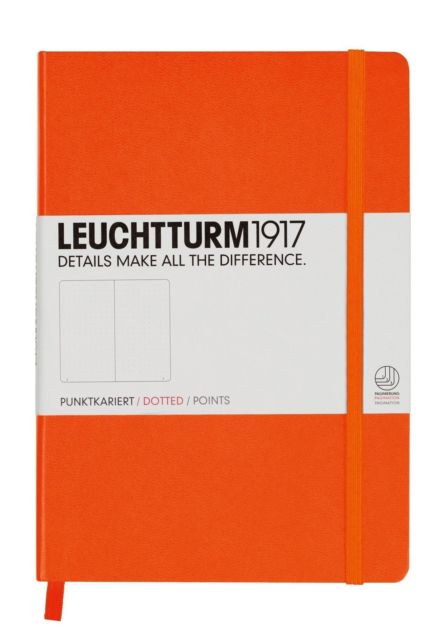 Notebook
If you don't LOVE your notebook, you're never going to be motivated to use it. I did A LOT of research on books.  One of the hardest things for me to decide is if I want lines, graph paper, or plain pages in a notebook. This Leuchtturm 1917 dotted notebook has been wonderful.   That's right! The pages are dotted and they're numbered too. You can focus on the dots if you need help measuring out a spread or drawing a straight line.  The dots are not offensive to the eyes. Using a dotted journal doesn't make me wish I had a plain journal or a graph paper journal so I feel like that's a huge win. That was one of my excuses for abandoning so many past journals.
For this book, I wanted something that would:
get my attention
be able to spot in a sea of other journals
lift my mood
inspire me to write in
which is why I deliberately picked the color
ORANGE 
for my bujo.
The funny thing is….. I used to hate orange and now I love it.
Go figure.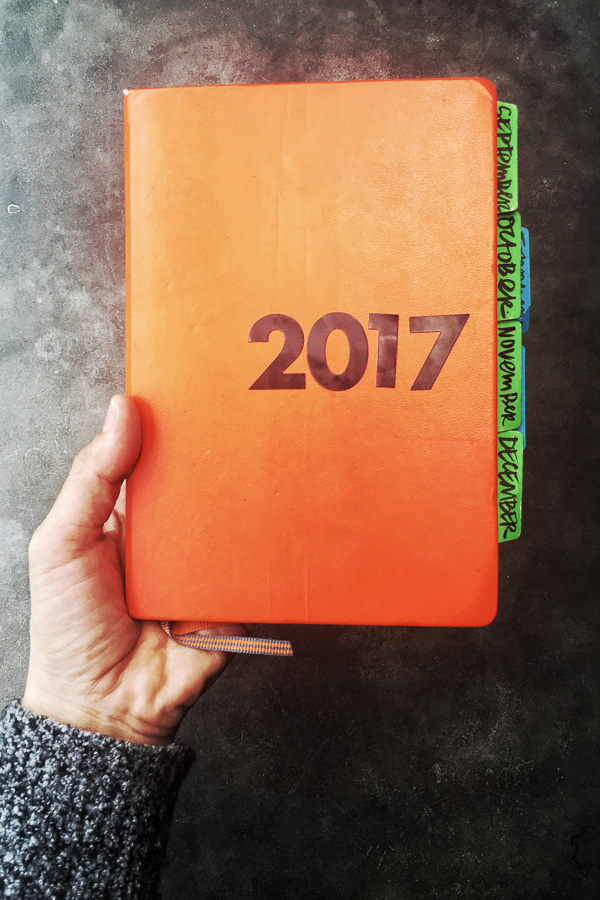 There's a pocket in the back. That's where I keep my address labels & stamps so I can write letters and mail bills if I'm on the go (and have my bujo with me).   The dimensions are  5.75″ x 8.25″ so it fits in my purse.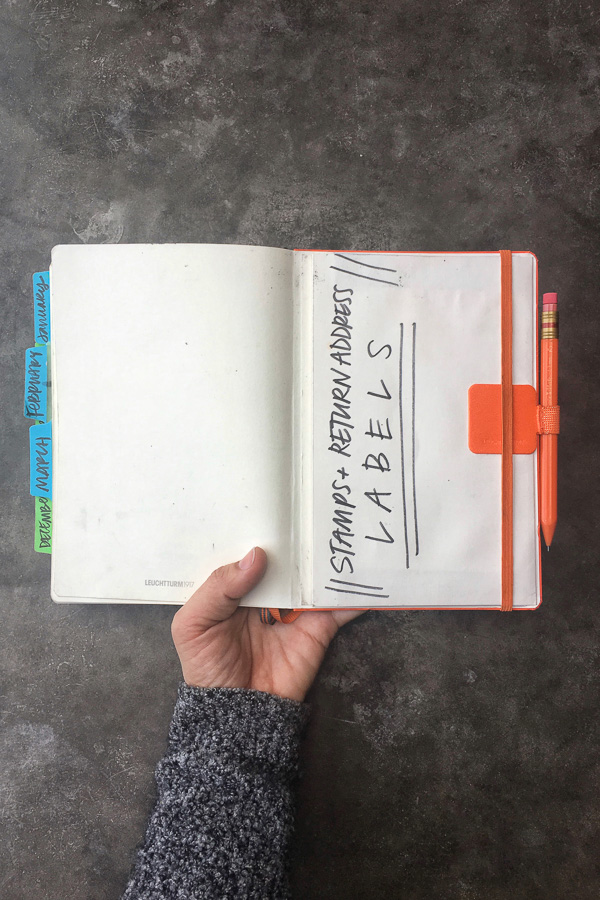 Pens are super important to me.
I try to stay away from super inky pens (read: SHARPIE) that have a tendency to bleed through.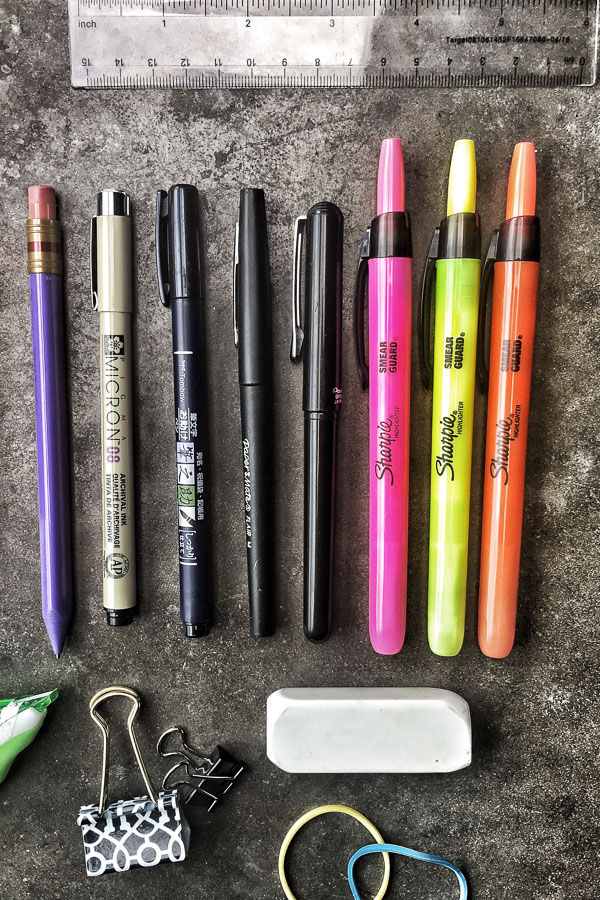 Pens/Pencils
If you want to see some of my favorite pens, I suggest you read:
When I'm setting up my spreads, I use a Mechanical Pencil
I also use a:
Tombow brush pen for when I feel like writing fun.
Micron 08 to get the job done.
Papermate Flair is my favorite for list making.
Pentel Brush Pen for drawing my calendar spreads.
For the times when I only have pens and I make a mistake, I use correction tape.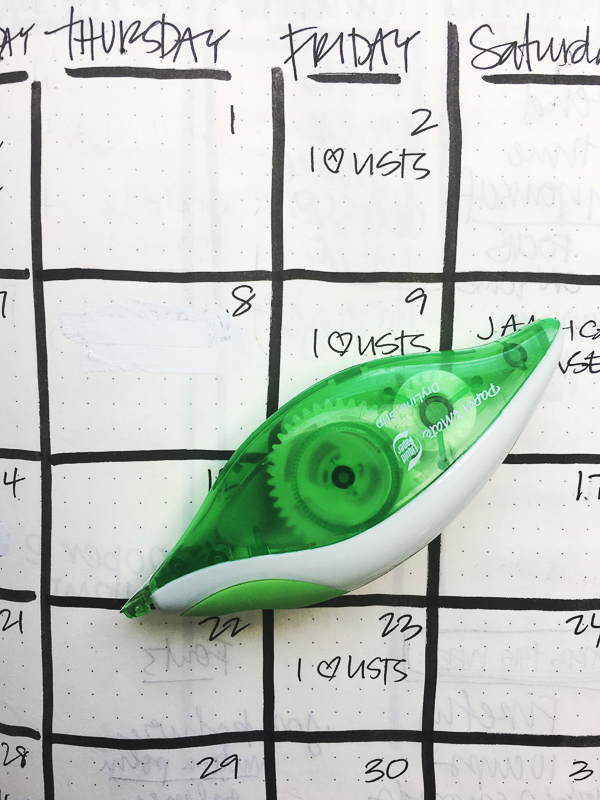 I bought myself a little Pen loop for the journal. It helps hold pens/pencils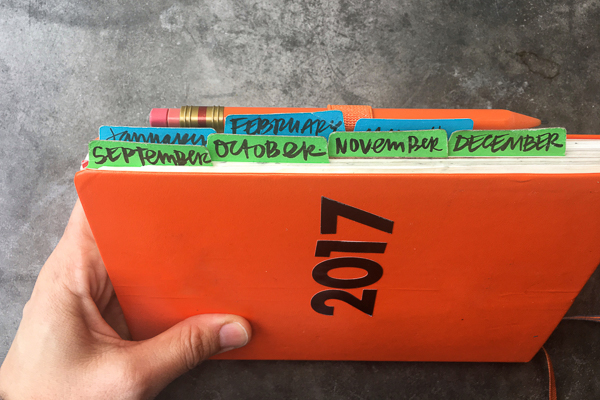 Very handy!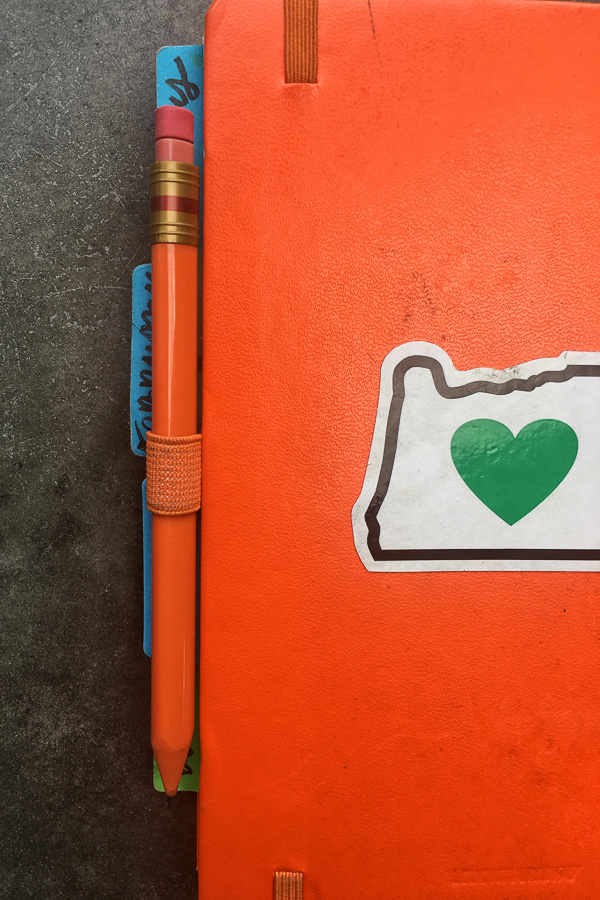 Tabs
On my first bullet journal, I used washi tape to separate the sections. It worked, but the dividers weren't as sturdy as I wanted. I bought myself some tab dividers and I LOVE THEM. They're pretty durable and it's so much easier to go to the current month because of them.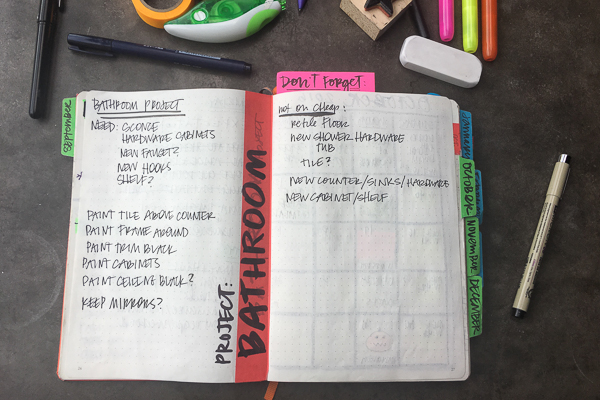 Washi Tape
Washi tape can add a lot of character to a page. It can also double as a page marker.
I put a big strip of washi tape down the center of this page so that I could easily spot it when I'm flipping through. See above!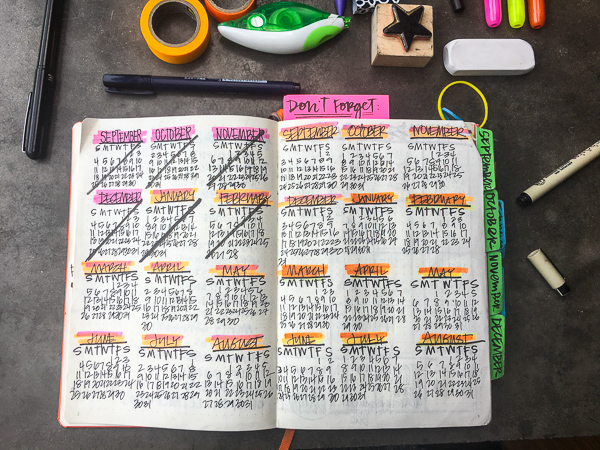 Brush Pens/Highlighters:
How I add color! When I'm working on my bullet journal at home, I use my brush pens. When I'm on the go, I always keep a highlighter in my purse so I can embellish my journal when I need to.
Right now I'm really into Sharpie Retractable Highlighters.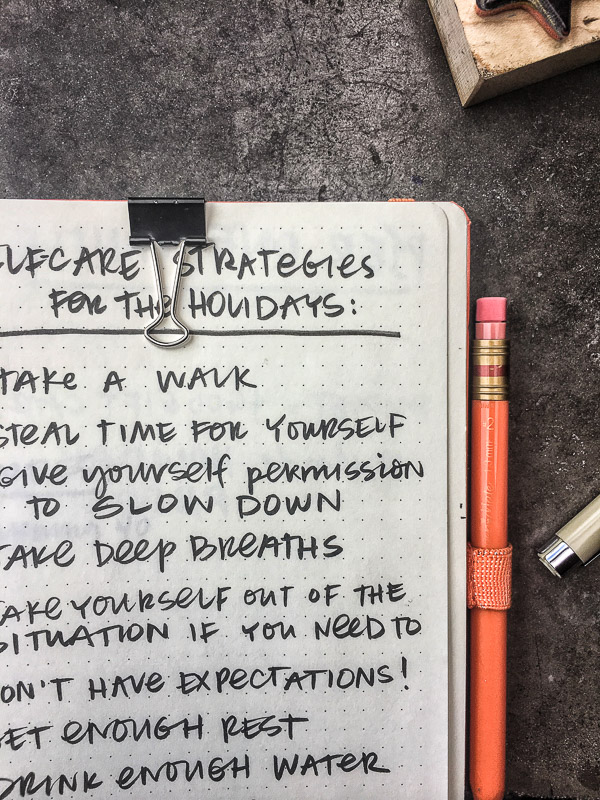 Binder Clips
I always have one or two binder clips hanging onto my bujo. It's a good way to mark a section in your bujo. I also clip receipts/important things to a binder clip in the back so I can find them easily.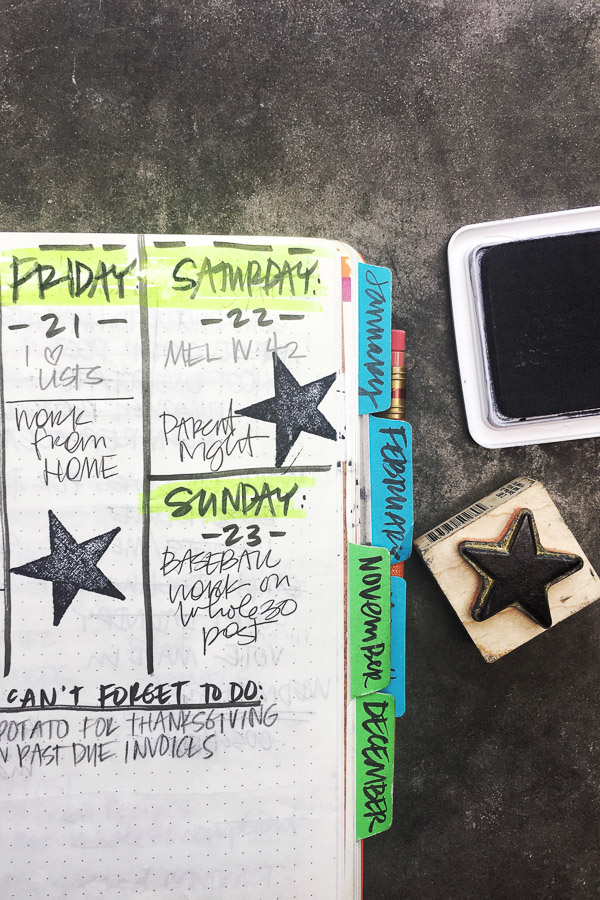 I play around a lot with graphics.
Whenever I stamp this star stamp on my bujo, it means I worked out!
WAHOO.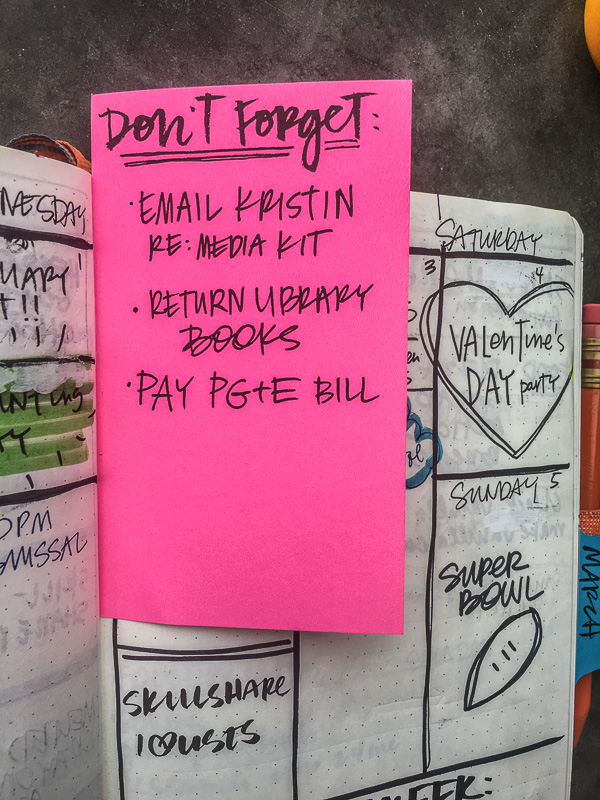 Index Cards
Here's something I like to do….make lists that are portable! I like to use colored index cards for this. They end up turning into bookmarks…and I tuck them into the current week so I have a visual cue of something I need to accomplish.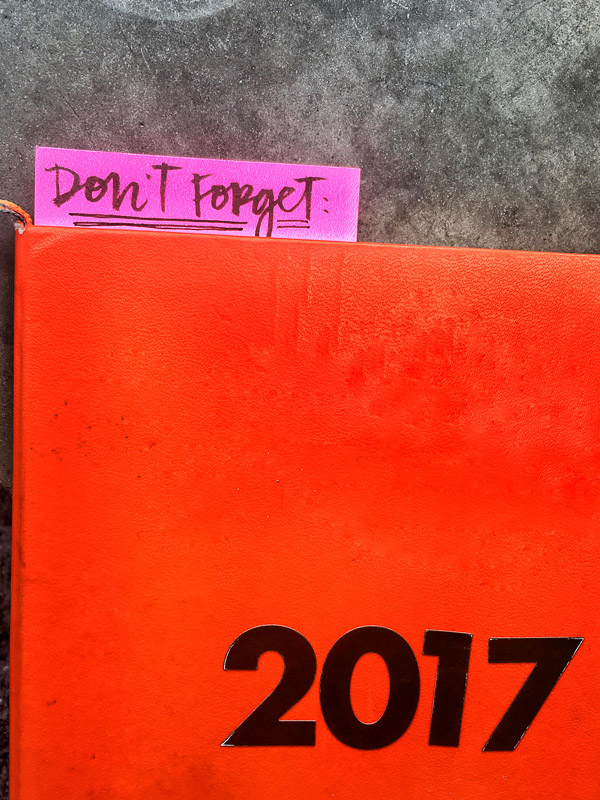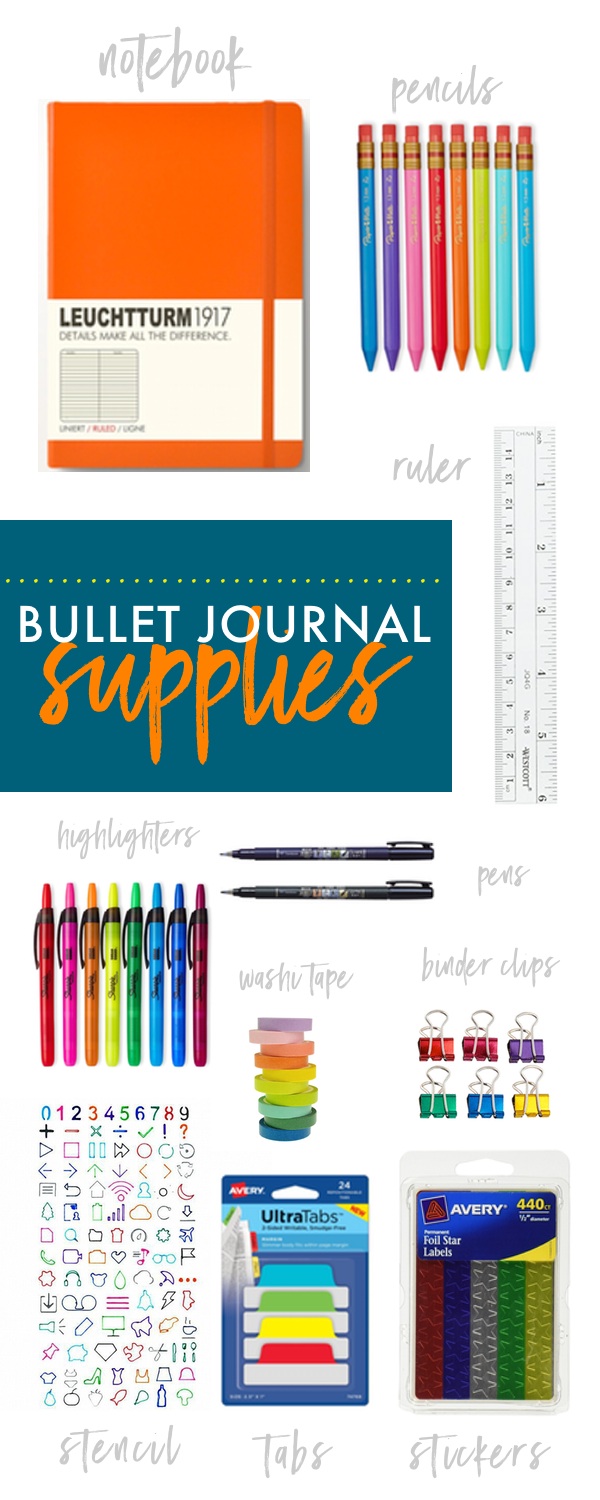 MY FAVORITE SUPPLIES:
There you have it!
I hope this inspires you to make/embellish your own bullet journal!