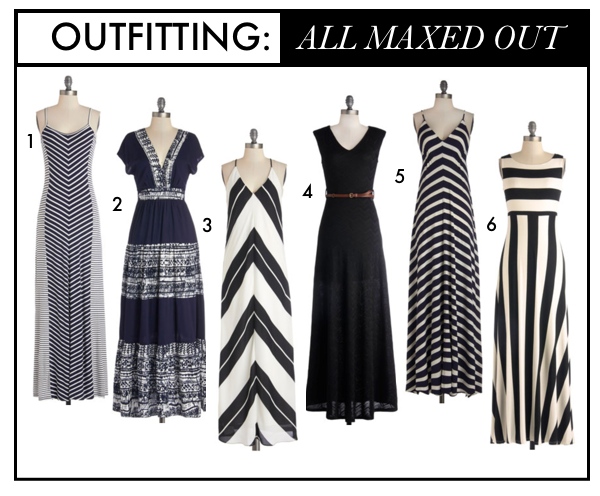 A maxi dress is my secret weapon during the summer months. It's one article of clothing that covers the whole body…. which means there's so much less to coordinate!  One of my favorite dresses this year has been this black maxi dress from Old Navy. It's super versatile and I've found it to be great for traveling because I can create so many different looks with it!  I simply add a statement necklace and wedges to fancy it up or wear a maxi dress with flip flops, a denim button up shirt  and a long necklace for my favorite casual look.
Right now, I'm looking to add another maxi to my wardrobe. Perhaps one of these striped numbers?  Number 3 is begging for a chunky yellow necklace and number 5 wants a flawy scarf with neon pink splashes. Number 2 looks like a good option to slip into after you've been in a bathing suit all day and I'd totally wear #1  with my red salt water sandals for 4th of July!
What I love about this selection is that any one of these dresses could easily transition from a long day at work to poolside living with cocktails and friends.  And really, nothing should stop us from making that happen as soon as humanly possible.
*this post contains affiliate links