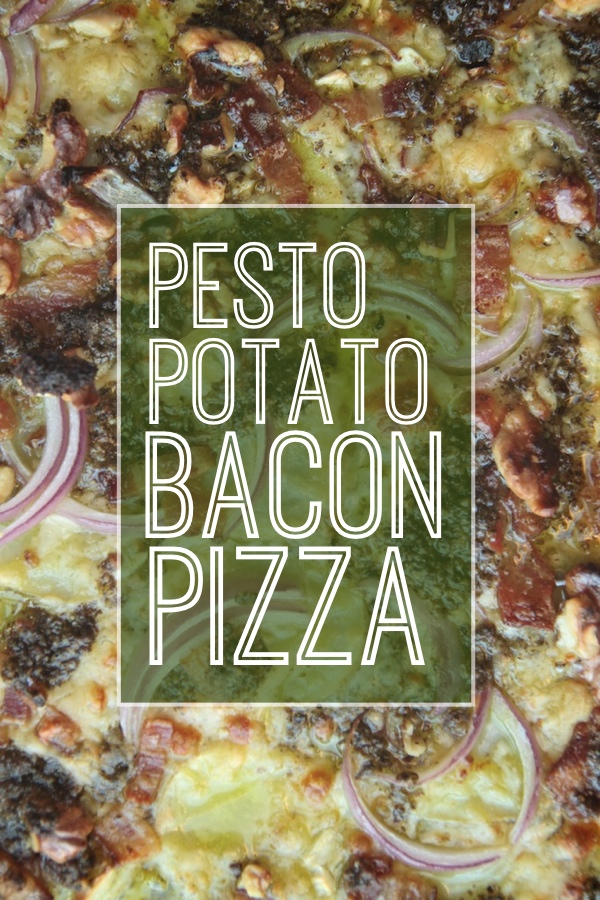 New pizza recipe! Pesto Potato Bacon Pizza
Today on the internet, a bunch of us food bloggers are having a virtual Baby Shower for Jessica of How Sweet It Is.
So…. that means FOOD FOR DAYS or more like WEEKS.
The theme of this baby shower is foods that are "Trashed Up."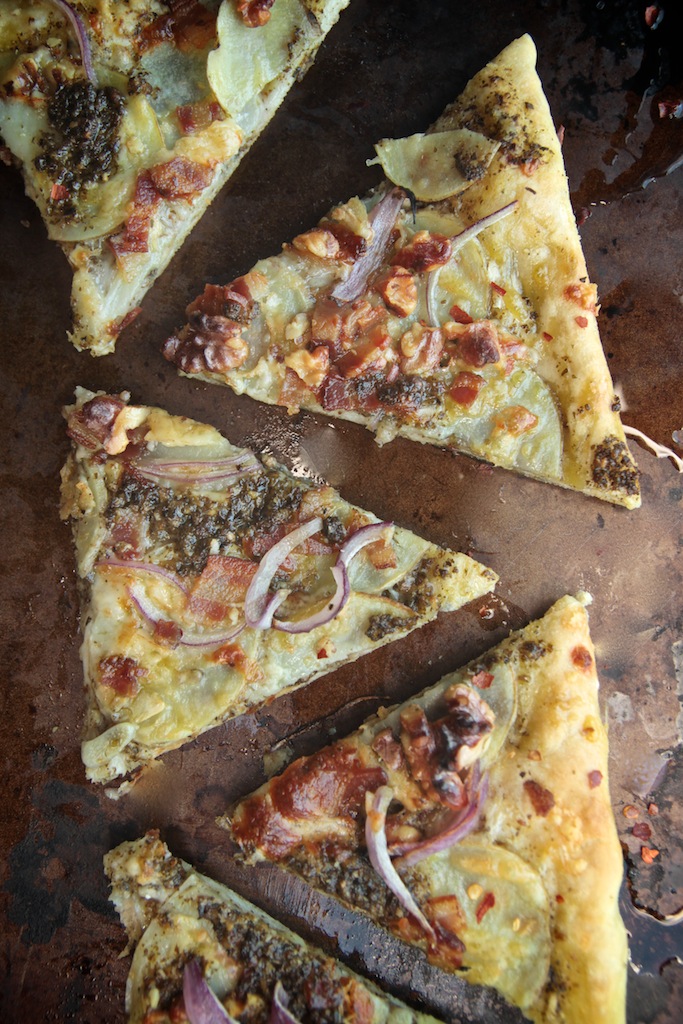 I wanted to tip the scales of indulgence and make a pizza with
POTATOES
PESTO and….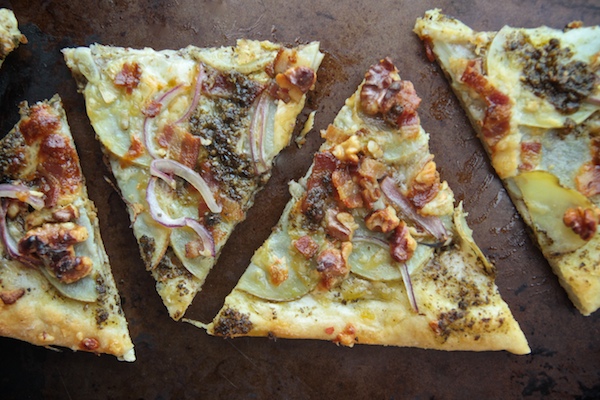 BACON.
And here it is… The potatoes add a creamy element the pesto is EVERYTHING and the bacon pushes the pizza to the edge! It's kinda like a pesto-y scalloped potato pizza situation. I also added a few walnuts for good crunchy twist.
Congratulations, Jessica! I can't wait to see you become a mother! Your baby is going to be the best fed child EVER. And if you have a picky eater child like I do…. I AM HERE TO CONSOLE YOU.
And we're off!
I used some leftover bacon (from breakfast!) for this dream pizza.
The OVEN IS GONNA DO ALL THE WORK.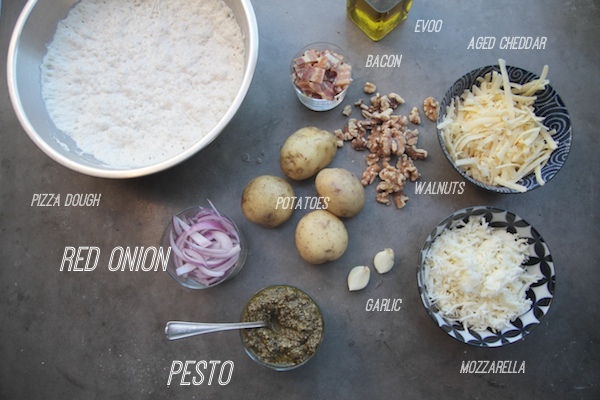 We're going to slice our potatoes with a Mandoline.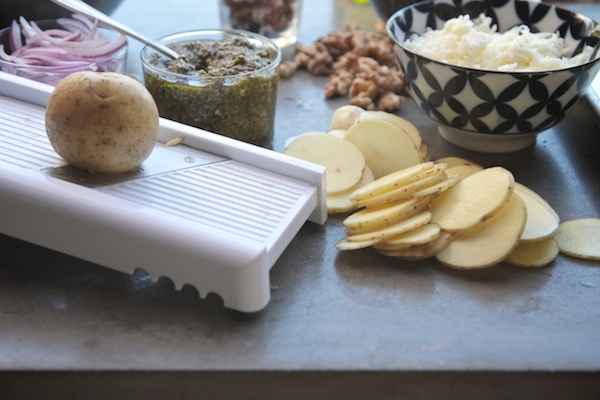 I'm using the no-knead pizza recipe for this one. It makes a gigantic pie!
You can see I put the potatoes in water so they wouldn't brown being exposed to air.
My dough was a little too springy so it took a little while for it to spread to the edges of the baking sheet.
PATIENCE!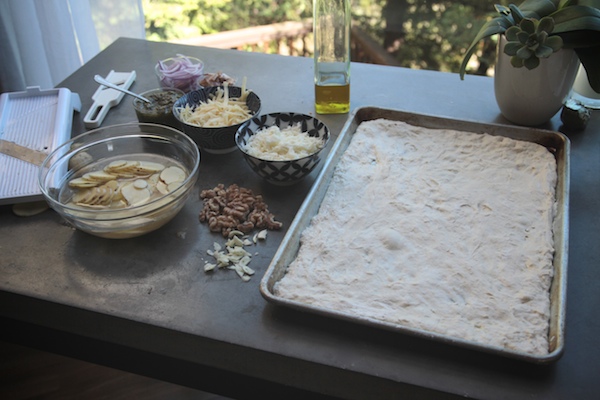 You're going to spread half of the pesto on the prepared pizza dough.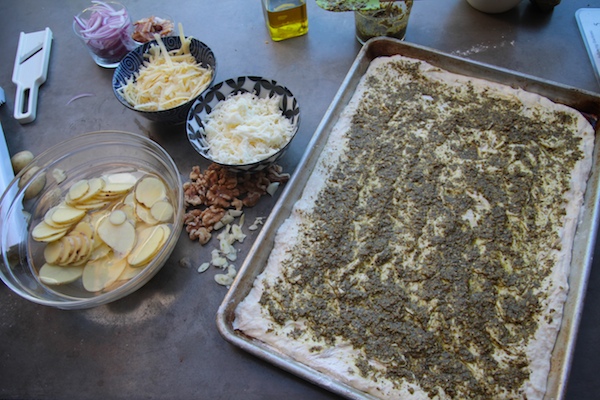 Top pesto with mozzarella. Layer the sliced potatoes on top.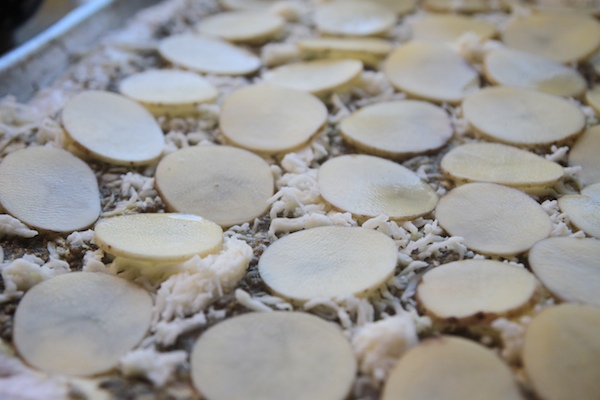 You want to add the cheddar on top…then sprinkle the bacon, onions, garlic & walnuts to finish…
We're going to top the pizza with more pesto.
But I want to drizzle it on top so we thin it out with a little more oil.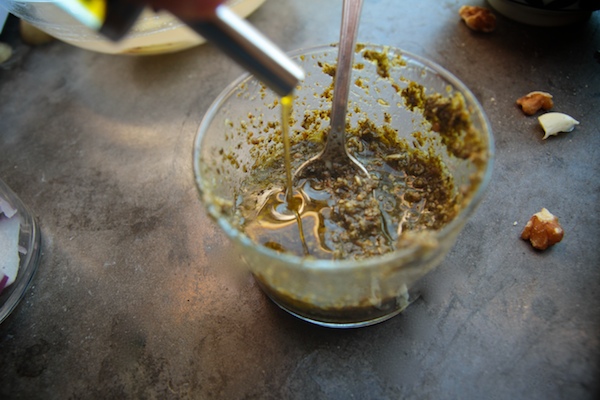 YAAAAAAASSSSSSSS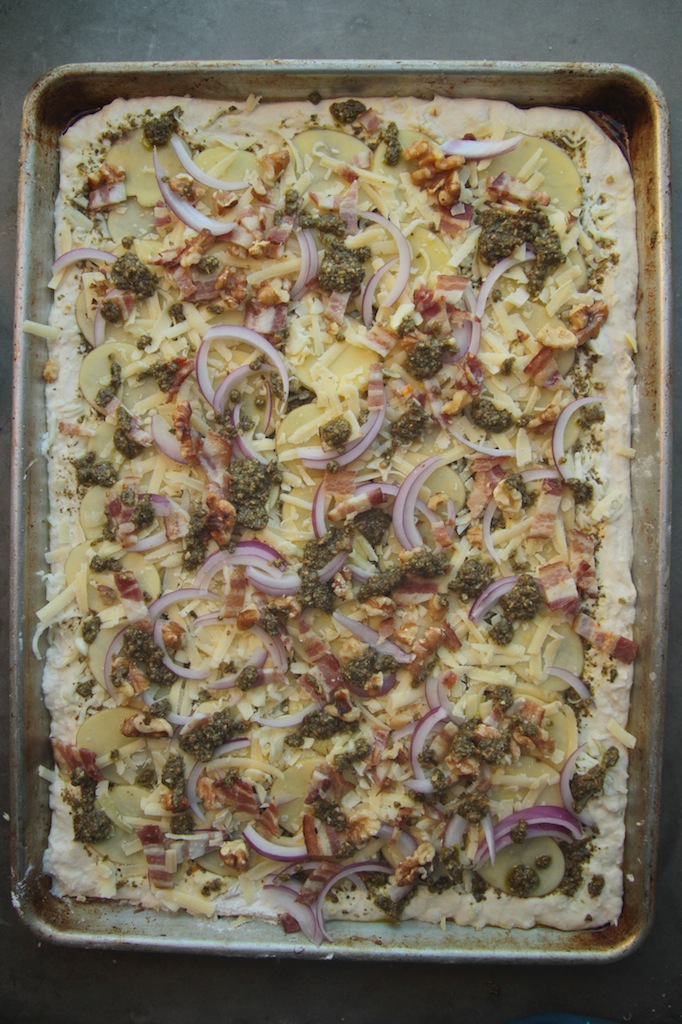 COOKED.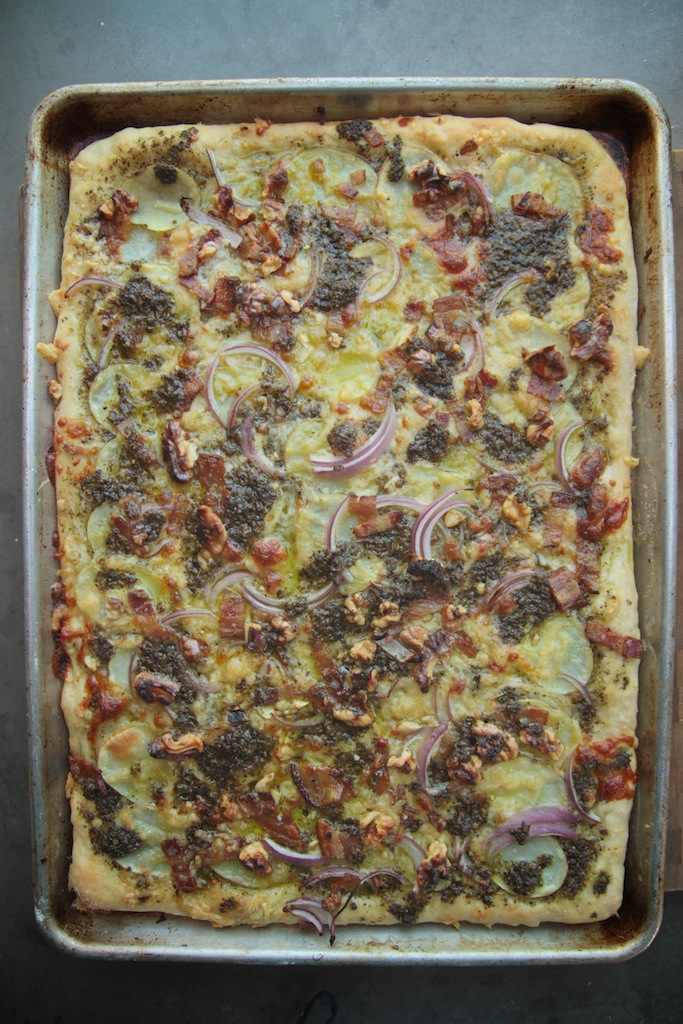 The walnuts are toasty…the bacon is crisp…the potatoes are soft and the pesto creates FLAVOR NATION.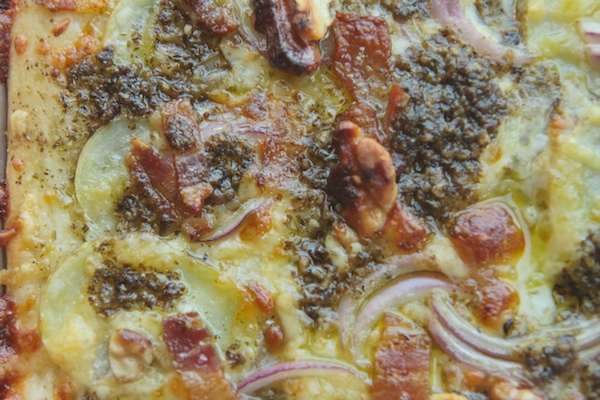 It's a savory hearty pizza. I'd totally put an egg on it. Because MORE IS MORE.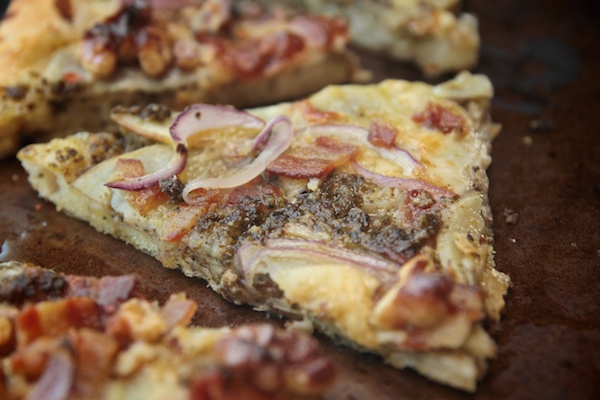 And I think you'll love that walnut addition. TOASTY CRUNCH!
To follow along with How Sweet Eats Virtual Baby Shower, here are some other FABULOUS contributions:
trashed up salads
Gimme Some Oven – Asian Broccoli Salad with Peanut Sauce

The Lemon Bowl – Brussels Slaw with Tahini Dressing and Za'atar Crostini

With Style & Grace – Kale Salad with Apple, Hazelnuts & Bacon
trashed up cocktails
trashed up burgers
trashed up tacos
trashed up desserts
trashed up pizza
Pesto Potato Bacon Pizza

serves 4-5

1 batch no knead pizza dough
4 strips uncooked bacon, roughly chopped
1 cup pesto
1 cup shredded mozzarella cheese
4 medium yukon gold potatoes, thinly sliced
1 1/2 cup shredded extra sharp white cheddar
1/3 medium red onion, thinly sliced
2 cloves garlic, roughly chopped
1/3 cup walnuts, roughly chopped
extra virgin olive oil

Preheat oven to 500F.

In a medium skillet, cook bacon over medium high heat for 2-4 minutes. Set aside on a paper towel to drain.

Oil a 13×18 inch rimmed baking sheet liberally with good extra virgin olive oil. Then gently plop the dough on the pan and stretch and press it out to the edges. If it springs back wait five minutes and then proceed. The dough is very thin. If it tears, piece it back together.

With a spatula, evenly spread 1/2 cup pesto on the prepared pizza dough. Layer with mozzarella and place sliced potatoes in neat rows on top of the pizza dough. Evenly sprinkle potatoes with shredded sharp cheddar, red onion, cooked bacon and dot the entire pizza with chopped garlic and chopped walnuts. To thin out the pesto, add about 1 tablespoon of olive oil. Drizzle remaining pesto on top of the pizza. Put the pizza in the oven to bake for 18-20 minutes. Serve warm.