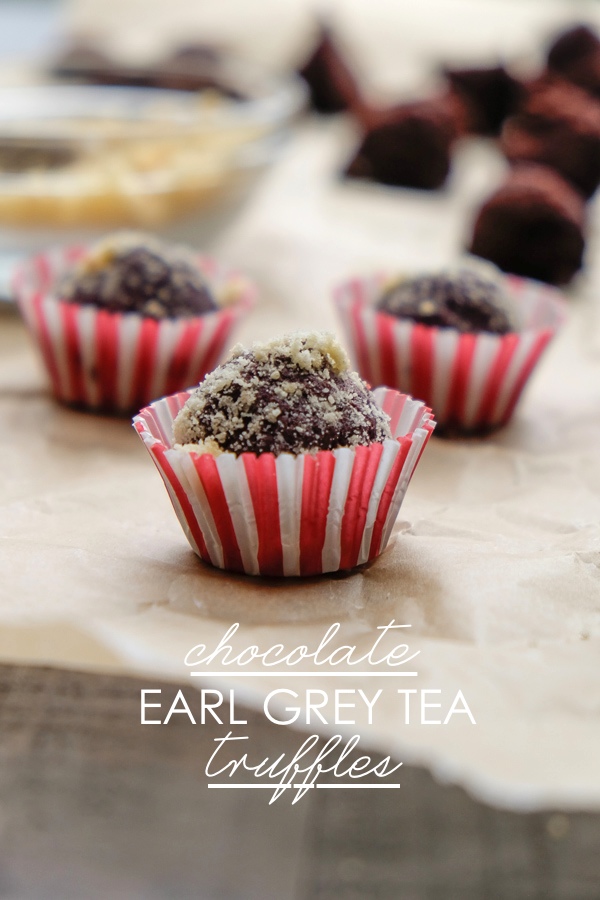 Make these Chocolate Earl Grey Tea Truffles if you:
want to bring someone a nice treat
don't have much time
want to be mesmerized by the beauty of melted chocolate
want to make something different this year
love Earl Grey Tea
want to make someone happy
want to eat a whole batch of truffles and not share any
love recipes that have 4 ingredients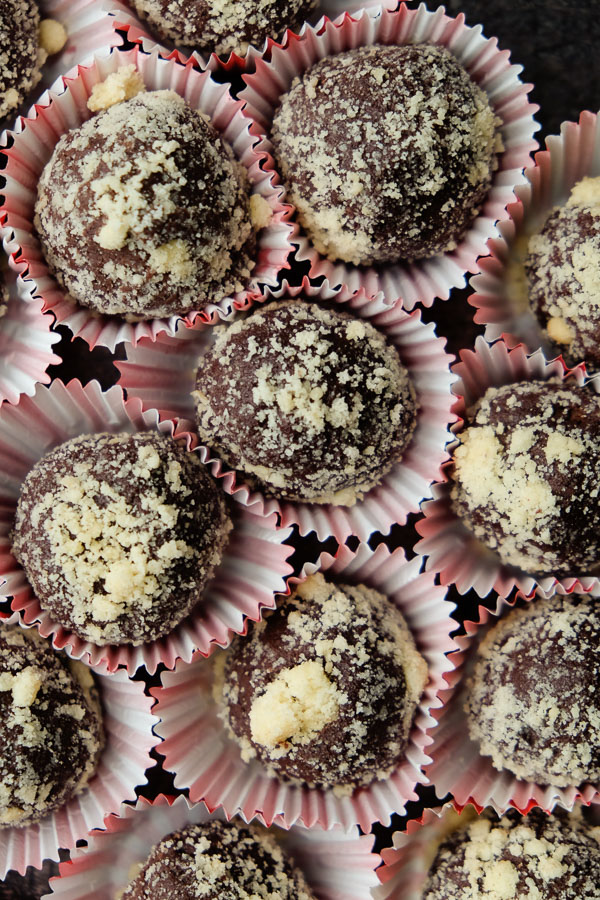 They're rich.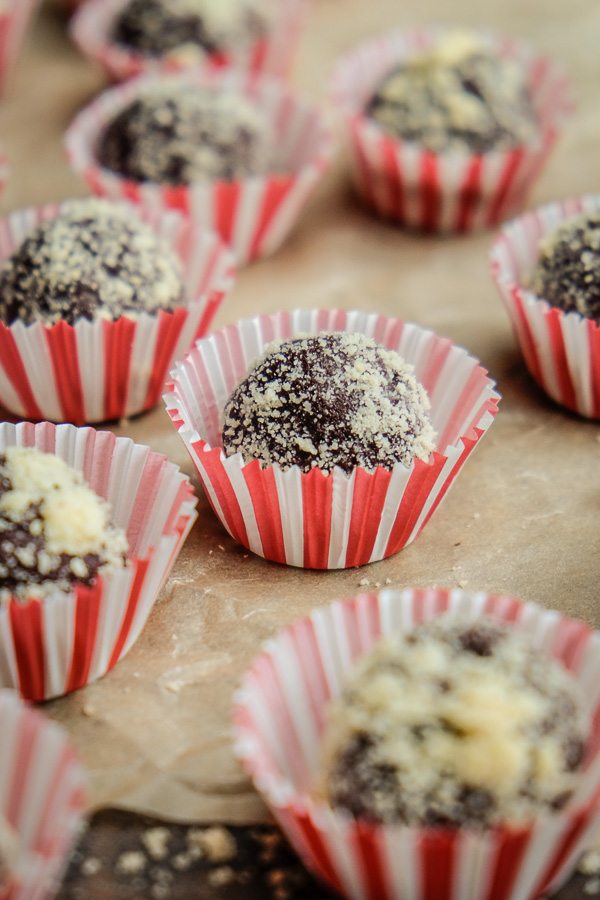 They've got a hint of tea in them and the shortbread cookie crumbs on the outside add a nice buttery crunch. Save a few for your freezer and bring them on out during your afternoon tea. I mean…that's what I'm gonna do with my leftovers. You do you.
Let's gather our FOUR ingredients.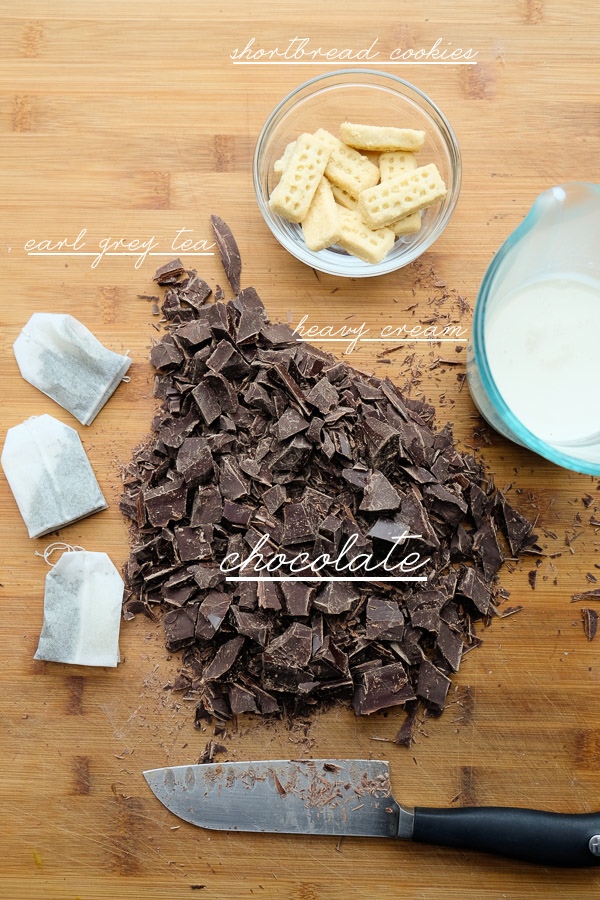 First we heat the cream up. We're going to steep the tea in it.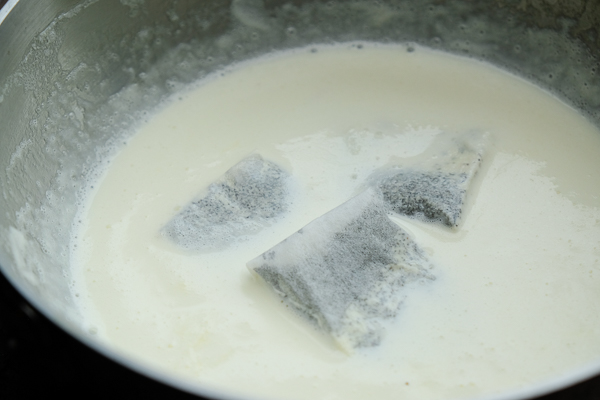 While that's going on, chop up the chocolate.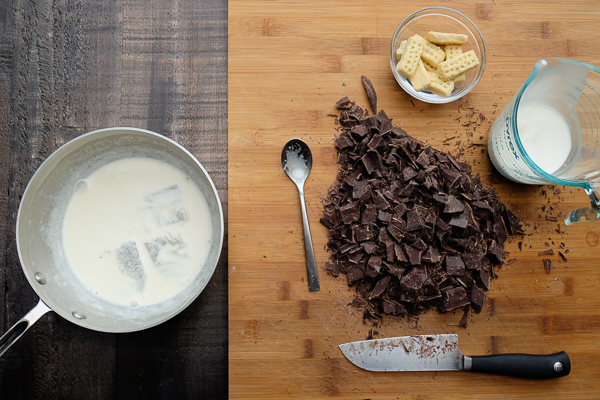 Tea is steeped.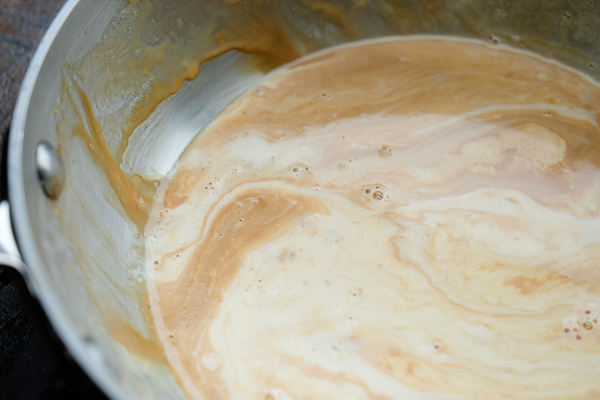 Pour the warm cream over the chocolate. Let it sit.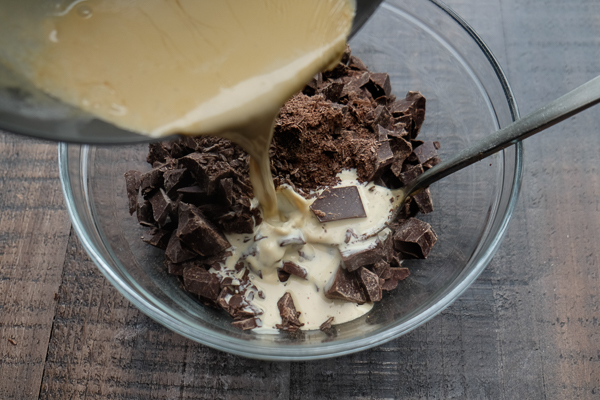 Give it a good stir. If you need to melt it more, put it over a pot of simmering water– double boiler action!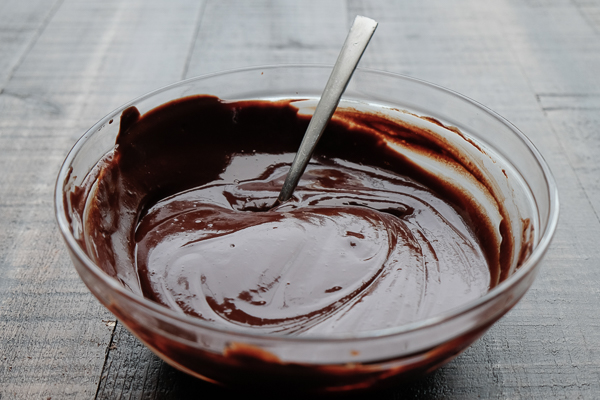 The hypnotic scent and drizzle of chocolate starts NOW.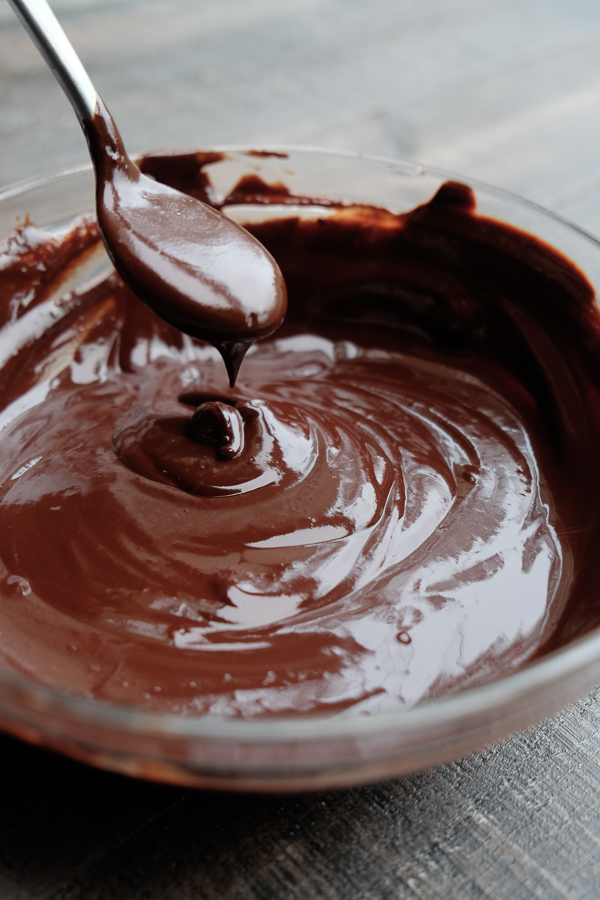 After a couple hours in the fridge to cool, we're ready to start making our truffles.
We're going to use a cookie scooper and our hands!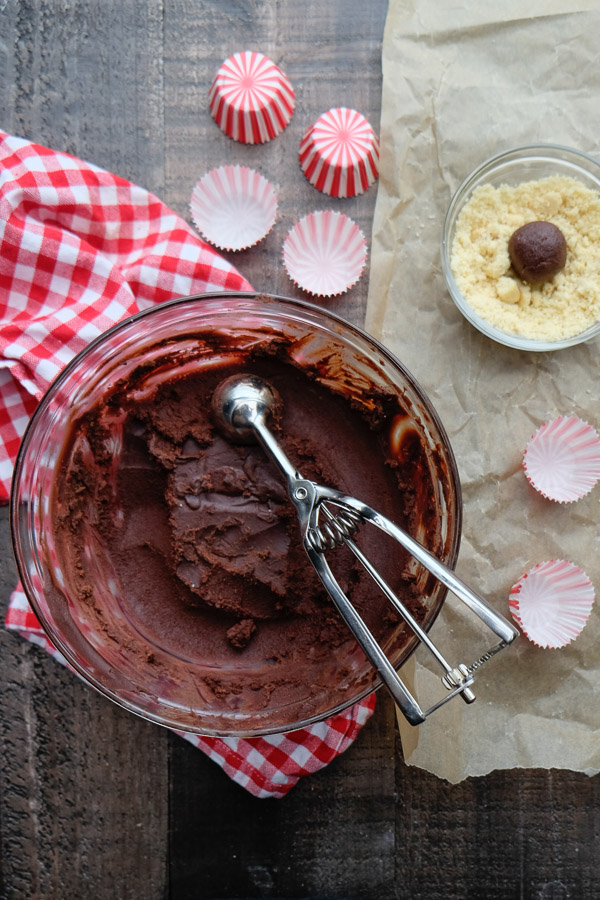 Dunk in the crumbled shortbread cookie crumbs.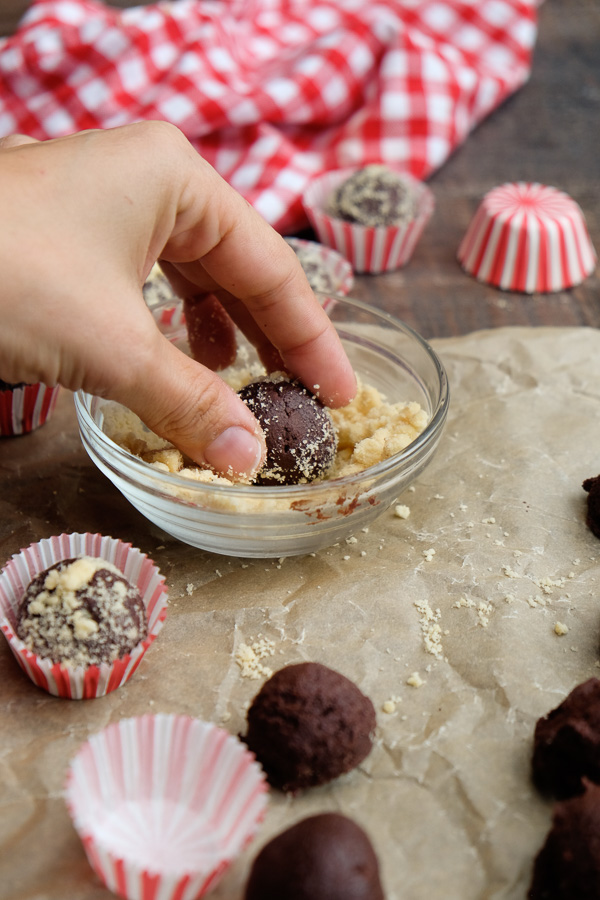 Place in mini muffin wrappers.
Which one do you have your eye on?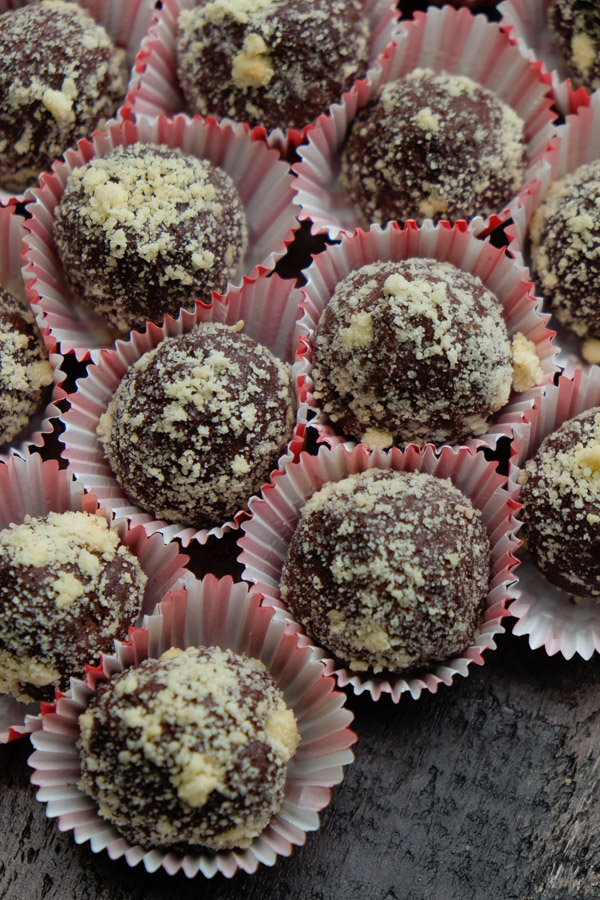 Couldn't resist.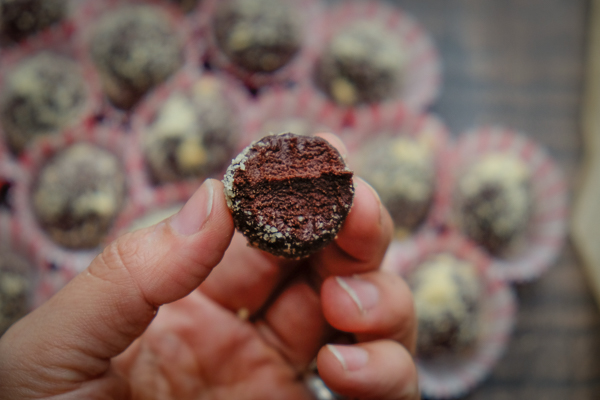 A perfect way to say, THANKS for making this year tolerable.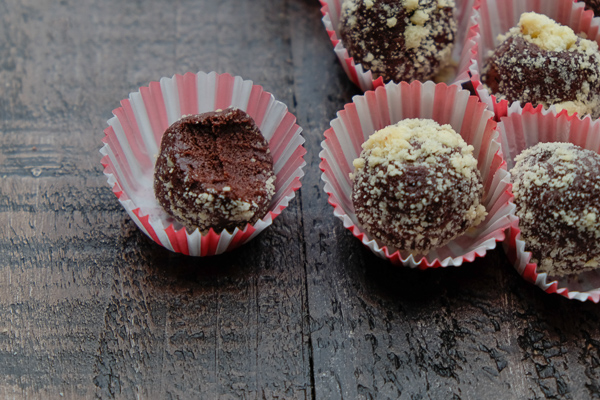 Happy Holidays!
Don't forget to check out my Handmade Holiday Gift post for more inspiration.
If you love Earl Grey tea like I do, you'll enjoy this Earl Grey Chocolate Cake recipe as well this Earl Grey Butter Cookie recipe.
Chocolate Earl Grey Tea Truffles

makes about 2 dozen

recipe adapted from Rachael Ray Magazine

12 oz. chopped semisweet chocolate
3/4 cup heavy cream
1 tablespoon Earl Grey tea (about 3 tea bags full)
1/2 cup crumbled shortbread cookies

Place chocolate in a medium heatproof bowl. In a small pot over medium heat, bring heavy cream to a simmer. Add Earl Grey tea, remove from heat and let steep for about 15 minutes. Return cream to a simmer.  Remove tea bags or use a strainer and pour the hot cream over the bowl of chocolate. Let sit for a minute and stir until melted. Cover ganache and chill until just first, about 2 hours.

Using a 1/2 oz. ice cream scoop, or a tablespoon measure, scoop up the ganache and roll into balls. Roll truffles in crushed shortbread cookies. Place on a rimmed baking sheet lined with parchment or wax paper and chill until firm, about 30 minutes.