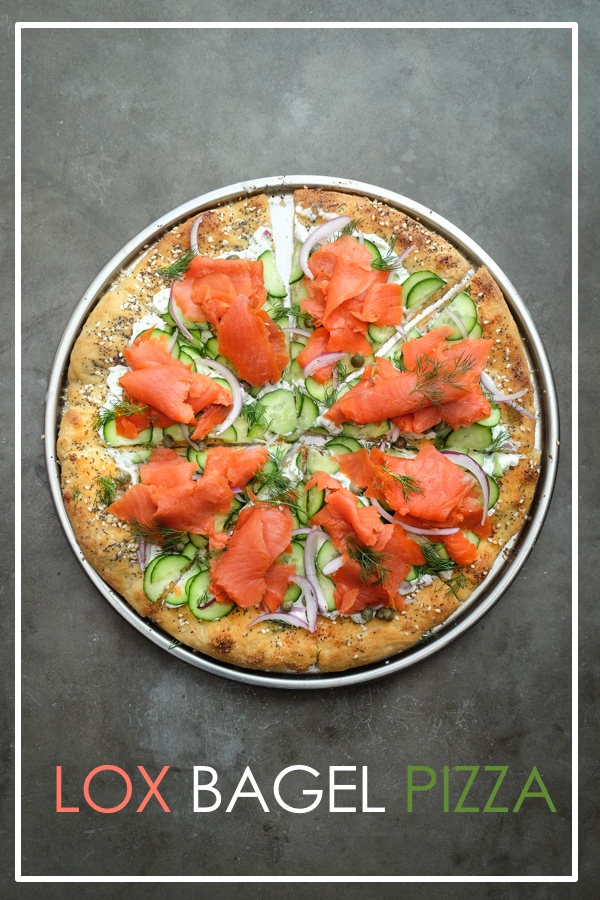 Lox Bagel Pizza.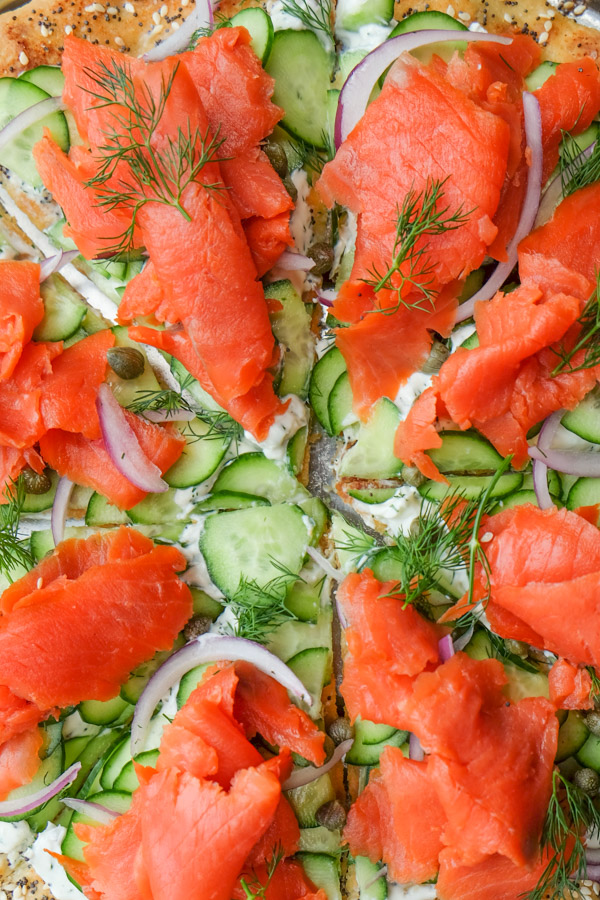 Lox Bagel Pizza with a nice layer of red onion & dill cream cheese schmear.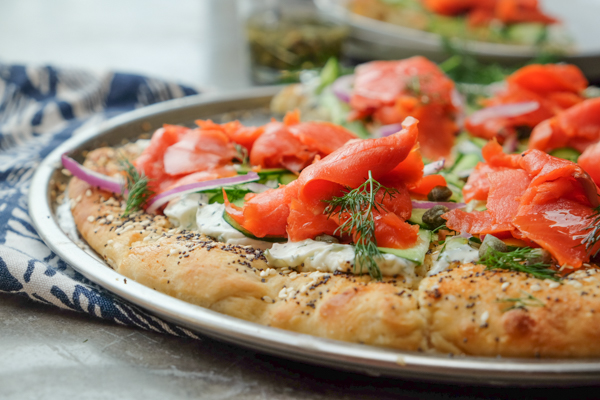 Dill, red onions & capers on top.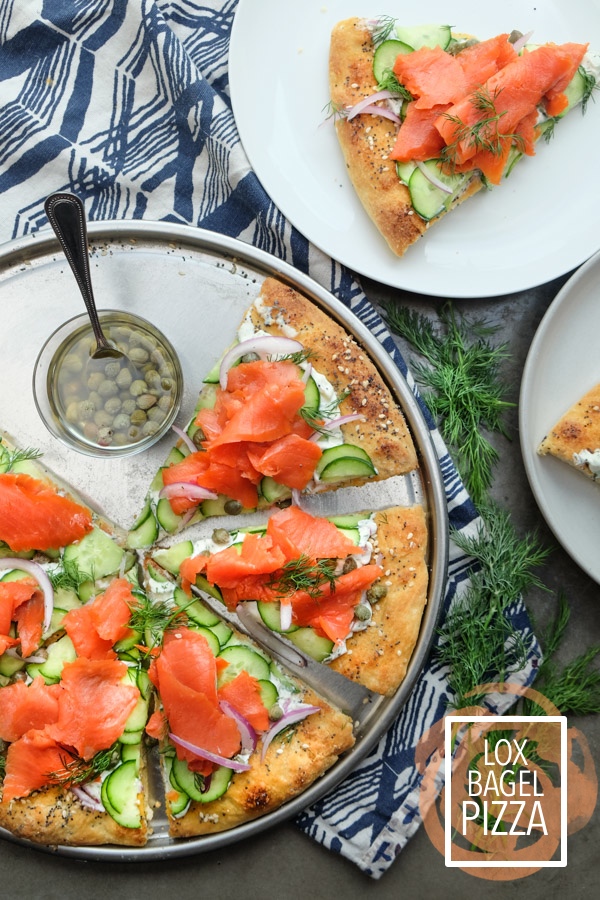 Perfect for weekend brunches and a simple weeknight dinner. Serve it as an appetizer for a party. In my case, I made it in the afternoon- we ate it in the afternoon and turned it into and early dinner. No leftovers!!!
Let's gather our ingredients.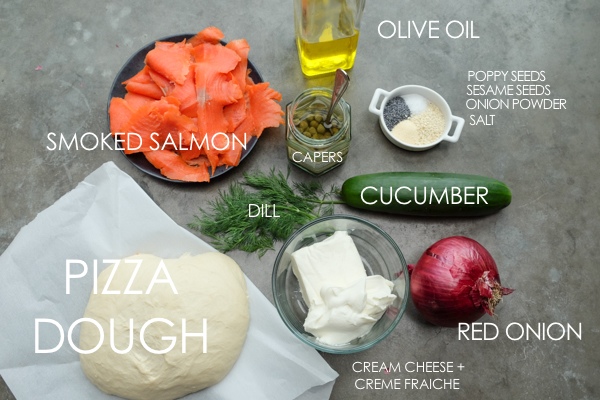 Oil a pizza pan & spread out your dough.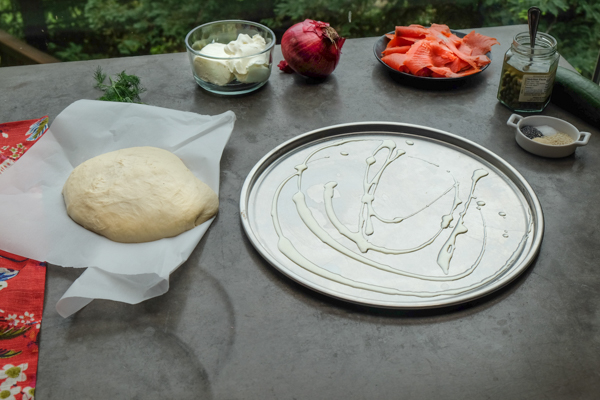 Let's make this an EVERYTHING BAGEL!
I didn't use dried onion because I didn't want it to burn…and honestly it's all I can taste after I have an everything bagel. I ended up using a little onion powder so we have the flavor but not burned onion bits.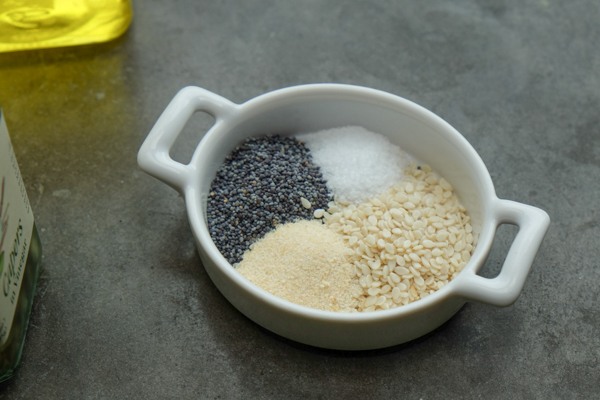 YES.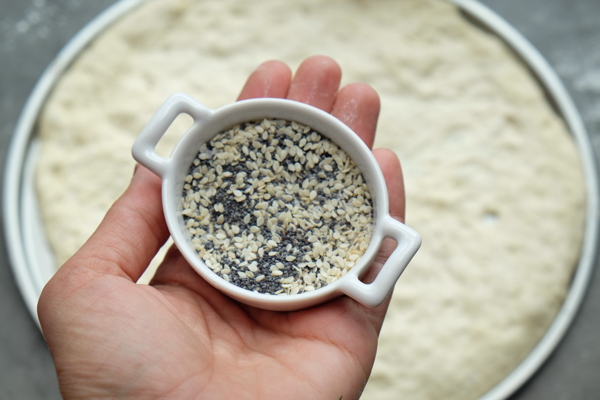 Put it on top of the pizza dough.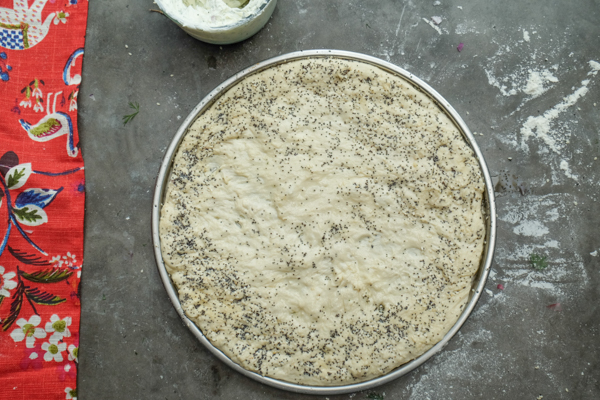 Focus the attention on the crust. Now let's bake it.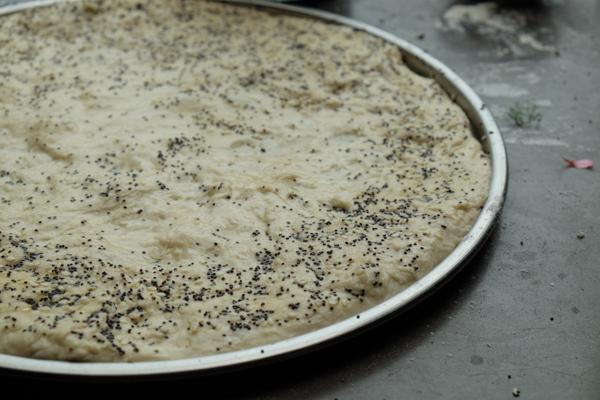 Meanwhile…we make the spread! Schmear?
I used a bit of creme fraiche so it would be extra creamy.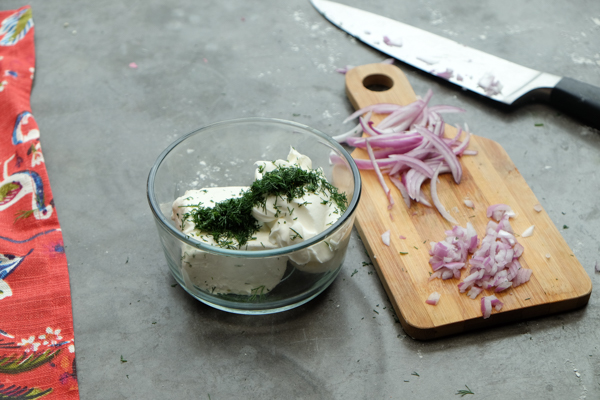 Onions, salt, pepper and dill!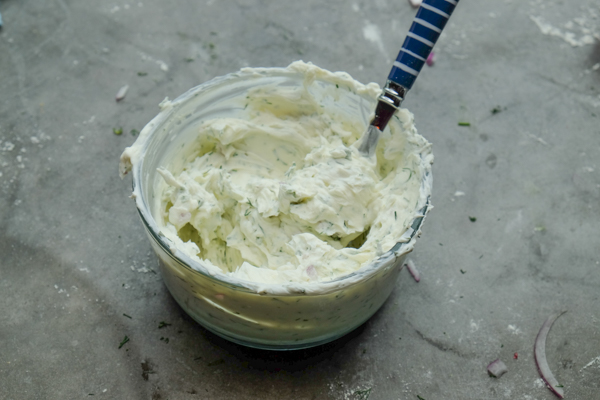 BAKED! If you top it with the cream cheese mixture now, it will melt.
Let it sit for about 15 minutes.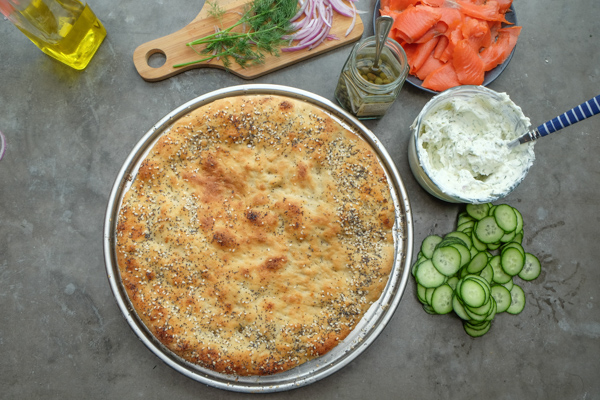 MMMMM.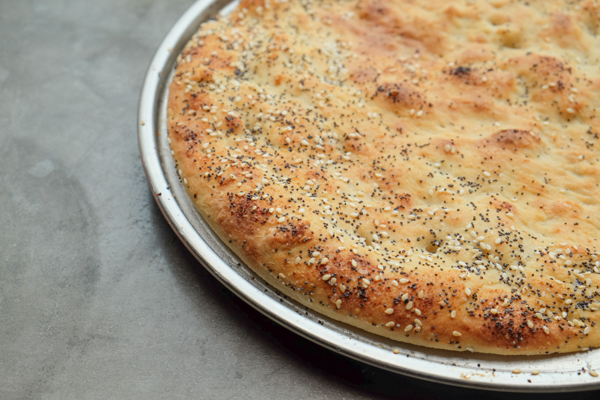 Spread it on.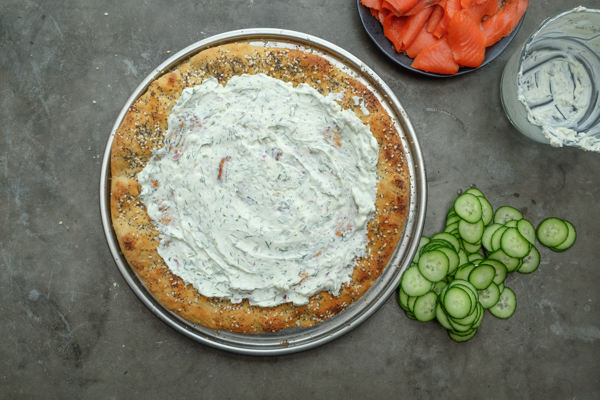 OCD dream.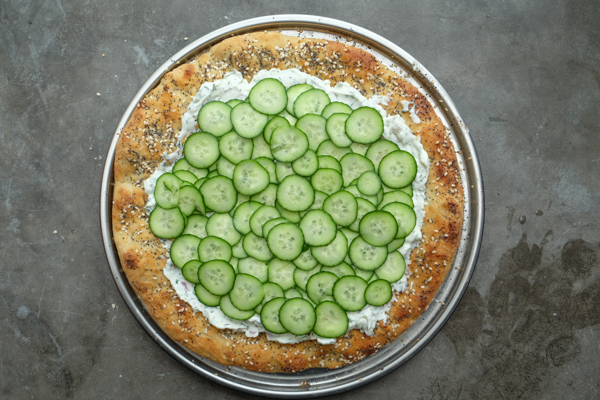 I cut it up before I put the salmon on because I thought it would look kinda ugly if I cut it whole. Like…the salmon would be kinda hacked up so I cut it this way and then topped it with the smoked salmon.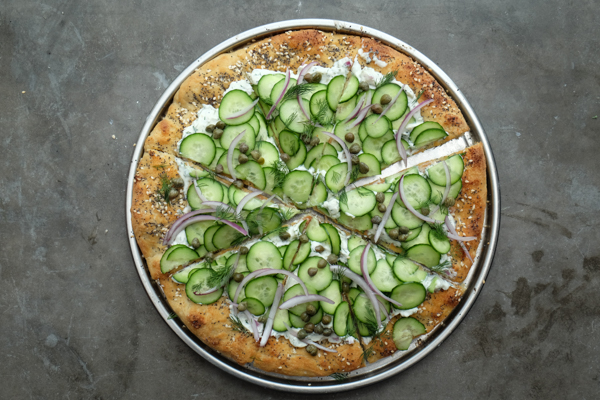 Yes.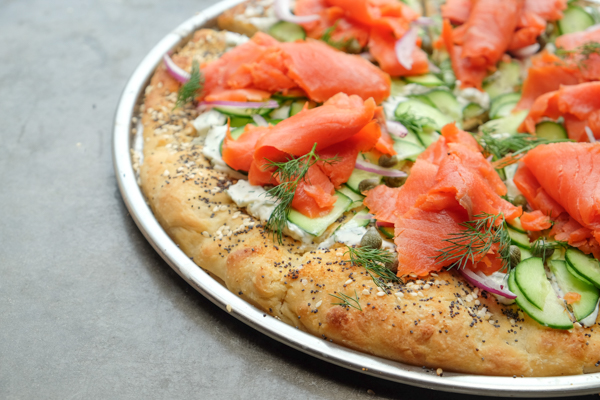 Well, look at how pretty that is.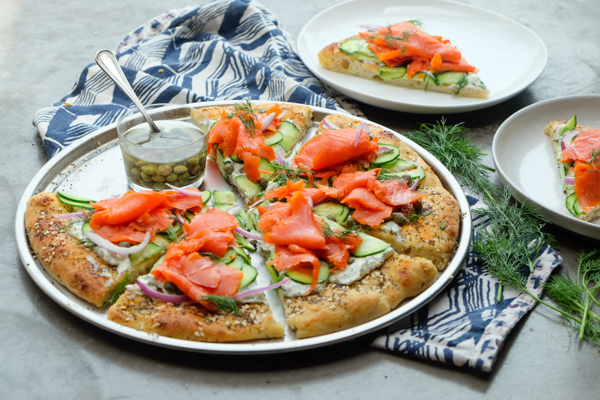 So freaking good.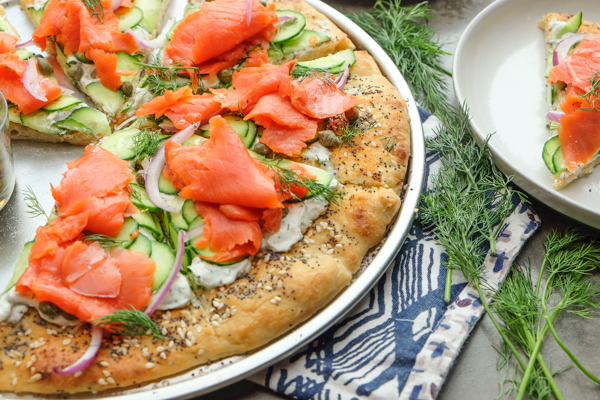 Good til the last bite.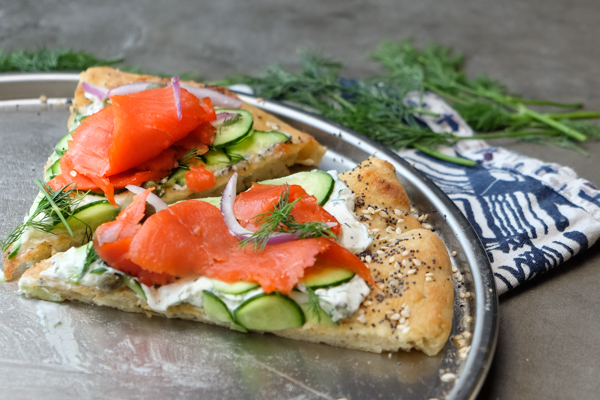 If you're a salmon fan, you might like:
Lox Bagel Pizza

recipe makes one 14 inch pizza

1 1lb. pizza dough
1 tablespoon olive oil
1/2 teaspoon onion powder
1 tablespoon sesame seeds
1 tablespoon poppy seeds
1/4 teaspoon kosher salt
3 tablespoons creme fraiche
4 oz. cream cheese
2 tablespoons minced red onion
3 tablespoons fresh chopped dill, plus more for serving
1/4 red onion, thinly sliced
1 persian cucumber, thinly sliced
2 tablespoons capers
8 oz. smoked salmon

Preheat oven to 450F.

Roll out pizza dough into a 14 inch circle on a pizza pan. In a small bowl, combine onion powder, sesame seeds, poppy seeds and salt. Spread olive oil evenly over the pizza dough and sprinkle the bagel topping mixture on top of the dough, focusing mostly on the crust region. Bake pizza in oven for 15-18 minutes, or until crust is nicely brown. Let pizza crust cool for about 15 minutes.

Meanwhile, in a small bowl, mix creme fraiche, cream cheese, minced red onion and dill. Season with salt & pepper and spread evenly over pizza, making sure to leave room for the crust. Top cream cheese with cucumbers, sliced red onions and capers. Cut the pizza into slices and top each piece with a generous amount of smoked salmon. Top with dill sprigs and serve!